San Diego Comic-Con was back in business after canceling events two years in a row due to the pandemic. Although SDCC mounted a smaller Special Edition last year during Thanksgiving Weekend, this was the first fully armed and operational Comic-Con since 2019. Over 130,000 people gathered together with special guests from all aspects of pop culture – movies, TV, comics, video games, etc. Even the world of music was represented with Ozzy Osbourne and Jason Derulo scheduled to sign autographs.
The Gaslamp Quarter was once again transformed into Comic-Con central with numerous advertisements plastered all over hotels and incoming trolleys. NBC/Universal had their usual setup near the Tin Fish directly across the street from the convention center. Fans could line up for photos on backdrops promoting shows like Chucky, Vampire Academy, La Brea, and the new Quantum Leap reboot. Apple TV took over the Hard Rock Hotel with wraps and an interactive experience for their acclaimed series Severance. Fans were given a new name, work badge and a guided tour through Lumon Industries, the shady corporation at the center of the show. HBO installed a red keep near the Hilton Gaslamp in preparation for the Game of Thrones prequel, House of the Dragon. Those who were brave enough to enter took part in a ceremony to hatch a dragon egg, then a photo opp on the Iron Throne.
Several blocks away, attendees could receive refreshments at a pop-up Mooby's in celebration for Kevin Smith's upcoming Clerks 3 or the Dungeons & Dragons tavern. One had double cheeseburgers and tater tots, the other had a smoke and projections to simulate the arrival of a flame-breathing dragon. Speaking of burgers, a nearby Bob's Burgers installation could be found next to a giant inflatable Cookie Monster and the '62 Rambler from 3rd Rock from the Sun. Folks could take pictures at the beloved Wonder Wharf while a chef grilled up meaty goodness for free. It felt good to see so many offsites and after-parties since a number of businesses downtown went out of business since the last SDCC.
Back at the convention center, fans were already lining up Wednesday evening for a seat inside the highly-anticipated Marvel Studios panel in Hall H on Saturday night. Marvel's impresario Kevin Feige brought a new trailer for She-Hulk: Attorney at Law and an emotional first look at Black Panther: Wakanda Forever, which deals with the death of Chadwick Boseman and the MCU debut of Namor the Sub-Mariner. Hall H also received exclusive footage from Secret Invasion, Ant-Man and the Wasp: Quantumania, and Guardians of the Galaxy, Vol. 3. Quantumania confirmed Kang the Conqueror and MODOK would be the primary villains, while Bill Murray will co-star as a denizen of the quantum realm. For GOTG, Vol. 3, fans can look forward to the origin of Rocket at the hands of the High Evolutionary, played by Chukwudi Iwuji, who sauntered onto stage in character. Various cast members such as Chris Pratt, Paul Rudd, Tenoch Huerta, Tatiana Maslany, and Karen Gillan were also in attendance. Finally, Feige also announced several upcoming projects, which will culminate in Avengers: The Kang Dynasty and Avengers: Secret Wars in 2025.
Marvel also held another panel in Ballroom 20 focused on their slate of animated series soon to be streaming on Disney Plus. A second season of What If? will begin with a continuation of the Captain Carter series with Steve Rogers as her de facto Winter Soldier. Spider-Man: Freshman Years is centered on a young Peter Parker, but will not be set in the main continuity of the MCU. Instead, this variant of Spider-Man will be mentored by Norman Osborn and hang out with Amadeus Cho and Nico Minoru from Runaways. Charlie Cox is expected to reprise his role of Matt Murdock on the show as well. Finally, Marvel Zombies will be the studio's first TV-MA project and stars an eclectic roster of heroes that include Shang-Chi, Kate Bishop, Jimmy Woo, Yelena Belova, Red Guardian, and Kamala Khan.
If that wasn't enough Marvel for you, anyone could swing by their booth to catch a rotating selection of costumes and props from their recent movies and films. Marvel also brought the bling with the Infinity Collection of Gems featuring real rubies, sapphires, and emeralds in place of the Infinity Stones and housed in a gauntlet that would make Thanos envious. The cost was a cool $25 million. Marvel's booth tended to be far less crowded than before as the publisher decided against the star-studded signings of years past. Other than popular creators such as Dan Slott and Adam Kubert, the biggest booth appearance was the Pizza Poppa, Bruce Campbell.
Other sections of the exhibit hall looked about the same as it has been with one notable exception. Warner Bros and DC Comics decided not to have a booth though they did preview Shazam: Fury of the Gods and Black Adam with The Rock himself appearing in costume as the titular anti-hero. Their absence was the perfect opportunity for Funko, which has expanded following the purchase of Mondo and Loungefly. Funko practically built their own town with faux-storefronts to show off upcoming products and sell convention exclusives.
Mattel and Hasbro also returned to the con floor after spending the last two years using online platforms to promote their newest toys. It was nice to see both companies display their latest wares though the majority of Hasbro's product had been previously announced. Their biggest surprises had to be a new figure of Cobra's emperor, Serpentor, for the G.I. Joe Classified line, along with an in-scale HISS Tank as part of their crowdfunding Haslab projects. Meanwhile, Mattel showed off a ton of new action figures, including a massive Eternia playset for their Masters of the Universe: Origins line. The playset comes with three towers, an interconnecting monorail system, and is designed for the retro Origins line and vintage toys though the larger Masterverse figures are also compatible. Mattel also brought a ton of new WWE action figures, such as multiple versions of The Ultimate Warrior, Randy Savage, and Hulk Hogan. The best iteration of the Hulkster had to be a throwback figure in white trunks based on his original LJN figure from the 80's. Even more toys were announced during the Mattel/WWE panel with Tommaso Ciampa, Zelina Vega, Cody Rhodes, and surprise guest The Undertaker.
Not to be outdone, WWE's newest competitor, All Elite Wrestling, made their first Comic-Con appearance this year. CM Punk, Orange Cassidy, Darby Allin, Jade Cargill, and Dr. Britt Baker were AEW's guests with the House of Black making a surprise appearance. Malachi Black and Brody King continued their feud with Allin by attacking him at the end of the panel. AEW's action figure line with Jazwares only had a fraction of the presence as WWE, but the promotion did announce a new partnership with Diamond Select to produce statues and Minimates.
For anyone possessing thicker wallets, Sideshow Collectibles displayed a selection of Hot Toys based on the latest Marvel, DC and Star Wars properties. Some of the standouts included Moon Knight, all 3 Spider-Man from No Way Home, an in-scale Batcomputer from the 1989 film, the entire Bad Batch, and Ahsoka Tano, both animated and live-action versions. Other companies have been stepping up to get a piece of the high-end market. Tweeterhead showed off an amazing selection of highly detailed MOTU statues while PCS presented life-like statues based on Rocky Balboa, Ivan Drago, and Apollo Creed.
Netflix returned to Comic-Con with a tower of video screens hanging from the booth and an offsite for The Gray Man, where attendees could test their physical and mental aptitudes for a career in espionage. IDW Publishing stepped it up this year with huge backdrops for Godzilla and Ninja Turtles as well as a model of the house from Locke & Key. Disney Plus had their first booth with exclusive merchandise and Marvel photo opps. Sit on the iconic lamppost as seen in Ms. Marvel. Lucasfilm showcased costumes for Obi-Wan Kenobi, The Book of Boba Fett, and the Rogue One spinoff, Andor, with the debut of a new droid B2EMO.
As Sunday rolled in, many vendors were offering deep discounts on graphic novels and other merch before the long road home. Hall H offered some solid programming with Mayans MC, What We Do in the Shadows, and a Funko panel bringing along Simu Liu and Rosario Dawson as special guests. While each had a solid following, none of them were headliners that could have filled the 6500 seat auditorium. Yet, line management was atrocious that day due to bottlenecking at the security check. Reports from inside Hall H showed the room was barely filled, but thousands of people still stuck in line underneath the hot sun. Attendees with disabilities also voiced numerous complaints over Comic-Con not properly accommodating those in the ADA line. These issues were a black eye on what was an otherwise smooth and exciting convention.
San Diego Comic-Con 2023 is currently scheduled to run July 19 through July 23.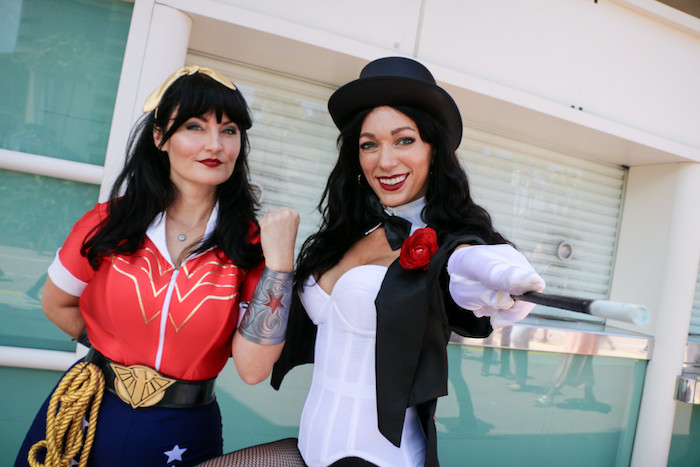 For more photos from SDCC 2022, click here.