San Diego Comic-Con came roaring back in 2022 after two years of cancellation due to the COVID pandemic. It truly felt like SDCC had never left. However, there was an air of uncertainty going into this year's convention. Major studios like Netflix, Sony, and Warner Bros. announced ahead of schedule that they were not attending. Then, a week before Comic-Con, the SAG-AFTRA strike began and forced numerous cancellations from many anticipated guests. The panel for Good Omens: Season 2 was still happening, but any chance its lead actors Martin Sheen and David Tennant would appear or sign autographs was no more. Legendary Pictures' panel, which likely would have promoted Dune: Part Two and Godzilla x Kong: The New Empire was also pulled.
Doomsayers and other internet pundits were reading Comic-Con its last rites. They screamed that SDCC is screwed at the top of their lungs as if convention-goers were going to riot because there wouldn't be a Marvel Studios panel. Jamie Lee Curtis and Felicia Day were among the handful of major celebrities who actually came to San Diego to promote their own personal projects.
In the end, it didn't seem to matter that Hollywood took a break. The lines were long, the crowds were teeming, and the exhibit hall seemed more packed than ever before on Thursday. Thousands of people who would normally be in panels or standing in line for panels decided to partake in the actual convention. In fact, a few vendors reported higher sales than normal due to the increased foot traffic.
The Gaslamp Quarter was decked out again for the festivities with Paramount's Yellowjackets adorning the Hard Rock Hotel and Fox's colorful Animation Domination across the Omni. The Pendry, located a few blocks away, received wraps for the Walking Dead spinoffs Dead City, Daryl Dixon, and Rick & Michonne. Even though Disney chose to skip Comic-Con proper, there was still a huge push for Haunted Mansion downtown. Pedi-cabs were made to look like the Doom Buggies while actors dressed as the hitchhiking ghosts could be found throughout the area. You could even grab a free ride with one of the ghoulish spirits well into Sunday evening. A select few were able to attend an advanced screening of Haunted Mansion and themed after party.
The lawn in front of the Hilton Gaslamp, which had been home to the Walking Dead obstacle course and last year's hit House of the Dragons activation, remained empty, aside from a queue for Interview with the Vampire. AMC's newest adaptation of Anne Rice's best-selling novels was an elaborate and immersive experience similar to previous ones for Blade Runner and Carnival Row. Guests traveled back in time to have drinks in a speakeasy and speak with denizens about the vampire Lestat. Not to be outdone, Paramount+ hosted a lodge at the old site of Dick's Last Resort a few blocks north of the convention center. There, fans were treated to sliders in honor of Good Burger and photo ops themed to Spongebob Squarepants, Yellowjackets, and 1923. In addition, Paramount allowed fans to use their app for a scavenger hunt to win a backpack and tin cup.
Hulu celebrated their animation line-up behind the convention center with an enormous inflatable version of Planet Express from Futurama. Solar Opposites and The Great North were on display alongside long-running favorites The Simpsons, Family Guy, and Bob's Burgers service counter. At the end of the experience, attendees received a free Hulu mini-backpack and pin sets. If that weren't enough, Hulu even sprung for a light show using drones to project images of Fry, Leela and the Hypno Toad. Adult Swim returned to SDCC with a county fair-style offsite that featured games, a rodeo hot dog ride, and a Pop Tart tasting tent. These offsites were better received than Jurassic Park's activation, which was a 20-minute walk from the convention center. Dino-fans were rushed through photo opps that recreated iconic scenes from the original film, including Gennaro's death on the toilet. Also, no merchandise was available for purchase on-site instead, you had to use a QR code to order the items. It was certainly a far cry from the traveling Jurassic World: The Exhibition.
Inside the convention center, many of the old standbys were a welcome sight for sore eyes. Marvel Comics was in its usual spot with a rotating display of MCU costumes each day. Lucasfilm displayed costumes and props from the upcoming Ahsoka series while LEGO's booth was made to look like a Blockbuster Video store with Lego sets displayed as if they were video rentals. Nickelodeon celebrated TMNT, Avatar: The Last Airbender, and the return of Good Burger with a mock-up restaurant. Manga and anime left a prominent footprint in San Diego with Studio Ghibli bringing the lovable characters of Totoro and Cat-Bus to the con. Meanwhile, Bandai seemed to be everywhere with their own booth as well as offsites centered around Dragonball and Tekken 8/Armored Core VI.
DC was back with exclusive merch, signings from notable comic creators such as Phillip Kennedy Johnson & Joshua Williamson, and costumes for the Blue Beetle and Aquaman to view. Sideshow Collectibles opted to do their own online con and their regular assortment of Hot Toys and intricate statues were surely missed. Their absence allowed smaller publishers like Image, IDW, and Top Cow to expand their presence while newbie DSTLRY joined the stage. The rookie publisher proclaimed its arrival with The Devil's Cut, a massive anthology featuring stories by Scott Snyder, Jock, James Tynion IV, Ram V, among other luminaries.
Todd McFarlane made his Comic-Con rounds glad handing with numerous creators like John Romita Jr. and Jenny Frison. Other legends in the business at SDCC were Art Adams, Dave Dorman, J. Michael Stracyznski, Stan Sakai, and Junji Ito. Another popular guest was Peach Momoko, the Japanese artist who has been making a splash with her beautiful cover art, primarily with Marvel. Momoko made her US debut at last year's New York Comic Con, which was marred by fights and arguments from overzealous attendees. Thankfully, proceedings were much calmer and smoother in San Diego as tickets for her signings were distributed in the morning and gobbled up quickly.
The Hall H schedule was fairly light with its biggest panels being a preview for Teenage Mutant Ninja Turtles: Mutant Mayhem and a spotlight on William Shatner. Without the heavy hitters, this allowed others to grab the spotlight. This year, it was Project K, the most expensive film in the history of Indian cinema and the first Indian film brought to Comic-Con. The producers knew how to make a first impression by bringing a cadre of armored soldiers, a drum line, and a female chorus before screening an action-packed trailer.
Back in the exhibit hall, several toy companies showed off some impressive and surprising upcoming products. The San Diego-based Super 7 brought the Thundercats' mammoth headquarters, the Cats' Lair, which will be available for a whopping $650. NECA was selling a convention exclusive ALF and a boxset with the Ninja Turtles as samurai from their third live-action film. New additions to their Universal Monsters line include Count Orlok from FW Murnau's Nosferatu and Lon Chaney Sr.'s character in London After Midnight. Hasbro crammed so much stuff into their booth that the massive diorama of Marvel Legends that they usually bring was nowhere to be found. This year, Hasbro debuted Black Series figures based on the Ahsoka series, but nothing new from the original trilogy or the prequels. For GI Joe: Classified, they gave us the HasLabs Dragonfly helicopter and new characters such as Mutt & Junkyard, Tripwire, and the Range Viper. Mark Ruffalo as Bruce Banner and Vincent D'Onofrio as Kingpin will be joining the Marvel Legends roster, along with a new line of X-Men '97 figures based on the revival of the heralded animated series. Hasbro also re-teamed with Robosen to present a self-transforming Grimlock, similar to their previously released Optimus Prime. The leader of the Dinobots can change into T-Rex mode and leap into action via a series of voice commands. Conserve your Energon, because this Transformer will cost $1500.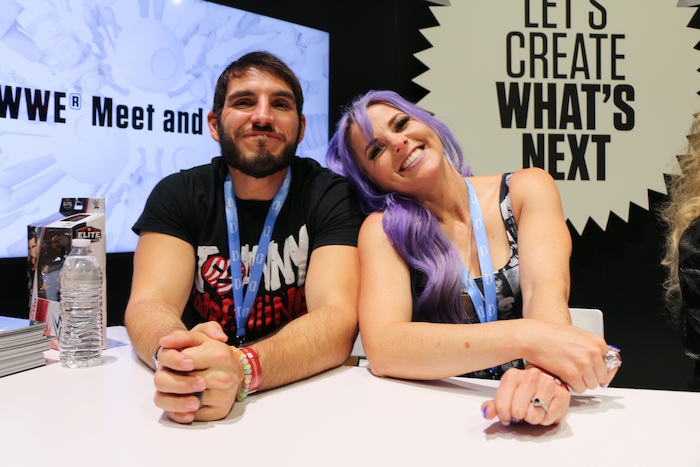 Right across the aisle way was Mattel, who had a plethora of brands on display. Amongst the biggest and most expensive was a crowdfunded Jurassic Park playset with the entrance gates, electrical fences, and jeeps. Unfortunately for franchise followers, the goal was not met and the playset will not go forward. Perhaps, the most prolific line at Mattel's booth was WWE. Superstars Mick Foley, Seth Rollins, Chelsea Green, Johnny Gargano, and Candice LaRae came to Comic-Con to preview tons of upcoming figures. Legends like Roddy Piper, Hulk Hogan, and Bret Hart will be seen in multiple incarnations while current wrestlers such as L.A. Knight and Carmelo Hayes will be given their first figures ever. Masters of the Universe, Monster High, and Uno also had their own sections at the Mattel booth, but there was one glaring omission. Barbie! The iconic doll's feature film, starring Margot Robbie, is a critical and commercial success. Barbenheimer has been a viral sensation and dozens of cosplayers showed up to SDCC in various Ken and Barbie outfits. Strangely enough, Mattel had zero Barbie product to capitalize on her pink tidal wave of success.
In spite of a few setbacks, Comic-Con 2023 was another amazing experience. It would be very surprising if the strikes have any effect on next year's ticket sales. No doubt Comic-Con 2024 will still be a sellout.