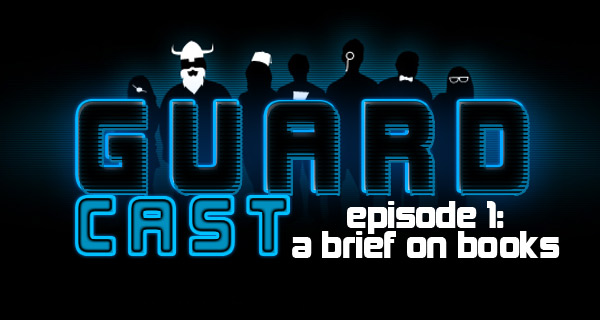 The Agents of GUARD have been in your face, but now it's time to put them in your ears with a brand new podcast. We come straight out the gate in this episode, discussing our love of reading, how we first got into books, and what still drives us to crack a (book) spine. If you've never listened to a podcast, now's your chance! Whether you're driving to work, doing the dishes, or playing Candy Crush, a podcast is a fantastic way to sooth the dull, quiet silence.
The first episode of the GUARDCast is ready for your listening – but are you ready for the rolling paroxysms of joy? There's only one way to find out – clicky click below to download.
GUARDcast Episode 1 – Download
[powerpress]
Show Notes
GUARDCast Episode 1
Starring: Agents Justin, Bobby, Patrick, Aaron, and Earl.
Topics: How we got started reading, books we love, authors that disappoint, fan fiction, online roleplaying, Anne Rice, Stephen King, Quentin Tarantino, Anita Blake, the Dresden Files, the Star Wars Expanded Universe, Harry Potter, the X-Men, Dragonlance, The Shootist, Pop-Up Sex Education Books, Orson Scott Card, and more!
Runtime: 1 hr 12 min