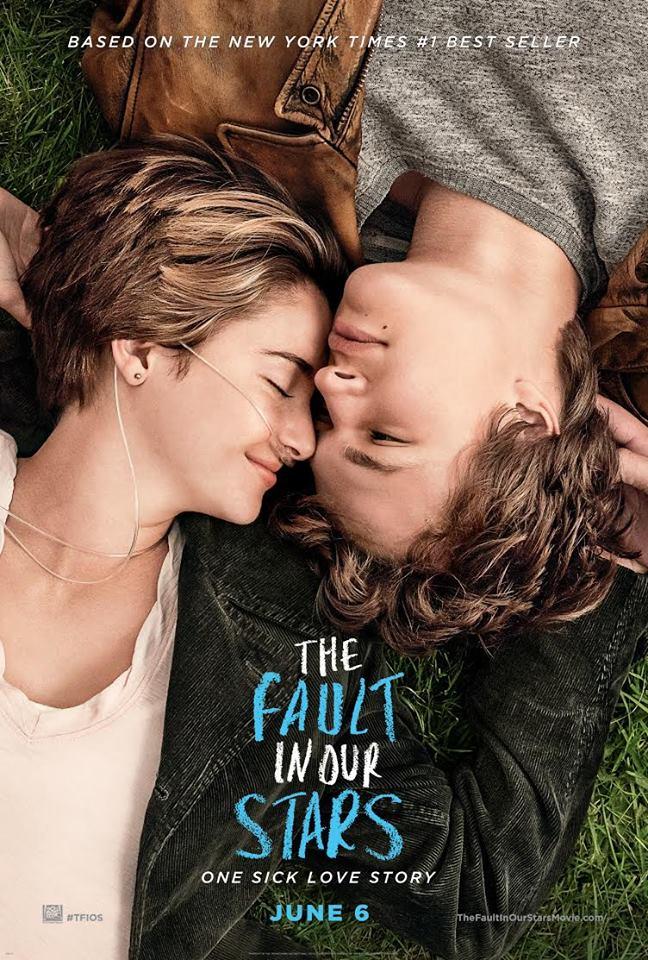 Nerdfighteria;  Refers to the Nerdfighter community which has grown up around the Green brothers' Youtube channel, vlogbrothers.  Although the population of Nerdfighteria is scattered internationally, the citizens have united numerous times to decrease worldsuck through super secret projects, other charitable events, scavenger hunts, video montages, happy dancing, and gatherings.
This movie has an interesting place of my attention. You see, I haven't read the book that this film is based on (though Agent Nate has given it to me for Christmas last year….sorry, I'm awful.). I haven't seen the previous film that the director, Josh Boone, has made. (That film is Stuck in Love and I do hear it's pretty good.  It's available on Netflix.)
What it does have is two screenwriters that I like. Scott Neustadter and Michael H. Weber wrote the film The Spectacular Now, a film that I really liked the screenplay for it.
It does have Shailene Woodley, who just so happened to also be the lead in The Spectacular Now and gave an AMAZING performance in that film.
But, the main reason I am really excited about this film? That it's a bit of a victory lap for writer and YouTube vlogger John Green.
I've been a huge fan of the Vlogbrothers channel that John shares with his brother Hank.  They make smart, well thought, very entertaining Vlog posts with topics that range from the silly, to the educational.
The Fault in Our Stars history has been well recorded on the Vlog, and it's been fun to watch the progress of the novel.  To see the announcement of the new book, to the announcement of the title and cover,to finding out what the story was about and to seeing John's reaction to books success.
Hell, the main reason I wanted to READ The Fault in Our Stars is because I wanted to support John Green, who seems like a smart, well rounded, goofy, and an extremely nice nerd.
I guess that's the time that we live in now. We COULD gain interest in a book/movie/TV Show, if the public social media persona is well liked. And THANKFULLY, from many of my friends who did read his work, his books are actually good.
And now, we have the first film based on his work. A BIG studio film I might add, one that is getting a summer release. And today, we got our first trailer for the film.
The trailer leans a lot on the schmaltzy stuff that this story contains, but  there is plenty that I dig. Truthfully, if I would make a bet? My gut feelings is that it will be THIS movie, not Divergent*, that will make  Shailene Woodley a Jennifer Lawrence level star. She has such a great and natural presence in this trailer, that it promises a performance that will connect to the audience.
The trailer does contain many moments of heartfelt and witty dialogue, and a story that will probably  make me cry like a baby.
Oh, and I forgot that the film has Mike Birbiglia! I love me some Mike Birbiglia!
Sadly, I'm debating if I should read the book now, or wait till after I see the film. I'm generally unfair to a first viewing of a film based on a book that I have read. I want to give the movie a fair shot. I'll stew on that for a bit.
The Nerdfighters have already gone crazy for the film ,based on the hundreds of gif's on Tumblr.  Here's hoping the film delivers.
Before I go, here is one more John Green Vlog post, this time from the set of the film!
*Funny enough, Divergent not only has The Fault in Our Stars Ansel Elgort but ALSO Shailene's The Spectacular Now co-star Miles Teller. It's like Divergent is the home of Shailene's love interest from her romantic dramas.