One of the best formulas for getting me to read your comic is to take all the baddies and show that they can kick way more ass than the actual heroes.  If you're the creative team behind "Superior Spider-Man" you've take things a little bit too far.  However DC Comics for all its faults, and they have so so many of them, seems to inherently understand that most of their troupe of heroes is a cast full of cardboard cutouts with googly eyes and theme songs.  Whereas their villains are like the crew from "Entourage" in that everyone thinks they're pricks, but pricks that you don't mind listen to talk for hours on end.  My point is that "Forever Evil" is DC's chance to take out their paper cutout heroes and focus a spotlight on all the actual interesting characters of the DC universe: the psychotics that make up the bad guys.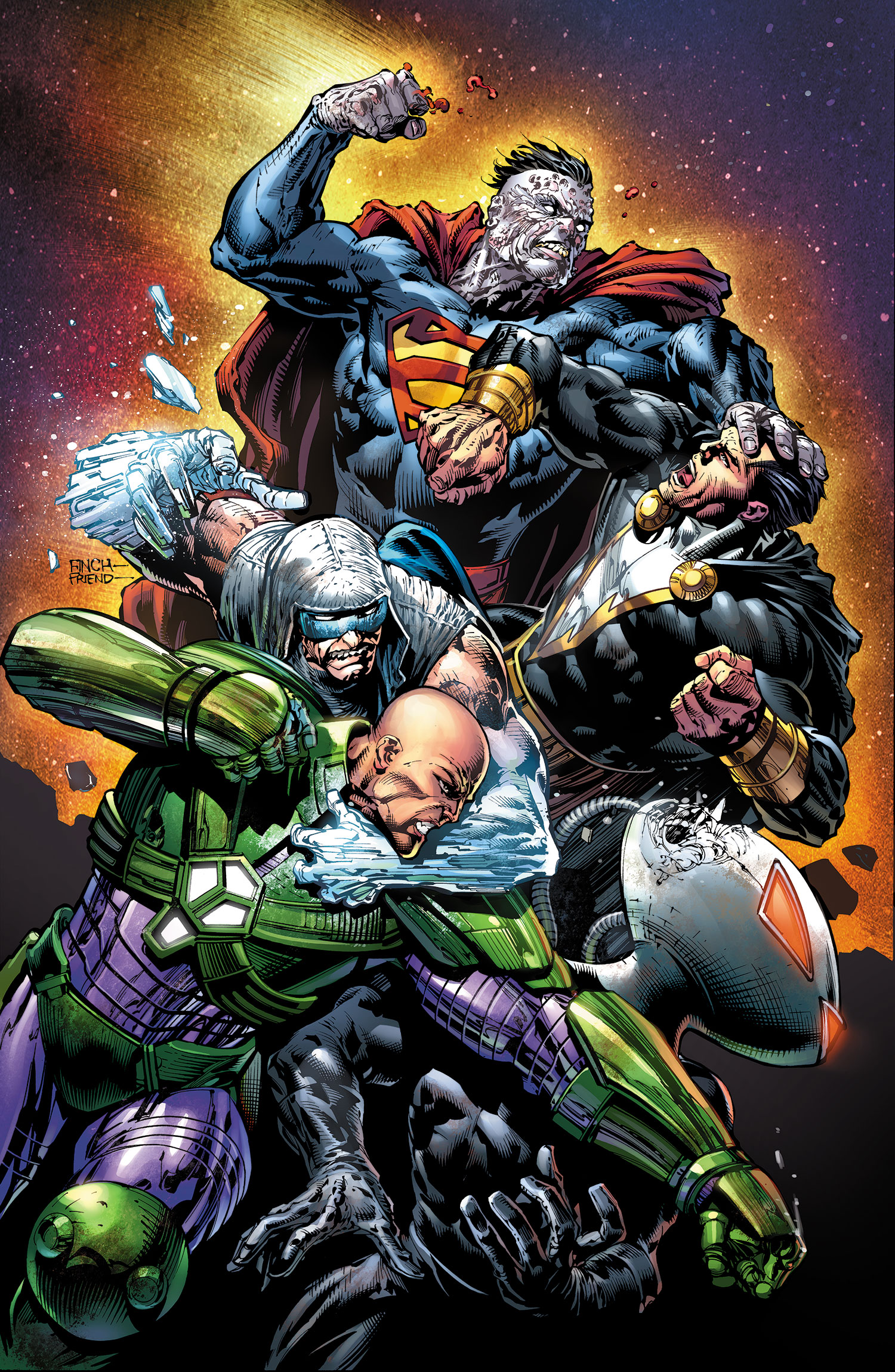 From a corporate standpoint, the month of villains makes quite a bit of sense.  All the fanboys salivate over just a panel of the Joker so what will they do if there's an entire issue devoted to him?  With special plastic shiny covers?  If you bought those it is your own fault and I don't feel sorry for you.  However if you questioned buying the first few issues of "Forever Evil", I can see why you had some trepidation.  Things were a bit too convenient for the incoming "Injustice League".  Heroes were dispatched with very little effort and made quite a mockery of the team dynamic.  I myself was on the verge of declaring this cross-over a complete cock-up but things picked up quite substantially in the end of the last issue.
Last page of "Forever Evil #2" was Black Adam declaring war on "Evil Superman" Ultraman by punching his teeth out the back of his head.  This issue picks up that fight and I was riveted.  Personally, I love when Black Adam dominates the rest of the universe at large, so when the two of them threw down I cheered and sang and danced a little jig.  Of course he didn't do as well as I'd hoped, but it actually made things better.  The whole book was full of these little moments of villains taking on The Injustice League and not "winning".  Captain Cold and the rogues confronted Evil Firestorm and "Cry-baby" Green Lantern and did some damage.  Lex Luthor evaded the eyes of Grid "T-1000 Cyborg" in order to take control of some Luthor tech.  And Black Adam's fight showed Ultraman that perhaps he isn't invincible.  And in the end, the villains see the value in each other and the danger of The Injustice League and they set the scene for a super awesome super bad guy team-up.  But even though things look promising right now doesn't mean this issue didn't have some questionable maneuvers.
One of the unfortunate things this book shows off is Geoff John's raging fanboy boner for The Injustice League.  Every single member is way overpowered.  Take Evil Firestorm.  In this issue he reaches into Captain Cold and pulls out his DNA.  I'm sorry, when the villain can literally point to people and say, "No powers and SUPER CANCER!" I start to doubt anybody could beat him.  There is no balance to this character; a character so powerful that he sent all the members of The Justice League to the other side of the DC universe.  He did this by shooting Good Firestorm… in the core… nuclear thing and then changing… I dunno, let's call it continuity magic because I read that full page spread twice and came away both times with no clue what happened.  So supposing anybody does take out the rest of the Injustice League, what's to stop Evil Firestorm from turning everybody into butterscotch pudding?
I'm still very excited for where this book will go.  Bad guys showing up the heroes is still a great comic book formula.  Heck, even bad guy team ups with good guys are entertaining.  Invincible had to team up with Titan to clean out some of the seedier underground elements in the "Invincible" universe.  It brings this fresh perspective to the characters and the universe.  If the reader is just used to the "Truth, justice, and the American way," of doing things, stories can get stagnant.  Bringing in the villains and showing they are successful asks the question, "Which is the right way?"  Mark had to ask that question when he teamed up with Dinosaurus and accomplished some great things—before they caused a horrendous thing.  But that's something the character has to wrestle with.  How will The Justice League look at the world if the worst parts of it saved it?
There are some interesting things in store for us and I'm excited to say this book is 82% Invincible.