As movie fans, we love digging into the meat of a movie's plot like a cyborg velociraptor with obesity issues. We even love constructing new narratives within existing narratives, like Russian nesting dolls shaped like cyborg velociraptors.
Unfortunately, just because a theory sounds cool, doesn't mean it holds any weight, much like how a cyborg velociraptor has difficulty holding weight. Here's three AMAZING theories that are completely bullshit, ranked from least bullshit to most bullshit.
3.) Skyfall's Villain is M's Son
Skyfall's enigmatic villain "Raoul Silva" was one of the better Bond villains to emerge in years, and was played with a fascinating yawning malevolence by Javier Bardem. One of the scarier things about him (besides his melting face) is his mystery – even after the credits roll, we never quite learn what Silva's deal was. We get vague hints: he was an MI6 Agent, he worked in Hong Kong, he got a little too big for his britches and M had to trade him to the enemy to grease some diplomatic wheels. Still, by the end, we never quite learn why M seemed so disgusted with him, or why Silva appeared to be nutbars in love with her, or even what kind of man he was before his transformation.
Stephen L. Carter, a writer for the BloombergView, released an interesting theory about the movie last November. According to him, the answer lies in anagrams. He posits that since Raoul Silva's self-made name can be translated into an apropos anagram – namely, "a rival soul" – that Silva's message to M – "THINK ON YOUR SINS" – must also be an anagram as well. I'll save you the trip to grab a pad of paper – the anagram, according to Carter, unfolds into "YOUR SON ISNT IN HK."
HK stands for "Hong Kong," which is where Silva was operating before he was betrayed by M. Thus, Silva must be M's son. It explains the strange love he has for her, the weight of her betrayal (and later his own attacks on her). The reason he hesitates when killing her at the end, and the reason she hesitates to kill him when the gun is stuffed into her palm.
Why It's Wrong: It's an interesting theory, and I enjoy gliding my brain-jet through the theory's air-hoops. I'm a big anagram nerd (whilst reading the second Harry Potter book, I figured out on my own that "Tom Marvolo Riddle" translated into the name of our favorite dark lord), and the idea that a huge plot point would be stuffed into an anagram makes parts of my anatomy stiffen.
Unfortunately, it completely misses the point that the movie is trying to make. Skyfall is about who we become, not where we came from. It's about duality, and outlining the paths we take. Bond and Silva are supposed to be similar – Silva even explains that once upon a time, he was M's favorite agent. Silva (really Tiago Rodriguez – anagram "A Gooier Drug Zit") was the one saving the world, getting the girls, and being kind of a dick.
Silva's origins are left smoky because so are Bond's. Like Silva, we get small tastes – we visit Bond's childhood home, we meet his groundskeeper, we learn his parents died and he didn't take it very well. However, when M tries to explicitly ask Bond to share his origins with the audience, Bond himself steps in to preserve the mystery: "You already know. You know the whole story." What he's really saying is "it doesn't matter."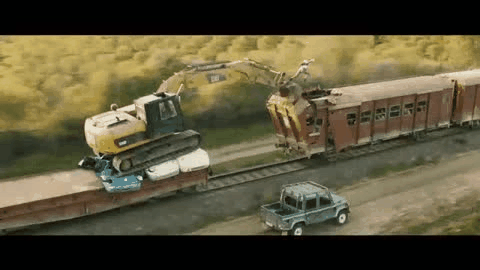 This is proved later in the story when Skyfall burns around him. We expect some kind of grand moment of catharsis where Bond makes peace with his unhappy childhood (or maybe even squirts nostalgia), but all he says is "I always hated this place." Then he actually takes part in making sure the building is demolished, without a hint of pathos. He knows his origins don't matter – he isn't where he was born. He isn't what happened to him. Bond is Bond because of his actions, and nothing else. He's not even a man who puts much faith in words.
Bond, in the very beginning of the story, is betrayed by M. She orders Bond's partner to take an unsafe shot that nearly kills Bond. In fact, everyone thinks he's dead for a long while. Bond plays the part of the retired agent, but when he spots a dire news report he straps on his Walther and goes back to work. Silva, as a direct contrast ("a rival soul"), turns into a murdering, raving loon after being betrayed by M. Silva tries to get us to sympathize with him, something M starkly brushes off – there's never any hint of guilt on her face. This is a spy's game, and though she felt a connection with Silva (like she does Bond), his actions are his own. Silva wasn't forced to become the thing he became. He chose to, and he's going to pay for it.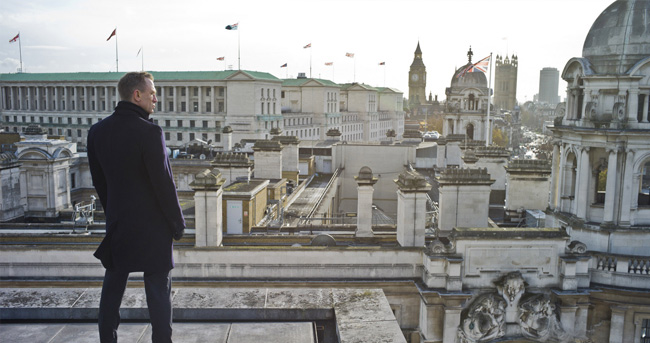 Silva definitely views M as a mother figure – as does Bond. But the idea that M is actually Silva's mother is taking a beautiful metaphor and crushing it beneath the boot heel of literalism. It doesn't matter where Silva came from. It just matters what he chooses to become.
Plus, anagrams are like prophecies – they can mean whatever you see. For instance, "James Bond" breaks into "a job mends." Pretty revealing, for a deeply-flawed person who's only redeeming quality is the work that he performs. THINK ON YOUR SINS can break down into lots of phrases, like "Honky Intrusions" and "Uh try onionskins."
2.) Ferris Bueller is a Figment of Cameron's Imagination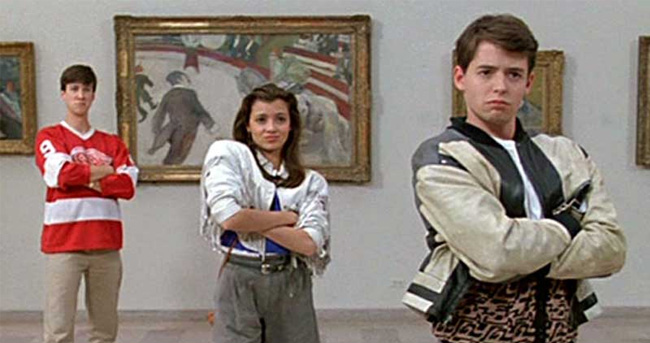 You know the theory – like Fight Club (spoiler alert?), the milquetoast character's raucous best friend is actually a mental projection who doesn't exist. Jack had his Tyler Durden, and Cameron Frye has his Ferris Bueller.
The theory goes that Cameron is suicidal from loneliness, and is deeply ashamed of the lame nobody he's spent his high school years as. His dad hates him (and abuses him, let's be honest), his mother is distant, and he lives in a cold museum-like home that appears to actively disdain children. The only attention Cameron gets is from playing sick, which he frequently does whenever he succumbs to his boredom and melancholy.
Enter Ferris Bueller, the ridiculous, over-the-top, supernaturally successful high school star that everyone loves. He's got a beautiful girlfriend, he's always the smartest person in the room, and all the other students seem to worship him for no real stated reason. Ferris Bueller then goes on to fake an illness (Cameron's constant move) to skip school. It has the side-effect of garnering attention – except, unlike Cameron's illnesses (that gets a slight nod from his parents), Ferris' illness sparks a grass roots "get well" campaign that would rival something created for a fascist dictator.
Throughout the movie, Cameron learns to embrace the wild side as he starts to perform the actions that "Ferris" does, and the story culminates with him finally throwing off the shackles of his abusive father and demolishing his beloved car.
There are actually two versions of theory – the more "Fight Club" theory where Cameron is actually doing what Ferris does, and the "complete fantasy" version where Cameron imagines the whole adventure from the comfort of his sick bed. Then, having had an epiphany, he goes into his father's garage and wrecks the car as his first stepping-stone to becoming a strong person.
Why It's Wrong: The theory is cute, and it's definitely a fun lens through which to rewatch a classic that you've probably seen dozens of times. Ferris Bueller is practically effervescent in his puckish charms – it's not a stretch to wonder if he's even real to begin with. That's pretty much the only way to view this theory. Taking it seriously is just sillypants.
Neither version of the theory works because of perspective – mainly, the story is told from multiple viewpoints. Fight Club, by contrast, is told from Jack's perspective. Every scene features Jack, because he's hallucinating. Fight Club plays fair – it's possible to figure out that Tyler Durden and Jack are the same person. In contrast, Ferris Bueller's Day Off tells the story from Ferris' perspective, Cameron's, Principal Rooney's, Sloan's, and the most damning of all: Ferris' sister Jeanie.
What the hell is Jeanie doing in a story about Cameron's imagination? She clearly lives in a different house than Cameron, and has a whole adventure that only marginally relates to Ferris (and has nothing to do with Cameron's coming-of-age story). Cameron would have had to imagine her story from whole cloth for no other reason than to add an interesting side plot to his own story, which is a level of insanity reserved for Daffy Duck and fiction writers. Jeanie adds nothing to Cameron's "becoming a man" fantasy. Principal Rooney at least creates an opposing force for Ferris to humiliate. On the other hand, Jeanie's plot ends with her and Ferris learning a lesson about family. Cameron is an only child. Ferris isn't real. Cameron and Jeanie don't even interact in the story. This lesson is nonsensical if either she's fictional, Ferris is fictional, or they're both fictional.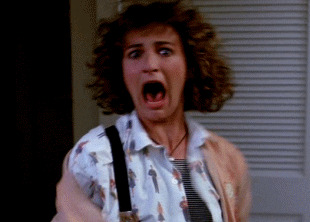 Sloan herself also presents a problem. If she's real, then Cameron has a beautiful, charming, confident girlfriend – hardly someone who would hang out with a perpetually ill, mopey, delusion loser like Cameron. If she isn't real, then what's her function in the story? They don't have sex, so boner-bait is out. He sees her naked once, but that's a pretty lame fantasy life. And, they're on the verge of a potential break-up due to college – again, another odd thing to fantasize about.
The "Cameron imagines the whole thing from his bed" angle is preposterous for obvious reasons: every movie could be just a hallucination starting from the first scene. Actually, all movies are made-up starting from the first scene, so it's kind of a pointless "revelation" that doesn't improve anything. So yeah. Cameron, take us out:
1.) Deckard from Blade Runner is a Replicant
This is one of the oldest fan theories in modern cinema – the insidious idea that Harrison Ford's "Rick Deckard" is in fact one of the human-looking replicants that he's been hired to hunt down. In the original cut of the film, proponents claim there are a few hints – the sterile photographs in Deckard's apartment, and the fact that he never answers the question when Rachel asks him if he passed the replicant-identifying "Voight-Kampff Test."
Those are both pretty thin – the photograph complaint can be dismissed out of hand, and the test non-answer is easily a character move. The person asking him the question in the movie is an angry replicant being subjected to that very test – it would be like screaming at an IRS agent and asking him if he's ever been audited before. Silence is basically an attempt to let the other person calm down, and to not argue on their level.
The biggest damning evidence actually comes from the Director's Cut released years after the movie, the one that inserts a deleted scene where Deckard dreams about a unicorn, and is later handed an origami unicorn by a smug Detective Graff. This, proponents of the theory claim, is Graff trying to tell Deckard that he's a replicant, and that his dreams were implanted.
Conspiracy theorists love it because it's subversive – look at the big hypocrite killing his own people. Plus, it's twisty, and people like twisty – it's fun to imagine that the whole story has been flipped on its head. People feel smart for guessing it. After all, it's certainly possible within the context of the universe, so why not? There's also another reason this theory has survived the ages – its biggest fan is the director himself. Ridley Scott believes that Deckard is a replicant, so he must be, right?
Why It's Wrong: The biggest reason it's wrong is that, like the Skyfall theory above, it completely pooch-fucks the message of the movie. "Blade Runner" (and the book it's based off) is about living life. It's about succumbing to the grind. It's about learning what to live for and embracing it with all your heart.
Deckard (the human) is a nine-to-five kind of guy. Sure, his job is exotic (hunting mandroids through a cyberpunk megalopolis), but that doesn't make Deckard any less of an empty shell. He's a classic workaholic – he eats crappy food, he goes home to his empty apartment, and he works. He doesn't have a girlfriend or a family; He seems to barely exist outside of his job – like a robot.
His prey, whom he murders, is the exact opposite. They only have a tiny lifespan (as opposed to Deckard's science-improved long lifespan), were built for one purpose (unlike Deckard), and yet seem to be adore life. They're fascinated by art, mechanics, even fucking rain. They are gripped with perpetual child-like wonder – they live every moment to the fullest. They cherish all the amazing emotions and experiences they've been given. The replicants are literally "more human than human," the ironic tagline of the company that created them.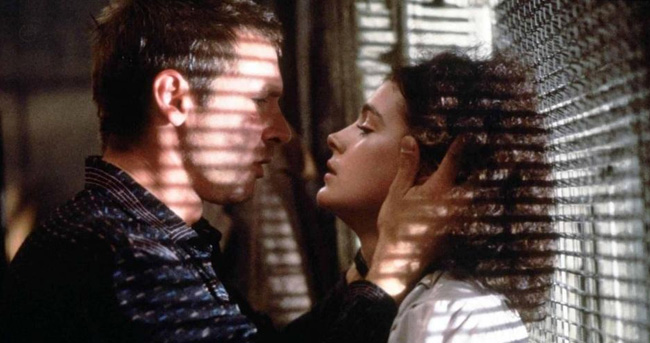 Deckard (the "hero") murders them one-by-one, and we're treated to a fantastic reversal in the final reel – though Deckard is the underdog (because he lacks Roy Batty's enhanced strength and senses), he's actually become the villain. Roy Batty wants to take revenge on Deckard, not just for murdering Roy's friends, but for wasting his life. For Deckard being an empty automaton in a magical world. Roy laments his own approaching death and lives his last moments like Deckard never will.
After Roy dies, Deckard actually learns the lesson. He takes his short-lived replicant girlfriend and decides to flee and live what life he can.
If Deckard is a replicant, the whole message of a human learning how to live from a robot is completely obliterated. It just becomes a weird robot-to-robot mentor message that sinks all the irony and beauty in the name of Shyamalalalamanian twistiness.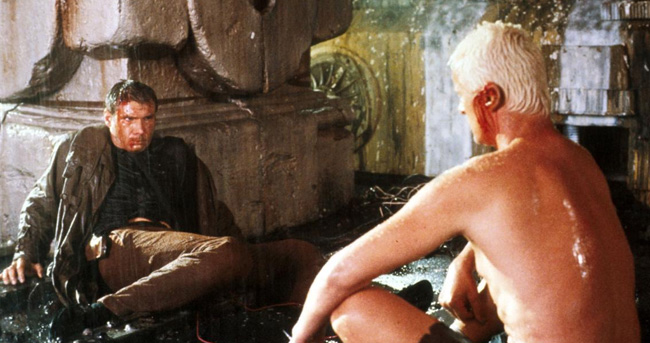 If that's not enough to convince you, consider this: Philip K. Dick (the author of the novel), Hampton Fancher (the writer of the screenplay), and Harrison Ford (Harrison Ford) all thoroughly intended that Deckard be a human being.
Philip K. Dick said it best: "The purpose of this story as I saw it was that in his job of hunting and killing these replicants, Deckard becomes progressively dehumanized. At the same time, the replicants are being perceived as becoming more human. Finally, Deckard must question what he is doing, and really what is the essential difference between him and them? And, to take it one step further, who is he if there is no real difference?"