Hello fellow GUARDians! Hello fellow Americans! Hello fellow LOVERS OF SWEET FREEDOM'S BAADASSSS SONG!
It is my pleasure and privildge to present the SECOND 4th of July article by GUARD. Want to know the wild part? This is also my second time writing a 4th of July article! Through random crazy happenstance, I am again at the helm of this site's most patriotic of days. The responsibility is crippling, and I barely slept more than eleven hours… WHICH IS MY GAWD-GIBBON RITE, PRAISE ROOSEVELT!
So what will I write about for my sophmore slump? Why, ways to pump your Patriotic juices! …that came out all wrong. But making mistakes is also American, damn it! So let's start off with a rap battle! Yes, why not? Rap started in America, it might as well get this party, or the Republican Party, or any Party you wish to associate with STARTED!
Here's another one, cuz America ain't some sissy one helping country!
Ooooh! Liberty all up in here! But should I surrender now and just leave you be to enjoy your BBQ and explosives?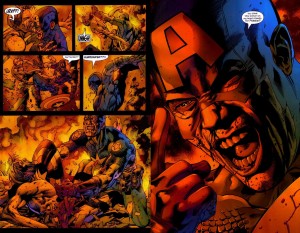 Whoa, an oldie but a goodie! Thanks Cap, I almost left them in peace! Now I will follow your example and keep going till I cut them in half with my shield. Figuratively. Maybe literally. I didn't see enough of you getting teary eyed from love for one's country during the rap battles.
Anyways, I think its about time I innundate you with images of Badass 'Merican History That Should Have Been: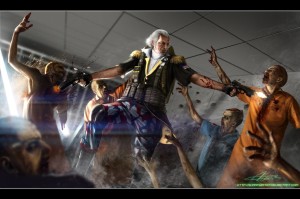 July 4, 1777: President George Washington time travels to the future to stop the United States of Zombies from ever occurring. Don't think this happened? Take your pulse. Do you have one? THANK YOU, WASHINGTON!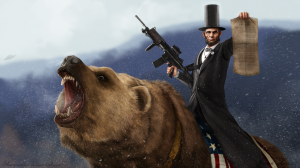 July 4, 1863: President Abraham Lincoln issues the Emancipation Proclamation… to a burgeoning Secret Empire. If it wasn't for the Presidential Machine Gun and his Grizzly steed, we'd probably all be slaves of the Secret Empire.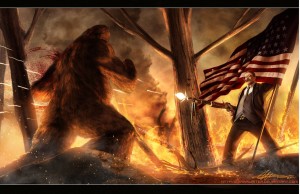 July 4, 1907: President Theodore Roosevelt finally defeats King Ruzzugh, thus smashing the Sasquatch Rebellion. If it wasn't for Teddy, we'd be the ones running around the forest.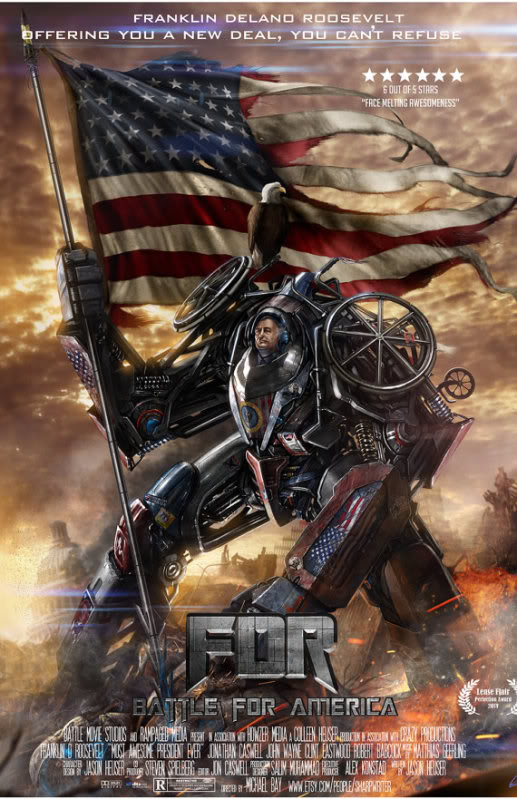 July 4, 1943: President Franklin D. Roosevelt destroys the last of Hitler's Death Mech Squad. Though the victory came at a terrible price: His ability to walk (for the second time). God bless ya, FDR!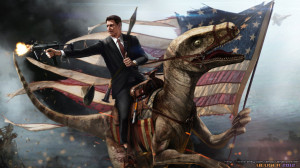 July 4, 1983: President Ronald Reagan, astride his Raptor steed "Hollywood," destroys the Primordial Union of Soviet Pangaea (PUSP), shattering its invasion of the future.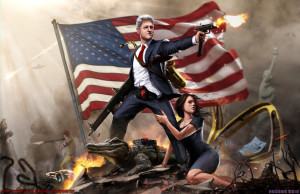 July 4, 1999: On the cusp of Y2K, President Bill Clinton fights for the future of America. If he hadn't been able to win his duel with Chronus, all of America would have been swallowed up by a Temporal black hole.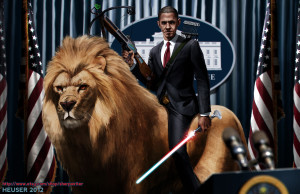 July 4, 2016: On the last months of President Barack Obama's term, The Wild Hunt has been unleashed upon America! Can Obama, alongside his lion steed "Hope," defeat Odin in open combat? Or will he be hunted to the ground?
Well, there you have it! All the moments in 4th of July history that should get you good and proper excited for this great country of ours! Thanks for reading.