If you're looking for Day 1, there it is.
Wednesday, June 12th, 2013
2:00pm – Driving up to E3 after pretty much an all nighter of post – Room to Improv rehearsal stuff/design stuff.  So far, this is not going according my plan of being here by 9am.
2:30pm – Parked pretty much in the same location as the previous day.  Hope the street lights are operational here when I get back. Newfangled parking meter with the card reader. Sorcery. I wonder if these operate via Wifi.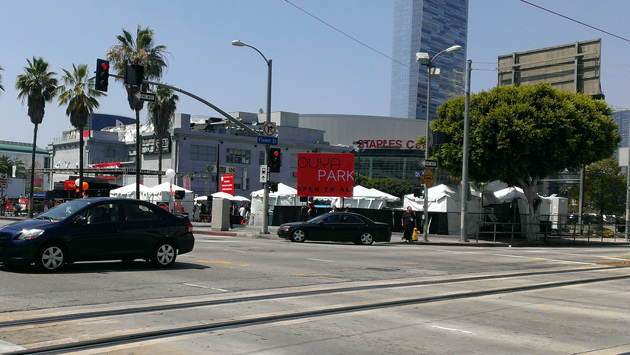 2:50pm – Looking at the OUYA "Open to All" Park outside the convention center.  Must go here before the day is done.
2:56pm – Went back to badge pickup because I broke my lanyard as I was pulling it out of my bag.
3:06pm – Making my way to the Square-Enix booth.  I haz a hankering for new Final Fantasy.
3:10pm – Lines are too long for Final Fantasy. I'll just watch the giant screen.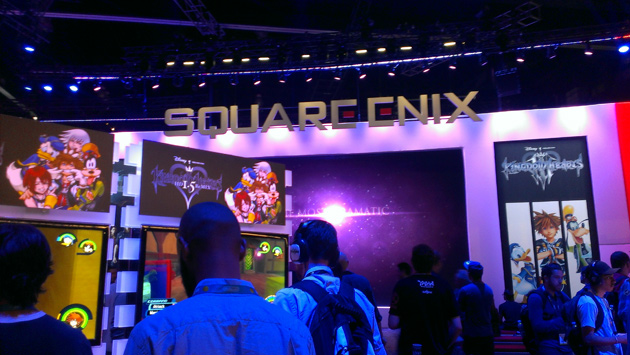 3:15pm – Final Fantasy XIV lines showing no sign of shortening.  Hopped on Final Fantasy X/X-2 HD instead.  Cuz… BLITZBALL!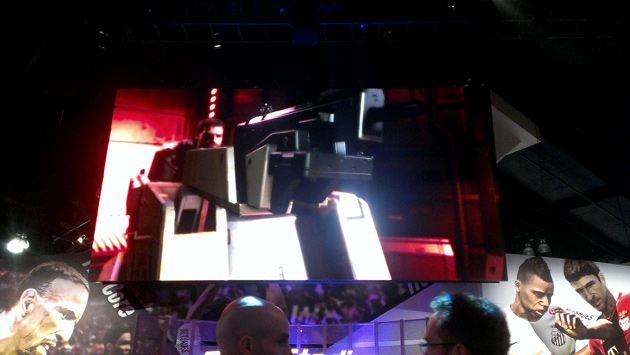 3:45pm – Yes, I just spent half an hour playing a game from 10 years ago… at E3, surrounded by games that aren't even out yet.
3:50pm – Konami booth. Watched the new Metal Gear Solid: Phantom Pain trailer.  The trailer music feels like it's pulled straight from a James Bond flick.  Still badass. Also, Kiefer Snake.
3:55pm – Ran into a college roommate Kris' current co-worker and his friend as I decided to head to West Hall to check out first party booths.  We exchanged numbers.  Yeah I'm slick like that.  Facetious.
4:20pm – Xbox One booth. Checked out Ryse for a bit.  It almost feels like people have been saying: "Quicktime: The Game," though, I'd argue that Heavy Rain was moreso, and I loved it.  Hopefully Ryse has a badass story.
4:26pm – The Xbox One, in all its Xboxy glory.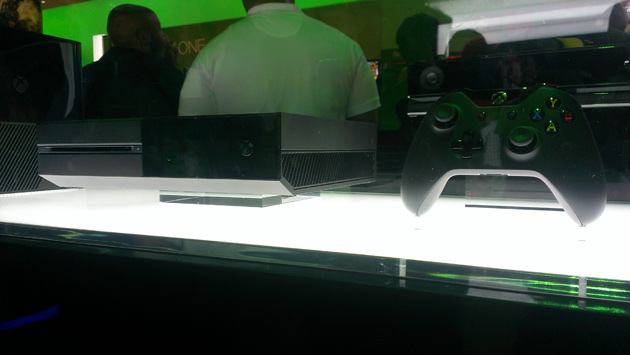 4:28pm – The Xbox/PlayStation hallway. This picture is the E3 equivalent of toes at a beach, or friends jumping.  Tempted to take a selfie.  Punched myself in the face as a preventative measure.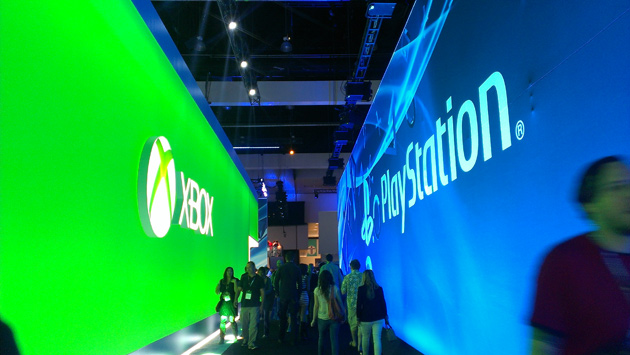 4:28pm – PlayStation booth.  My gods.  Last of Us. Beyond: Two Souls. Nerd sploog.  Also, another failed panoramic.

4:35pm – Walking around the edges of the exhibit floor.  I run into the fantastic Cyndee San Luis.
4:45pm – Quick walk around Nintendo booth.  OhmAGAAaAHH.  Wind Waker HD (YES!), Duck Tales HD (YES!), Bayonetta 2 (Yeah.), Mario Kart 8(YES.), Super Luigi Wii U(YES!).  Full disclosure: Nintendo Fanboy.  I wish they had the new Super Smash Bros. teaser playing on loop somewhere.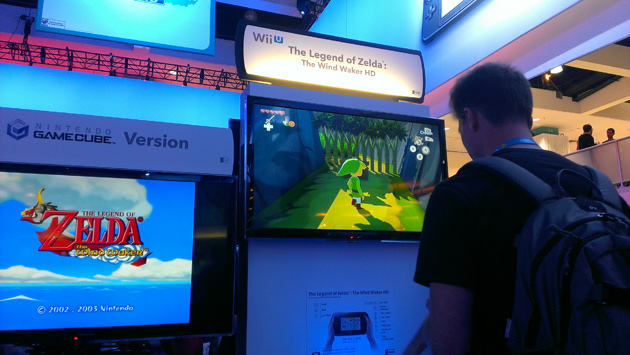 4:50pm – Live Injustice battles sponsored by MadCats.  I wish I still knew how to play fighting games.  Put up Street Fighter II regular ass edition, we'll see what's up then!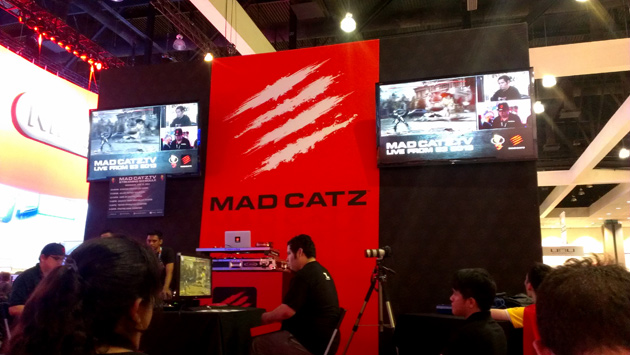 5:03pm – Back at PlayStation booth.  As you can tell, I have no plan.  I'm like a tay ina win.
No wait… let me try that again:
Better.
5:o6pm – I attempt to leave West Hall and back to South to see if I can jump on Final Fantasy XIV.  As I am about to exit, I get tapped on my shoulder by this guy: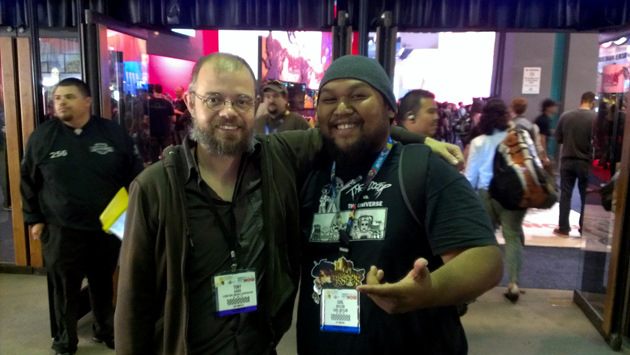 He's there with his new project Yaiba: Ninja Gaiden Z.  It's fun, bloody, bloody fun.
5:10pm – Having a talk with Toby for a minute, when another person that I worked with on Tomb Raider comes up, Mr. Damon Shelton, the man that got me into my first MoCap suit.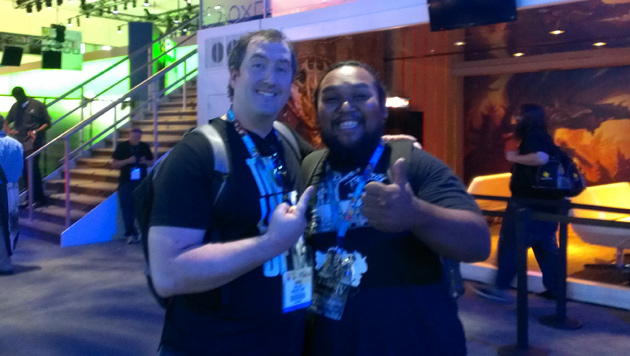 5:30pm – Besides working on The Last of Us, I learn that Damon is a former CounterStrike pro.  I realize that I may have accused him of hacking at some point.
5:45pm – Run into Jakob and Adrian from the old Anteater days.  Zot!
6:05pm – Meet some people from the Last of Us team. Also a dude working on the new Killer Instinct.
7:30pm – Heading to the WIGI (Women in Games Internatonal) E3 afterparty at the Belasco.  Intercepted by Andrew, a fellow former tester at Treyarch.
7:40pm – We meet up with his friend Veronica and head to Belasco.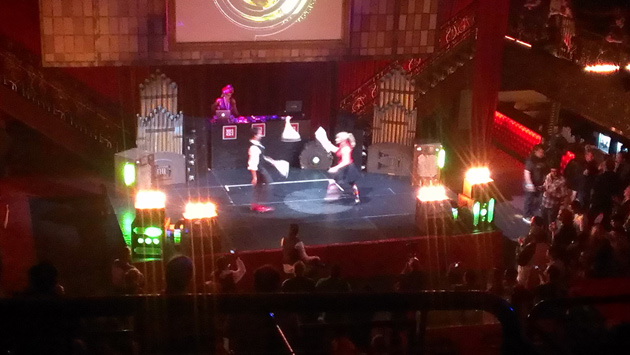 7:50pm – This party has people in costume, nerds in no costume, loud music, giveaways, and circus performers.  I'm in.
8:14pm – Stop by the swag table. Throw my business card in to win more PlayStation swag and hopefully a PS3 or Vita. I'm staying for the drawings, at least 8:30pm, 9:30pm, and 11:00pm.
8:40pm – First drawing.  I don't win.
9:42pm – Second drawing. Lose.
10:12pm – Walking outside in the smoking patio.  Two guys come in with costumes on.  Both are carrying Doomhammers.  I already want to be their friends.  I must touch their hammers.  They end up being a WoW-Themed musical duo called Songhammer. Bad ass.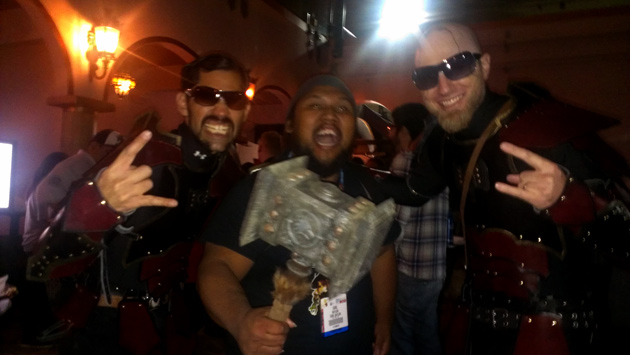 10:40pm – Meet some cool dev/artist/QA folks. One of the dudes, Evan, is working on a horror/puzzle/adventure type game for the OUYA/PC/Linux called Whispering Willows.  Pretty darn cool.
11:10pm – No drawing yet. Starting to sleepify.  Old man levels rising.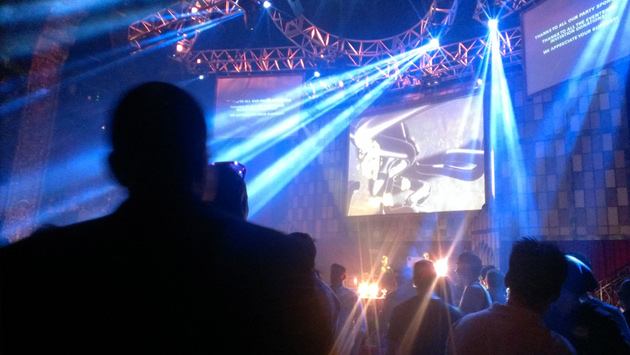 11:25pm – The bass and dubstep is starting to scar my soul.
11:30pm – Drawing for the PS3 Uncharted Bundle!
11:34pm – I don't win. Sleepy time.
12:01pm – Back at my car.  There is a surprising amount of street light happening.  Lucky me.
– End Day 2 –