I have not been shy about my love for USA Network's line of hour-long dramas and this week is no different because I am a squirmy worm in anticipation for Graceland to return on June 11th.
While the pilot has the lingering scent of classic TV tropes as the season continued it became a weekly heated hour of secrets, lies, and so many close-calls you're left panting and slack-jawed.  "Wait! Does he know?!" "What did he just say?" "Who the hell is that?!" The characters that seem one-dimensional develop into endless caverns of twists and turns while the predictable backstories shift and distort into ugly mistruths.  Literally almost everything you learn in the pilot is completely different by the season finale.  Except for Johnny, he's the most adorable, precious gem through-and-through.
The plot starts with a rookie, Mike Warren, who gets placed in a beach house of undercover agents.  Warren is over-the-top smart but still very new when it comes to knowing when to play by the rules and when to ask for forgiveness later.  With the help of kind, joking Johnny; smart and resourceful Charlie; and suspiciously sexy Briggs he learns the ropes of the jobs but struggles with his roommates constant penchant for half-truths.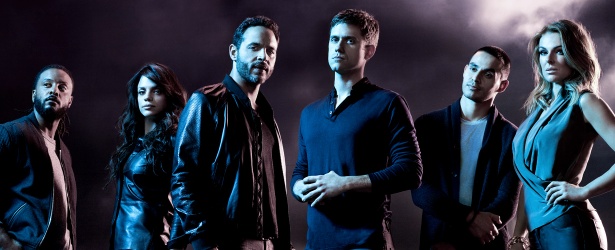 I've grown pretty tired of anti-heroes.  Look, most protagonists suck.  They need to suck because they need character growth and a personal journey.  Since the renown success of House the flawed anti-hero has become the small screen's darling.  We need an anti-hero but instead of a doctor what if she's a mom who sells pot to make ends meet after her husband dies?  What if our anti-hero was an advertising agent in the 1960's?  What if he was a teacher who cooks meth?  I've grown tired of watching shitty people act like assholes and smugly look down on the rest of us.
What makes Graceland enjoyable is Mike Warren's earnest likability.  He wants to be top at his job, he wants to protect people, and he wants to believe that people are inherently good.   Balance that with Paul Briggs' unflappable charm poisoned with the knowledge that he is up to something.  But seeing him from Mike's eyes is enthralling.  You can't really blame him for wanting to prove how wrong people are for treating Briggs like a target instead of a hero.
The tough part about writing this is it gets spoiler-intensive very quickly.  Reveals are huge and fast which makes the season go by quickly but tears apart your insides in anticipation.  I re-watched the pilot and the season finale last night while I wrote this article and even though I had seen both episodes a handful of times each it was still incredibly consuming.
The pilot manages to introduce most of the housemates but still leaves a lot unanswered, much like actually moving into a house with five other strangers.  Then the finale doesn't fuck around and instead of building up to the finale baddie reveal and fight they get right to the action.  I hate when there is a season of tense buildup and then the climax is completely underwhelming (looking at you, Criminal Minds Season Eight! You had Mark Hamill! What is wrong with you?! You had one job!)
By the time the episode ends you're left feeling both relieved and still completely unnerved by how things turned out.  Where does this leave our little house of liars?  Will they be able to trust each other now that everything has been turned upside down?  How will Mike Warren fit back into the fold?  And yet at the same time it ended in a way that if you missed the last ten seconds of the show you could say things are wrapped up.  Not perfectly, mind you, but left in a way that isn't tidy and seems like a nice touch after so many shows end with an unyielding flood of fanservice.
I'm really glad the show got picked up for another season for a lot of reasons.  First of all, I am fully committed to these characters, I want to know more (especially in Paige's case because she is teetering very close to being just a Bikini With a Gun) and I want to see the aftermath of the season finale.  Secondly, I think they have done a great job with the actors cast in these roles.  Aaron Tveit had just started getting some serious recognition for Les Miserables while Daniel Sunjata had spent the last six years in supporting roles on various TV shows.  Vanessa Ferlito, Serinda Swan, and Brandon Jay McLaren are finally getting a chance to shine after putting in their time on other shows that either ended too quickly.
While I praise endless heaps of credit on this show for throwing curveballs right into my face I have to admit it's still very much a USA Network title.  There are moments of product placement, instances of unnecessary, though thoroughly appreciated, shirtless scenes, and a couple heavy handed romances.  But by the end of it, I think the balance between the straight-up OH NO THEY DIDN'T moments and tender family bonding is laced with humor and heart.
Let's not forget that in a house of six people only two of them are white.  TWO.  And unlike FOX's Gang Related, starring the god-among-men Sung Kang, the diversity in the cast isn't to imitate the surrounding criminals.  In fact, Graceland's two biggest villains, while also not-white, are far from the typical bad guys.  Even they have clever and fascinating stories to tell.
To say I'm excited Graceland is coming back would be a ridiculous understatement.  I'm downright fiending.  They have changed timeslots and will now be airing at 10pm Wednesday nights on your handy dandy USA Network. Will it take the place of Game of Thrones or Breaking Bad? Of course not, but will it help fill in the usually drab dip of the summer season.  Why bother going outside and running around the beaches filled with tourists and teenagers when you can watch beautiful actors do it instead?  At least they won't get nasty sunburns and you can watch from the safety of your geekcave like me.