What do you mean you're NOT watching @midnight?!
Chris Hardwick, also known as @nerdist and resident geek darling, has been hosting a new show for the last few months that no one seems to be talking about.  @Midnight airs Monday – Thursday on Comedy Central at 12am (hence the playful title.)  But what stands out the most isn't the fact that "Talking" isn't in the title anywhere but the clever content and hilarious guests.
Besides the universally charming Tom Hiddleston, what the States have been severely lacking but the UK has an abundance of is comedic panel shows.  Now, of course, we have had a few in the past from Hollywood Squares to even the more recent Hollywood Game Night, which is fantastic, but that pales in comparison to BBC's dozens of panel shows.  The concept is simple and relatively cheap for the most part, you take anywhere between three to six quasi-celebrities and ask funny questions and they in turn reply with entertaining answers ranging from hilarious to ridiculous.
The UK is absolutely smashing it with these types of shows.  The music-themed Nevermind the Buzzcocks has been running for almost 20 years!  Before it was reformatted vH1's Best Week Ever somewhat resembled long-running Mock the Week but it lacked the game show feel and instead relied heavily on the confessional-style interview that became wildly successful after I Love the 80's.  Luckily you can find gifs, clips, and even full episodes on YouTube and Tumblr here in the states but I wish shows like 8 Out of 10 Cats, A League of Their Own, and Agent Patrick's favorite Q.I. were more readily available here.
Then Chris Hardwick answered my pleas with his nightly game show starring comedians who discuss current events and weird trends on the internet.  My god, this appeals to me on so many levels.  First let's discuss the choice of contestants: Chris Hardwick is actually a stand-up comedian.  It's hard for most of us to remember that because we've been watching him host shows since 1995 (FUN DENISE FACT: the mother of childhood friend of mine who has a serious case of "Stacy's Mom" was on an episode of Singled Out.)  So he invited a buttload of comedian friends to take part on the show.
And when I say comedians I don't just mean randos from your local open mic night, I mean the cream of the crop.  From young up and comers like Grace Helbig and Mike Lawrence, to cult favorites like Paul Scheer and Kristen Schaal, to big names like Jodd Apatow and Tom Lennon, and even comedic legends like Weird Al and the cast of The State.
Then there's the content! This show is specifically aimed at an internet-savvy generation who lives on Reddit, Tumblr, and Instagram.  With segments like "Cringeworthy", "Hashtag Wars", and "OK Cupid or Serial Killer" you can image the hilariously entertaining answers these comedians come up with.  Basically it's like when you share something on Facebook only 1000x more funny.
I can't fully guarantee that the show would be as funny to someone who shies away from social media but half of the contestants aren't exactly Reddit addicts and they still manage to make witty retorts.  The point isn't to focus on the memes and sketchy Craigslist ads but the fact that these things are just part of our culture as a generation.
It's pretty upsetting for me to think about how instead of more shows like this which don't cost much money to produce they aren't more popular here in America.  Instead networks like to save money by filming "reality" shows and that just isn't the same thing.  Basically TMZ now dictates what our programming will entail and that just downright blows.  I know I watch way too much shitty television but I can't put myself through most reality programs.  If I'm going to watch over-edited drama then I want M. Night Shamalan style plot twists like everything Dick Wolf touches or obscenely beautiful people like on Arrow.  I don't give a shit about Betsy, 24, from Atlanta who loves nights out with the girls and always seems be attracted to married men.
@Midnight is refreshing in its simplicity.  Four funny people stand on a stage and comment on crazy shit found on the internet.  That's it.  Technically Chris Hardwick will distribute "points" to the answers which make the live audience laugh but that's irrelevant.  You're tuning in to watch the voices behind your favorite podcasts and twitters try to make each other laugh.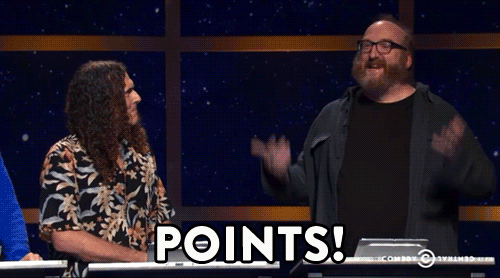 Want to watch Jonah Ray and Kumail Nanjiani torture Hardwick with embarrassing stories?  Want to Tom Lennon lose over and over again?  Want to watch Weird Al gag at excerpts from One Direction fan fiction?  Then stop putzing on Imgur and watch the goddamn show already!
Episodes are available on Hulu and Comedy Central. Don't forget to follow @midnight and their accompanying tumblr as well!