SPOILERS – OKAY SPOILERS ALL UP IN YOUR FACE – SPOILERS
As I write this, I should admit ahead of time that I am an entire season behind on Supernatural.  And yet here I am, opening my big gob to gripe about said show.  But I only gripe because I am a fan.  Truly.  I have watched the previous eight seasons of this show that, even you have to admit that by all rights, should have been done by Season Five.  But after the creator of the show headed out, the other writers stepped in to keep the show rolling.
And they actually did a pretty good job!
Though the Leviathans as a bad guy were a bit weird and something of a let down.  And they ignored TWO incredible plot lines involving Castiel.  And… and… okay, I have a lot of writer's gripes so how about I just focus on one?  That one being:
THERE ARE NOT ENOUGH CHARACTERS.
Yes, I like Dean.
And Sam is cool, too.
And Castiel… well, he's my favorite.
(Sorry, Winchesters)
But seriously, how many times can the show say either "Can Dean Save Sam?" or "Can Sam Save Dean?"  By this point?  They've done each premise four times.  Frankly, it gets old.  The most interesting moments were when other characters step in and affect the Winchester Bros.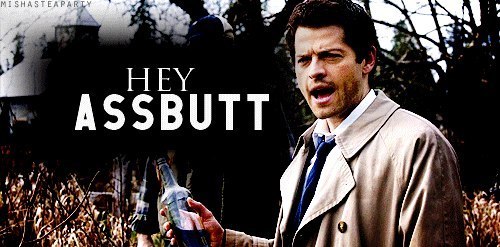 As you can see, one of the funniest lines came from a character that didn't even show up till Season Four.  My point is one of simple logic.  Dean and Sam will never really be in danger because they are the lead characters.  So that's why you need other characters.  To not just have a new perspective for the Winchesters to bounce off of…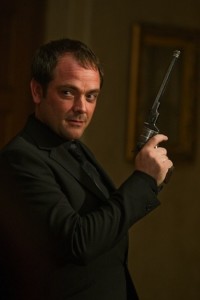 …but to also have someone else who can be put in danger.
Or appeal to a different part of the audience.  With cute geek girls perhaps?
And maybe even some friggin' racial diversity?
For a little while, Supernatural had the character of John Winchester, the father of Dean and Sam.
With just this one character, you had a great dynamic of Dean the loyal soldier following perfectly in John's footsteps, and Sam the rebellious son.  It was a really interesting interaction, that never got explored nearly enough for my taste.
Here's the part where I compare Buffy the Vampire Slayer to Supernatural.  Right off the bat, Buffy had Buffy, Xander, Willow, Giles, Angel, and Cordelia.  That's six characters that played off each other in a great way.  While Xander annoyed Giles, Willow brought out Giles' protective nature and so on and so on.  What do Dean and Sam bring out of each other?  Brotherly love.  Which is good and well written but it becomes something of a circle as the show goes on.  And it has.
For nine seasons.  Maybe with a tenth season, too?  They've tried to add some fresh ideas, with the Men of Letters bunker introduced in Season Eight.
So why not add new blood?  Or put some recurring characters officially on the show full time.  I think Dean and Sam (or at least, the actors Jensen and Jared) could use some help with carrying the show.  And the writers could use some variety to help flesh out the show.
But keep playing "Carry On My Wayward Son" for all season finales.  It is never not awesome.