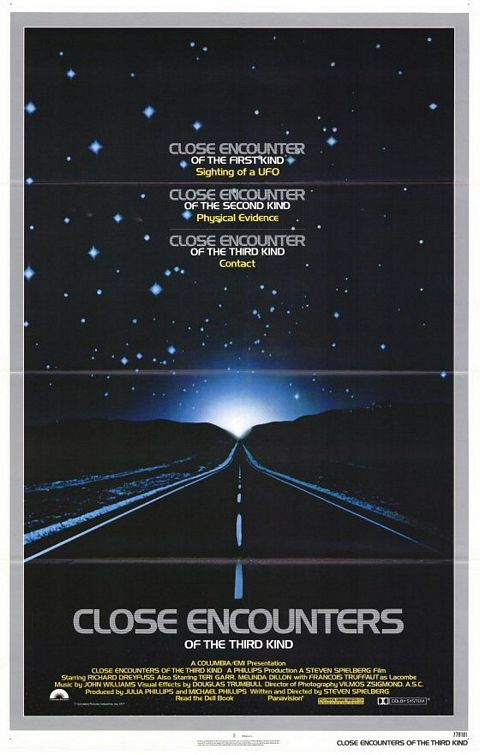 Folks….sometimes I feel like I dropped the ball.
And what's strange for me is that everything concerning this episode is me dropping the ball.
I should have had this episode on the site up a MONTH ago.
I should have prepped myself better for this movie.
I should have probably doubled check what's the next movie we're gonna talk instead of announcing the WRONG movie at the end of the episode. (I announce that the next movie was going to be Raiders of the Lost Arc…I'm an idiot…it's actually 1941.)
I should have been a little more cautious of our recording time on this one. (We were trying to not go over on this one like the Jaws episode.) Me and Matt kinda meander and go WAY off topic on a movie that truly does mean A LOT to tons of folks. Especially since I think our opinion on this one is will be a very unpopular one.
Yes, it's true, I admire Close Encounters of the Third Kind then honestly love it. I see WHY the film affected people. I see HOW it became a hit.But the characters (despite how great Richard Dreyfuss is in this film…and he's incredible in it.) and the story doesn't grab me as much as some of Spielbergs other films.
Don't get me wrong, there is PLENTY that I do love about the film, and you will hear what those are in the podcast itself.
So, yes, please, despite all this, I DO hope you guys give this episode a listen as it's still a lot of fun recording this with Matt. ACTUALLY, at the beginning of this episode, I even go into my first time MEETING Matt. My first meeting with Matt is, in my opinion, the true origin story of how this podcast came to be.
So, go HERE to download and listen. Check us out on iTunes, subscribe and rate!
And check back this week as the next flick is gonna be Spielbergs one true Comedy…1941!