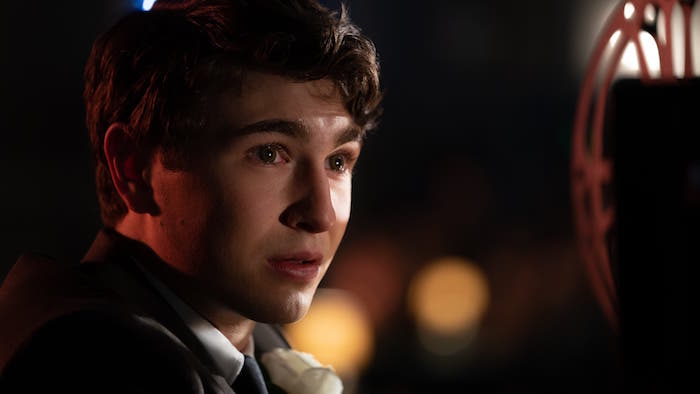 Steven Spielberg's family upbringing has always seeped into his best works. The prolific filmmaker's relationship with his parents and their divorce informed Close Encounters of the Third Kind, E.T., the Extra-Terrestrial, and Catch Me If You Can. Spielberg's own messy divorce led to the polarizing depiction of Willie Scott in Indiana Jones and the Temple of Doom. Even War of the Worlds could be distilled to the story of a father trying to hold his family together.
Spielberg finally tackles his childhood and passion for filmmaking head on with The Fabelmans. Unlike JJ Abrams' similarly themed Super 8, there is no sci-fi bent.
The story begins in 1952 as Sammy Fabelman (Mateo Zoryan Francis-DeFord) is taken out for a night at the movies, The Greatest Show on Earth, to be precise. Poor Sammy is actually afraid of going into the dark theater, but his parents attempt to alleviate his fears by explaining what a movie is in their own unique ways. Burt Fabelman (Paul Dano), a computer engineer, tries to explain frame rates in a logical, scientific fashion. The bohemian Mitzi (Michelle Williams), a trained pianist and dancer, simply tells Sammy a movie is like a dream you won't forget.
Sammy quickly becomes fascinated with recreating the train crash from Cecil B. DeMille's Oscar winner with his own model set. This leads to Sammy making home movies with his younger sisters and his Boy Scout troop. While Mitzi encourages Sammy's early artistic endeavors, Burt sees this as nothing more than a hobby though he does admire his son's clever innovations. At one point, Sammy pokes holes in the actual film stock to simulate the flash of gunfire.
As the years roll by, a teenaged Sammy (now played by Gabriel LaBelle) has moved from New Jersey to Arizona, where the family seemed the happiest. From there, life takes a dour turn as the Fabelmans relocate to Southern California. Sammy has discovered his mom has engaged in an affair with family friend Benny (Seth Rogen), whose jovial nature seems to jibe more with Mitzi's artistic side. To make things worse, Sammy faces bullying and anti-Semitism at his new high school.
There's a cloying sense of sentimentality to most of Spielberg's films that can be sickeningly sweet to some. However, the drama of The Fabelmans wraps around the audience like a nice cozy blanket. Spielberg collaborated once more with Tony Kushner, who also wrote Munich, Lincoln, and West Side Story. Rather than an all-encompassing biopic, Kushner and Spielberg crafted a coming-of-age story that centers around the power of movies. They can elevate individuals to immortality or reveal ugly truths hidden from everyday eyes. Movies might even change the hearts and minds of those clouded by ignorance.
Spielberg has always had a way with young actors whether they be Henry Thomas, Ke Huy Quan or Joseph Mazzello and Ariana Richards in Jurassic Park. The tradition continues with Gabriel LaBelle, who only has a handful of credits to his name. LaBelle anchors the film and takes you through the triumphs of his amateur pictures to the tragedies of his shattered family. Dano dials down his usually mannered and manic performances as the nebbish patriarch of the Fabelman family. Judd Hirsch also shines as eccentric Uncle Boris who blows into town with wild tales of lion taming in his circus and working on the set of silent films. In the end, Boris warns Sammy that sooner or later, he will have to choose between his art or his family. Hirsch doesn't get a lot of screentime, but he is memorable enough to earn an Oscar nomination for Best Supporting Actor.
Video/Audio: 9
The video is presented in 1080p with an aspect ratio of 1.85:1. The transfer is flawless with natural skin tones and rich color schemes that capture the look of the 50's and 60's. 
The audio is presented in Dolby TrueHD 7.1. Sound is pretty straightforward since nothing fancy was required for this intimate drama.
Extras: 4
The Fabelmans: A Personal Journey (11:00) focuses on the origins of the project, how reality blended with fiction, and its depiction of a Jewish household.
Family Dynamics (15:28) looks at the casting process, such as what each actor brought to the table and how they worked with one another.
Crafting the World of the Fabelmans (22:04) goes in-depth on the actual production. We see how Spielberg's childhood home and films were recreated, shooting the actual scenes, and briefly examine Spielberg's long-time relationship with composer John Williams.
Film Value: 7
The Fabelmans won't rank as top-tier Spielberg, but it stands as a touching story about the hardships of growing up, the harsh realities of prejudice, and the comfort one can find in their passions.