As a special treat for all you lovely readers for supporting my perversion and filth this month instead of focusing on one beautiful man I give you the 12 Babes of Christmas.
On the first day of Christmas my comics gave to me… A Gambit in a Shower
Remy the Cajun Mutant (mutant) had a very steamy bath (see-thru curtain). And if you ever saw it (saw it) you would never forget it (in the spank bank).  —To the tune of "Rudolph the Red-Nose Reindeer"
Gambit has easily been the sexiest X-Men since the 90's.  Some people love him, and some people hate him but no one is going to argue that this man isn't seductive as fuck.  He's charismatic and he knows it.  He isn't just a thief when it comes to jewels and money, he's been stealing hearts for decades now.
On the second day of Christmas my comics gave to me… 2 Iron Fists
Oh Iron Fist, Oh Iron Fist, Danny Rand is super cute.  Oh Iron Fist, Oh Iron Fist, Orson Randall is sexy.  –To the tune of "Oh Christmas Tree"
Immortal Iron Fist was a life-changing book for me.  I don't know if you can tell by my default urls (@ironpissed) but I really, really like Danny Rand.  Then during Immortal Iron Fist it was revealed that there have been Iron Fists before Danny and one of them is the scary-hot Orson Randall.  While Danny might be your favorite drunk booty call, Orson would be like hooking up with John McClane during a terrorist attack.  You know it's a bad idea but that isn't going to stop you.
On the third day of Christmas my comics gave to me… 3 Thor Throws
Mjolnir is ringing, are you listening?  In the sky, air is crackling.  A beautiful sight, we're happy tonight, watching Thor do some stuff with thunder.  –To the tune of "Winter Wonderland"
Thor is gorgeous.  First of all, he's a god.  Second of all, he's all muscle-y and stuff.  Third, what am I even saying?  Look at him!  Even girls like me who tend to be attracted to lanky, sickly-thin dudes can't help but go wide-eyed and slack-jawed at this behemoth of a male specimen.  I'm not a religious person but I pray to that booty for sure.
On the fourth day of Christmas my comics gave to me… 4 Starlord Quips
Peter Quill the Prince and Starlord, HA HAHA HAHA, HAHA HA HA.  –To the tune of "Deck the Halls"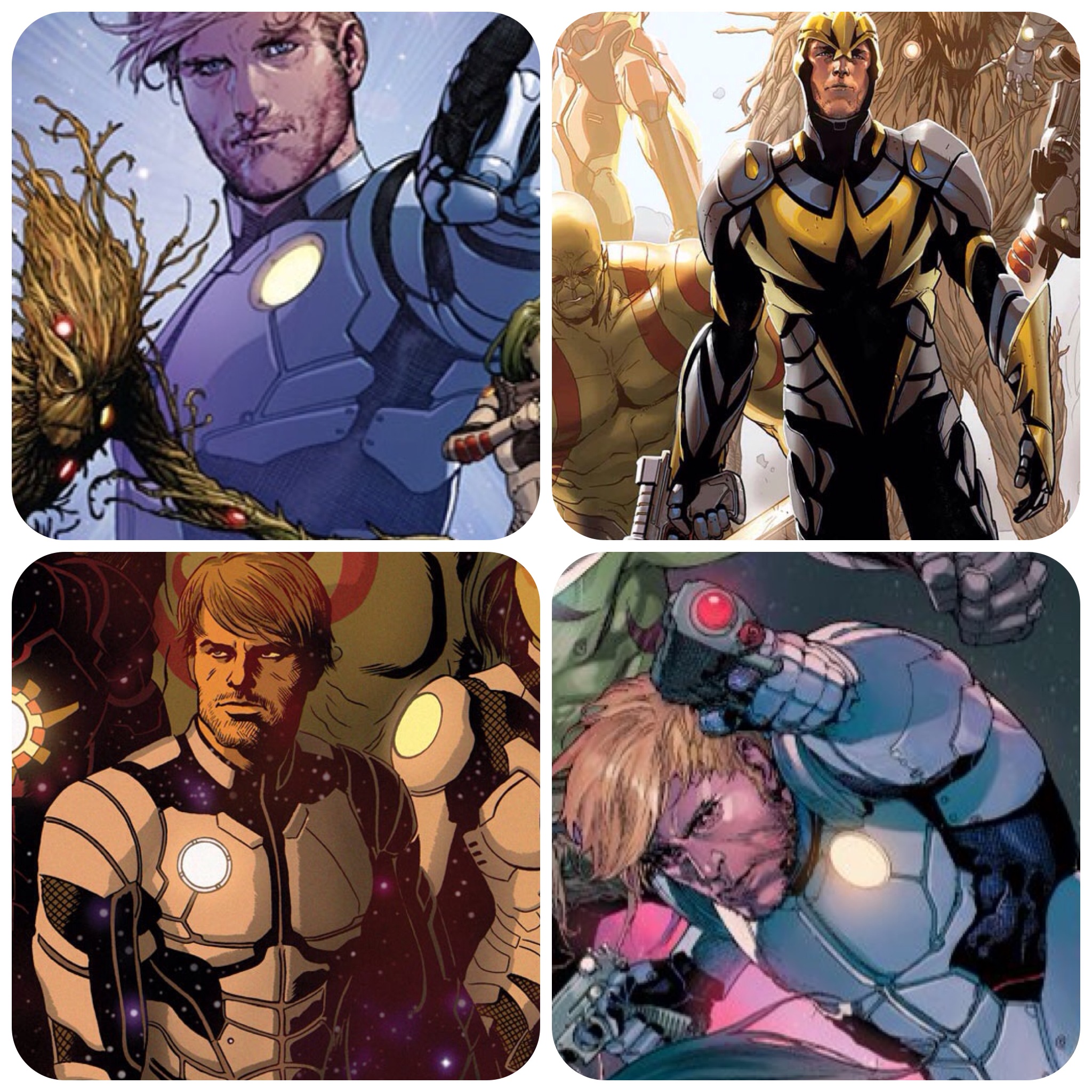 If Noh-Varr was Young Avenger's introduction to one night stands with random guys from space then Peter Quill was the inventor of such endeavors.  Known for his devil-may-care attitude and fierce loyalty to his team he has travelled all over this galaxy to avoid responsibility and sleep with as many women as possible.  Me-owww.
On the fifth day of Christmas my comics gave to me… 5 Constantines
John Constantine, was a snarky, bitter man.  –To the tune of "Frosty the Snowman"
The very controversial cancelling of Vertigo's long-time staple, Hellblazer, was followed by the New 52 addition of Constantine.  While most people didn't want to even give it a try I was more than willing because OH HOT DAMN LOOK AT THAT BONE STRUCTURE.  Sure, this Constantine isn't as violent or edgy but he's got the sex appeal of a fireman's pin-up calendar.  Nothing is hotter than a sarcastic, bitter, self-obsessed man of magic.
On the sixth day of Christmas my comics gave to me… 6 Clint's A-Failing
Hawkeye Clint, Hawkguy Clint, Aww man, bro, bro bro.  –To the tune of "Jingle Bells"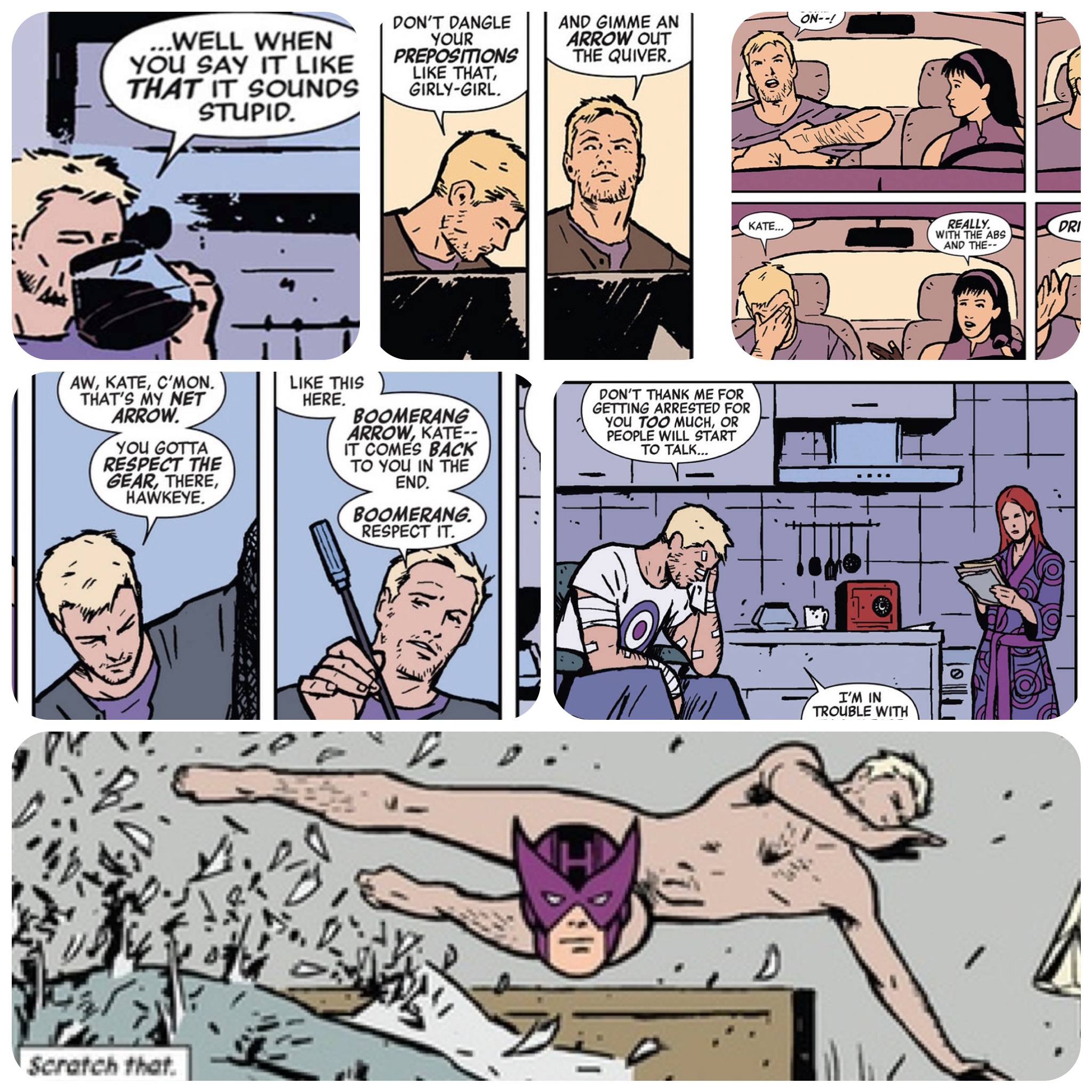 This has been the most fun book to read.  Clint Barton has always been a character that isn't very good at anything but archery and this comic really highlights that.  Even though he's not the best hero and he's quite a bad boyfriend, a terrible mentor, and an even worse husband there is just something that pulls you to him.  It's probably his constant nonchalance in the face of failure but you always want to kiss him good luck, like maybe it's the last time you'll ever see him.
On the seventh day of Christmas my comics gave to me… 7 Nick's A-Swearing
You better watch out, you better not cry, better not pout, I'm telling you why: Nick Fury will punch you to death.  –To the tune of "Santa Clause is Coming to Town"
Fury Max was one of my favorite books to come out in recent years and that's because it incorporated a few of my favorite things: young, hot Nick Fury, cursing, and sex.  It is not a book I would recommend to everyone but if you like Ennis' run on Punisher Max then you really need to check it out.  Nick could make even the manliest men want to get down on their knees.
On the eighth day of Christmas my comics gave to me… 8 Cap's A-Shielding
Rockin' around Captain's shield, Steve and Bucky look so good.  –To the tune of "Rockin' Around the Christmas Tree"
My insane fangirl-y feelings for Bucky!Cap aside, these two are very attractive men but in almost opposite ways.  Steve is the all-American boy-next-door type.  Strong, sensible, and a jawline that makes panties drop like the New Year's Ball.  Bucky, on the other hand, is charming and mysterious.  Either way, picking one over the other is practically impossible so why bother?  There's plenty of love to go around.
On the ninth day of Christmas my comics gave to me… 9 Noh-Varr's Dancing
Here comes Marvel Boy, here comes Marvel Boy but call him Noh-Varr. –To the tune of "Here Comes Santa Claus"
Gillen and McKelvie's Young Avengers run was full of incredible storytelling and pitch perfect art but one of the biggest surprises was how much everyone fell in love with Noh-Varr.  From his fascination of Earth music to his flawless fighting style right down to his Abercrombie body.  As far as one night stands go, Kate did a great job on this one.
On the tenth day of Christmas my comics gave to me… 10 Dick's A-Leaping
Nightwing's face, Nightwing's ass , Nightwing's perfect hair.  —To the tune of "Jingle Bells"
I haven't written about my beloved Dick Grayson yet because I have something very special planned for him but in case you weren't already aware, I HAVE A SERIOUS THING FOR NIGHTWING.  He's flirty and flexible and so goddamn fun.  I have some mighty filthy things in mind for those blue fingerstripes.
On the eleventh day of Christmas my comics gave to me… 11 Red Hood's Shooting
I'm dreaming of a wet Jason just like the one I used to know. —To the tune of "I'm Dreaming of a White Christmas"
I'm pretty sure Kenneth Rocafort's Jason Todd could breathe life back into me if I ever lose consciousness.  He's all shark angles, smoldering stares, and cocky smirks that drive me crazy with lust.  Who cares if the book is terrible?  People didn't play Dead or Alive: Xtreme 2 because they're volleyball enthusiasts.
On the twelfth day of Christmas my comics gave to me… 12 Namor's Flexing
Oh Holy Night the abs are bright and shining. –To the tune of "Oh Holy Night"
Namor was the star of my very first Boy Crazy Comics and that needs no further explanation.  He's rocking a widow's peak that Dracula would be jealous of, hipbones scientifically created for biting, and broad shoulders that could only look more perfect with your scratch marks over them.  He's what wet dreams are made of.
Happy Holidays, GUARDians.  Love and hugs, Agent Denise!!