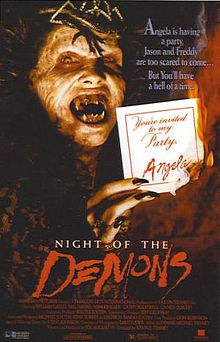 Night of the Demons (1998)
Director: Kevin S. Tenney
Writer(s): Joe Augustyn
Starring: Cathy Podewell, Mimi Kinkade, Alvin Alexis
Oh, the powers of the PARTY horror flick!  Are they formulaic? Absolutely. Predictable? You bet your ghoulish bottom! For some reason though, I've always appreciated a good party horror flick because even though I knew what types of kills are coming, I could always count on the three things that always led to a good kill scene: the excess of alcohol/drugs, the temptation of lust (aka BOOBIES!), and the perils of trying to leave the party throughout the entire flick!
Sometimes predictability isn't the deal breaker when it comes to my viewing of horror flicks, in a way I'm curious to find out the different angle or spin any particular party horror flick will give based on the origin of terror. Is it a Slasher, Ghost, Vampire, etc.?  Although each killer is different in their own right, it seems that the basic rules of the party horror flick are still well in place:  A ghost stalking a drunk that happened to bust out the cocaine, or a vampire tempting a teen at the height of their sexual awakening, before they meet their demise; you start to realize that the genre of generic party horror flick has plenty of bloody layers to keep you entertained.
My party horror flick of sub-genre of choice have always involved creatures from the depths of hell, usually involving DEMONS. I like the way demons are supernatural but not as cryptic as ghosts, and not as limiting as a slasher. They usually have some sort of power that can lead anywhere to hypnosis to telekinesis but dish out plenty of gore with different and unique kinds of kills. Put them in a mix with drunken, horny humans in a closed dwelling listening to music that's appropriate to the times and you've got yourself Night of the Demons!
We start off with bunch of hooligans that plan to throw a KILLER (see what I did there?) party at the legendary Hull House, an abandoned funeral parlor known for its gory, supernatural past. The party Hostess Angela (Mimi Kinkade) who is also the resident promiscuous lady in the flick is at complete odds with our heroine, Judy (Cathy Podewell), the beacon of innocence that begrudgingly agrees to go the party. Of course with any party at a decrepit house with a haunting history, a séance takes place which awakened the demons from below; let the DEMON POSSESSIONS commence! The demon spirits start taking down each party member one by one through possessing various party inhabitants under the leadership of super-demon, Angela. Judy and other survivors including the token black guy (Alvin Alexis) must find a way to mull down possessed comrades and make their way out of the Hull House!
Not going lie, I had quite the crush on demon possessed Angela, before she took on her demon form OF COURSE. She was definitely a product of the time which was quite apparent with her look, a cross between Madonna and someone who was a fan of The Cure. She had a tiara on during the party and I remember thinking as a kid that I couldn't wait to be in High School so I too can party like it's 1988.
The kills in the flick were pretty interesting and keep in mind by the time I watched this flick, I have already gone through a ridiculous amount of pretty gruesome horror gems. A scene comes to mind dealing with a possessed lady and some lipstick asking a gentleman if he thought she was pretty and what comes next is both creepy and disturbing yet the kill shot was definitely worth the watch. I recommend this flick to anyone who wants to start their mental sub-genre of party horror flicks. It should set the standard for all scary movies that start off with some booze, music, drugs and sex but ultimately end with screams, blood, suspense and plenty of creative kills! Now someone PLEASE get me my boom box and have everyone meet me at the haunted barn with one Ouija board and plenty of Pabst Blue Ribbon!