If you're like me, the New Year's Resolutions you made have already been quietly, yet firmly, set aside for last year's status quo.  Or perhaps you need some liquid courage to wake up earlier and *SHUDDER* exercise, or dance, or wood carve or whatever other crazy thing you swore to yourself to accomplish.
For you, I have made a list of drinks to help you feel cool and geeky.  You can also get inebriated, so you can up those cool points, at least in your alcohol soaked brain.  Whatever you need, here's the sinful beverage to help you make up your mind.
Also, just to be clear, all these drinks originated from the internet.  I am not some crazy, mastermind bartender that made this stuff.  For the original drinks (and more ideas and lists of drinks) go to The Drunken Moogle and Nerds and Nomsense.
Okay, bring on the booze, guys!
THE AVENGERS

Avengers Assemble, indeed.  Put forth a call to action for some other reserve members of your own team to try and see if all these ingredients can also be assembled.  Because if we can't save this world, you can be damn sure we'll drink to it.
FIREFLY
Ingredients:
1 oz Firefly Sweet Tea Vodka
3/4 oz Captain Morgan's Original Spiced Rum
3/4 oz silver tequila
3/4 oz gin
1 oz sour mix
Sweet Tea
Coca-cola
Lemon
Directions: Shake all ingredients, except for the sweet tea and cola, with ice and pour in a highball glass.  Top off with an even mix of cola and sweet tea and garnish with a lemon wedge. Toast to the Independents and drink up! This variation of the classic Long Island Iced Tea cocktail is also known as Browncoat Tea.
I want to try that Shindig Punch right now.  But the Sereni-Tea sounds nice and chill.
DOCTOR WHO
The Sonic Screwdriver.  Somebody finally made it!  I still think a drink called "Regeneration" is the next best drink after the Sonic Screwdriver.
PACIFIC RIM
"Coyote Tango" sounds like a drink that should already exist!  But now I'm crazy curious about what a "Gypsy Danger," "Cherno Alpha," "Crimson Typhoon," or "Striker Eureka" would taste like.  And maybe a drinking game called "In the Drift" to see who you're Drift compatible to.
DR. HORRIBLE'S SING-ALONG-BLOG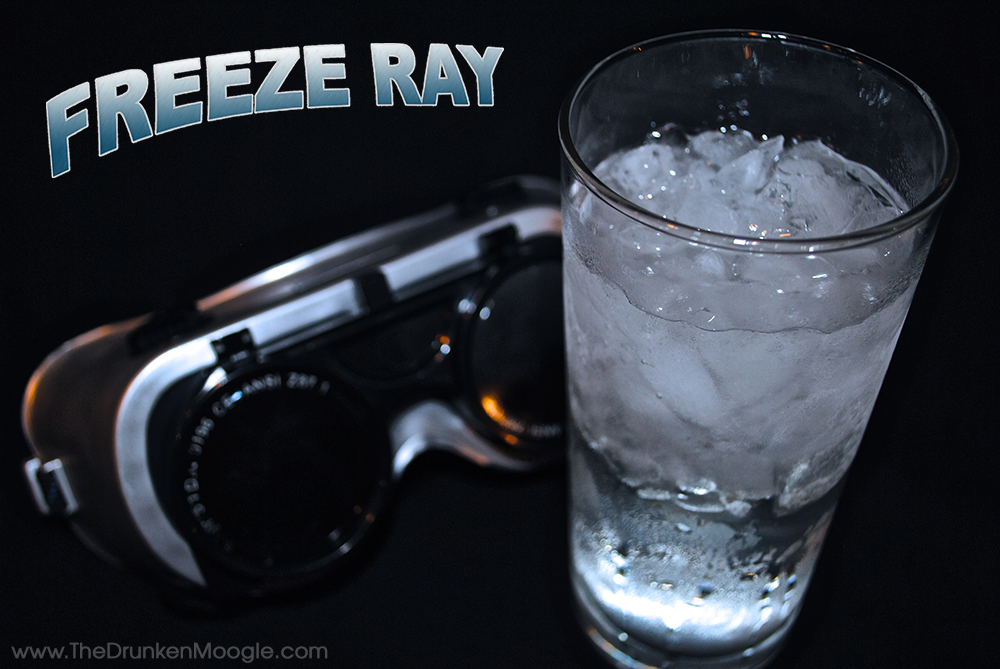 Freeze Ray – Dr. Horrible:
1 oz Vodka
1.5 oz Creme de menthe
Sprite (~5 oz)
Directions: Fill a highball glass with crushed ice. Add in the alcoholic ingredients and fill with Sprite (around 5 oz). Stir, serve and stop the world.
The Hammer – Captain Hammer:
1 oz Captain Morgan Spiced Rum
1 oz Canadian Whisky
1 oz Peach schnapps
Root Beer
Directions: Mix alcoholic ingredients in a lowball glass over ice. Fill with your favorite root beer. Flex, serve, and be awesome.
Crazy Random Happenstance – Penny:
1/2 cup Strawberry Frozen Yogurt
2 oz RumChata rum cream
.5 oz Amaretto
5 Strawberries
4 Ice cubes
Directions: Set aside one strawberry and blend the rest of the items. Pour into a large glass and garnish with the remaining strawberry. Serve and stay positive.
These drinks sound good, but since I already know what the "hammer" in question is, it will be difficult to drink.
STAR WARS
Qui-Gon Gin and Tonic-
1 oz Gin
2 oz Melon liquor
1 splash Lime juice
Fill with Tonic water
1 Lime wedge
Directions: Mix the first three ingredients in a highball glass and top with tonic water. Garnish with a lime wedge and, if possible, use a green glow stick as a stir. Drink and stray away from the topic of midichlorians.
Darth Maultini–
1 oz. Sweet vermouth
1 oz. Vodka
1 oz. Whiskey (we used Maker's Mark)
2 oz. Pomegranate Cherry
2 Lemon wedges, cut in half to make 4 mini wedges

Directions: Chill and combine all ingredients in a cocktail glass. Cut two lemon wedges in half to make four mini wedges and garnish the glass with the "horns" of Darth Maul. Don't get cut in half and come back as a spider.
Its the pun packed fun of these drink names that really sell it.
SCOTT PILGRIM
These seven drinks already lend themselves well to a drinking game.  Having to battle your way through them to see if you deserve a shot at true love.
…you don't.   Not right now.  You are drunk and should go home to sleep it off, alky!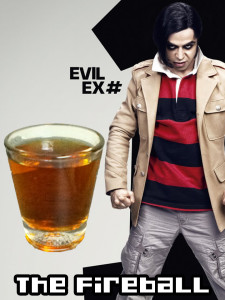 Matthew Patel – The Fireball
Captain Morgan's.
Top with Bacardi 151
CAUTION! : This shot, CAN be lit on fire. If you decide to do so BE CAREFUL. Originally we had it in the recipe that they needed to be lit, but we had a BIG issue putting them out. For this reason, I heavily advise NOT TO IGNITE YOUR SHOT UNLESS YOU ARE 100% SURE OF WHAT YOU'RE DOING!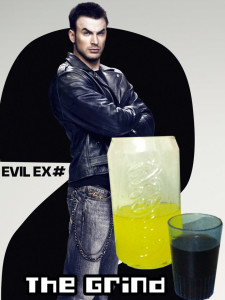 Lucas Lee – The Grind
Shot of Jagermeister
Cup of Red Bull (We used NOS, but traditionally these are done with Redbull)
When Lucas Lee gets on the rail, drop the shot glass into the redbull, and chug. If you don't finish it by the time he's KO'd, you need to start over.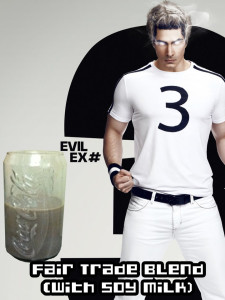 Todd Ingram – Fair Trade Blend with Soy Milk
1 shot of Vodka
1 shot of Bailey's
1 shot of Kahlua
Mix in Silk Soy Milk. (Chocolate if you want it to look like Coffee)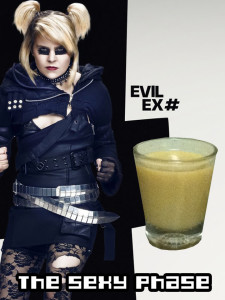 Roxy Richter – The Sexy Phase
1/2 shot of Buttershots
1/2 shot of Bailey's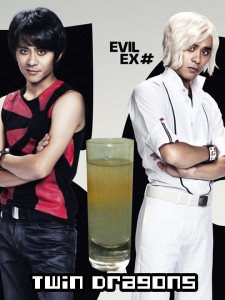 Ken and Kyle Katayanagi – The Twin Dragons
1 shot Momokawa Diamond
1 shot Momokawa Pearl
Layer the 2 on top of one and other in a double shot glass.
Gideon Gordon Graves – GGG Bomb
1/2 shot Grey Goose Vodka
1/2 shot Goldschlager
And last but not least…
THE WORLD'S END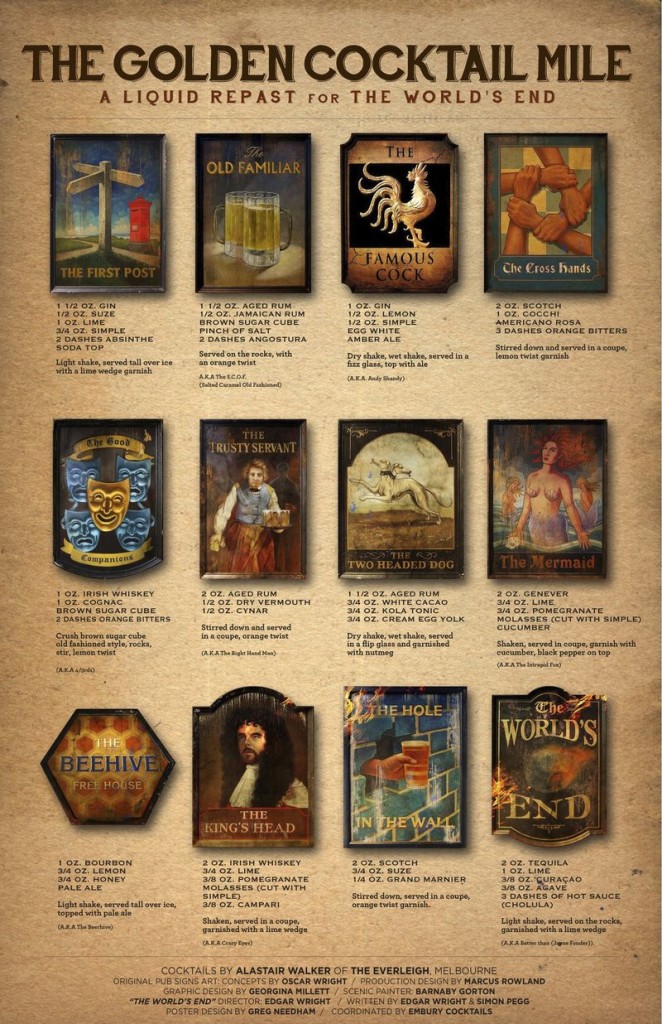 Here's the potential for a much more stationary Golden Mile challenge.  Just try and survive 12 cocktails in one sitting.  Holy crap, that is a lot.  Whatever you do, just do the Golden Mile as a team.
Okay, I should remind you to drink responsibly and not be a dumbass.  Seriously, this is all enough alcohol to set your hair on fire.  Take each drink one at a time.   On separate days.  Do this with teams of friends that know when you need to tap out and save the world some other day.  Okay?  …OKAY.