I am finally taking the advice of a fellow agent and writing about something I would rather be doing instead of writing, this week's topic is the Korean variety show Exciting India, or Fluttering India depending on which translations you're going with.
What happens when you send 5 kpop idols to India to spread hallyu? A lot of bumbling cuties who eat way too much curry and force their maknae to interview locals in broken English. There are quite a few cringe-worthy moments while they fumble with not being recognized in public for once and the culture shock of being in such a different country. But their genuine interest in learning about Indian youth and trying to share Korean culture is sweet and captivating.
Since only the first three episodes have been uploaded with English subs that's all I'll talk about for now.  In typical variety show fashion the selected idols were under the impression that they were cast for a different sort of show, more of a travelling vacation show. Wrong.  They are being sent across the world to spread Korean wave.  These singers will not be enjoying the luxuries of casual tourism, they will be sent on investigative adventures to connect with locals.
I'm not going to lie, I was very concerned with the premise because it could quickly go very wrong. Slightly embarrassing antics from your favorite idols is plenty tolerable compared to blatant appropriation and downright problematic behavior.  Despite my complete adoration for all things Kim Junmyeon I held an apprehensive breath for the first episode.  Luckily, there wasn't really any casual racism or underlying hateful speech.  Instead we have them try communicate with locals using the middle ground of English and tentatively inquire if they know of Korea or kpop.  And when they are met with a lot of polite shrugs and confused denials none of them take a sarcastic tone or bitter attitude.  They find the anonymity almost refreshing if not a little unnerving.
In the second episode they are joined by a fifth idol and actually find some success in interviewing the youth of Mumbai.  Spending the day really immersed in the environment and visiting places that aren't considered tourist traps helped.  They got to really be a part of daily life.  After a few positive interactions they all gain confidence and despite the late hour and all-day outings they want to keep meeting with people. It's endearing to watch them finally break through the cultural differences and find common ground with other young adults.  The third episode they catch a real break, a kismet meeting with a fellow Korean in the movie industry leads them on a string of outings which might just give them the break they need to make a newsworthy piece.
But possibly my favorite parts of the episode are two very different moments. The first is an interesting conversation between an Indian movie producer who advises them to use Indian actors and dancers or culture or locations in more kpop music videos if they want to interest Indian people. Which is enlightening to hear in a time when the definition of "appropriation" tends to blur in this age of call-out culture. Merely including a different culture isn't appropriation if done respectfully and properly, it's inclusive and open-minded. However filming in India and not using a single Indian actor or dancer could feel flippant and thoughtless. It's nice to hear someone almost ask to have their culture integrated into another country's media when so many cries against even the vaguest hint of appropriation can one feel isolated.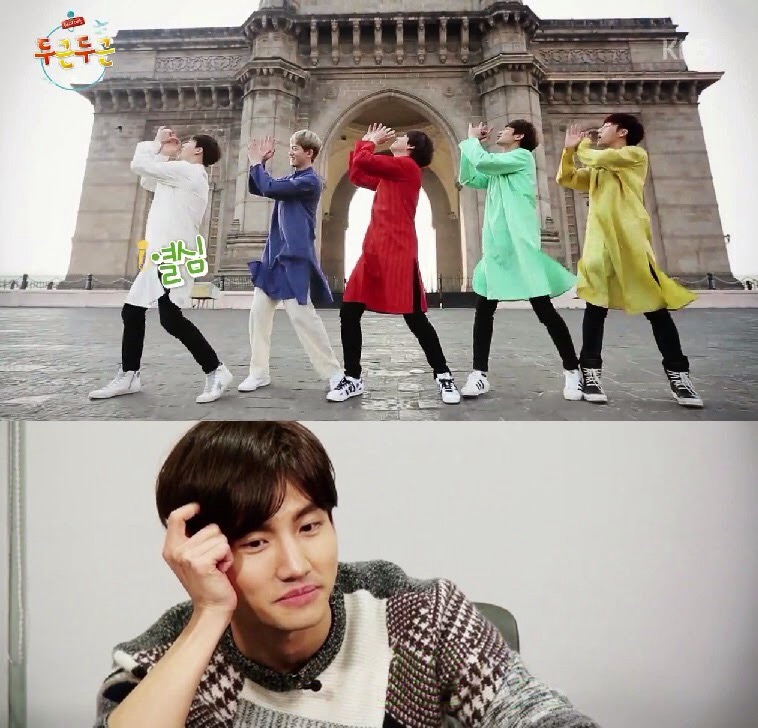 My other favorite part, aside from all the adorable Suho and Minho moments of course, was the time they got to spend with a renown Korean stunt coordinator Oh Seyeong.  You can tell just being around a fellow Korean in this far away land gave them a second wind.  They were instantly inspired by Oh's assimilation into Indian culture and the reasoning behind his diligent work ethic while working in Mumbai. It lit the fire in them and suddenly they didn't feel so lost, they were filled with hope and drive.
This show has been a breath of fresh air amid all the other variety shows and kdramas.  Instead of just funny games and exaggerated cliffhangers we're given a glimpse into a different world without the burden of trying to force Western ideals on the local society. Instead these singers and musicians want to share their pop culture without stomping out the native customs.  They don't want to replace Indian music and movies, they merely want to give them a taste of their media.  There is no pressure or ridicule, these idols aren't trying to insinuate that kpop is better than Bollywood soundtracks, they just want to bring hallyu to this part of the world. And that is the kind of beautiful melting pot that we can only dream of.