Sorry for the lateness on this weeks LOOKING AHEAD! I had quiet a few things on my plate this week and I sadly didn't manage my time well enough to get this out on Monday. Once again it's another full load this week, and due to my time constraints, I'm gonna have to keep my commentary on each film to a minimum. It is, no joke, one interesting week.
Upon looking at this weeks releases, three of them share a similar theme, and two of them share well a surprising connection and also shows where the film business is currently at right now.
There are three dramas that are coming out this week, I realized that they each share the concept of a character frustratingly fighting against the people with power. Each film's lead just has a simple request, but the people with power (whether its the bureaucrats, the towns folks or the cops) are too stubborn to listen.
Then there are two films in which…well, let me give you an idea of my head space for those….
I remember back in the day, when I used to go to Blockbuster or Hollywood Video, and see the endless sea of DVD's and VHS's, I'll always laugh and mock the movies starting the not so famous. The actors that are only famous for staring in Direct-to-video schlock .Stars like Don "The Dragon" Wilson and Michael Dudikoff.
Then the day when came when I started seeing some actors downgraded to those levels: Steven Segal, Jean Claude Van Damme,  Dolph Lundgren etc.
But, those are action stars, most of them couldn't act any ways….until the day I started seeing more big name actors names on films that went straight to video.
The tide started changing…..the film market started to get to tough and too crowded. Now, you'd be surprised what big named actor is staring in a film that you never even heard off.
So yes, this week there is an AWESOME looking film that geeks have been looking forward to,  but two films of that will be coming out this week each have a cast that, 10 years ago, would have been a huge selling point and have gotten a wider release. Now both are limited release, and stuck in potential obscurity if they're not good enough.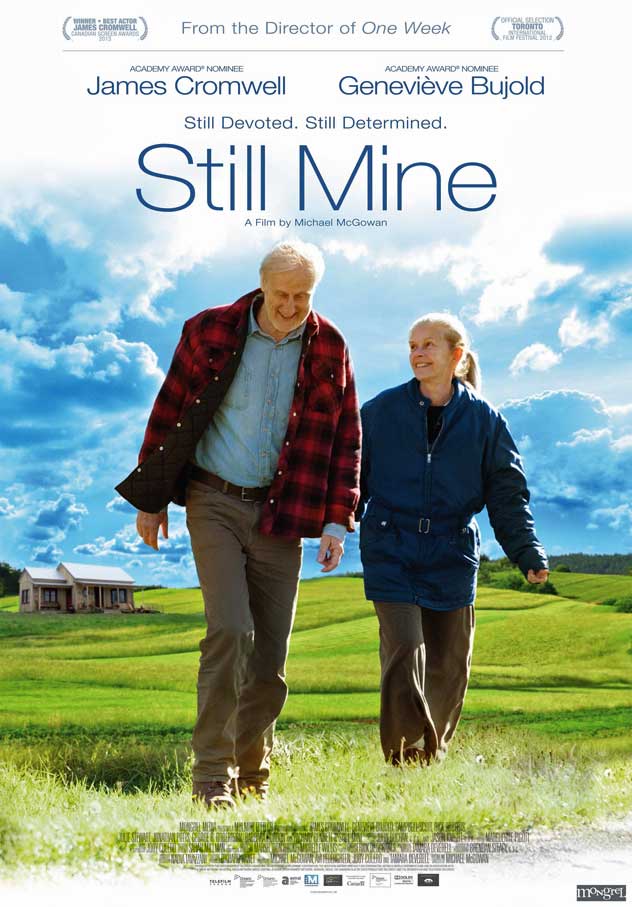 LIMITED RELEASE
Director:  Michael McGowan
What's it about? In his first lead role after decades of playing supporting characters, James Cromwell gives a tour de force performance in 'Still Mine', an exquisitely crafted and deeply affecting love story about a couple in their twilight years. Based on true events and laced with wry humor, 'Still Mine' tells the heartfelt tale of Craig Morrison (Academy Award nominee Cromwell), who comes up against the system when he sets out to build a more suitable house for his ailing wife Irene (Academy Award nominee Genevieve Bujold). Although Morrison uses the same methods his father, an accomplished shipbuilder, taught him, times have changed. He quickly gets blindsided by local building codes and bureaucratic officials. As Irene becomes increasingly ill – and amidst a series of stop-work orders – Craig races to finish the house. Hauled into court and facing jail, Craig takes a final stance against all odds in a truly inspirational story.
My thoughts? Cromwell is an actor that I feel has genuinely been wasted since his award winning performance in Babe.  I love the idea of putting him front and center in a film like this, and I love seeing a film that isn't shy to tell a loving story between an older married couple.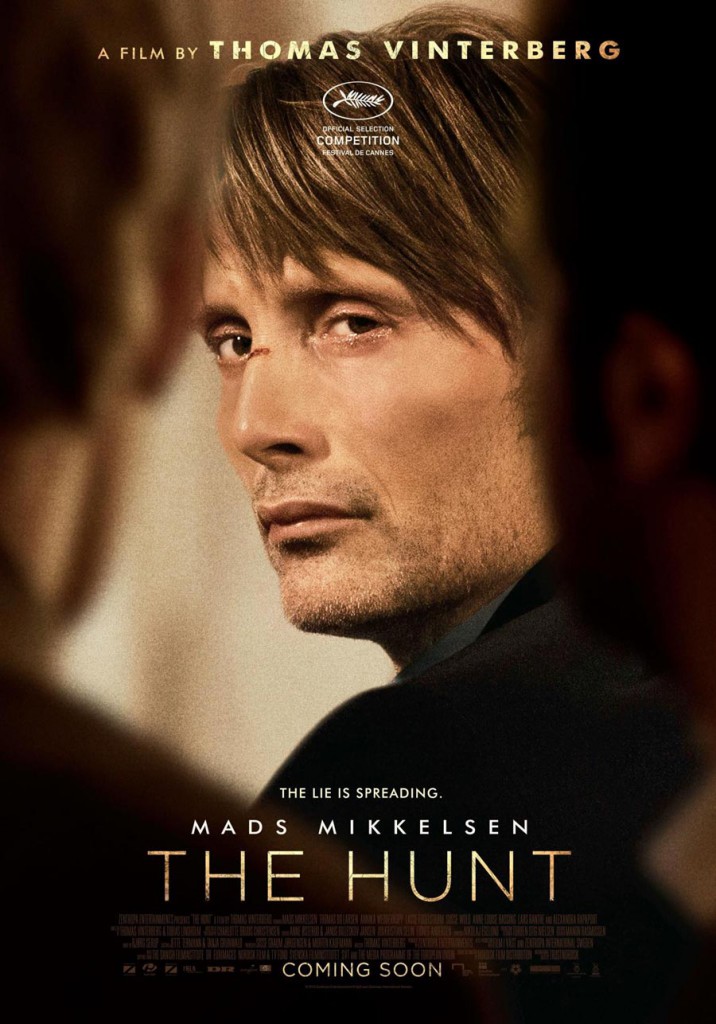 LIMITED RELEASE
Director: Thomas Vinterberg
What's it about? A child's lie threatens to destroy the life of a divorced daycare worker attempting to reconnect with his teenage son in this emotionally-charged drama from director Thomas Vinterberg (The Celebration, Submarino). In the wake of a fractured marriage, 40-year-old Lucas (Mads Mikkelsen) gets a new girlfriend and a new job in a daycare center while fighting to win custody of his teenage son. Lucas is a respected figure in his close-knit community, and the kids at the daycare center where he works all look up to him. When Lucas repeatedly finds young Klara (Annika Wedderkopp) roaming the streets alone as her parents engage in angry shouting matches, he becomes something of a protector to the frightened young girl, often walking her home once the arguments have died down. When Klara attempts to repay Lucas' kindness with a kiss on the lips, the shocked teacher quickly corrects her by telling her that that display of affection is not appropriate. Upset over being rebuffed by the man she so admires, Klara responds by telling the inexperienced manager of the daycare center that she saw Lucas engaged in inappropriate activity. Before long the rumor has caught fire, and as Christmas approaches mob mentality prevails. Everyone close to Lucas, including two best friends and his son, quickly become pariahs in the community. Meanwhile, the desperate Lucas wages a losing battle to reclaim his dignity in a town that would sooner see an innocent man crucified than admit their mistake.
My thoughts? Hey Hannibal fans! Look! It's Mads Mikkelsen! And he's playing a role that's completely different from his cannibal character! Looks like he will be giving quiet a special performance in this, and I look forward to checking it out.
LIMITED RELEASE
Director:  Ryan Coogler
What's it about? Winner of both the Grand Jury Prize for dramatic feature and the Audience Award for U.S. dramatic film at the 2013 Sundance Film Festival, director Ryan Coogler's 'Fruitvale Station' follows the true story of Oscar Grant (Michael B. Jordan), a 22-year-old Bay Area resident who wakes up on the morning of December 31, 2008 and feels something in the air. Not sure what it is, he takes it as a sign to get a head start on his resolutions: being a better son to his mother (Octavia Spencer), whose birthday falls on New Year's Eve, being a better partner to his girlfriend Sophina (Melonie Diaz), who he hasn't been completely honest with as of late, and being a better father to Tatiana (Ariana Neal), their beautiful four-year-old daughter. Crossing paths with friends, family, and strangers, Oscar starts out well, but as the day goes on, he realizes that change is not going to come easily. His resolve takes a tragic turn, however, when BART officers shoot him in cold blood at the Fruitvale subway stop on New Year's Day. Oscar's life and tragic death would shake the Bay Area — and the entire nation — to its very core.
My thoughts? I've heard how powerful the reaction was to this film when it premiered at Sundance this year. I've only seen  Michael B. Jordan in CHRONICLE, and he was fantastic in that film, and I think he looks like he's  going to deliver on this film.
LIMITED RELEASE
Director: Mark Steven Johnson
What's it about? Deep in the Appalachian mountains, a reclusive American military veteran (Robert De Niro) and a European tourist (John Travolta) strike up an unlikely friendship. But when the tourist's true intentions come to light, what follows is a tense battle across some of America's most forbidding landscape proving the old adage: the purest form of war is one-on-one.
My thoughts? Remember…these guys were extremely well respected in the 70's. Sigh. Travolta's fake accent is kinda hilarious, so maybe that could be fun to watch, but I'm weirded out with De Niro's current run of doing action movies. It's like he wanted to get in on the Liam Neeson "old academy award winners do action movies" game, but choosing movies that are even worse.  And it's directed by the man who directed Daredevil and Ghost Rider so you know that….it…wow…Ghost Rider? Gezz, that's rough. Don't expect much from this one folks.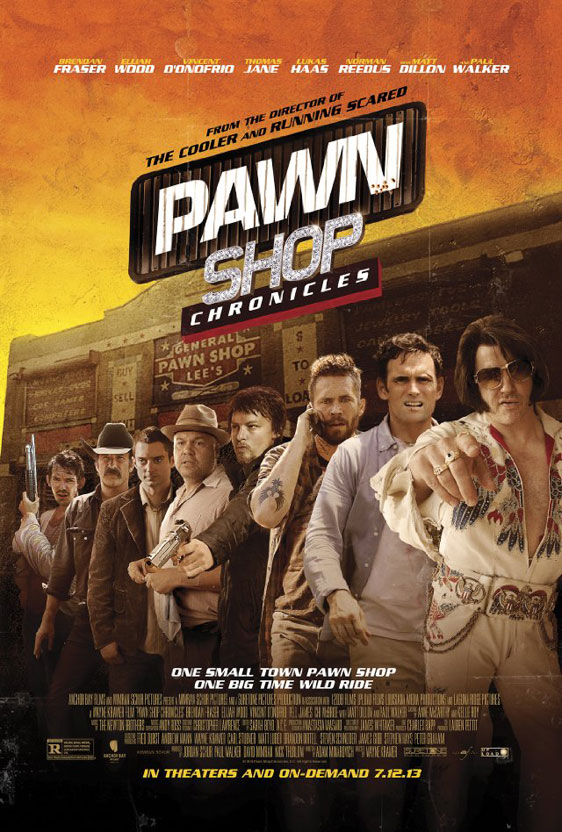 LIMITED RELEASE
Director: Wayne Kramer
What's it about? A missing wedding ring leads to a wild-goose chase involving meth addicts, skinheads and an Elvis impersonator.
My thoughts? Either this is a fun, crazy, Coen Brothers influenced wild trip…or an over stylized mess. I loved Wayne Kramer's Running Scared, in which he got one of the best performances out of Paul Walker, but I'm not sure if this will come together.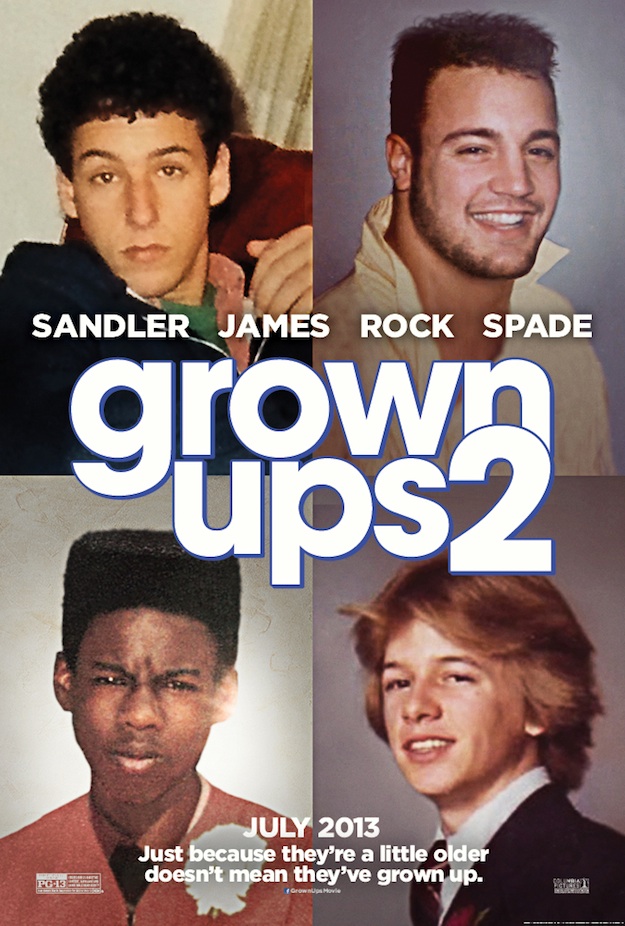 Director: Dennis Dugan
What's it about? The all-star comedy cast from 'Grown Ups' returns (with some exciting new additions) for more summertime laughs. Lenny (Adam Sandler) has relocated his family back to the small town where he and his friends grew up. This time around, the grown ups are the ones learning lessons from their kids on a day notoriously full of surprises: the last day of school.
My thoughts? Never saw the first one. Don't care to see this one. Just think that Adam Sandler is going on autopilot with his comedies, and not trying anymore. Next film? Gladly.
Director: Guillermo del Toro
What's it about? Filmmaker Guillermo del Toro teams up with Legendary Pictures to bring audiences a unique take on the monster film with this sci-fi production. Charlie Hunnam (Sons of Anarchy) stars as a washed out pilot of a series of robots called Jaegers, which are put into production when Earth invaded by a species of giant monsters, the Kaijus. The Brothers Bloom's Rinko Kikuchi co-stars as a trainee whom Hunnam is psychically paired with in order to pilot the last beacon of hope – a decommisioned Jaeger aimed to stop the Kaijus once and for all. Thor's Idris Elba leads the rest of the starring cast, which includes Charlie Day, Rob Kazinsky and Ron Perlman.
My thoughts? As I already wrote in my post this week, this summer has been rough in terms of movies. Right now, we need simple and fun. Pacific Rim, I do feel will be that movie.
Man, what I would give to be 10 watching this movie. I'm very sure I would have flipped for it. I would have begged my mom to buy the toy. I would have pretended to piloted my own Jaeger with my friends at school. I would have designed my own Jaeger. I would have done all that with out seeing the film yet. I know I would have, because I did that with so many other films as a kid.
If done right, I all want for Pacific Rim is to be damn right entertaining. I'm willing to let go some logic and possible plot holes if the damn thing can be entertaining.
I love Guillermo del Toro's films, and I am very excited to see him do a giant summer spectacle with two things I love, giant monster and giant robots.
Is it July 12 yet? I'm getting quite antsy.  (Oh, and if you haven't yet, check out Agent Aaron's great write up on the Jaeger Designs for Pacific Rim and why they are so great. Read his post here.)
What films are you down to see this week? Let us know in the comment below!