As we march on (get it….get…I'm sorry.) to the end of the month, the biggest thing I learned about the new movie releases this month? Man, oh man did they dump a ton of indie/low budget fair. More so then usual. It seemed like every week I wrote about, at minimum, 10 movies.
That's a lot of movies. A crap load of movies.
This week is no exception.
Some great looking films are coming this way, and a few "Huh….really?"  movies too. The first one I'm bringing up is in the latter category.
What's it about? Slick, wacky, and chomping at the bit with gobs of human-on-zombie-violence, 'Evil In the Time of Heroes' is a Grecian take on 'Shaun of the Dead' crossed with '28 Days Later.' Millennia ago in ancient Greece, blood-thirsty zombies begin wreaking havoc on humans, and only a mysterious cloaked hero (Billy Zane) and his otherworldly weapons can save them. Flash forward to the present day when Athens is once again plagued by the undead, and a ragtag band of human survivors is on the run. Among them are a taxi driver who seems to be immortal, a pair of hot-blooded soldiers with some serious chemistry, and a doctor who can't stand to get his shoes dirty while stomping zombie heads. Meanwhile, the elusive hero is back — but zombies are only half the problem. With less than a day before Greece is bombed to contain the zombie virus, it's a race against time for the remaining humans.
My thoughts? Anyone else over the Zombie movies that are trying to be Shaun of the Dead? I am. This looks like it could have some fun action, some decent and silly comedy, and for one reason or another, Billy Zane…but I am so over Zombies movies it's not even funny…even when the Zombie movies ARE suppose to be zombies.
What's it about? This heartwarming romance finds Amy (Krysten Ritter) as a young woman raising her two, slightly younger, but overly needy siblings. Amy has to balance her personal life with her responsibilities. But when Sam (Brian Geraghty), a young handsome stranger rolls into town, he becomes entrenched in the family while he and Amy, against all odds, begin to create a life they never thought possible.
My thoughts? Krysten Ritter seems to be doing solid work in this film. A quiet looking drama, it doesn't seem to bad, but not one that I really want to go out of my way to see.
What's it about? Hailed by Michael Moore as "one of the best documentaries about a band that I've ever seen" and by Pitchfork as "the funniest, most meta music movie since 'SPINAL TAP'," 'Mistaken for Strangers' is a truly hilarious and touching film about two brothers, Matt and Tom Berninger. Matt, the lead singer of the critically acclaimed rock band The National, finally finds himself flush with success. His younger brother Tom is a loveable slacker – a filmmaker and metal-head still living with his parents in Cincinnati. On the eve of The National's biggest tour to date, Matt invites Tom to work for the band as a roadie, unaware of Tom's plan to film the entire adventure. What starts as a rock documentary quickly becomes a crowd-pleasing journey about family, ambition, and the creative process.
My thoughts? I've never heard of the band, The National, but I like the premise of this documentary. While one wonders how much the facts of what happened in this film is scripted or real, at least it looks like a fun movie regardless.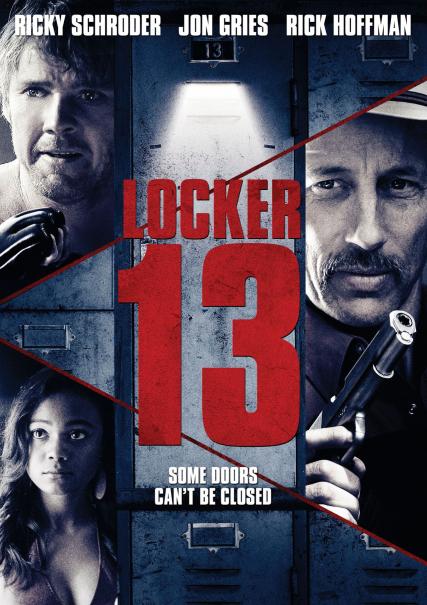 What's it about? Skip, the nighttime janitor in an Old West theme park, delves into the mysteries surrounding an old locker. His sage supervisor recounts chilling tales that underscore the importance of making the right choice. The recollection includes an aging boxer who is given an opportunity to become a real killing machine, a young man seeking membership in a secret society who experiences an initiation with deadly consequences, a would be suicide shaken to his core by a menacing member of a very special club, and a hit man for hire playing a devious cat and mouse game with three women who have a score to settle. The stories suddenly come into play when Skip makes an unsettling discovery and faces a life-or-death decision of his own.
My thoughts? While having a locker as your hook for an anthology film seems a bit unexciting, the footage in this thing looks pretty slick.
What's it about? After a neighborhood tragedy, two young brothers — nine-year-old Tommy (Ryan Jones) and 14-year-old Eric (Nathan Varnson) — confront changing relationships, the mystery of nature, and their own mortality.
My thoughts? Seems intense. It looks nicely shot with some strong kid actors. I see some potential in this.
What's it about? Struggling after the loss of his wife, the future looks bleak for Jerry McDonald (Troy McKay). As a single-parent, tennis has become his only semi-social outlet with his eccentric best friend, Miles (Phillip DeVona), who's working through anger management with the help of his life coach (Judd Nelson). Reluctantly, Jerry caves to Miles' pressure to play in a local tournament that could earn them a once in a lifetime slot in an exhibition match at a prestigious national tournament, The Open. But they'll have to meet the infamous Gollant Brothers (Eric Roberts and John Schneider) who haven't lost club champion status for a decade. Let the training begin.
My thoughts? Ehhh. This trailer is promising a film that feels VERY by the numbers and very unfunny. I'll pass.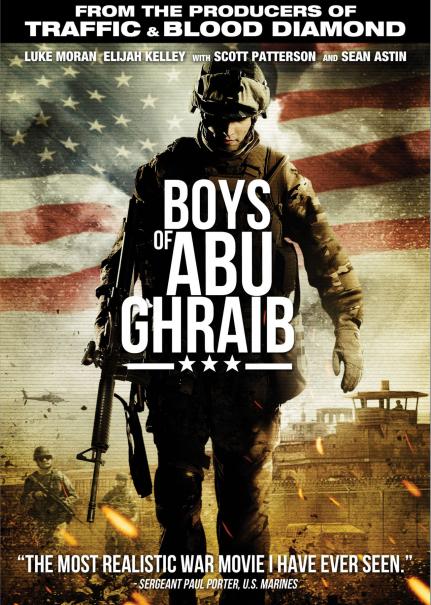 What's it about? From the Producers of 'Blood Diamond' and 'The Last Samurai,' this dramatic war thriller follows soldier Jack Farmer (Luke Moran) from small town America to Iraq's most infamous prison, Abu Ghraib, where he's tasked with guarding the Army's highest priority detainees. Pressured by his superior (Sean Astin) into using harsh techniques on a seemingly innocent detainee (Omid Abtahi), the seductive allure of war quickly turns to a haunting reality that threatens to break him. Based on the true events that shocked the world in 2004.
My thoughts? It feels like the story is interesting, but I'm personally not very excited to see it. I like Sean Astin and it's cool to see him again, but the rest of the film feels like it could be too heavy handed with its message.
What's it about? Chronicling the birth of a modern American movement, 'Cesar Chavez' tells the story of the famed civil rights leader and labor organizer torn between his duties as a husband and father and his commitment to securing a living wage for farm workers. Passionate but soft-spoken, Chavez embraced non-violence as he battled greed and prejudice in his struggle to bring dignity to people. Chavez inspired millions of Americans from all walks of life who never worked on a farm to fight for social justice. His triumphant journey is a remarkable testament to the power of one individual's ability to change the world.
My thoughts? Containing some of the best of the best in terms of Latino/Hispanic American actors, I hope this film is as good as the subject matter. Micheal Pena is one of the most versatile actors out there, and I think he will deliver on his end. Here's hoping this film can work, and it's not just a cliff notes version of Chavez's life.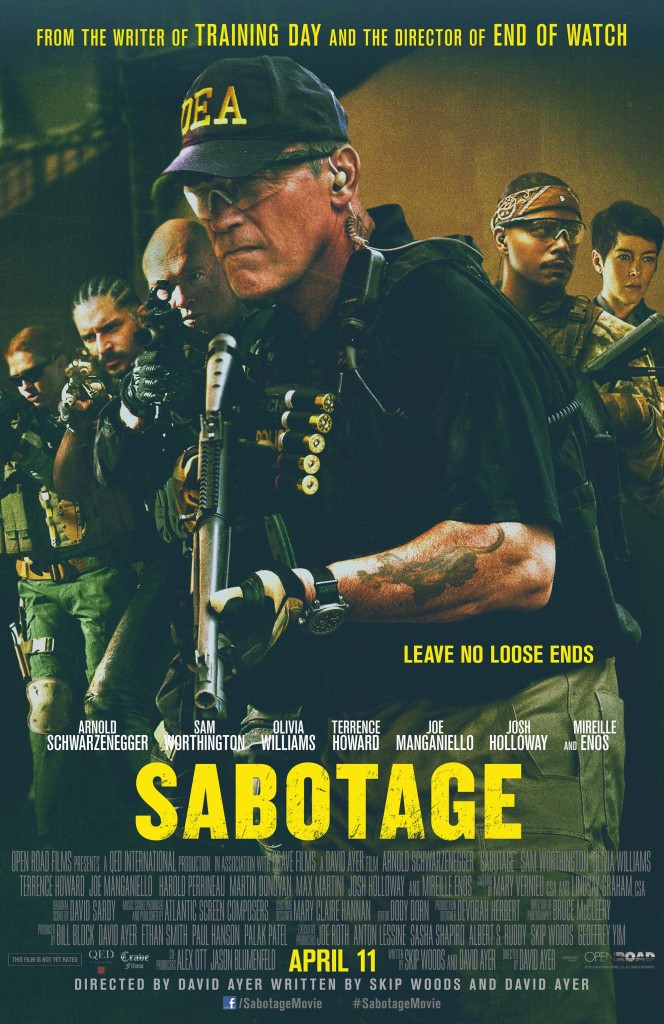 What's it about?  In 'Sabotage,' Arnold Schwarzenegger leads an elite DEA task force that takes on the world's deadliest drug cartels. When the team successfully executes a high-stakes raid on a cartel safe house, they think their work is done – until, one-by-one, the team members mysteriously start to be eliminated. As the body count rises, everyone is a suspect.
RED BAND TRAILER
My thoughts? While I honestly liked The Last Stand, I do feel like Arnold has been re-learning how to be comfortable in front of a camera again. Truth is, Schwarzenegger has never been the best actor, but my nostalgic love for the guy keeps hoping he can make a movie I will love again. This film seems a BIT out of Arnolds range, but I commend him for trying. The red band trailer does make is seem like every other word in this movie is the F-Bomb, but I'm hoping it's NOT as bad as that. Funny enough, I still haven't seen ANY THING by writer/director David Ayer, so I don't know if he's my cup or tea or not.
What's it about?  'Breathe In' writer/director Drake Doremus once again with his incandescent 'Like Crazy' star, Felicity Jones. Soulful and musical British exchange student Sophie Williams (Jones) comes to New York in search of inspiration. On the surface, Sophie's host family seems happy enough, but with her arrival to the Reynolds' Upstate New York home, the private struggles of each family member begin to bubble. In particular, frustrated musician-turned-piano-teacher Keith Reynolds (Guy Pearce) finds long suppressed dreams and desires reignited by Sophie's talent and inquisitive nature. While Keith's wife, Megan (Amy Ryan) and daughter, Lauren (breakout talent, Mackenzie Davis) focus on Lauren's final year of high school, Sophie and Keith are drawn ever closer by their mutual longing for creative expression. Ultimately, Sophie and Keith must confront how much they are willing to sacrifice and what they truly want out of life.
My thoughts? Great cast all around, and the film seems to be stylishly directed by Drake Doremus. I haven't seen Doremus  Like Crazy yet, but I've heard good things about that film to hope that this movie will be worth the time.
 What's it about? He thought it was over. After fighting his way out of a building filled with gangsters and madmen – a fight that left the bodies of police and gangsters alike piled in the halls – rookie Jakarta cop Rama thought it was done and he could resume a normal life. He couldn't have been more wrong.
Formidable though they may have been, Rama's opponents in that fateful building were nothing more than small fish swimming in a pond much larger than he ever dreamed possible. And his triumph over the small fry has attracted the attention of the predators farther up the food chain. His family at risk, Rama has only one choice to protect his infant son and wife: He must go undercover to enter the criminal underworld himself and climb through the hierarchy of competing forces until it leads him to the corrupt politicians and police pulling the strings at the top of the heap.
And so Rama begins a new odyssey of violence, a journey that will force him to set aside his own life and history and take on a new identity as the violent offender "Yuda." In prison he must gain the confidence of Uco – the son of a prominent gang kingpin – to join the gang himself, laying his own life on the line in a desperate all-or-nothing gambit to bring the whole rotten enterprise to an end.
http://youtu.be/Pg6IiGjJyM4
My thoughts? I already wrote it about this film right HERE. So click on my link and come right back here……….you back? Great! Still haven't changed my feelings on this film. I can't wait for it to KICK MY ASS!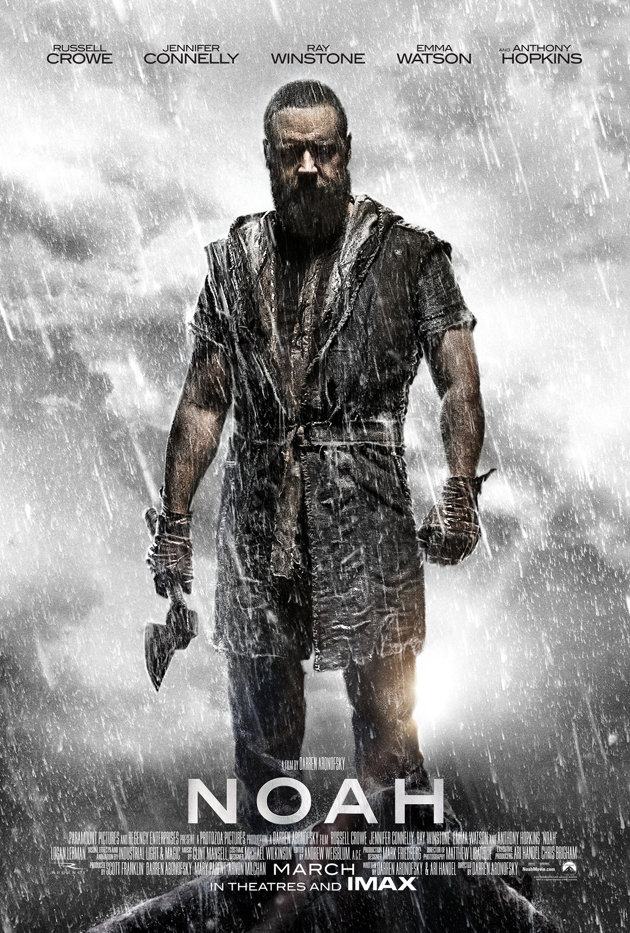 What's my thought? Russell Crowe stars as Noah in the film inspired by the epic story of courage, sacrifice and hope. Directed by visionary filmmaker Darren Aronofsky.
My thoughts? It seems to me that audiences are kinda scratching their heads on this one. One of my friends joking asked why did Noah needed a gritty reboot.  From what I've been reading, the trailers haven't showed us that the film is WEIRDER then it seems. The film has a more fantasy epic vibe then the trailers advertise. Example: It's not just bringing animals on to the Arc, but apparently the animals are these strange looking early versions of the animals we know today. Reviews have been solid so far, but it's a fair bet that the film will probably split the audience. Some will love it, some will hate it which is much like the opinon people had with Writer/Director Darren Aronofsky big visual epic The Fountain.  Truthfully, I LOVED The Fountain, but I do get why people don't. It's slow paced, heady, and probably too big on it's ideas for it's own good. But, I honestly loved every film Aronofsky has made and this  film is the biggest canvas he's painted on yet. He's apparently had this take on Noah since he's been 15, which means this has been a project he's dreamed about forever.
What about you folks? What films are YOU looking forward to this week? Comment below!