Sorry about the lateness of this weeks LOOKING AHEAD. This week was pretty exciting, and if your wondering how the Kickstarter for the film that me and Earl wrote about did…well….
YA! Congrats again to the filmmakers of LUMPIA 2! Be on the look out for this film in a future REALLY REALLY LOOKING AHEAD (kidding…or am I?)
Any ways, on to this weeks films.
This continues the month of September being the quiet month of films.  No real heavy hitters, but some interesting ones. Lets see what we got this week….
LIMITED RELEASE
What's it about? After the joyous wedding between Adenike (Gurira) and Ayodele (Isaach De Bankolé, White Material, Night on Earth), a Nigerian couple living in Brooklyn, marital complications arise out of their inability to conceive a child. The problem devastates their family and defies cultural expectations, leading Adenike to make a shocking decision that could either save her family or destroy it. Dosunmu captures the nuances of this unique and fascinating culture by creating a beautiful, vibrant, and moving portrait of a couple whose joys and struggles are at once intimate and universal. The film also stars Yaya Decosta Alafia ('The Kids Are Alright') and Tony Okungbowa (The Ellen DeGeneres Show).
My thoughts? Visually striking to say the least, the premise brings up very interesting cultural conflicts that I do find a bit fascinating. It would be great to see Danai Gurira, now best known as Michonne from The Walking Dead, in a very different role. But yeah, once again, very striking visuals.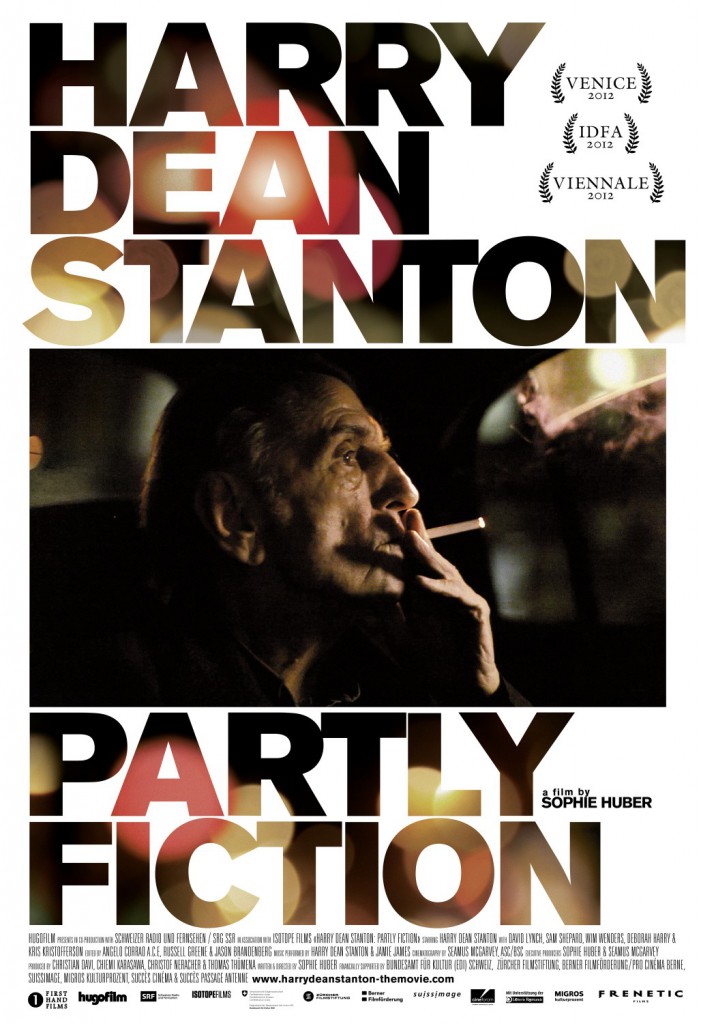 LIMITED RELEASE
What's it about? 'Harry Dean Stanton: Partly Fiction' is a mesmerizing, impressionistic portrait of the iconic actor comprised of intimate moments, film clips from some of his 250 films and his own heart-breaking renditions of American folk songs. Stunningly lensed in color and black and white by Seamus McGarvey, the film explores the actor's enigmatic outlook on his life, his unexploited talents as a musician, and includes candid reminiscences by David Lynch, Wim Wenders, Sam Shepard, Kris Kristofferson and Debbie Harry. The fragile soul of an actor emerges from the poignant collage. Uncensored, unguarded moments with wry humor pockmark scenes filmed at locations including Stanton's home and his favorite local watering hole, Dan Tana's in West Hollywood. Stanton discusses his friends Marlon Brando, Jack Nicholson, how his family influenced his musical leanings, the women he almost wed, and his preference for film over theatre. In the end it is an unflinching, unabashed, romantic Valentine from one artist to another, from a galvanizing truth teller to a yarn-spinning survivor.
My thoughts? You may not know the name, but you certainly know the face.  A documentary the focuses on one of the best and interesting character actors ever? I'm in.
LIMITED RELEASE
What's it about? Wendell Pierce (The Wire, Treme) headlines this adaptation of Obie-winning playwright Christopher Shinn's stage drama set over the course of one sweltering July 4th evening, as African-American family man Joe (Pierce) sneaks out for an internet date with a white teenage boy (Emory Cohen), and Joe's brassy adolescent daughter Abigayle (Aja Naomi King) hits the town with a charming Latino basketball player (E.J. Bonilla) . Over the course of this one fateful night, both Joe and Abigayle will experience events that change their lives forever.
My thoughts? The challenge of turning a play into a film is wondering if they adapted it well enough for it to be a proper film. For it to use the film medium to explore areas that the stage couldn't let you do. If it's just the script of the play but shot, it shows. I'm not sure if this film is like the latter, but for their sake I hope not. Right now I'm not really feeling much for this movie, though the warm performance of Wendell Pierce is appealing.
LIMITED RELEASE
What's it about?  After losing his job David is pushed by his roommate to hire a life coach named Joyce. A decision aided in part by how pretty David finds this life coach, but also a desire to get unstuck in life. When Joyce invites him to join the volunteer group she takes to a retirement home David discovers his manipulative ex-boss, William, is part of the group and interested in Joyce as well.
The motley crew of retirees instantly recognize the potential for drama with this love triangle. A wily old man goads the boys to battle for Joyce. As a result, David begrudgingly agrees to go to an open mic night Joyce holds for people to ponder the existence of God. It's there that a poet says a few things that cause David's head to tilt and move him a little further down the path of finding himself. The problem is the ungentlemanly competition he's still in with William. When that turns extreme, David makes a decision that nearly ruins his dual-level progress with Joyce. He's then forced to turn to the only community he has left, the ragtag band of retirees who point him in the direction of true north.
A uniquely faith-friendly romantic comedy starring Grammy Award winner Rebecca St. James and Academy Award winner Shirley Jones.
My thoughts? Why did I  put a faith-friendly movie on this weeks list? I say why not. I'm  not sure if the film has an agenda to be a message film (and if the filmmakers find themselves reading this, please respond! I would honestly like to know.) but judging it by it self fascinates me. I can see the attempts to cut this trailer like a traditional comedy trailer, but I also sense the low budget-ness of it all, and the attempts to be funny, but not actually feeling funny. But, there is good intentions to be have of this film. Message film or not, I do find it interesting to know that it exist. There are no bus ads. You won't see the commercial on tv in front of Three and a Half Men. That is kind of one of my favorite things about doing LOOKING AHEAD, and part of the reason why I like showing you guys what I find. There are HUNDREDS of films that are made almost everyday, and if anything, I love showing to you guys that so many movies can and do exist. Even if A Strange Brand of Happy is not meant for a wide audience, and it was made for an audience that tends to watch faith based films, then that is more then fine. Just know this, my only reason I don't have much interest in seeing the film is not that it's faith infused, it's that it just doesn't look that funny. Sorry.
LIMITED RELEASE
Whats it about? After losing her band mate and brother to a drug overdose, rising rock star Hayley finds herself in a downward spiral. The new album from her band Plush is received as a critical and commercial disaster. She finds new hope and friendship in Enzo, the replacement guitarist who inspires her to reach new creative heights. But soon their collaboration crosses the line and Hayley, who is married with two children, retreats from Enzo's advances. As Hayley slowly discovers Enzo's dark and troubled history, she realizes she may have let a madman into her home and that her mistake may cost the lives of people closest to her.
My thoughts? Director Catherine Hardwicke might have stumbled a bit in her last few films. Well, one of her films was the first Twilight film…..ok…right…that's still an annoying spot for you guys, fair…the next film she made was Red Riding Hood….oh you just plain forgot about that one huh? Yeah me too. This one seems to at least be an interesting change of pace for her, as she's going for a stylish and edgy film. Is it style for style sake, or is there actual content underneath the rock and roll elements. We'll wait and see.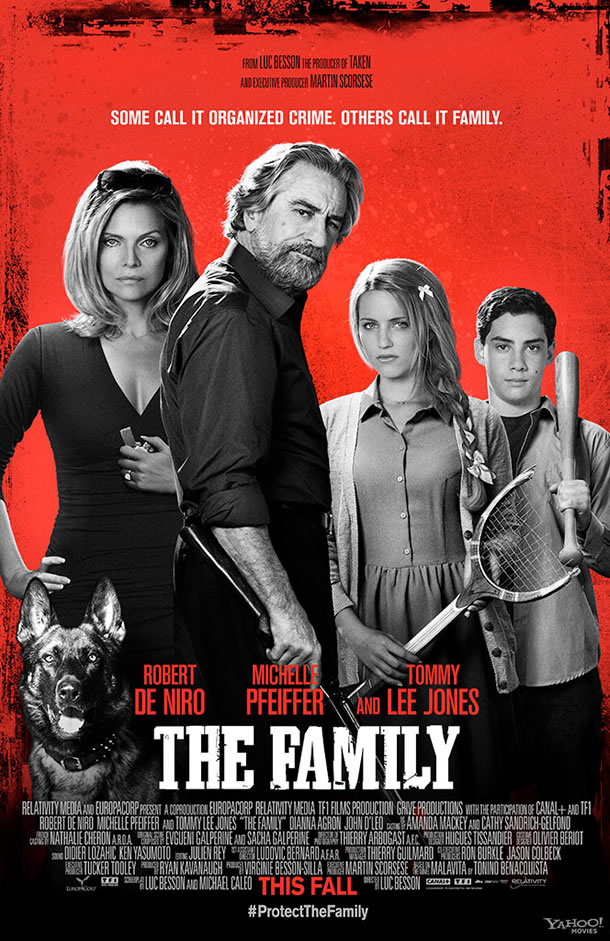 What's it about? In the off-beat action comedy 'The Family', a mafia boss and his family are relocated to a sleepy town in France under the witness protection program after snitching on the mob. Despite the best efforts of Agent Stansfield (Tommy Lee Jones) to keep them in line, Fred Manzoni (Robert DeNiro), his wife Maggie (Michelle Pfeiffer) and their children Belle (Dianna Agron) and Warren (John D'Leo) can't help but revert to old habits and blow their cover by handling their problems the "family" way, enabling their former mafia cronies to track them down. Chaos ensues as old scores are settled in the unlikeliest of settings in this darkly funny film by Luc Besson ('Taken', 'Transporter').
Green Band Trailer
Red Band Trailer
My thoughts? First off, I kinda hate how most of the advertising of this film is "From Luc Besson, the producer of TAKEN". I get it, Taken was a recent big hit, and the public's knowledge of Luc Bessons ground breaking action thrillers, La Femme Nikita and The Professional (aka LEON), is pretty much gone, but as a film geek that loves Besson, it feels unfair. I know that Besson's recent films has been an interesting mix. He's made some family friendly adventure films in France. He did the drama The Lady with Michelle Yeoh. I'm a bit interested in what made him decide to direct this one as oppose to letting someone else do it. Maybe it was the opportunity to work with DeNiro? Maybe producer Martin Scorsese bugged him? Who knows. While I don't think it's going to be a game changer like the films I mentioned above, it does seem like a fun bit of action/comedy. I like the use of DeNiro and playing off his Mobster film history. I like seeing the annoyingly underused Michelle Pfeiffer in a pretty funny role. While not a must see, any chance to check out Besson do some good old fashion action is enough for me.
What's it about? The Lambert family learn their struggle with the supernatural is far from over when a long-buried secret plunges them back into a terrifying world of darkness. Director James Wan reteams with screenwriter Leigh Whannell for this horror sequel starring Patrick Wilson, Rose Byrne, Lin Shaye, and Ty Simpkins.
My thoughts? I surprisingly really really dug the first Insidious. I dug the mythology of  the astral plane "The Further", and I enjoyed the films answer of "if the house is haunted , why don't you LEAVE THE DAMN HOUSE!". It was a spooktacular bit of fun, and now we have a new one. I'm curious as hell how will they explain the situation in this film due to how the first one ended. Also, I'm pulling for the fact that the film subtitled Chapter 2 would mean that the filmmakers have made some plans encase the first one did well. Also, KUDOS to director James Wan for not only directing this film, BUT also The Conjuring, the box office and critical success this past summer. If the reviews and the box office are good for this one, then it's a great year to be James Wan (whose currently prepping to direct Fast and Furious 7).
So what films got your attention again? Are you ready to revisit "The Further" in Insidious Chapter 2? Hang out with The Family? Comment below and let us know!