I decided to just go totally off the reservation and talk in excess about one Mr. Stanley Tucci.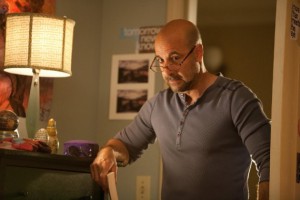 Why?  Simple.  Stanley Tucci ain't just an actor, oh heck no.  He's pesto.  Straight up if you put him in something, it will be a thousand times better.  Its no secret, my love of pesto sauce.  Its a basil blast of perfection.  A culinary masterpiece.  The amalgam of basil, pine nuts, olive oil, and Parmesan cheese (other recipes may differ, but this is how my pesto is, uh, pesto'd).
Tucci shares this attribute.  He has 104 actor credits, the first 20 or so being your usual "I need work to get money to eat food."  But once he get rolling, he literally starts to show up in different movies.  Not to act, mind you, but to make the movie about 62% better than it should be.  He should charge more, but I'm sure he only accepts a little over an actor's scale pay.  Hell, maybe he's just magic and does it for free.
He was in Lucky Number Slevin as "Brikowski."  He was in Monk as actor David Ruskin who starts acting too much like Monk.  He was in The Terminal.  He was on ER as Dr. Kevin Moretti.  He was Paul Child in Julie & Julia.  He was in Road to Perdition as Frank Nitti.  He was Nigel in The Devil Wears Prada.  He was the dad in Easy A.  He was Dr. Abraham Erskine in Captain America.  He was in 30 Rock.  He's in the Hunger Games movies as Caesar Flickerman.  He's been in episodes of Robot Chicken.  He was Roderick in Jack the Giant Slayer.  He was Mr. D in Percy Jackson: Sea of Monsters.
Now, even I'm shocked by how many of those movies I've seen, especially the really questionable titles I listed.  (Yeah, I saw Julie & Julia, thanks to a long flight from Hawaii).  So I need to thank "The Tooch" (that's my nickname for Stanley Tucci, I know I have too much fun I have to stop) for showing up and making me like a movie more than I should.
I mean, The Tooch has been ALL these characters!
Anyways… Stanley Tucci:  Moviesaver.
I don't know why I went on such a Tucci rant.  Maybe I just needed it more than you needed to read it?  Or maybe I just opened up your eyes to a world made better by The Tooch.  Perhaps you'll appreciate him more when he just suddenly appears in a movie that was dragging along and he just gives it a breath of fresh pesto air.  Or a movie that was already awesome, and hired The Tooch "just because" thus it made the right call… The Tucci Call.
I swear I just like him for his acting talent.  I'm a straight man, though I've watched some questionable movies in maintaining that stance.  Whatever, I don't care!  MORE TOOCH!
Oh, AND he's got a cook book coming out!  What the WHAT?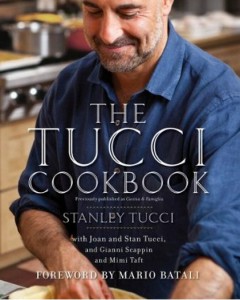 And yes, once I can check out his cook book, I'm looking for a pesto recipe.