Are you the kind of family that spends the holiday at the movies? If so, I say you are a delightful family.
But what will you watch? I can safely say you got plenty of choices this week, and I do feel this week  is very promising for a good time at the movies.
CHRISTMAS DAY (December 25)
What's it about? Behind the headlines, beyond the spotlight — there's more to his story. Directed by Jon M. Chu (Never Say Never, G.I. Joe: Retaliation) 'Justin Bieber's Believe' captures 19-year-old Justin Bieber unfiltered and brutally honest. In brand new interviews with Bieber, the movie reveals long-awaited answers to questions about his passion to make music, relationships and coming of age in the spotlight — as well as never-before-seen concert footage, unprecedented behind-the-scenes access and special appearances from manager Scooter Braun, Patti Mallette, Usher, Ludacris and many more.
My thoughts? Well…..I'm gonna assume you already made you mind up about this movie. A Christmas gift to the loved one in your family who is a fan? You can watch it together, I guess.
LIMITED RELEASE
What's it about? Director Ralph Fiennes teams with screenwriter Abi Morgan to adapt Claire Tomalin's book detailing the clandestine, 13-year-long love affair between celebrated English author Charles Dickens (Fiennes) and 18-year-old actress Nelly Ternan (Felicity Jones), whose name was effectively erased from the history books following Dickens' death in 1870. Kristin Scott Thomas and Tom Hollander costar.
My thoughts? Ralph Fiennes first film, a crazy cool looking adaptation of the Shakespeare play Coriolanus, had a decent response, so it's interesting to see him go and do a traditional costume drama. This film looks like it's nicely made, and the cast is very good, but I'm not that particularly excited about. I should have seen Coriolanus so I can get a gauge on Fiennes as a filmmaker, but I sadly I didn't.
LIMITED RELEASE
What's it about? 'Labor Day' centers on 13-year-old Henry Wheeler, who struggles to be the man of his house and care for his reclusive mother Adele while confronting all the pangs of adolescence. On a back-to-school shopping trip, Henry and his mother encounter Frank Chambers, a man both intimidating and clearly in need of help, who convinces them to take him into their home and later is revealed to be an escaped convict. The events of this long Labor Day weekend will shape them for the rest of their lives.
My thoughts? I have either really loved a Jason Reitman film, or just really really liked it. By his pedigree alone, I am pretty much keeping this film on my radar. There's something to the plot that seems like it took some inspiration from Great Expectations, but expanding on the story of the boy and the prisoner he meets. Josh Brolin and Kate Winslet seem to be playing in their dramatic comfort zones, but that's not a bad thing.
What's it about? 'Lone Survivor,' starring Mark Wahlberg, tells the story of four Navy SEALs on an ill-fated covert mission to neutralize a high-level Taliban operative who are ambushed by enemy forces in the Hindu Kush region of Afghanistan. Based on The New York Times bestseller, this story of heroism, courage and survival directed by Peter Berg (Friday Night Lights) also stars Taylor Kitsch, Emile Hirsch, Ben Foster and Eric Bana.
My thoughts? Director Peter Berg had something to prove. Especially considering his last film was a movie that was just bad: Battleship. This film looks pretty damn thrilling, and the right direction for Berg after his attempt to reach the Michael Bay level of  blockbuster filmmaking. Actually, come to think of it, Berg's last attempt to do big blockbuster filmmaking was Hancock…and THAT movie I kinda hate. Berg, movies like Lone Survivor might be the right call for you for a while. That's a shame, because Berg also directed The Rundown, a blast and a half, of an action film that is still my favorite the Rock movie. Berg also brings with him Battleship, John Carter, and The Savages survivor Taylor Kitsch, who also had a pretty rough 2012.
What's it about? Two retired boxers (Sylvester Stallone and Robert De Niro) decide to settle a long-standing beef by heading back into the ring in this sports comedy from director Peter Segal. Back in the day, Billy "The Kid" McDonnen (De Niro) and Henry "Razor" Sharp (Stallone) were the two biggest bruisers in the Pittsburgh boxing scene. Their fierce rivalry drawing nationwide attention, Razor and The Kid were deadlocked for the title of overall champion when the former announced his retirement just before the decisive 1983 match that would have determined the supreme champion. Three decades later, enterprising boxing promoter Dante Slate Jr. (Kevin Hart) lures the aging pugilists back into the ring for the fight that everyone has been waiting for. Meanwhile, when Razor and The Kid see each other for the first time in 30 years, the cameras are rolling as tempers suddenly flare. In no time that unscheduled scuffle goes viral, prompting both fighters to resume their intensive training in a bid to be the one who delivers the knockout blow during the highly anticipated bout. Alan Arkin, Kim Basinger, and Jon Bernthal costar.
My thoughts? In what appears to be Rocky VS Raging Bull, and kinda borrowing the plot whole sale from the last Rocky movie, Rocky Balboa , it seems like a pretty safe big studio comedy. I'm sure it is…but I totally want to see it.  Director Peter Segal does these kind of films well: very entertaining films with just a enough heart to make you care, but sadly forgettable after a day or two. Teflon films, some would call them – BUT, I don't mind teflon films. This looks entertaining enough, and Stallone actually has decent comedy chops so it's good to see him stretch those again. Strangely enough, of all the movies that are coming out this Christmas, I think this will be the one I would like to see with the family. My mom would like it, my sister would enjoy it, my nephews will find it entertaining enough, and I'll have fun with it. Also whoever had the genius to cast Jon Bernthal as De Niro's son, bravo. Fantastic idea.  SIDENOTE: Seeing Stallone and De Niro in the mocap suits reminds me that Agent Earl just talked about his experience doing that for the recent Tomb Raider video game. If you haven't read his last post about it CLICK HERE!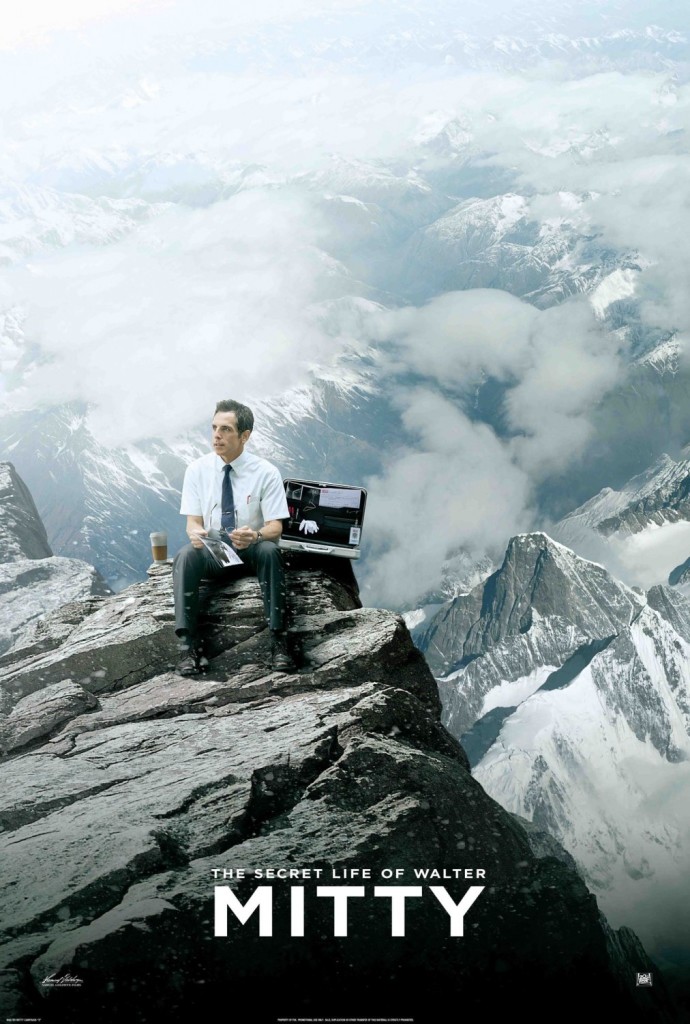 What's it about? Ben Stiller directs and stars in 'The Secret Life of Walter Mitty,' James Thurber's classic story of a day-dreamer who escapes his anonymous life by disappearing into a world of fantasies filled with heroism, romance and action. When his job along with that of his co-worker (Kristen Wiig) are threatened, Walter takes action in the real world embarking on a global journey that turns into an adventure more extraordinary than anything he could have ever imagined.
My thoughts? I was very much looking forward to this after seeing the stunning first trailer but sadly the reviews for the film have been very mixed, which is a bummer. I would still love to see it, if nothing more then to see Stiller direct the hell out of this one.  I might even be the strange one and dig the film more now that my expectations have been lowered.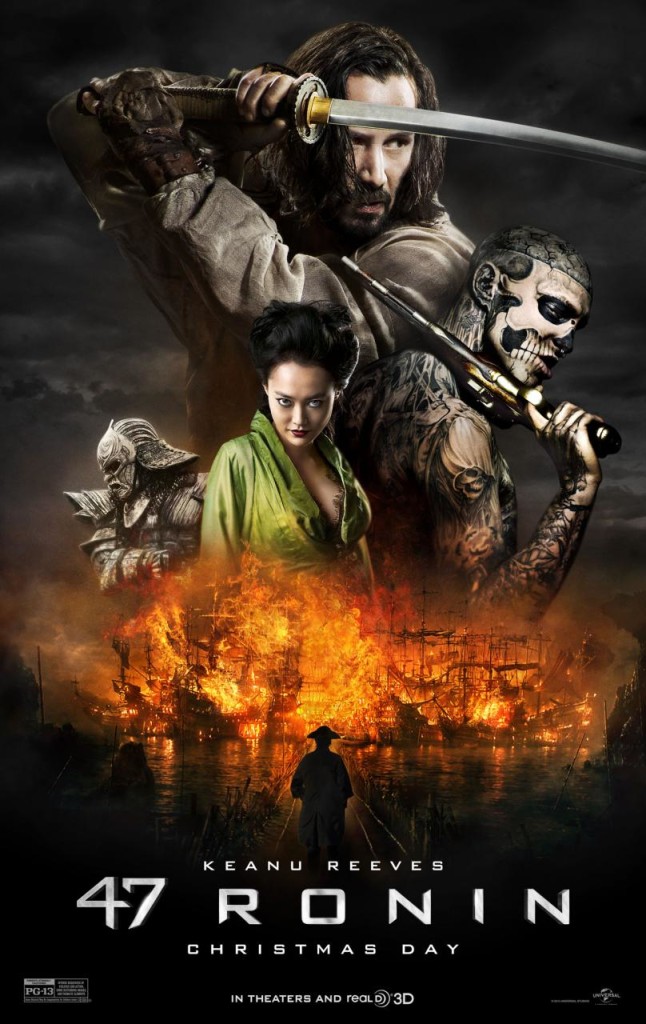 What's it about? After a treacherous warlord kills their master and banishes their kind, 47 leaderless samurai vow to seek vengeance and restore honor to their people. Driven from their homes and dispersed across the land, this band of Ronin must seek the help of Kai (Keanu Reeves)-a half-breed they once rejected-as they fight their way across a savage world of mythic beasts, shape-shifting witchcraft and wondrous terrors.
As this exiled, enslaved outcast becomes their most deadly weapon, he will transform into the hero who inspires this band of outnumbered rebels to seize eternity.
My thoughts? You know, ten years ago, I would have been all over this movie, no questions asked. I would have flipped for the hardcore anime influence, gone crazy gaga for the samurai sword fights… and the monsters! All those cool monsters! But now? I'm a bit more hesitant with films like these. I know that while they will look very cool, they always end up being a hollow film that I find no real reason to revisit. I'm sure the action is cool, and the visuals look pretty great, but I feel that's all your going to get. And hey, if that's all you want, then I don't think you'll have a problem. Now, I think I do have to call out that it's another movie in which they've shoved a white guy into the savior role, that's sadly how it's going to be concerning these big Hollywood flicks. At least Keanu is part Asian, so they could at LEAST make his character the same as well. This isn't a Tom Cruise in The Last Samurai situation here….not exactly anyway.
What's it about? Martin Scorsese reteams with Leonardo DiCaprio for this adaptation of Jordan Belfort's memoir about his exploits as a crooked banker. Terence Winter provides the screenplay. Jonah Hill and Oscar winner Jean Dujardin co-star.
My thoughts? Every single trailer for this movie just keeps getting me more and more excited for it. Scorsese is going back to a film that seems similar in tone to Goodfellas, but with a crazy dark comedic edge. DiCaprio is on another plane in his performance, and it is a performance that I have NEVER seen him give before, and that is exciting. Jonah Hill is just as transformative as DeCaprio in his role. The reviews for this one have been stellar, and that's only making me more anxious to see it.
DECEMBER 27
LIMITED RELEASE
What's it about? 'August: Osage County' tells the dark, hilarious and deeply touching story of the strong-willed women of the Weston family, whose lives have diverged until a family crisis brings them back to the Midwest house they grew up in, and to the dysfunctional woman who raised them. Tracy Letts' Pulitzer Prize-winning play of the same name made its Broadway debut in December 2007 after premiering at Chicago's legendary Steppenwolf Theatre earlier that year. It continued with a successful international run and was the winner of five Tony Awards in 2008, including Best Play. 'August: Osage County' is directed by John Wells ('THE COMPANY MEN') and features an all-star cast, including Meryl Streep, Julia Roberts, Ewan McGregor, Benedict Cumberbatch, Abigail Breslin, Sam Shepard, and Chris Cooper.
My thoughts? A pretty amazing cast (and there be that Benedict Cumberbatch fella again this year, my goodness he was busy.) I'm really enjoy the bits of the natural dialogue and chemistry the cast has. It's the kind of movie in which the actors get to really sink their teeth into their roles, especially Meryl Streep, who disappears yet again into her character. I guess it's only fitting that they release a family comedy/drama in the week of Christmas that skews the notion of what family means.
So what about you folks? What films are you most excited to see? Which of these films do you think you will watch with your family? Let us know in the comments below and I wish you a Merry Christmas!