Folks, February has a few more weeks left of new movie releases. With the release of The Lego Movie alone, it's pretty clear that February truly is better then January in terms of new flicks (sorry for the constant bashing, January.)
Once again, we got another random set of movies this weeks. Lets see if any of these will catch your attention.
LIMITED RELEASE
What's it about? At 87, Broadway legend Elaine Stritch remains indisputably in the spotlight. In the revealing and poignant 'ELAINE STRITCH: SHOOT ME,' the uncompromising Tony and Emmy Award-winner is showcased both's present to her past, and an inspiring portrait of a one-of-a-kind survivor emerges.
In stolen moments from her corner room at the Carlyle and on breaks from her tour and work, candid reflections about her life are punctuated with photographs from her personal collection and words from friends (including Hal Prince, George C. Wolfe, Nathan Lane, Cherry Jones, Tina Fey, James Gandolfini and John Turturro). Whether dominating the stage, tormenting Alec Baldwin on the set of "30 Rock," or sharing her personal takes on her struggles with aging and alcoholism, 'ELAINE STRITCH: SHOOT ME' reaches beyond the icon's brassy exterior and reveals a multi-dimensional portrait of a complex woman and artist.
My thoughts? I only know Elaine Stritch from her role as Colleen Donaghy, Jack Donaghy's mother, from 30 Rock. That, however, IS enough to leave a lasting impression on me, and I can see that Elaine is a force to be reckoned with. Since I don't closely follow Broadway history, I wasn't aware that she was a legend on stage! And getting the glimpse of her in this documentary, it made me want to learn more about her and to check this documentary out.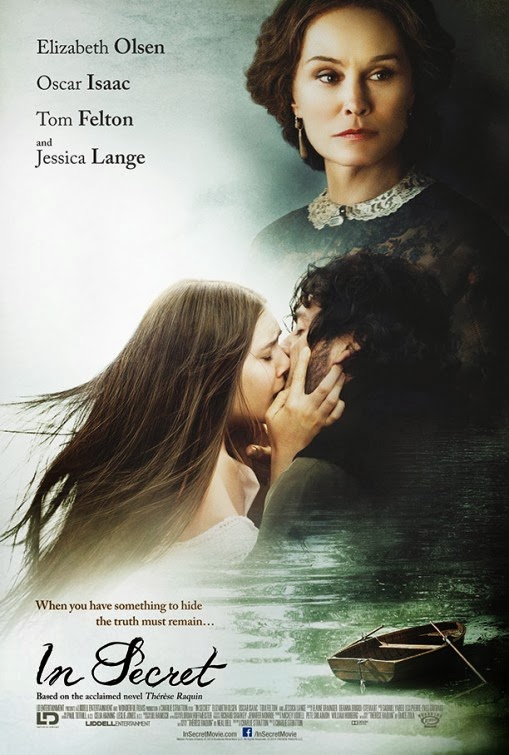 LIMITED RELEASE
What's it about? Based on Emile Zola's scandalous novel, Therese Raquin, 'In Secret' is a tale of obsessive love, adultery and revenge set in the lower depths of 1860s Paris. Therese (Elizabeth Olsen, a sexually repressed beautiful young woman, is trapped into a loveless marriage to her sickly cousin, Camille (Tom Felton, by her domineering aunt, Madame Raquin (Jessica Lange). Therese spends her days confined behind the counter of a small shop and her evenings watching Madame play dominos with an eclectic group. After she meets her husband's alluring childhood friend, Laurent (Oscar Isaac), she embarks on an illicit affair that leads to tragic consequences.
My thoughts? Dirty little secrets abound in this film. The cast is quite good, and with Oscar Isaac just fresh to my mind thanks to his amazing performance in Inside Ilewyn Davis, it's fun to see him play a completely different role. With the right touch, this could be a interesting little flick, it just has to be the right balance of thriller and drama.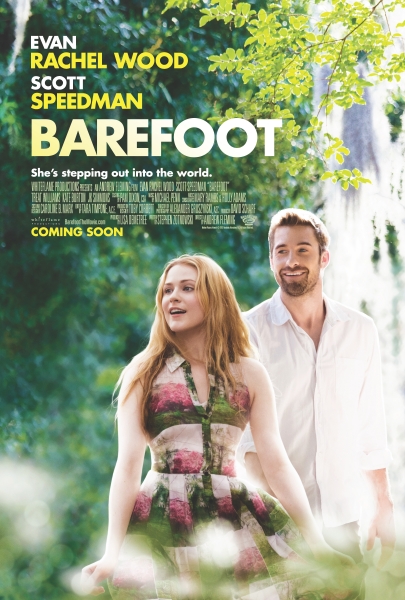 LIMITED RELEASE
What's it about? The "black sheep" son (Scott Speedman) of a wealthy family meets a free-spirited, but sheltered woman (Evan Rachel Wood). To convince his family that he's finally straightened out his life, he takes her home for his brother's wedding where an improbable romance blooms, as she impresses everyone with her genuine, simple charms.
My thoughts? I am quite surprised to see Evan Rachel Wood be possessed by the spirit of Zooey Deschanel's character from New Girl . I mean, don't get me wrong, she's doing a great job possessing the lovely Evan Rachel Wood, but it is strange to see the same mannerisms come out from a completely different body. At least it will be a counterbalance of fun charm since her co star is Scott Speedman, an actor who is mostly harmless but not really an engaging leading mean.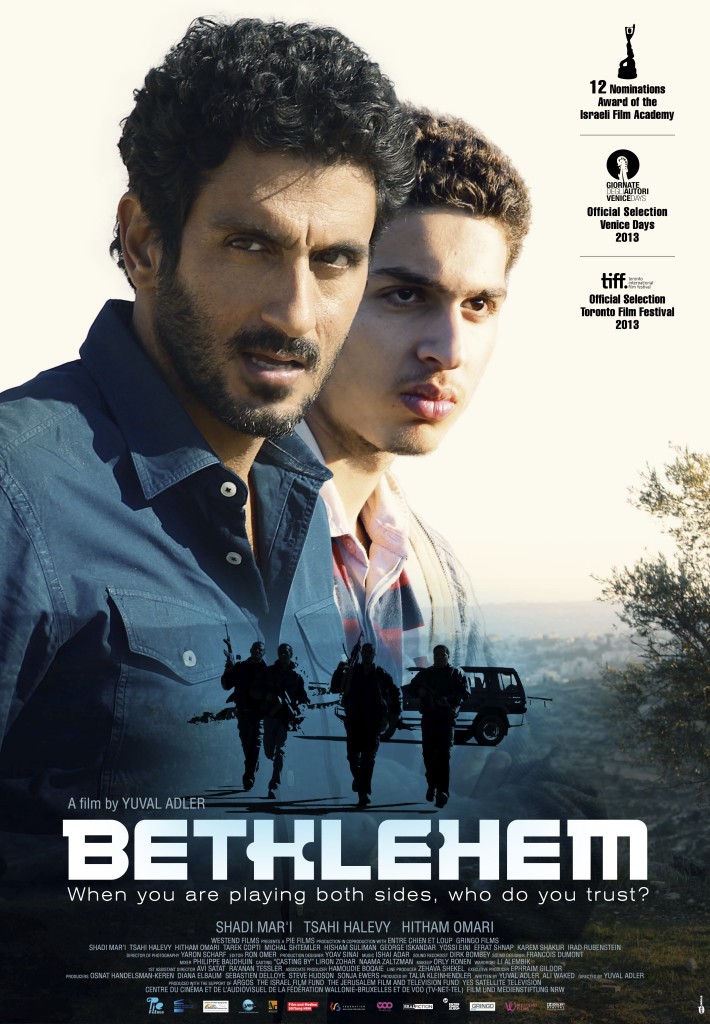 LIMITED RELEASE
What's it about? 'Bethlehem' tells the story of the complex relationship between an Israeli Secret Service officer and his teenage Palestinian informant. Shuttling back and forth between conflicting points of view, the film is a raw portrayal of characters torn apart by competing loyalties and impossible moral dilemmas, giving an unparalleled glimpse into the dark and fascinating world of human intelligence.
http://youtu.be/WSwPlEhA308
My thoughts? Looks really intense and quite well made. The fact that this is set in Israel makes it even a bit more enticing to check out.
LIMITED RELEASE
What's it about? 'Holy Ghost People is a Southern Gothic thriller about a teenager searching for her lost sister in the Appalachian Mountains, where she encounters a snake-handling religious cult and eventually learns the truth about her sister's fate.
My thoughts? Kinda digging the vibe in this one. It looks well shot, with some characters that could be cool to watch thanks to the solid performances. Call me optimistic on this one.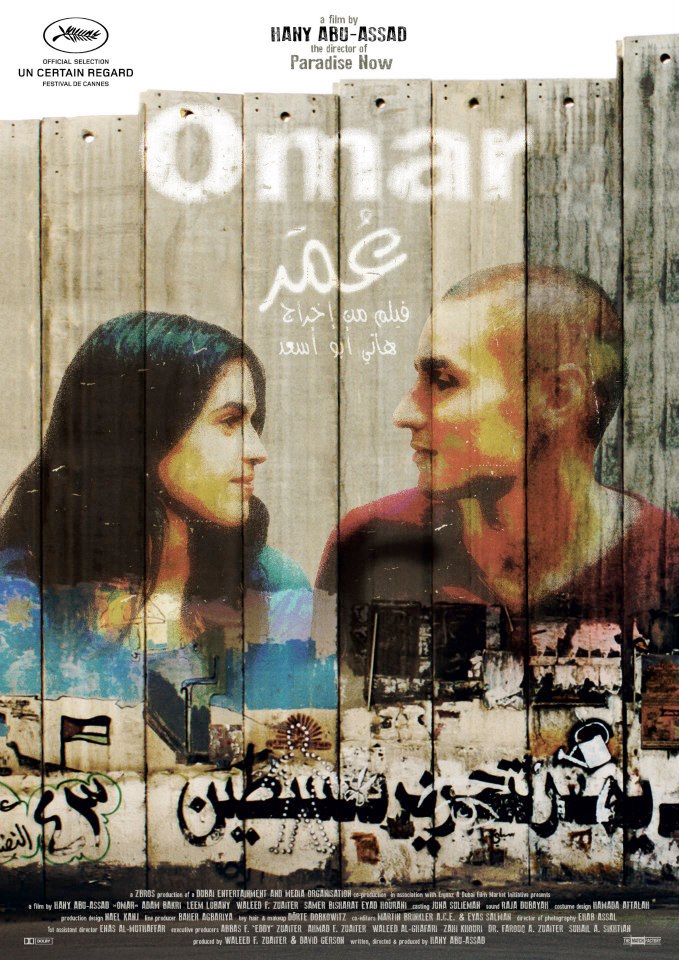 LIMITED RELEASE
What's it about? A tense and gripping thriller about betrayal, suspected and real, in the Occupied Territories. Omar (newcomer Adam Bakri) is a Palestinian baker who routinely climbs over the separation wall to meet his beautiful girlfriend Nadja (Leem Lubany), his militant best friend Tarek (Eyad Hourani)'s younger sister. By night, he's either a freedom fighter or a terrorist ready to risk his life to strike at the Israeli military with his childhood friends. Arrested after the killing of an Israeli soldier and tricked into an admission of guilt by association, he agrees to work as an informant. So begins a dangerous game-is he playing his Israeli handler (Palestinian-American actor Waleed F. Zuaiter) or will he really betray his cause? And who can he trust on either side?
My thoughts? Another film from Israel. Not to sound like a broken record, but this too does look really intense, and well made. But, here's a question: What does it say when Israeli films tend to focus on subjects like this film and the above mentioned Bethlehem? And what does it mean that the only ones that get release in the states are these films? You're telling me there are no good Israeli comedies? Things to think about.
What's it about? In this heart pounding action-thriller, Kevin Costner is a dangerous international spy, who is determined to give up his high stakes life to finally build a closer relationship with his estranged wife and daughter, whom he's previously kept at arm's length to keep out of danger. But first, he must complete one last mission- even if it means juggling the two toughest assignments yet: hunting down the world's most ruthless terrorist and looking after his teenage daughter for the first time in ten years, while his wife is out of town.
http://youtu.be/TbXfZlD2eNk
My thoughts? I used to get excited to hear Luc Besson's name be associated with a project. I used to call him the "Smarter Joel Silver." Making action films that at least have a better heart and were a bit more clever. Not anymore. Once he made Taken (a flick that I liked, mind you), his quality of films has gotten lower. Now it seems Kevin Costner is joining Liam Neeson in the "Older Bad Ass" genre, which seems fitting for him. The trailer to this film is a bit odd, as the tone is kinda all over the place. Maybe I shouldn't be surprised, since the director is McG, a guy who just can't make a coherent action film.  I would like it to be entertaining, but I do feel this will be a "set it and a forget it" kind of movie.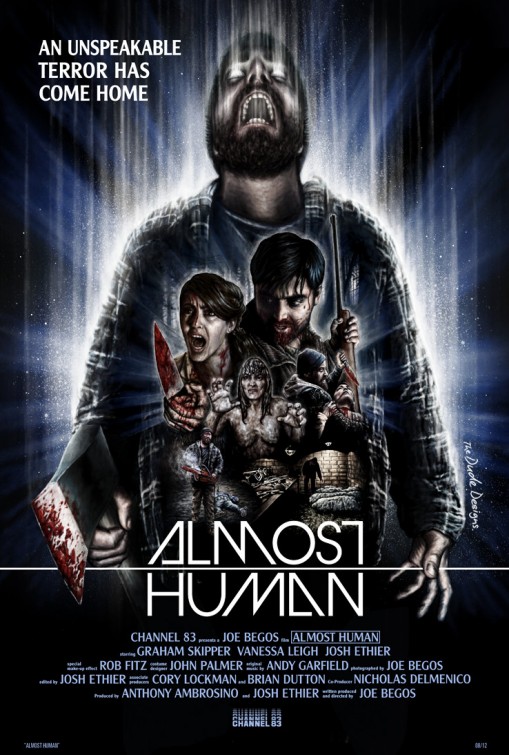 LIMITED RELEASE
What's it about? Mark Fisher disappeared from his home in a brilliant flash of blue light almost two years ago. His friend Seth Hampton was the last to see him alive. Now a string of grisly, violent murders leads Seth to believe that Mark is back, and something evil is inside of him.
My thoughts? I've actually been reading a lot of reviews on this one, and it seems like the big deal about this flick is that it truly feels like a lost horror/sci-fi flick from the 1980's. It apparently even has a wicked synth score. Well, that era is my favorite from the horror genre as well, and the trailer has a fun "low budget The Thing" vibe that I'm diggin. Down to give this one a shot.
LIMITED RELEASE
What's it about? On the day before his wedding, retired criminal Jos wakes up next to a murdered man with no recollection of what happened the night before. He soon discovers that a group of gangsters have pinned him as the lone suspect in the theft of 20 kilos of coke. He's got to get it back in 24 hours, or the life of his bride will be in serious danger. Now he has no choice but to creep back into his dangerous old world of petty thieves and drug dealers – all before his wedding the next day.
My thoughts? Full of style and a wicked sense of humor, this looks like the kind of films that Guy Ritchie used to make…and there's a strong chance it might be even better than his films. Looks fun.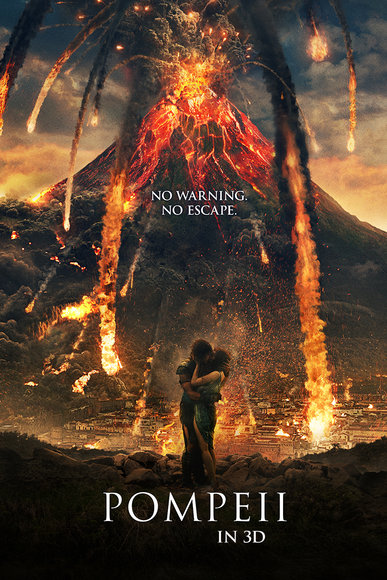 What's it about? Set in 79 A.D., 'Pompeii' tells the epic story of Milo (Kit Harington), a slave turned invincible gladiator who finds himself in a race against time to save his true love Cassia (Emily Browning), the beautiful daughter of a wealthy merchant who has been unwillingly betrothed to a corrupt Roman Senator. As Mount Vesuvius erupts in a torrent of blazing lava, Milo must fight his way out of the arena in order to save his beloved as the once magnificent Pompeii crumbles around him.
My thoughts? The action of Gladiator mixed in with the sad historical disaster film romance of Titanic, this film looks very nice….but I just don't trust the director. The man behind the lenses of this film is Paul W.S. Anderson…nicknamed by some as Paul "Worthless Shit" Anderson. He's the auteur behind Alien VS Predator, Solider, most of the Resident Evil films, and much more. He makes films that have GREAT potential…but fail in execution every…single…time. This film has the chance to…at the very least…be fun to watch in a "so bad it's good" way, but make no mistake, it's probably going to be bad.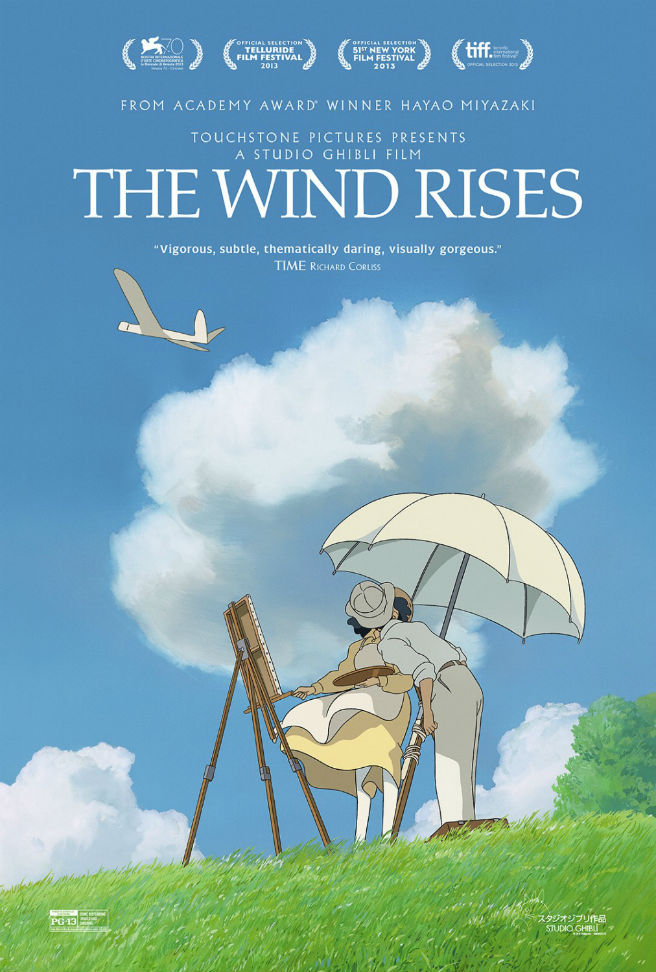 LIMITED RELEASE
What's it about? In 'The Wind Rises,' Jiro dreams of flying and designing beautiful airplanes, inspired by the famous Italian aeronautical designer Caproni. Nearsighted from a young age and unable to be a pilot, Jiro joins a major Japanese engineering company in 1927 and becomes one of the world's most innovative and accomplished airplane designers. The film chronicles much of his life, depicting key historical events, including the Great Kanto Earthquake of 1923, the Great Depression, the tuberculosis epidemic and Japan's plunge into war. Jiro meets and falls in love with Nahoko, and grows and cherishes his friendship with his colleague Honjo. Writer and director Hayao Miyazaki pays tribute to engineer Jiro Horikoshi and author Tatsuo Hori in this epic tale of love, perseverance, and the challenges of living and making choices in a turbulent world.
My thoughts? While many  of my friends have pointed out that Miyazaki has tried to "retire" for some time, lets just assume that he really means it this time. What's fascinating about this film is the idea that his last movie will be about a real-life person, Jiro Horikoshi, who was a chief engineer of many Japanese fighter planes…planes that were used in World War II. There is potential for this to be quite a touchy subject, which may bring some controversy if people feel it's a valid argument against the movie. It's fascinating to say the least, but I feel that Miyazaki wasn't interested in telling Jiro's story to explore the implications of his work. My theory is that Miyazaki can relate to Jiro in their quest to make beauty from a process that is truly complicated. It's not easy to create and designs planes, and it's certainly not easy to make films, let alone animated movies. Maybe that's why Miyazaki has decided to make this his last film, as a statement on creation and the people who are driven to create.
What films got your attention this week? Let us know in the comments a below!