Holiday weekend brings forth the big studio releases on a bit earlier in the week. Yep, a good amount of new movies will be coming out on Wednesday instead of Friday, just in time for you and the family to sit back and relax the day before the big feast and just enjoy a flick.
So either you're the kind of family that wants to see a musical with a bit of magic and whimsy, or your family wants to see SOME  MOTHERF***ERS GET F***ED UP,  there are a few choices for you this weekend.
AND, if you still have have a hankering for some films the day after Thanksgiving, a few more movies will be coming out to give you a tad bit more variety. First up….
NOVEMBER 27th!
LIMITED RELEASE
What's it about? Director Kasi Lemmons updates Langston Hughes' acclaimed play for the screen in this inspirational musical drama with a positive spiritual message. Langston (Jacob Latimore) is a street-smart Baltimore teen who lives with his single mother Naima (Jennifer Hudson). It's Christmas, and this year Jordan is traveling to New York City for a stay with his distant relatives Reverend Cornell (Forest Whitaker) and Aretha Cobbs (Angela Bassett). When Reverent Cornell's strict rules prove too oppressive for the rebellious teen to handle, however, Jordan decides he'd rather spend the holidays with his mother, and embarks on an eye-opening journey that teaches him the true importance of faith and family.
My thoughts? The film is apparently based on a play by writer Langston Hughes. What's confusing me is that Langston's play is just the retelling of the Nativity story but with a Moorish cast and the songs being done in the gospel style. Judging from this trailer, it's not going to be that at all. While they keep saying it's an update on his play, it seems to me that this is just a film loosely inspired by the works of Hughes. The visuals look good, and it's got a great cast. Jennifer Hudson made a huge splash when she was in the film version of Dreamgirls (one of my favorite movies from that year.) so it is nice to see her in a musical again.
What's it about? 'Homefront' is an action movie about a widowed ex-DEA agent who retires to a small town for the sake of his 10-year-old daughter. The only problem is he picked the wrong town.
My thoughts? Jason Statham returns with another film in his popular "BUCKLE UP" movie series. This time Jason Statham, returning in the role of Jason Statham, now has a kid and he has to fight an evil gang of Breaking Bad Hillbillies.  This is such a strange in entry into the "BUCKLE UP" series. This one is a adaptation of a book that nothing to do with the "BUCKLE UP" series, a book by writer Chuck Logan from his series of books about his character Phil Broker. The adaptation is written by Sylvester Stallone, which is weird in and of itself, and the cast is full of people I never thought would be in a "BUCKLE UP" movie. James Franco? Kate Bosworth? Winona "F**KING" Ryder?! Not sure if I should be excited that they are in this one, or worried for their careers. Truthfully, the action in this one doesn't really seem that exciting compare to the other films in the "BUCKLE UP" series (like the action in the most crazy entry in the series BUCKLE UP VI: Crank) but hey, if you're in the mood for another mindless "BUCKLE UP" movie, be my guest.
What's it about? 'Oldboy' is a provocative, visceral thriller that follows the story of Joe Doucette, a man who is abruptly kidnapped and held hostage for 20 years in solitary confinement, for no apparent reason. When he is suddenly released without explanation, he begins an obsessive mission to find out who imprisoned him, only to discover that the real mystery is why he was set free.
My thoughts? I already wrote a great deal about my feelings on this remake when the first trailer popped up a while ago (click here to read that post) Recently, a friend of mine caught an early screening of the film and told me that, even though it will never was going to be as good as the original Park Chan Wook film, it still works. I guess that's the strength of the material. It has been a while since I've seen original film so I can come into this a bit fresher, and I do think Spike Lee is still an amazing director, and I personally never seen him do a film of this genre before, so for that reason alone I've got some hope that it's worth it.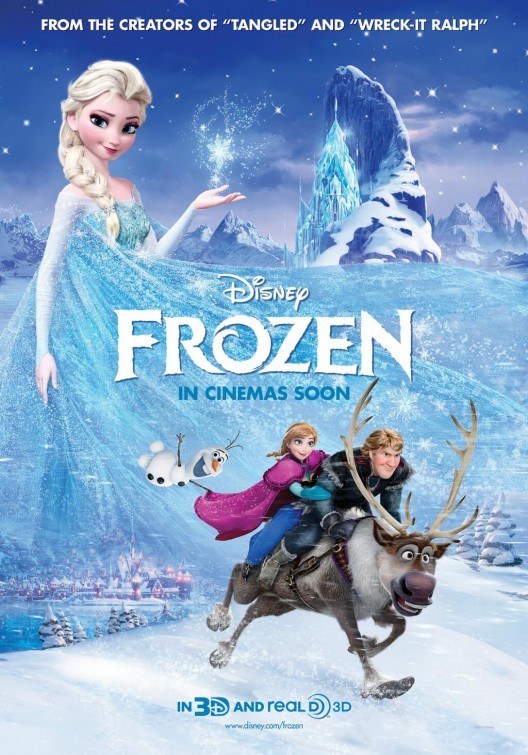 What's it about? Walt Disney Animation Studios, the studio behind 'Tangled' and 'Wreck-It Ralph', presents 'Frozen' a stunning big-screen comedy adventure. Fearless optimist Anna (voice of Kristen Bell) sets off on an epic journey-teaming up with rugged mountain man Kristoff (voice of Jonathan Groff) and his loyal reindeer Sven-to find her sister Elsa (voice of Idina Menzel), whose icy powers have trapped the kingdom of Arendelle in eternal winter. Encountering Everest-like conditions, mystical trolls and a hilarious snowman named Olaf, Anna and Kristoff battle the elements in a race to save the kingdom.
My thoughts? Not to be confused with THIS Frozen movie, I have no idea what to make of this movie from the trailer. The way this trailer was edited, made it feel like a crass Dreamworks Animated movie from 7 years ago. BUT, a few reviews have started popping online and so far it seems as if this film is actually really great. If that's the case, I would like to know who's in charge of the marketing of this movie? If it's the same team that came up with the shitty marketing for John Carter and The Lone Ranger, then Disney…you need to FIRE those people. They clearly are doing an awful job.  I do have fond memories of watching Beauty and the Best and Aladdin on Thanksgiving with my family, maybe I can go to this one with my family this weekend as well. Still not sure if I can handle goofy Snowman guy, but we'll see.
November 29th!
LIMITED RELEASE
What's it about? 'Mandela: Long Walk to Freedom' is based on South African President Nelson Mandela's autobiography of the same name, which chronicles his early life, coming of age, education and 27 years in prison before becoming President and working to rebuild the country's once segregated society. Idris Elba ('PROMETHEUS') stars as Nelson Mandela with Justin Chadwick ('THE OTHER BOLEYN GIRL') directing.
My thoughts? Normally when I see a biopic like this one, my brain usually goes, is this being used for Oscar bait? See, for me, Oscar bait movies just come off hollow to me. They are telling "important" story movies as a way to get cheap emotion out of the audience by using history and nostalgia to quickly evoke emotion. Having an actor play a significant person in history is the quickest way to an Oscar, even if the movie itself is no good. That being said, Idris Elba is a fantastic actor who is clearly casted for his talents and not for his resemblance (or in this case NO resemblance, since the real Nelson Mandela is no where near as buff as Idris Elba) so I think he's going to do his best with this film.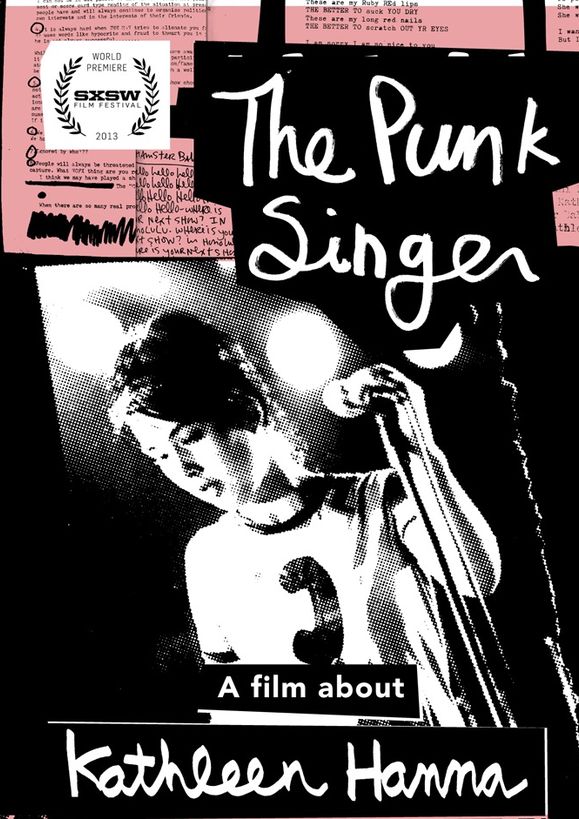 LIMITED RELEASE
What's it about? Lead singer of the punk band Bikini Kill and dance-punk trio Le Tigre, Hanna rose to national attention as the reluctant but never shy voice of the Riot Grrrl movement of the '90s. She became one of the most famously outspoken feminist icons for a new generation of women and a cultural lightning rod. Her critics wished she would just shut up, and her fans hoped she never would. So in 2005, when Hanna stopped shouting, many wondered why. Through 20 years of archival footage and interviews with Hanna, as well as musicians like Kim Gordon, Joan Jett and Carrie Brownstein, 'The Punk Singer' provides a fascinating overview of her influential career, leading up to the much-anticipated launch of her new band, The Julie Ruin.
My thoughts? Another documentary that was funded by Kickstarter. I have a small fascination of the rock scene from the '90s, but truthfully I never heard of Kathleen Hanna or the Riot Grrrl Movement. This looks really interesting, and I would love to check it out, if for nothing more, to learn more about the subject.
So how about you folks? What films will you be seeing this Thanksgiving weekend? Or will you be too tired from all the tryptophan to even go out to the movies? Either way, let us know in the comments below, and have an early Happy Thanks giving!