There were actually a few movies this week that I've been hearing about for a while that either got my interest or ones that I've been looking forward to because I heard a lot of great things about them.
And of course in classic LOOKING AHEAD fashion, there are one or two that I never heard of till I started putting this list together, movies like the first one…..
LIMITED RELEASE
What's it about? During a sweltering summer in New York City, 13-year-old Mister's (Skylan Brooks) hard-living mother (Jennifer Hudson) is apprehended by the police, leaving the boy and nine-year-old Pete (Ethan Dizon) alone to forage for food while dodging child protective services and the destructive scenarios of the Brooklyn projects. Faced with more than any child can be expected to bear, the resourceful Mister nevertheless feels he is an unstoppable force against seemingly unmovable obstacles. But what really keeps the pair in the survival game is much more Mister's vulnerability than his larger-than-life attitude.
My thoughts? Director George Tillman JR has directed a few movies that I usually end up liking, but never really loving. Those films were Men of Honor, Notorious and Faster. Men of Honor being the one I liked the most. This one looks like a pretty good one from him, and I might be down to check it out. I like the relationship between Mister and Pete, and the survival element of the story can go in any direction, all of them really interesting.  The strong cast is another appealing element and the main kids, Skylan Brooks and Ethan Dizon, seem like strong enough performers to hold the movie on their own.
LIMITED RELEASE
What's it about? Haunted by a traumatic history, photographer Kevin Wolfe struggles to systematically forget all his bad memories, seeking a girl who can help him with the endeavor. Unfortunately, all his encounters with the opposite sex inevitably go afoul, creating more awkward experiences than he can cope with. As Kevin is forced to take desperate measures, the tightly-woven thriller slowly boils under the surface, until it unleashes in an unsettling climax that will not be easily forgotten.
http://youtu.be/bmhuoqQA5EQ
My thoughts? Looks stylish, and even a bit interesting, thought I'm still not clear of the premise of the film. Personally, the only thing that got me excited for this film is seeing actor Lindsay Beamish. Who is that? She is the main girl in this film, but I also know her from the movie SHORTBUS, in which she played a snarky dominatrix. I thought she was great in that film and I'm always a bit disappointed that I never seen her in much else since. Glad to see her in this, though I don't know how big (or how good) her roll is.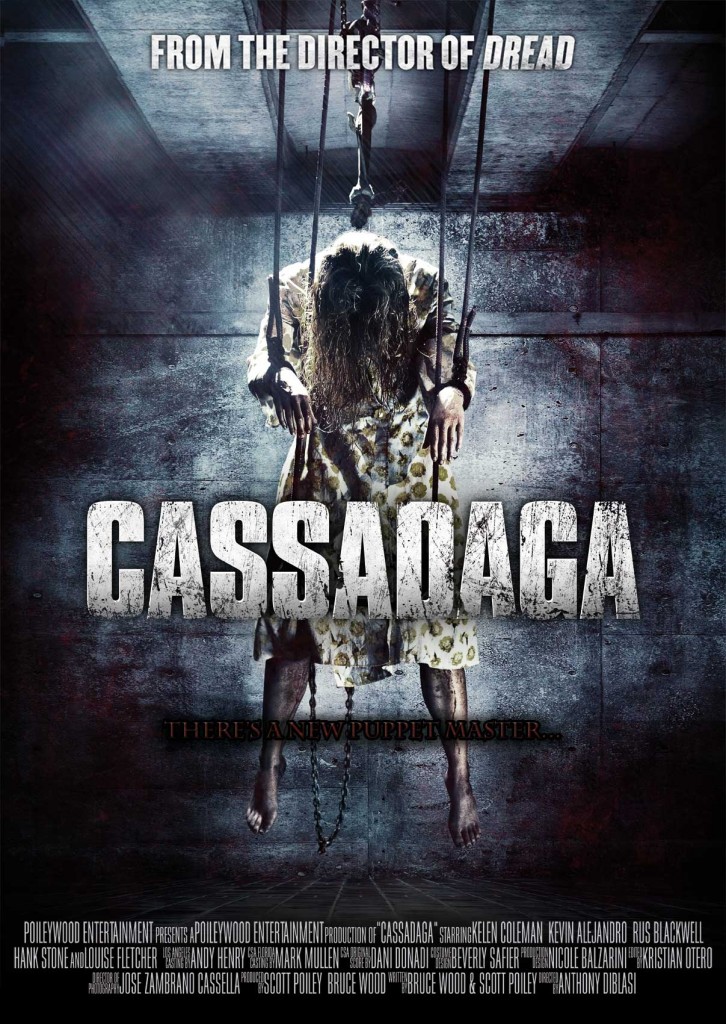 LIMITED RELEASE
What's it about? 'Cassadaga' tells the story of Lily Morel (Kelen Coleman), a post-lingually deaf artist, who participates in a seance in the spiritualist community of Cassadaga. But instead of getting closure with her recently departed sister, Lily contacts the vengeful ghost of a murdered woman. As the ghost becomes increasingly angry and violent, Lily rushes to unravel the mysterious circumstances surrounding the woman's death – a task that will bring her face-to-face with a sadistic serial killer who turns his victims into human marionette dolls.
My thoughts? You know, it's not like this is badly shot. It's not, it looks nicely filmed and directed, but I guess a horror film has to be a bit more different and unqiue to grab my interest. This trailer doesn't really seem all that interesting to me. Again, it looks nice, but not really a "can't miss" kind of a movie. But hey, it is Spooky October, so if you wanna check out any horror films that you haven't seen yet, maybe this is for you.
LIMITED RELEASE 
What's it about? In the late 1800's, a beautiful former prostitute (January Jones) is trying to build an honest life with her husband in the rugged plains of New Mexico. When she catches the eye of a sadistic and powerful religious leader (Jason Isaacs), her life is violently turned upside down. She embarks on a bloody course of vengeance with the assistance of a renegade sheriff (Ed Harris) who has pretty violent tendencies of his own.
My thoughts? January Jones is a very lovely looking woman….but an action hero she is not. I can see that they are trying to use her very limited facial expressions and play it off as a more like she's a cold hearted killer…but it's coming off as her not really acting. Ed Harris on the other hand, seems like he's got a really fun character and is enjoying himself. Otherwise, not really feeling this one.
LIMITED RELEASE
What's it about? 'CBGB' looks at New York's dynamic punk rock scene through the lens of the ground-breaking Lower East Side club started by eccentric Hilly Kristal in 1973 originally as a home for "country, bluegrass and blues" (thus the club's name) and which showcased cutting-edge bands through its closing in 2006. The Talking Heads, Patti Smith, The Ramones, Blondie, The Dead Boys, Bad Brains, Green Day, Soul Asylum, The Police, Bruce Springsteen, Everclear, George Thorogood, The Velvet Underground, Sonic Youth, The Black Crowes, The Flaming Lips, The Goo Goo Dolls, The Red Hot Chili Peppers, The B-52s, The Runaways, Tom Petty & The Heartbreakers, Tool and The Wallflowers are just some of the thousands of bands that played the club over the years.
My thoughts? Can you really tell the WHOLE story of the legendary CBGB in one narrative film? No, of course not, but this seems like a decent distraction if nothing more. Alan Rickman and director Randall Miller seems to really like working together because this is their third collaboration. I didn't see their first film together, Nobel Son, but I did really like their second film Bottle Shock, a movie about the early days of California wine making. Bottle Shock was really enjoyable and it had a great role for Chris Pine, a part that would have helped him be a bigger star before Star Trek if it actually got a much wider release. This film seems like the rock and roll version of The Butler, what with how they will have actors play a ton of famous people through out the years. This could be fun, but also dangerously feel like an SNL sketch if everyone just does really broad performances with the musician that they are playing.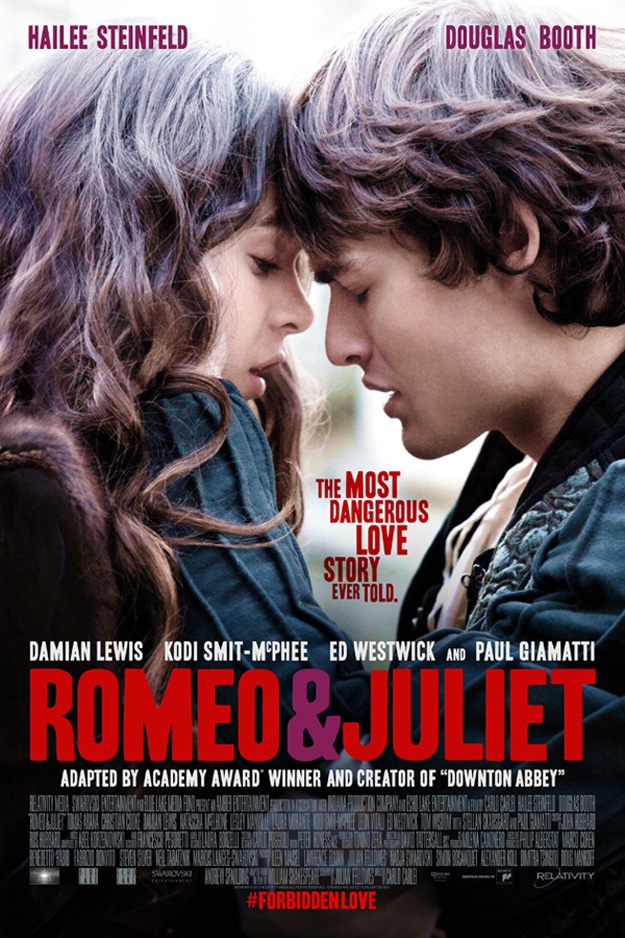 Whats it about? Romeo and Juliet, William Shakespeare's epic and searing tale of love, is revitalized on screen by writer Julian Fellowes (Downton Abbey) and director Carlos Carlei (The Flight of the Innocent). An ageless story from the world's most renowned author is reimagined for the 21st Century. This adaptation is told in the lush traditional setting it was written, but gives a new generation the chance to fall in love with the enduring legend. With an all-star cast including Hailee Steinfeld, Douglas Booth, Paul Giamatti and Stellan Skarsgard, it affords those unfamiliar with the tale the chance to put faces to the two names they've undoubtedly heard innumerable times: Romeo and Juliet. Every generation deserves to discover this lasting love.
My thoughts? Oh cool! It's a Shakespeare play that they never made into a mov-ok I'msorry I couldn't do that joke any longer. Yeah, it HAS been done before, so it does beg the questions to ask, if you are going to do it again, what angles could you do differently? Right now I can't tell if there is anything they are trying to do differently in this take of the famed story. I do like the the fact that they cast the an actual teen in the role of Juliet. Hailee Steinfeld was FANTASTIC in True Grit (and in my opinion, she should have been in best lead female lead category in the Oscars, not the supporting role nominations. She WAS the lead in True Grit. Hell, at least she was nominated.) She held her own along side with Matt Damon, Josh Brolin AND Jeff "MUTTERFUGGATHEDUUUUUUUUDE" Bridges. Playing Juliet should be a piece of cake.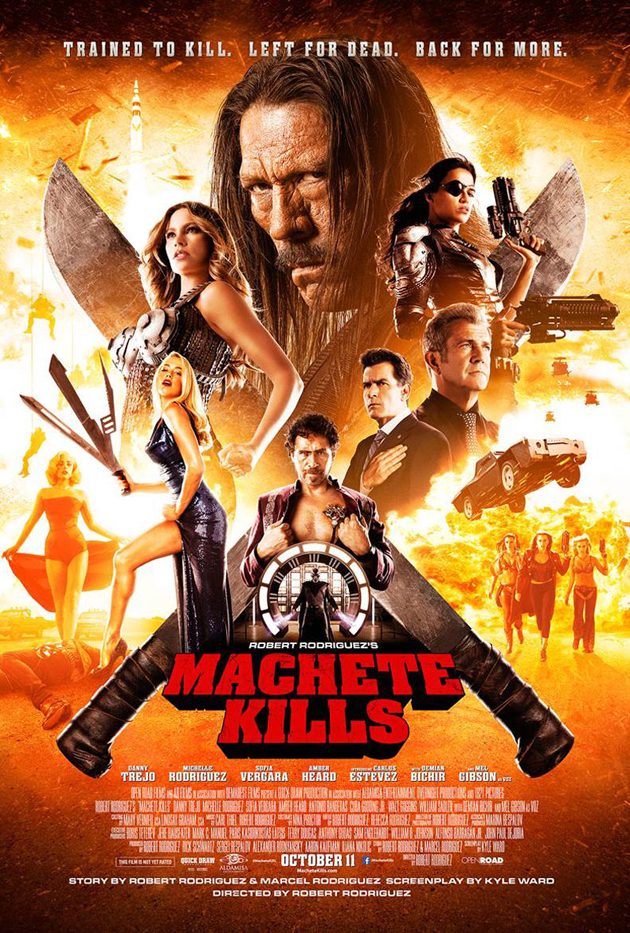 What's it about? In 'Machete Kills,' Danny Trejo returns as ex-Federale agent Machete, who is recruited by the President of the United States for a mission which would be impossible for any mortal man — he must take down a madman revolutionary and an eccentric billionaire arms dealer who has hatched a plan to spread war and anarchy across the planet.
RED BAND TRAILER!!
My thoughts? Yes, this does look like a ball of fun, and if you have that mentality going in then you WILL have a ball of fun. Funny enough, one of the things that I really liked about the first Machete was that it had an actual message about boarder crossing, and immigration laws.  Like most exploitation films from the '70s a lot of those movies had thinly veiled messages about racialism and sexism, but you didn't notice them at first because they were covered in a ton of over the top grindhouse goodness. Machete was enjoyable because I saw it as exploitation film that followed in that great tradition. It only SLIGHTLY bums me out to see that Machete Kills is JUST over the top action. I also am a bit bummed out to see Robert Rodriguez has been kinda coasting as a director lately.  It seems as if he either makes sequels to his kid movies for kids or sequels to his kids movies for adults.  I wish I hear news about him making a new original concept, but he seems to be fine just making the same kind of movies over and over again. But, he does make those movies really entertaining, so maybe I shouldn't complain too much.
What's it about? 'Captain Phillips' is a multi-layered examination of the 2009 hijacking of the U.S. container ship Maersk Alabama by a crew of Somali pirates. It is – through director Paul Greengrass's distinctive lens – simultaneously a pulse-pounding thriller, and a complex portrait of the myriad effects of globalization. The film focuses on the relationship between the Alabama's commanding officer, Captain Richard Phillips (two time Academy Award-winner Tom Hanks), and the Somali pirate captain, Muse (Barkhad Abdi), who takes him hostage. Phillips and Muse are set on an unstoppable collision course when Muse and his crew target Phillips' unarmed ship; in the ensuing standoff, 145 miles off the Somali coast, both men will find themselves at the mercy of forces beyond their control.
My thoughts? Director Paul Greengrass made himself commercially successful for directing the hell out of the last two Jason Bourne films, but it was his film United 93 that made me a full on fan of his. United 93 was exceptional, and did a great job of building tension and yet finding ways to make all the characters feel real. It looks like we are getting a similar kind of film here and I would love to know if Greengrass delivers that kind of dram and tension again. I also like the fact that this story is not that clean cut, and that Somali pirates are not cartoon bad guys. This is not a Die Had film. Tom Hanks has been in a very interesting place in his career right now, and I like that he's been really down to be experimental and daring.
LIMITED RELEASE
Whats it about? As the strict Game Master of a fantasy role-playing game, Scott (Sam Eidson) leads his friends in a weekly quest through mysterious lands from the safety of his grandmother's kitchen. But his mastery of his own domain starts to slip – along with everything else in his life – when neo-nerd hipster Miles (Garrett Graham) joins the game, winning over the group with his confident charm and dethroning Scott with an unexpected coup. Caught in delusions of grandeur, Scott must roll the dice and risk everything to expose Miles as the fraud he believes him to be. A darkly comedic fable of epic proportions, 'Zero Charisma' is an ode to nerds from every realm.
My thoughts? A movie like this can be a bit dangerous. Is this a joke of a film concerning Geeks? Does it mock them? By my assumptions, I don't really think so.
I've been tracking the making of this film for a bit, starting with seeing the ORIGINAL concept trailer they shot to help get the funding of this film.
The concept trailer does sell the story a bit more, and the kind of themes that it wants to explore concerning geek culture. I actually thought that the concept trailer was the ACTUAL trailer for the flick, since it looked completed already. It was nice to know that when they got the funding, they pumped up the production values, got better cameras, and better actors and directed it to have a much more grounded feel. Also, really glad to know that the remote control throwing gag makes me laugh in either version of the film.
The reviews for the film have been really good so far, and I honestly have been really looking forward to checking it out. We are a particularly geeky site after all, and I feel a film like this was made for folks like us.
So what got you excited this week? Over serious gamemasters? Betty Draper having a gun? Danny Trejo being so Danny Trejo? Comment below and let us know!