The new movie releases this week is another interesting bag.
October is always a very interesting time for film releases. Some actions films here or there, but most of the time they release dramas or light comedies and of course the occasional horror film.
This week will have some of those kinds of films, and for you Benedict Cumberbatch fans, he doesn't have just ONE film coming out this week, he's in TWO.
Now lets start off with…..
What's it about? One of the world's foremost authorities on structural security agrees to take on one last job: breaking out of an ultra-secret, high-tech facility called "The Tomb." Deceived and wrongly imprisoned, Ray Breslin (Sylvester Stallone) must recruit fellow inmate Emil Rottmayer (Arnold Schwarzenegger) to help devise a daring, nearly impossible plan to escape from the most protected and fortified prison ever built. 'Escape Plan' is the first pairing of action legends Sylvester Stallone and Arnold Schwarzenegger in leading roles, and co-stars Jim Caviezel, Curtis "50 Cent" Jackson, Vinnie Jones, Vincent D'Onofrio and Amy Ryan.
My thoughts? Continuing the head scratching trend of boring UP movie titles, this flicks original title was The Tomb. Now that's a solid title. It's intriguing, it sounds cool and you want to know more about it. Hell, what is THE TOMB? Come one Hollywood, let the audience be informed by the marketing. But no, instead go dull and make the title be the obvious plot point because you don't trust the American audience and their intelligence. That aside, I'm not really crazy for this. The excitement of seeing Stallone and Schwarzenegger on screen together is now over thanks to two Expendables movies. Director  Mikael Håfström, doesn't instill confidence as I've only kinda liked one of his films (1408). But hey, it seems like Schwarzenegger is much more comfortable on screen in this movie that he was in the the Expendables movie AND in The Last Stand. Maybe this could be a fun action distraction.
What's it about? 'Kill Your Darlings' is the previously untold story of murder that brought together a young Allen Ginsberg (Daniel Radcliffe), Jack Kerouac (Jack Huston) and William Burroughs (Ben Foster) at Columbia University in 1944, providing the spark that would lead to their Beat Revolution. This is the true story of friendship and murder that led to the birth of an entire generation.
My thoughts? Pretty great cast and a interesting premise to focus on a young version of these famous authors. It's been pretty great seeing Radcliffe in his career post Harry Potter, and I'm digging  the fact that he and his fellow Hogwarts classmates are being cast in really interesting roles. Question to you literary fans, who do you think is a better Allen Ginsberg, Daniel Radcliffe or James Franco (who played Ginsberg in the film Howl)?
LIMITED RELEASE
What's it about? An unexpected bond forms between two women when their sons are killed in an explosion at a local shopping mall. When the police find evidence of a bomb, one of the sons becomes the prime suspect, threatening the two mothers' new friendship and forcing them to question how well they knew their own children. Torn is a powerful dramatic journey that invites each of us to confront our own perceptions of the world and one another.
My thoughts? This looks to be a much more subtle look at racial profiling then compared to the last film I saw that focused on that subject, the very amature looking The Citizen but it still could be a hitting the  message a bit too hard. It does seem to be decently shot, and there are some good performances in the trailer so I feel there is a better chance this could be a decent film.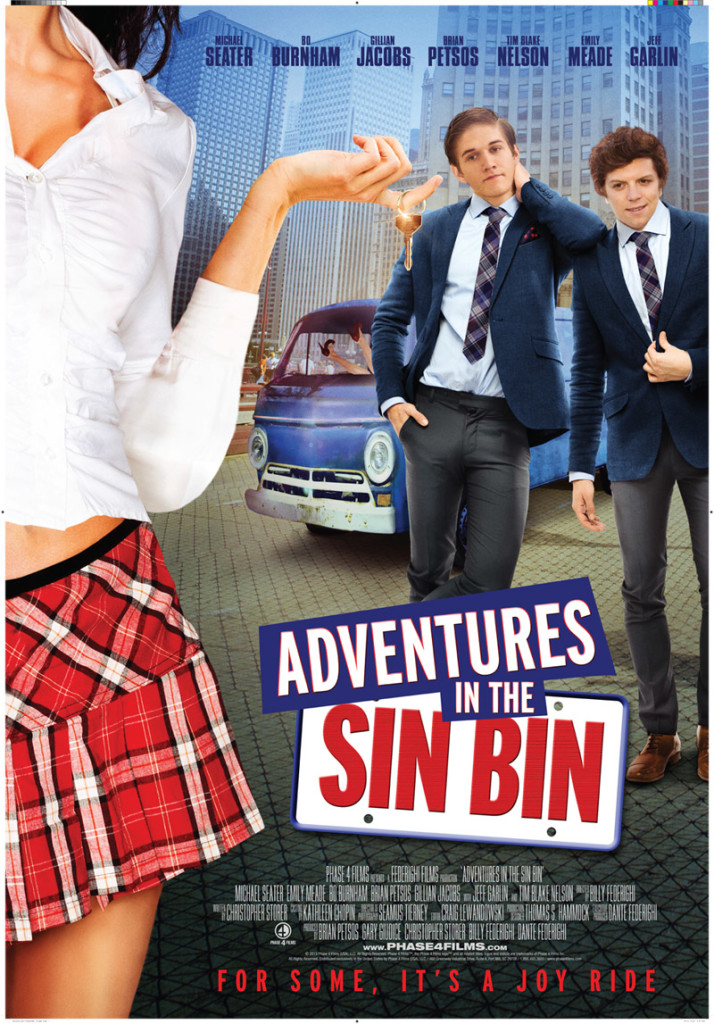 LIMITED RELEASE
What's it about? Brian is a shy teen who loans out his van, nicknamed SIN BIN, to his friends for their sexual exploits while he remains a frustrated virgin. When he meets a helpful school mate and his girlfriend, he finds himself in an awkward love triangle while learning the art of wooing women.
RED BAND TRAILER
My thoughts? I like Bo Burnham's music and comedy on his Youtube channel. I think he's a funny and clever guy, but I'm pretty bummed to see that this first lead movie role ended up to be this one.  It seems to be a teen version of the Billy Wilder film, The Apartment, except…not really that funny (The Apartment thought, is FANTASTIC, go see that instead.). What does intrigue me is that this trailer is clearly showing a film that has a LOT of Wes Anderson influence, but the marketing department decided to make a poster that makes it look like a direct to video American Pie movie.  Here's hoping that for Bo's sake, this is quickly forgotten, and that when the times right, someone will know how to properly make him a lead in a good movie.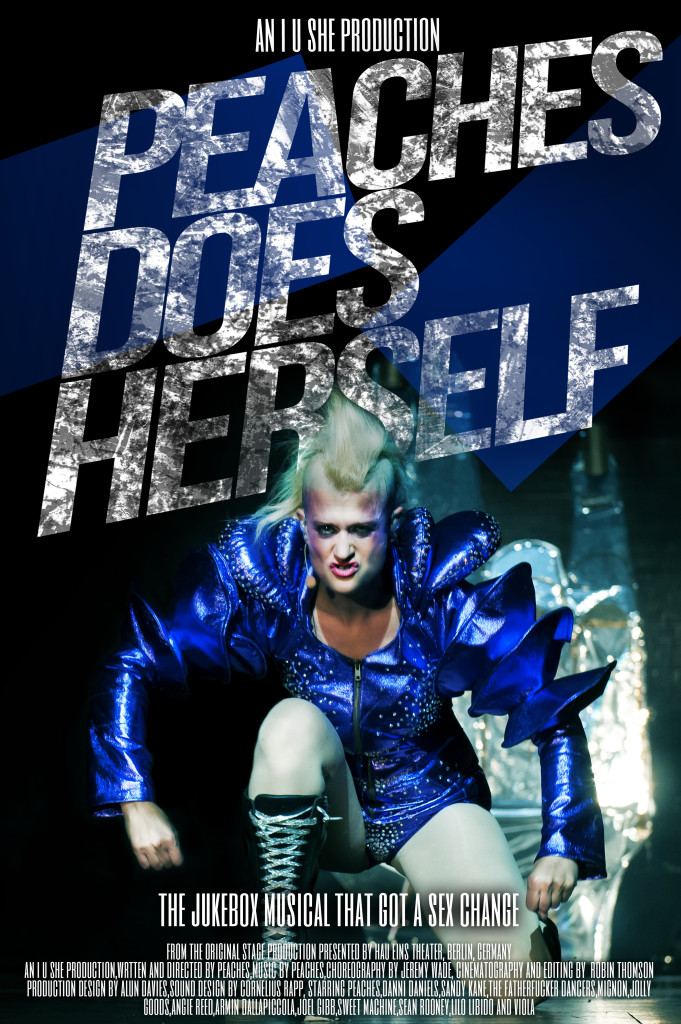 LIMITED RELEASE
What's it about? Peaches Does Herself' is an electro rock opera stage show that recounts a mythical history of Peaches and follows her journey from bedroom musician-wannabe to rock star. After being given advice by a 65-year-old stripper, Peaches begins to make sexually forthright music. Her popularity quickly, and she soon becomes what her fans expect her to be — transsexual. Along her journey, Peaches falls in love with a beautiful she-male, but before long she gets her heart broken and must set out on a path to self-discovery. In the film, songs from Peaches' four official albums are woven into an invented biography based on the misconceptions surrounding Peaches' shocking image.
WARNING THIS TRAILER IS NSFW!
My thoughts? Pretty wild huh? It looks to be the spiritual successor of the rock play Hedwig and the Angry Inch. Will it be as good? Are you down to find out? 
What's it about? Triggering our age of high-stakes secrecy, explosive news leaks and the trafficking of classified information, WikiLeaks forever changed the game. Now, in a dramatic thriller based on real events, 'The Fifth Estate' reveals the quest to expose the deceptions and corruptions of power that turned an Internet upstart into the 21st century's most fiercely debated organization. The story begins as WikiLeaks founder Julian Assange (Benedict Cumberbatch) and his colleague Daniel Domscheit-Berg (Daniel Bruhl) team up to become underground watchdogs of the privileged and powerful. On a shoestring, they create a platform that allows whistleblowers to anonymously leak covert data, shining a light on the dark recesses of government secrets and corporate crimes. Soon, they are breaking more hard news than the world's most legendary media organizations combined. But when Assange and Berg gain access to the biggest trove of confidential intelligence documents in U.S. history, they battle each other and a defining question of our time: what are the costs of keeping secrets in a free society-and what are the costs of exposing them?
My thoughts? Is it too early to do a movie about Wikileaks? I feel that Julian Assange story is far from done, and we may not have had enough time to fully reflect on what happened here. Just something to think about in terms of that. Other wise, this looks pretty good, and with Bill Condon directing, I'm sure the visuals and the pacing will be impeccable.  Benedict Cumberbatch looks to be amazingly engaging in this, and he owns the screen every time he pops up in this trailer.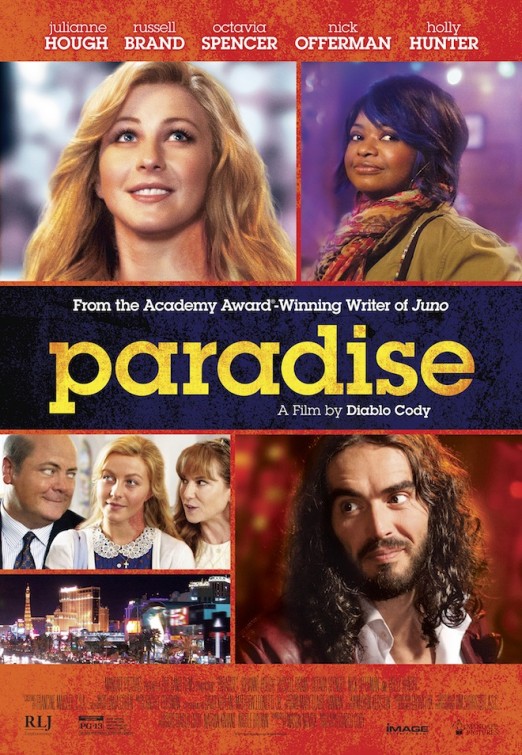 What's it about? Writer-director Diablo Cody delivers this hilarious tale of innocence lost and paradise found, starring Julianne Hough, Octavia Spencer and Russell Brand. After a nearly fatal accident, 21-year-old Lamb Mannerheim (Hough) is beginning to realize that the world is much bigger than her small, God-fearing Montana town. Armed with a big, fat insurance payout and a checklist of untried sins, there's only one place for her first taste of temptation…Las Vegas! Now this wide-eyed, innocent girl will have to navigate the bright lights, seedy bars and dark alleys of "Sin City." And, with the help of a few new friends (Brand and Spencer), Lamb just might survive her strange adventure and discover what it means to really live. Holly Hunter and Nick Offerman also star in this oddball odyssey of lost souls, broken faith and cheap cocktails…a true journey of the heart.
My thoughts? Before Diablo Cody bursted on the scene back in 2007, I was at film school checking out an early screening of Juno. Cody was there doing a Q and A with director Jason Reitman. This was before she blew up in the public eye, and I remembered how awesome she was at the Q and A. She was down to earth, funny as hell, and she took a hold of the audience with her badass charm. One of the things I remembered at that Q and A screening was Reitman saying he couldn't wait to see Diablo direct herself. He was very confident that she was going to at some point, even more confident then her as she try to deflect that idea after Reitman said it. I loved (still love actually) Juno, and more importantly I loved the voice that Cody had as a writer. Her book, Candy Girl: A Year in the Life of an Unlikely Stripper  which is a pretty great and entertaining read.  On top of liking her writing, I think she's just an awesome person (check out her little talk show she did called The Red Band Trailer that is a lot of fun and really funny.) So, how come she seemingly died off  in the popular culture? Mostly because she focused a lot of her attention on her show United States of Tara. Her show was fine, but I was looking forward to more film work of hers. She wrote the films Jennifer's Body (which was a ton of fun), and Young Adult (which was a pretty wonderful character study) but I still felt that she was bound to direct at some point. Paradise is her directorial debut, and while this trailer doesn't really fill me with excitement, I like the potential of it. Julianne Hough surprised me with her performance in the Footloose remake and I think this looks to be a really good part for her. I can tolerate Russell Brand but the rest of the cast is great. Octavia Spencer, Nick Offerman (in a nearly hairless role…that freaks me out a bit) and the always fantastic Holly Hunter. It may not look to be a true home run, but here's to hoping that it starts a nice long writer/director career path for Cody.
What's it about? A reimagining of the classic horror tale about Carrie White (Chloe Grace Moretz), a shy girl outcast by her peers and sheltered by her deeply religious mother (Julianne Moore), who unleashes telekinetic terror on her small town after being pushed too far by her peers at their senior prom.
My thoughts? Can there be new places to go with Carrie White? Yes, I think so. Bullying hasn't stopped since the original movie came out.  As such, there are still different,  interesting, and much more painful angles you can take to explore the topic through a movie like Carrie. Is this remake actually going to capture that spirit? Don't know yet, but I'm pulling for them to be a bit more relevant and different. Making the girls now use iPhones isn't really enough to justify a remake. While I think Chloe Grace Moretz  might be a bit too pretty to play Carrie, she's a great actor and I think she will do the role justice. I do love the idea of casting Julianne Moore, an actress who isn't used nearly enough on film. The original Brian DePalma film is still a classic, but here's to hoping that this new one can deliver on it's own merits.
LIMITED RELEASE
What's it about? Chiwetel Ejiofor stars in the true story of Solomon Northup, a free man in 1800s New York State, who was kidnapped and forced into slavery on a plantation near New Orleans, and his subsequent fight for freedom with the help of a Canadian abolitionist (Brad Pitt). Steve McQueen (Hunger) directed from a script he co-wrote with John Ridley, based in part on Northup's memoir. Michael Fassbender, Benedict Cumberbatch, Sarah Paulson, and Paul Giamatti co-star.
My thoughts? This one looks like it's going to hurt, but in that satisfying way. This film has been getting stellar reviews, and with a cast like that it's going to be great seeing everyone hit this one right out of the park. Chiwetel Ejiofor is pretty in most films, but he's seems to be going for the jugular in this one. Fassbender looks appropriately dark in this, and I hope you guys enjoyed your second appearance of Benedict Cumberbatch today. Its interesting to think that between last year and this year, there have been three films that explore different aspects of this part of the America's past. Django Unchained brought a power fantasy element to the subject, and Lincoln explored the men who tried to get rid of slavery, but this film seems like it's about reminding you how bad it truly was. We all KNOW how horrible slavery was, but this film seems to want us to really experience the pain and horror of slavery. Lincoln and Django Unchained told and showed us how awful slavery was, but 12 Years a Slave wants you to FEEL how awful slavery was.
So, what films got your attention this week? Let us know in the comments below!