Well folks, the summer season is now over (now if only the weather here in Southern California would know that, because it is stupid humid and hot this week.) we now begin the fall season of movies.
Usually, September is what is considered a dead month. No huge holidays, school is starting back up, so the market isn't flooded with big money makers.
Not necessarily a bad thing.
This is the time for smaller, more interesting movies to come out.
Will we be lucky and get some genuinely great surprises this fall? Lets find out….
LIMITED RELEASE
What's it about? 'Touchy Feely' is a closely observed examination of a family whose delicate psychic balance suddenly unravels. Abby (Rosemarie DeWitt), is a sought after massage therapist and a free spirit, while her brother Paul (Josh Pais) thrives on routine and convention, running a flagging dental practice and co-dependently enlisting the assistance of his emotionally stunted daughter Jenny (Ellen Page). Suddenly, transformation touches everyone. Abby develops an uncontrollable aversion to bodily contact, which not only makes her occupation impossible but severely hinders the passionate love life between her and her boyfriend (Scoot McNairy).
Meanwhile, rumors of Paul's "healing touch" begin to miraculously invigorate his practice as well as his life outside the office. As Abby navigates her way through a soul-searching identity crisis, her formerly skeptical brother discovers a whole new side of himself. 'Touchy Feely' is about the experience of living in one's own skin, both literally and figuratively. The film, written and directed by Lynn Shelton, and co-starring Allison Janney, Ron Livingston, and newcomer Tomo Nakayama (of the indie rock band Grand Hallway), is filmed on location in Shelton's hometown and urban muse of Seattle.
My thoughts? I've seen writer/director Lynn Shelton's previous films Humpday and Your Sister's Sister and really enjoyed both. What I like about her films so far is that she does movies with a interesting and small hook as a way to explore characters and to see how they handle unique but tough situations. This film seems to continue with that theme, and with yet another interesting hook and the appealing cast , I think she might have another solid looking movie here.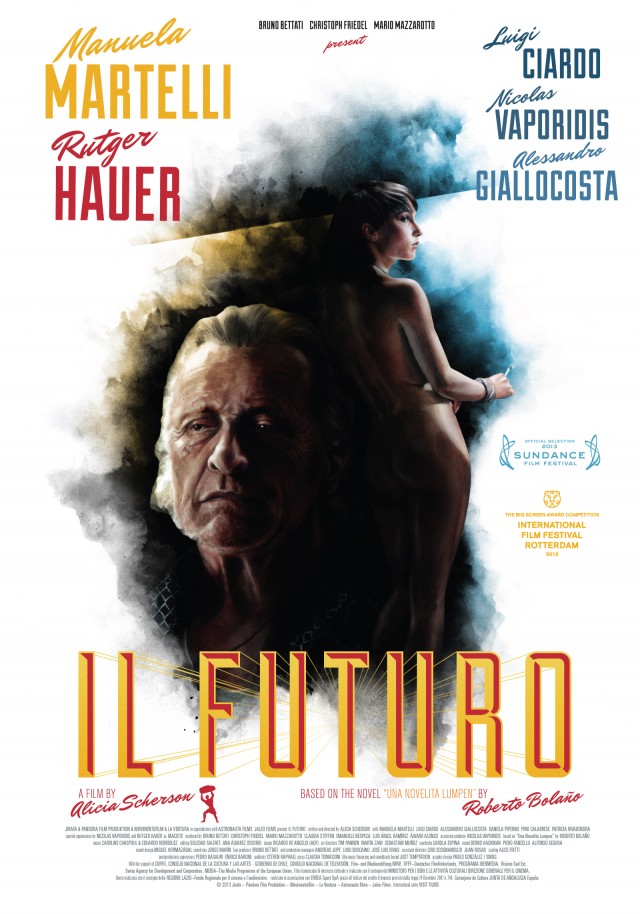 LIMITED RELEASE
What's it about? When her parents die in a tragic car accident, adolescent Bianca's universe is suspended. Entrusted with the care of her younger brother, Tomas, she struggles to hold it together. Life is further complicated when Tomas's gym-rat friends invite themselves to stay indefinitely. Using Bianca as a lure for a heist they've concocted, they convince her to initiate a sexual relationship with an enigmatic blind hermit, Maciste (Rutger Hauer). But as the two spend time together, Bianca unexpectedly finds normalcy and acceptance in the aging B-movie star and former Mr. Universe's rococo mansion.
My thoughts? Intriguing concept, and it's usually great to see Rutger Hauer in something that's not some direct to video schlock (or Video On Demand Schlock). I haven't heard much about it, but there is something kind of cool about Hauer playing an aging gladiator actor. Here's hoping for something intriguing and special.
LIMITED RELEASE
What's it about? It's been 20 years since the corporations took over the world's governments. Their thirst for power and profits led to the corporate wars, a fierce global battle that laid waste to society as we know it. Born from the ash, the Council of Nine rose as a new law and order for this dark age. To avenge the corporations' reckless destruction, the Council issues death warrants for all white collar criminals. They're hunter's – the 'Bounty Killer'. From amateur savage to graceful assassin, the 'Bounty Killers' now compete for body count, fame and a fat stack of cash. They're ending the plague of corporate greed by exterminating the self serving CEO and providing the survivors of the apocalypse with retribution. These are the new heroes. This is the age of the 'Bounty Killer'.
My thoughts? Making a film that is intentionally cultish is very tricky business. You can smell it when the film is TRYING SO HARD to be cool,crazy and wild. This one feels like it boarders on that fine line. The cast isn't really screaming amazing charisma (not saying good acting, but charisma.) but at the same time, you do have a guy using motorcycles like horses to pull his RV, and that is a pretty damn cool idea if I ever saw one.  Possible fun, but the line between so bad it's good to just flat out bad is VERY VERY thin.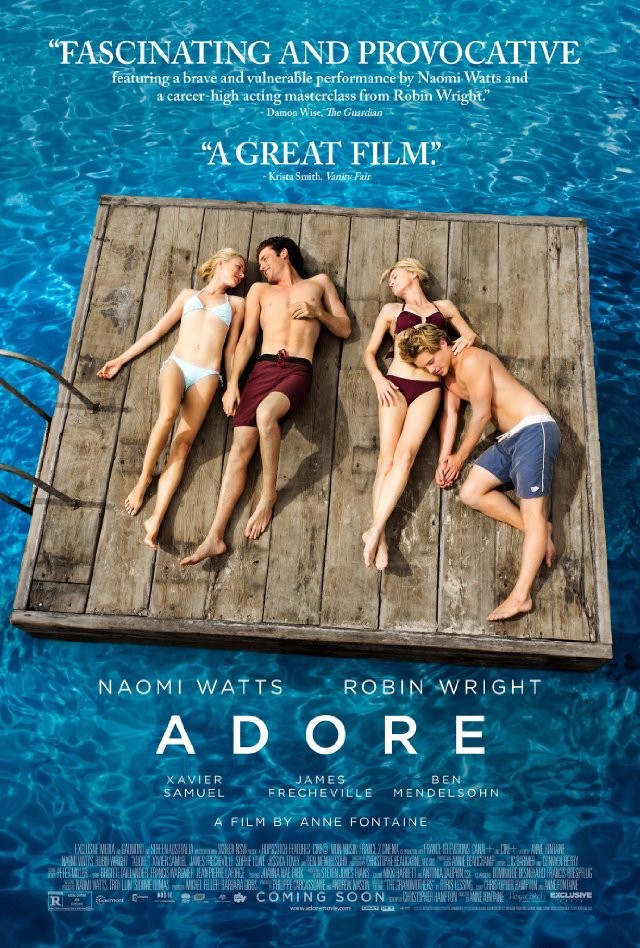 LIMITED RELEASE
What's it about? Naomi Watts and Robin Wright deliver riveting performances in 'Adore,' a sensual and provocative drama about two lifelong friends who find unexpected happiness in relationships that cross the bounds of convention. An unpredictable tale of misguided love and a heartfelt celebration of the enduring nature of female friendship, the film is the English-speaking directorial debut of distinguished filmmaker Anne Fontaine. It is adapted for the screen by Academy Award-winning writer Christopher Hampton, from a novella by Nobel Prize winner for Literature Doris Lessing.
Set in an Australian seaside town of otherworldly beauty and shot in lush 35mm Cinemascope, 'Adore' establishes an aura of fable as it follows two women's plunge into uncharted waters. Watts and Wright fearlessly engage with both the physical and psychological components of the story,, capturing the complex emotions and powerful desires driving their characters. Strong performances from relative newcomers Xavier Samuel and James Frecheville complement Watts and Wright's and add another layer of intricacy to the story. Under the precise gaze of Fontaine's camera, 'Adore' radiates with intoxicating sensuality while exploring the intricacies of love, family, morality and passion.
My thoughts? Let's just get this out of the way…..the moms are played by two gorgeous women who look great for their age and the sons are played by guys who look like underwear models. It does just make watching this movie with this subject matter a bit easier right? As for the film, I'm a bit intrigue, but I fear of a film that seems too caught up in it's scandalous plot then trying make me understand why these four would go through with this tough situation.
LIMITED RELEASE 
What's it about? 'Hell Baby', a comedy scripted by Thomas Lennon and Robert Ben Garant ('Night at The Museum', Reno 911!: Miami) marks their co-directing debut. Jack (Rob Corddry) and Vanessa (Leslie Bibb) are an expectant couple that moves into the most haunted fixer-upper in New Orleans — a house with a deadly demonic curse. Things soon spiral out of control for Jack and Vanessa, as well as their-not-so-helpful neighbor F'Resnel (Keegan-Michael Key), Vanessa's friendly psychiatrist (Michael Ian Black), Vanessa's Wiccan sister Marjorie (Riki Lindhome) and the detectives assigned to look into the rising body count (Rob Huebel and Paul Scheer). Only the Vatican's elite exorcism team (Garant and Lennon) can save them — or can they?
RED BAND TRAILER
My thoughts? Thomas Lennon and Robert Ben Garant are very hit or miss with me, but when they hit they HIT HARD. This flick could be super funny and already I'm quoting the trailer. Also, Keegan-Michael Key in anything equals "must see comedy" for me right now due to how much I love his show Key and Peele.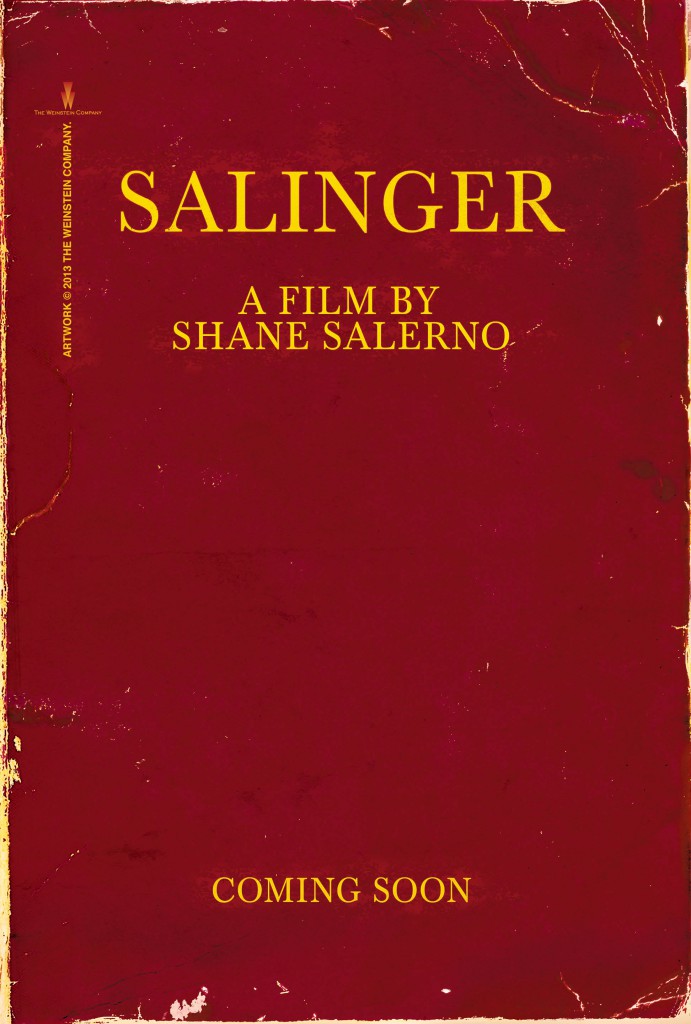 LIMITED RELEASE
What's it about? 'SALINGER' features interviews with 150 subjects including Salinger's friends, colleagues and members of his inner circle who have never spoken on the record before as well as film footage, photographs and other material that has never been seen. Additionally, Philip Seymour Hoffman, Edward Norton, John Cusack, Danny DeVito, John Guare, Martin Sheen, David Milch, Robert Towne, Tom Wolfe, E.L. Doctorow, Gore Vidal and Pulitzer Prize winners A. Scott Berg and Elizabeth Frank talk about Salinger's influence on their lives, their work and the broader culture. The film is the first work to get beyond the Catcher in the Rye author's meticulously built up wall: his childhood, painstaking work methods, marriages, private world and the secrets he left behind after his death in 2010.
My thoughts? I, like many other young readers, was taken a back by The Catcher in the Rye. What I gravitated to was both the relation to it's main character, and the way that Salinger wrote the book. Granted, I am no longer 15, so I longer related to Holden Caufield, but the book still remains (as cliche as it sounds) to be one of the best things I've ever read. While the book made a big impact on me, the story behind the man who wrote it fascinated me for much longer. The subject matter would be enough for me to check this out, but it also looks to be pretty well made. The point about having your book be the inspiration behind three killers is one to really think about, and makes Salingers reasoning to go into hiding almost reasonable. Salinger is a fascinating man, and I hope this documentary does him justice.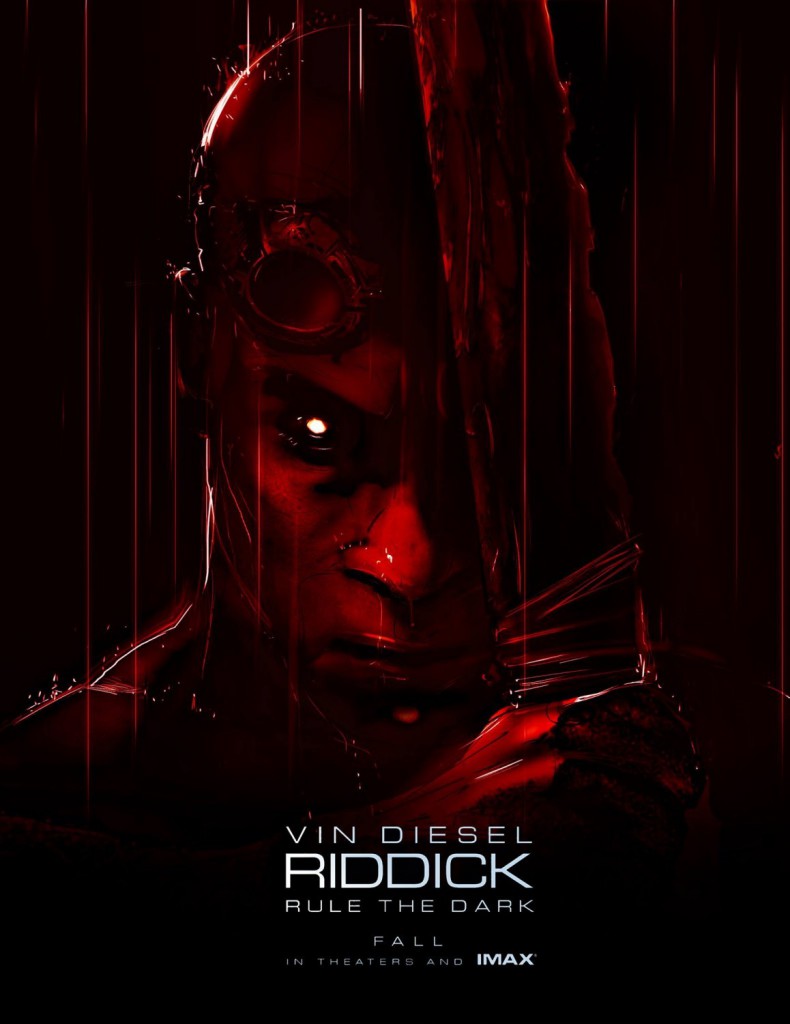 What's it about? 'Riddick', the latest chapter of the groundbreaking saga that began with 2000's hit sci-fi film 'Pitch Black' and 2004's 'The Chronicles of Riddick' reunites writer/director David Twohy ('A Perfect Getaway', 'The Fugitive') and star Vin Diesel (the Fast and Furious franchise, 'xXx'). Diesel reprises his role as the antihero Riddick, a dangerous, escaped convict wanted by every bounty hunter in the known galaxy.
The infamous Riddick has been left for dead on a sun-scorched planet that appears to be lifeless. Soon, however, he finds himself fighting for survival against alien predators more lethal than any human he's encountered. The only way off is for Riddick to activate an emergency beacon and alert mercenaries who rapidly descend to the planet in search of their bounty.
The first ship to arrive carries a new breed of merc, more lethal and violent, while the second is captained by a man whose pursuit of Riddick is more personal. With time running out and a storm on the horizon that no one could survive, his hunters won't leave the planet without Riddick's head as their trophy.
RED BAND TRAILER
My thoughts? I remember San Diego Comic Con 1999. If memory serves me correctly I saw the quaint Sci-Fi Channel booth (thought I'm not sure if it's at that booth or not) , and there was a small line there. People were waiting in line to meet Vin Diesel. At that time, Vin was most known for being in Saving Private Ryan AND, if your cool, as the voice of The Iron Giant. He was here to promote some ok looking sci-fi creature feature. Not to sound harsh, but at Comic Con, those are a dime a dozen. Throw a tribble you're bound to hit some C-List actor doing something like that, and keep in mind, back then, Vin was a C-Lister….and that's me being generous. So that movie he was promoting? What was it? Why….Pitch Black of course.
Pitch Black turned out to be a relatively fun creature movie, but the BIG draw, the one element that made it unique and special….was Vin Disel's Riddick. The character was as ANTI-HEROIC as they come, and that was the appeal.
When talks came around for a follow up, Vin and the writer/director of Pitch Black, David Twohy, decided to use Riddick as a launching pad to make another kind of film.
Instead of putting Riddick in another monster movie, they put him in a big dark sci-fi/fantasty film.
That film was Chronicles of Riddick…and…it was a bit of a mess. I liked most if it at the time, but I find myself having very little interest in revisiting it again.
It's been some time since I've seen both films, and while I kinda wanted to see another Riddick film (if only to give Twohy and Diesel another shot) the film didn't do that great, and I suspect another installment would never happen.
But, if I'm learning anything about Hollywood, is that never say never.
It seems like they decided that to go back to creature feature and have Riddick battle monsters again. I'm not sure if I'm totally up for that. The one thing good thing I could say about Chronicles of Riddick is that it IS a different movie from Pitch Black, this time out, it seems like they wanted to redo Pitch Black.
That being said, I am interested to see how they will pick up the pieces that they left off from Chronicles of Riddick  (SPOILER ALERT: Riddick became a king!) but I am concerned if there's an audience for this one. The last one was 9 years ago, and like I said, it was a not a box office success.
But, hey, I would love to be wrong. I'm glad they got the chance to make this one, and I'm pulling for Twohy and Diesel to give me another bad ass Riddick movie, even if it does end up feeling a bit familiar.
So what about you guys? Are you up for the further adventures of Riddick? Or did the other films catch your attention? Comment below and let us know!