Hey folks! You all ready to celebrate the Fourth of July with five new movies set to be released this week?
Of course you are!
So lets get started and see what kind of fun offering we got…..
What's it about? For Tammy (Melissa McCarthy), a burger-joint waitress, a bad day keeps getting worse. She wrecks her car, loses her job and finds her husband in a compromising position with their neighbor. It's time for Tammy to hit the road, but without money or transportation, her options are limited. Her only choice is a road trip with her grandmother, Pearl (Susan Sarandon), who has a car, cash and an itch to see Niagara Falls. It's not the escape Tammy had in mind, but it may be what she needs.
My thoughts? Is the time of Melissa McCarthy over? Is she still seen as a rising leading lady in comedy? It does seem like the excitement for her has calmed down a bit, and I have a small theory. So far, Melissa's on screen persona has been doing more or less, the same variation of the character she played in Bridesmaids. Some sort of loud and obnoxious character. And this week, we get what might be her loudest, and most obnoxious yet. This project will also be her most personal yet, as she co-wrote the script with her husband, Ben Falcone (who also makes his directorial debut with this movie.) Will people still be up for this? We'll see. I still think McCarthy is a comedy force of nature, and incredibly talented. A while ago, I remember reading that the Bridesmaids director was pitching a romantic comedy to star Melissa McCarthy and Jon "Too Don Sexy" Hamm. I would love to see that movie. But, who knows, Tammy might surprise us all.
What's it about? As a veteran member of a South Bronx precinct, NYPD Sgt. Ralph Sarchie (Eric Bana) has seen more than his share of dark and horrifying events — so many that they have begun to poison his soul. Sarchie further finds his beliefs and understanding pushed to the limit when he and his partner investigate a particularly bizarre incident. He forms an alliance with a renegade priest (Edgar Ramirez), who tries to convince Sarchie that real evil — and demons — do exist.
My thoughts? I kinda love the idea of mixing the cop genre with the Exorcism genre. Eric Bana is still a very under utilized leading man, and this trailer is promising a really stylish flick filled with plenty of jump scares. Another reason to check this film out? This movies director, Scott Derrickson, will soon be directing Marvel's Dr. Strange. I still haven't seen any movie directed by Derrickson yet, so I'm curious to check this out. I know he can handle the horror/supernatural aesthetics, but how is his storytelling?
What's it about? Tuck, Munch and Alex are a trio of inseparable friends whose lives are about to change. Their neighborhood is being destroyed by a highway construction project that is forcing their families to move away. But just two days before they must part ways, the boys begin receiving a strange series of signals on their phones. Convinced something bigger is going on, they team up with another school friend, Emma, and set out to look for the source of their phone signals.  What they discover is something beyond their wildest imaginations: a small alien who has become stranded on Earth.  In need of their help, the four friends come together to protect the alien and help him find his way home.  This journey, full of wonder and adventure, is their story, and their secret.
My thoughts? It's that time again for someone to remake/rip off E.T. , this time in the very trendy "First Person" style of movies. Yeah, not found footage.  Film critic Drew McWeeny basically said in his review of this film that we should start considering to call these movies "First Person" movies.I agree, since most of the time the footage in the film isn't "FOUND", but done more as a P.O.V. way of telling the story.  This actually looks really solid, despite it's familiar story. There are some cool VFX work in this, and hey, Echo is pretty damn cute. It actually reminds me of the robot/alien from this Japanese film from 14 years ago called Juvenile in which that was about a…group…of…kids…who…find…an…alien…hmmm…..
Wow, this story really has been over done.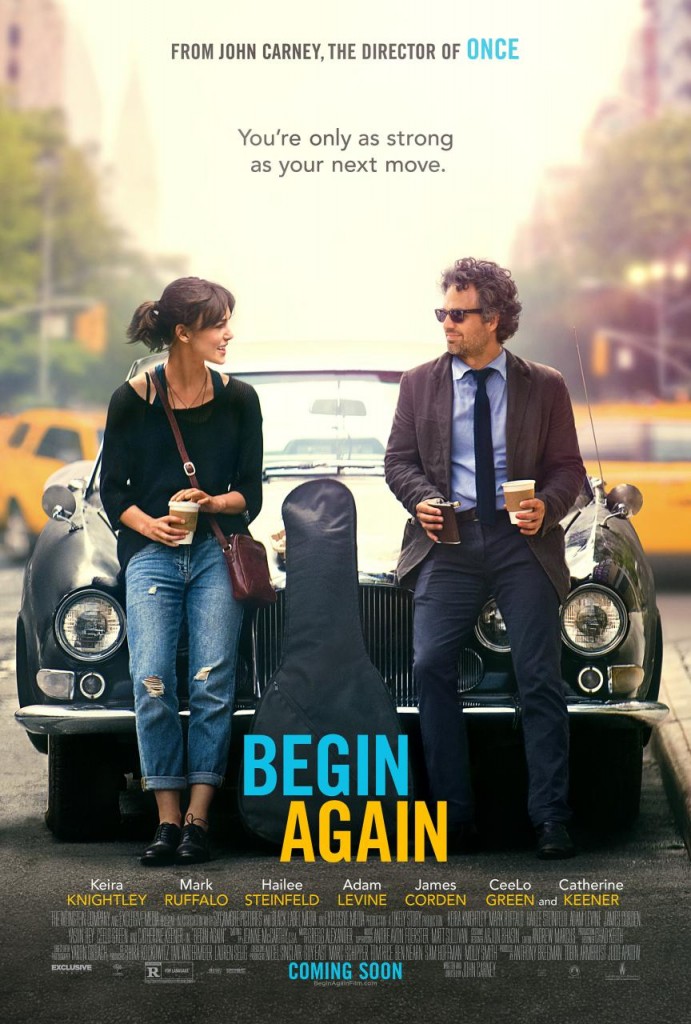 What's it about? The latest film from writer-director John Carney (ONCE), BEGIN AGAIN is a soul-stirring comedy about what happens when lost souls meet and make beautiful music together. Gretta (Keira Knightley) and her long-time boyfriend Dave (Adam Levine) are college sweethearts  and songwriting partners who decamp for New York when he lands a deal with a major label. But the trappings of his new-found fame soon tempt Dave to stray, and a reeling, lovelorn Gretta is left on her own. Her world takes a turn for the better when Dan (Mark  Ruffalo), a disgraced record-label exec, stumbles upon her performing on an East Village stage and is immediately captivated by her raw talent. From this chance encounter emerges an enchanting portrait of a mutually transformative collaboration, set to the  soundtrack of a summer in New York City.
My thoughts? John Carney's film, Once, was one of my favorite films of 2007. It was a beautiful low fi film that has some great characters and the most fantastic music. The music scenes in Once are pure film magic, and some of the most romantic and beautiful moments on screen in the last ten years. It will be unfair for me to expect Carney to pull off that kind of magic again with Begin Again, but my love for Once is so strong that I can't help but wish for the best and hope that Carney delivers again. He's got a great cast to help him out (Keira Knightly can sing? Who knew!), and the reviews for the film have been really good so far. Looking forward to seeing if Carney can still bring music and film together again in a unique and lovely manner.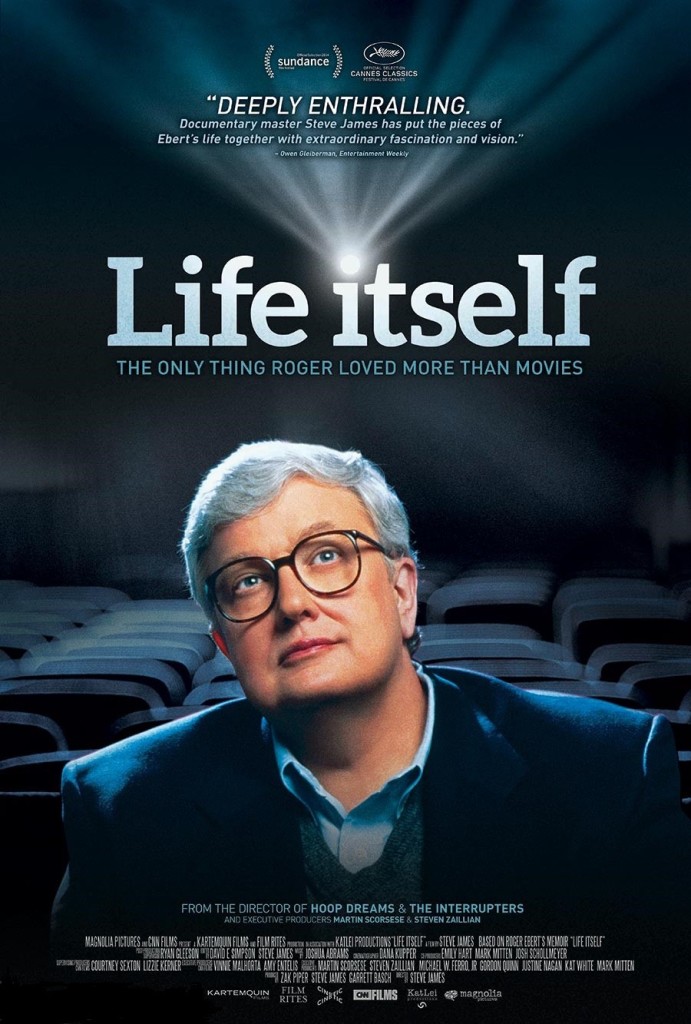 What's it about? A documentary film that recounts the inspiring and entertaining life of world-renowned film critic and social commentator Roger Ebert.
What's it about? Siskel and Ebert were an inspiration to me as much as any filmmaker. These two guys helped guided me, my older brother, and millions of film fans into not only seeking out the good movies, but to also support them. To look back on the past films and understand why they are great. To enjoy films. The impact of Siskel and Ebert still hits us today. Being a film fan means watching their show. Being a fan of the show, also means that you had your favorites. Roger was always mine. Any man that would give a good review to Evil Dead 2: Dead by Dawn understands that movies don't have to be high drama to be great, but just well made.  I know he had some controversy with some fans due to his feelings on Video Games is not art, but isn't that what he was always about. Letting his opinion out there, being behind his opinion, and standing by it, even if you harshly disagree. That is the life of a true film fan. I look forward to seeing this documentary, as I look forward to knowing more about the man then the film fan.
So what about you guys? What films do you want to check out this Fourth of July weekend? Let us know in the comments below!