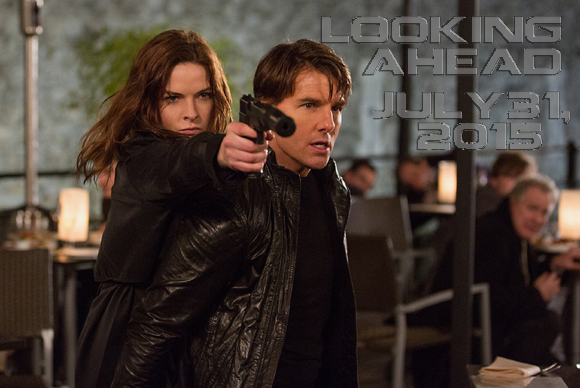 …WHEW……and we're back to our regularly scheduled programming. Sorry that I've been MIA with the regular Looking Ahead for the last three weeks but as you can tell on the site, we've been a bit busy doing all these SDCC write ups. Quiet a few films came out the last couple of weeks that I wished I got to talk about (Mr. Holmes, Southpaw, Paper Towns, Irrational Man, Trainwreck, and Ant-Man.) So, I figured I'd ease into getting things back to normal by talking about three movies this week.
So what's on the menu?
Glad you asked, lets start with….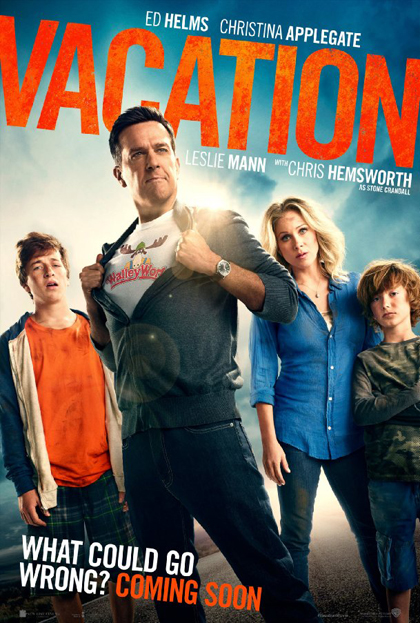 What's it about? Rusty Griswold takes his own family on a road trip to "Walley World" in order to spice things up with his wife and reconnect with his sons.
RED BAND TRAILER
My thoughts? I understand the idea of rebooting/remaking Vacation. Using Rusty as an adult makes sense, and since the Vacation series has ALWAYS been about the loose continuity of Rusty and Audrey (they recasted and changed them in every film to the point they are pretty much different characters depending on the movie.), you can really shape the adult versions of the characters to however you see fit. The trailer certainly did have it's laugh out loud moments (Hemsworth busting out his…ummmmm…hammer…for example.), but does it really feel like a proper return of the Vacation series? Not sure. The original, for me, was about a father who's stuck in his ideals of having a family outing like in his childhood in the 50s, but is fighting the realities of his adulthood in the '70s. This new one feels like it's about the same idea to certain degree, but I keep wondering why Rusty is going for Wally World again. We'll see. Truthfully, the first three Vacation movies area all you need, but at the very least, this one will give you some laughs if your up for it. Oh, and for a fascinating read, check out this piece from The Hollywood Reporter that was written by a former National Lampoon Editor and Chief on his feelings on both this film and why he though the famed comedy publication died out. Click here.
What's it about? The story of the five-day interview between Rolling Stone reporter David Lipsky and acclaimed novelist David Foster Wallace, which took place right after the 1996 publication of Wallace's groundbreaking epic novel, 'Infinite Jest.'
My thoughts? Oh man, have I been hungry for a film like this. A completely character driven piece, using two actors that I like quiet a bit to their full potential. James Ponsoldt directed the WONDERFUL The Spectacular Now, and I am more then interested in his follow up.
And hell, when am I ever gonna have the excuse to post an interview of the REAL David Foster Wallace in this article! Give it a watch…..
What's it about? Ethan and team take on their most impossible mission yet, eradicating the Syndicate – an International rogue organization as highly skilled as they are, committed to destroying the IMF.
My thoughts? It's funny to think about the first two films of this franchise as almost like "Pilots" to the current version of the film series. The first Mission: Impossible movie is a fun Spy thriller with that oh so good Brian De Palma flair. The second film pretty much feels like it's in its own universes….a universe that is some bizarre parody of a John Woo film directed by John Woo. I…pretty much HATE M:I 2. It's when J.J. Abrams and Bad Robot took over starting with the third film that series gained a new focus. Be fun spy/pulpy adventures with a DASH of the energy of a GOOD John Woo action sequence. Mission: Impossible III and Mission: Impossible-Ghost Protocol are just damn good action films filled with great bits humor, likable characters and some  great sequences.  J.J. Abrams did a great job with directing M:I III and Brad Bird killed it with Ghost Protocol, so whoever was gonna take over for the next one had to deliver the goods. The best move for them was that they brought in Christopher McQuarrie to direct and write this installment. McQuarrie is a smart filmmaker, and I wished more people saw his first two films The Way of the Gun and Jack Reacher. The Way of the Gun at least has a huge cult following, but not a ton of people gave the expertly executed Jack Reacher a shot. It look like McQuarrie is bring is "A" game to this and the film looks like it's gonna be a great ride. Sidenote: I kinda remembered a weird period that Ghost Protocol was rumored to be a "Passing the Baton" switch for leads in terms of the Mission: Impossible series, I.E.: Jeremy Renner was suppose to take over from Tom Cruise. That ended up not happening but I'm glad to see Renner back in this one as I really liked his character from Ghost Protocol.
What about you guys? Which of these new films are YOU more excited about? Let us know in the comments below!