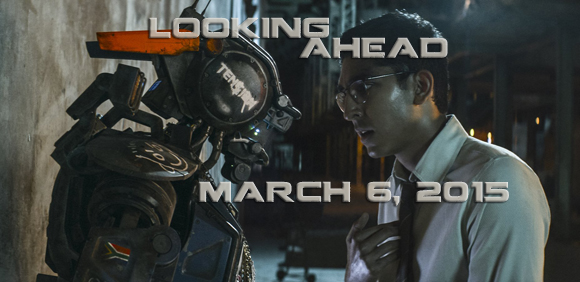 And like that, February is done. Wow, that wasn't so bad right? It went by pretty quickly actually. Now March can be pretty decent with the newer movies. It's the kind of month they will test out slightly higher profile films then before. For the new movies that we got coming out on March 6, 2015 we got a tiny but interesting variety. But are the new movies this week all that interesting to me?  Let's find out.
Oh…and if you like Dev Patel, this will be a good week for you…..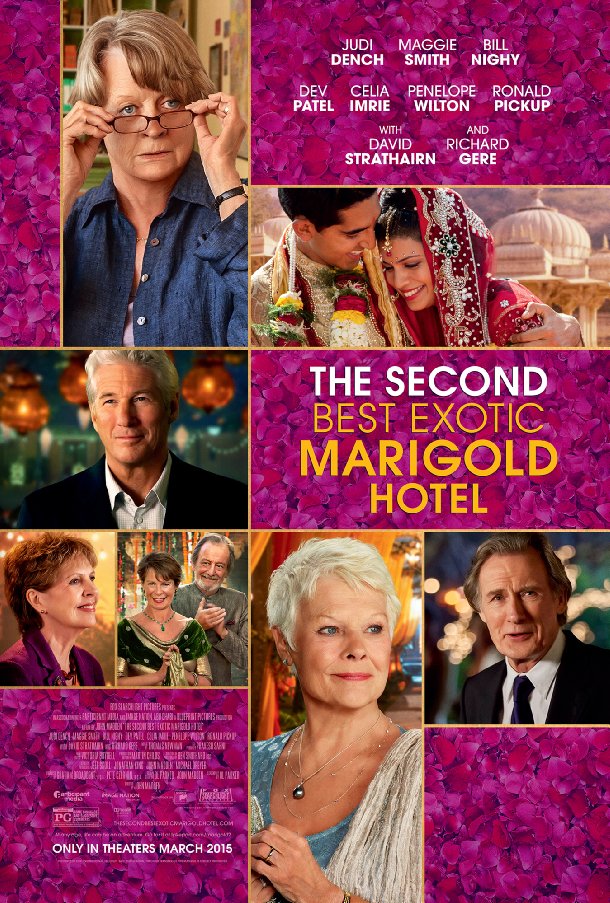 What's it's about? As the Best Exotic Marigold Hotel has only a single remaining vacancy – posing a rooming predicament for two fresh arrivals – Sonny pursues his expansionist dream of opening a second hotel.
My thoughts? So, encase you didn't know, this is a sequel to a British hit called The Best Exotic Marigold Hotel….
I…never saw it either. It looks like it was quiet a charmer, and the sequel will follow suit. I do love me some Bill Nighy. It's our first of two Dev Patel movies coming out this week. This is the greatest case of me having very little opinion on a film. Its look fine, it looks like a simple and fun movie.  Not much else I can say.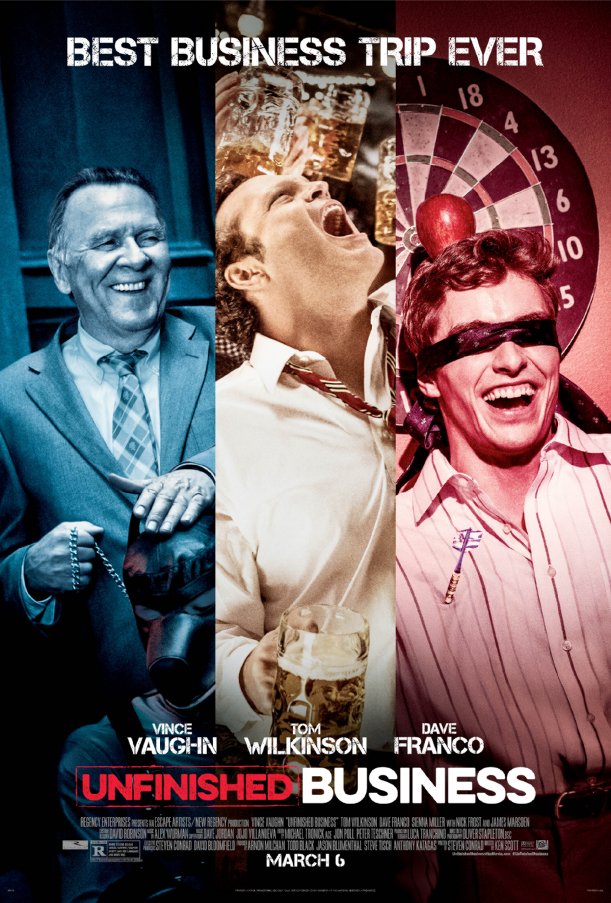 What's it about? A hard-working small business owner and his two associates travel to Europe to close the most important deal of their lives. But what began as a routine business trip goes off the rails in every way imaginable – and unimaginable – way, including unplanned stops at a massive sex fetish event and a global economic summit.
My thoughts? Did you see Delivery Man? It was the last film that Vince Vaughn and director Ken Scott did. It was ok. This, also looks ok. I like the cast. I like seeing Tom Wilkinson in a raunchy film like this. Dave Franco is changing up his character types and I'm digging the hapless loser he's playing here. We got Nick Frost and I never not love Nick Frost. But Vaughn. Oh Vince Vaughn.  He really does just seem to be fine being the same kind of character. It's really tiresome and I do hope that his run on this seasons True Detective would help remind us that Vince Vaughn can be a talented dude.
What's it about? In the near future, crime is patrolled by an oppressive mechanized police force. When one police droid, Chappie, is stolen and given new programming, he becomes the first robot with the ability to think and feel for himself.
My thoughts? It's been a rough start with original Sci-fi films this year. The lack of interest for Jupiter Ascending made me a bit sad for the state of audiences wanting original ideas in movies right now (granted…it didn't help that Jupiter Ascending wasn't very good either.) So far, there is very little buzz on this movie and it just seems like folk's aren't really all that interested in it.
My faith in Neil Blompkamp has also wavered a bit. As much as I loved District 9, Elysium was a disappointment. I didn't hate it, but I've been having a hard time trying to find any excuse to revisit it. I'm glad that his first three films out of the gate are movies he's conceived and developed. They are not based on a comic book, TV Show, or a book. They are concepts he's been working on for years.
Chappie seems to be a major reworking on his early short film, Tempbot….
I want to hope for this film to be something special…but it seems like that early word on the movie from some folks is that it decent but not great.
Maybe that's enough for me. While this isn't the next great classic, at the least this could be a fun bit of Sci-Fi action and some comedy. I'm intrigue with the use of the hip hop group Die Antwoord as the leads in this (thought it seemed like Blompkamp had a very difficult relationship on set with Die Antwoord member Ninja.)
There's rumors going around that Blompkamp was aware that Chappie wasn't coming together as he wanted it to be, and that's why he decided to release the art work that he was developing for his Aliens pitch. He was basically Instragraming to world that he was going available soon and that he was going to very #hirable.
It worked, and he pretty is the very first director to score a job via Instagram as he is now directing the next Alien film.
As for poor little old Chappie, we'll just have to wait and see what everyone else thinks of him.
Oh, and a shout out to Oblivious Nerd Girl who basically called this similarity to my attention. (Click here to read her blog!)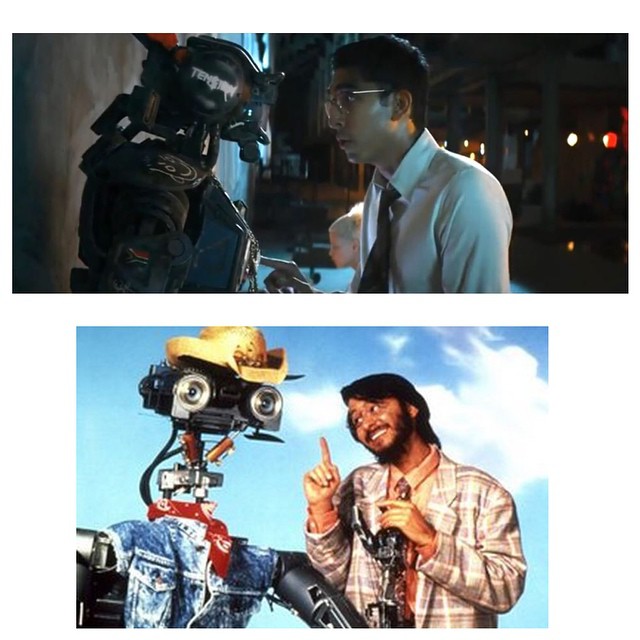 YIKES! Maybe that's why Blompkamp realized he messed up. He accidentally made a gritty reboot of Short Circuit.
What about you folks? What movies this week are you most interested in? Let us know in the comments below!