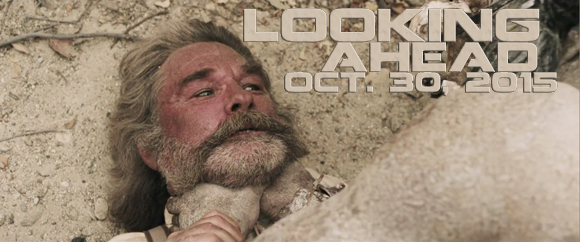 October is ending this week and with it being Halloween this Saturday, we have a couple of very appropriate looking scary films that will be coming out this week (and one that actually is already out…but I'll explain that later.)  We also got some other choices if scary isn't your bag, and these two films couldn't be any more different from each other. So, lets see what's coming out October 30, 2015!!!
What's it about? An American woman, well-versed in political campaigns, is sent to the war-torn lands of South America to help install a new leader but is threatened to be thwarted by a long-term rival.
My thoughts? Is it ok for me to address that the trailer it seem like the story is coming off as a white woman saving a country? Maybe I'm being mean, but I feel that's how they are selling the film and that makes me a bit uneasy. Man, director David Gordon Green is just pumping them out this year. This is his second film that he directed to be released in 2015….but you most likely don't know the name of the other film he directed. (it's called Manglehorn by the way. It starred Al Pacino.) David Gordon Green can make some great movies, so it's possible that this one could still turn out really well. I will say that this actually looks like a good use of Sandra Bullock, and the film feels like it could at least be an light political satire that can be just be entertaining enough.
What's it about? Murphy is an American living in Paris who enters a highly sexually and emotionally charged relationship with the unstable Electra. Unaware of the effect it will have on their relationship, they invite their pretty neighbor into their bed.
My thoughts? To say that Gasper Noe's films are memorable is kind of an understatement. His films burn into your brain, refusing to make you forget them. Noe's films may not be the kind of rewatchable movies that I tend to enjoy, but his films are nonetheless a pure cinematic experience. His newest film seems like it's gonna be the same kind of visual intensity that his previous works have been. If you think you are ready to experience a Gasper Noe film and you want to have Love be your first experience, then all I can say is good luck. This won't be a easy trip, but man, I'm sure you will never forget it. Oh…and did I mention that the film was also shot in 3D? Because WOW…I can't even imagine seeing any of his films in 3D! God, do I dare see this in 3D? 
And with it being Halloween this week, some studios decided to dump some crazy over the top horror/comedies in theaters. So, if you're in the mood to see some blood, monsters and action  (and both sporting really cool old school painted posters) then these are for you. We'll call this section…….
THE DOUBLE CREATURE FEATURE OF COMEDY AND GORE!!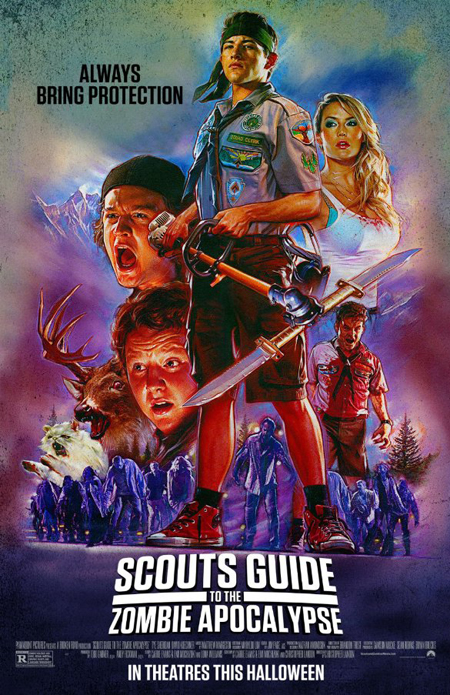 What's it about? Three scouts, on the eve of their last camp-out, discover the true meaning of friendship when they attempt to save their town from a zombie outbreak.
RED BAND TRAILER
My thoughts? I can see how Zombieland influenced the existence of this movie. I'm sure if I was 15 I would be all over this movie since it's so clearly made to appeal to adolescent boy fantasies…but now? I've feel like I've been there and done that with the wacky zombie action comedies. I don't need to see another tooling-up-for-war sequence ever again. This film feels stylish but empty. Maybe it will be more for some of you, or maybe that's exactly what you want. For me, I'll pass on it this week but if I see it on Netflix or cable at some point..sure I'll sit down and watch it.
What's it about? In the town of Dillford, humans, vampires and zombies were all living in peace – until the alien apocalypse arrived. Now three teenagers-one human, one vampire, and one zombie-have to team up to figure out how to get rid of the visitors.
RED BAND TRAILER
My thoughts? I've first heard of this movie back in 2011. It was a script that got a TON of attention and was originally set up to be the directorial debut of Jonah Hill. Back then, the film was called The Kitchen Sink and as you can tell from the crazy plot the movie is pretty much everything including said sink….and then nothing. I heard nothing. I don't know why Jonah Hill left the director's chair (BUT Hill did bring on the screenwriter, Oren Uziel, to do some work on 22 Jump Street) but eventually a new director was picked.  
Honestly, I didn't even know the film was even made so imagine my shock that the movie went through a name change AND was actually coming out this week. Hell, even Scouts Guide To The Zombie Apocalypse released a trailer a few months ago. But the film is coming out…quietly I might add, which is not a good sign.
It's a bummer this film is just being released as if the studio wants to wash their hands of it. It sounds like it needed a strong producer and director to support the film and not second guess it. Maybe the film is actually really good, but the studio might be totally lost on how to market a film this crazy. Who knows. Much like my feelings on Scout's Guide to the Zombie Apocalypse I'll certainly would be down to give a watch, just for curiousity sake. It doesn't LOOK terrible, and it's got a strong comedic cast. It could very well be another Night of the Creeps, another horror cult classic that combined a ton of ideas and no one knew how to market it.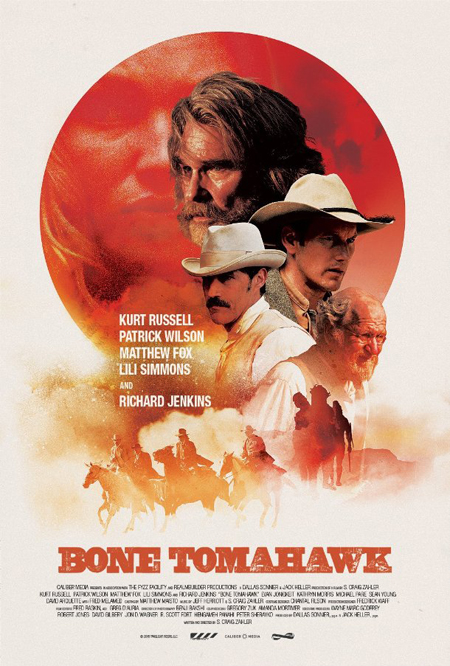 What's it about? Four men set out in the Wild West to rescue a group of captives from cannibalistic cave dwellers.
My thoughts? Now…I don't usually do this, but this movie actually came out last week. BUT, I've been reading a ton of great reviews on it and since I didn't know it already was released, I wanted to showcase it this week. The coolest description I heard for the film was "It's Jaws but in the old west and instead of a shark, the men on the mission are fighting cannibals."
Awesome.
And if you're looking forward to Kurt Russell's mustache acting in Tarantino's The Hateful Eight, you can get an early peek at it here. Truthfully, this is a damn good cast and the word of mouth alone is enough for me to to seek it out too.