The last week of  September is finally upon us. Yeah, it was pretty brutal. Very few good and interesting movies were coming out this month (last week being an exception.) This week, the new movies for September 26, 2014 brings another round of films that many of you have never heard of.
It's a ton of  smaller budgeted films, but that usually means  a ton of really interesting choices.  Will any of these flicks grab your attention? Lets find out, starting with….
What's it about? One day, a bad fall forces Edmond to accept Rose's help. Eventually, the two grow closer. The young woman finds relief in confiding painful memories to the older man; things she cannot even bring herself to tell her husband. Meanwhile, Edmond, too, opens up, sharing recollections of his beloved wife. – Synopsis Written by Palm Springs Internation Film Festival
My thoughts? The best thing about lower budgeted films like this one, is the fact that the movie can be truly about putting unique characters in unique situations. This film looks like it could work, if the two leads and their characters are really engaging, which I sense might be the case with this trailer.
What's it about? U.K. gay activists work to help miners during their lengthy strike of the National Union of Mineworkers in the summer of 1984.
My thoughts? I haven't seen a good old fashion British comedy that's full of fun characters and a nice strong message. The vibe is very much The Full Monty and Billy Elliot, and it would be nice to know if this film is as good as those two.
What's it about? A thriller centered on a con artist, his wife, and a stranger who flee Athens after one of them is caught up in the death of a private detective.
My thoughts? Good cast in a film that looks like some classic pulpy fun. It's been a while since I've seen either Viggo Morensen or Kristen Dunst really cut loose as the leads in a film. I kinda can't help but feel Kristen is slightly miscast, but I could be wrong. Also  always a good idea to cast Oscar Isaac.
What's it about? In contemporary London, a Cambodian Chinese mother mourns the untimely death of her son. Her world is further disrupted by the presence of a stranger. We observe their difficulties in trying to connect with one another without a common language, as through a translator they begin to piece together memories of a man they both loved.
My thoughts? You may not recognize Pei-Pei Cheng at first, but if you are a fan of Crouching Tiger, Hidden Dragon, you will certainly remember her as being the main villain of that film. I think it's incredible to see her in a full on dramatic roll in a film, especially knowing her history as a famous martial arts star in the '70s. Here check out the trailer to one of her most famous film roles.
And Ben Whishaw looks to be delivering yet another incredible performance. September is a crazy month for Whishaw, as last week he was in Zero Theorem, and this week he has this film and another film that's coming out this week.
What's it about? Desperate, broke, and out of ideas, four college seniors start a fake charity to embezzle money for tuition.
What's it about? I think I know why I can't get into movies like these anymore. I'm just tried of the formula of a couple of dudes trying to do some crazy scheme, the scheme works, but they get in over their head and they eventually get caught, but things will still work out for them in the end. Anyone want take a bet to know if that's what happened in this movie? Any takers? Look, I'm sure there's plenty more to the movie then this, but right now, I'm just not that interested.
What's it about? An aspiring singer-songwriter's life and marriage suffer when the song he writes for his wife propels him to stardom.
My thoughts? Yaaaaaaaaaaaaaaaaaawn. Ehh. Sorry. I feel nothing.
What's it about? Reckless desire wreaks havoc over Memorial Day weekend as a family confronts the volatile and fragile nature of love. Inspired by Anton Chekhov's "The Seagull," set in rural New England in 1984.
My thoughts? More family drama with a great cast in a remote location. Is this worth  a viewing? Not really sure,  as nothing about this film is sticking out to me.
What's it about? A young orphaned boy raised by underground cave-dwelling trash collectors tries to save his friends from an evil exterminator. Based on the children's novel 'Here Be Monsters' by Alan Snow.
My thoughts?  The animation company of Laika has earned my trust so far. I loved Coraline, and I really enjoyed ParaNorman. This looks like yet another imaginative and beautiful film, which means I'm pretty much in.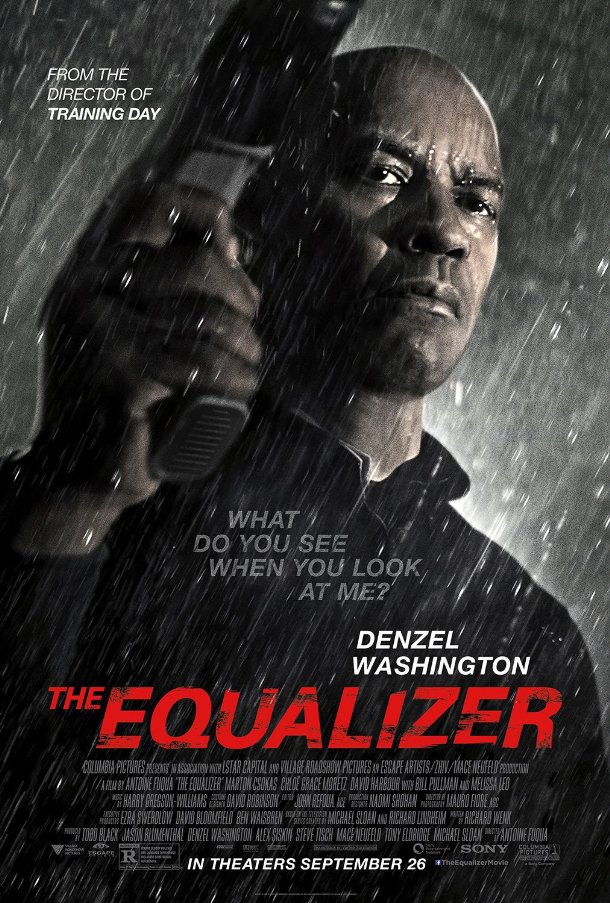 What's it about? A man believes he has put his mysterious past behind him and has dedicated himself to beginning a new, quiet life. But when he meets a young girl under the control of ultra-violent Russian gangsters, he can't stand idly by – he has to help her.
My thoughts? Judging from  the trailers to this one, I don't think there's much in common with The Equalizer movie to the Equalizer TV show from the 80's. I never seen an episode of the show, but I do think the opening credits is one of the coolest opening credits to a TV show I've ever seen.
There has been some interesting buzz to this movie version (which reteams Denzel with his Training Day director) The film apparently had some of the most incredible scores for the test screening of the film. Scores so good that they are already working on The Equalizer 2.
The film is also getting some pretty positive reviews right now, but it's not blowing the critics away as much as it did the test screening audience.
For me, this looks like a ton of fun, but I do feel like Denzel's been going to the Action Movie game one too many times for my taste. I get it too, Action Films are very profitable, but it's a shame to keep using Denzel's amazing talent to be another character shooting bad guys in the head.
I'll certainly check this one out at some point, but I'm not quiet ready to wait in line for a ticket yet.
How about you folks? Did any of these movies get your interest? Let us know it the comments below!