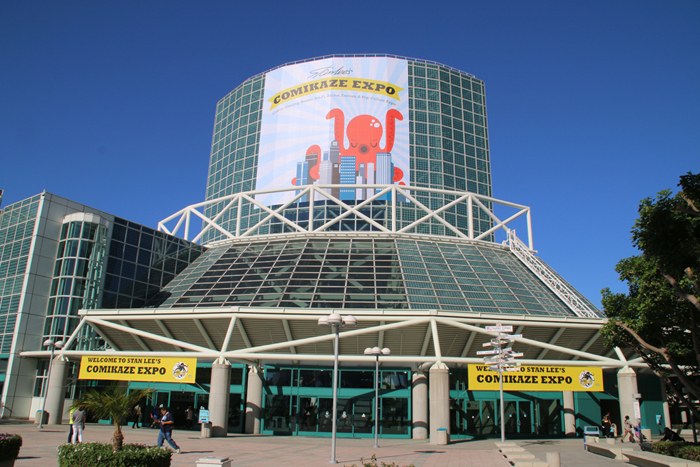 Yes, the time has come for another convention report from your intrepid reporter. On Halloween weekend, the Los Angeles Convention Center was the site for Comikaze Expo, a 3-day celebration of pop culture. The convention began in 2011 and by the following the year paired up with Elvira and Stan Lee when it was officially renamed Stan Lee's Comikaze Expo. This year, organizers promised the biggest Expo yet with festivities taking over two halls of the convention center.
For those unfamiliar with the LA Convention Center, the larger West Hall sits next door to the Staples Center, home of the Clippers and Lakers who also played that weekend. The West Hall was the place to find the majority of the vendors, an expansive Artist Alley, and the Stan Lee Mega Museum, which featured the armors of Iron Man, original artwork, and key Marvel comics from the Silver Age. The crowds were brimming on Saturday and Sunday while the South Hall appeared to be the road less traveled. That may have been due to the distance as it sat across the street in a separate wing with a corridor connecting both buildings.
The South Hall was the home for cosplay, celebrity autographs, and the Hot Topic Main Stage, unique to the Comikaze Expo. Instead of attendees waiting for inordinate amounts of time to get into a panel room, the Expo holds its A-list programming on a stage in the exhibit hall. Among the main stage attractions were a fashion show with geek-inspired apparel, the Cosplay National Championships, and a reunion of the Nickelodeon sketch show All That.
Last year, it seemed like Comikaze was primarily focused on general pop culture rather than the medium of comic books. This year's event found the right balance with industry luminaries like Grant Morrison, Marc Silvestri, Jim Lee, Todd McFarlane, and Bryan Lee O'Malley on the guest list alongside celebrities such as Carrie Fisher, William Shatner, Summer Glau, Liam McIntyre, and Grumpy Cat. Yes, Grumpy Cat.
I attended my first Comikaze back in 2012, but was somewhat soured by my experience. Staff was clearly overwhelmed by the huge crowds and security would allow no one inside after the building exceeded capacity shortly after opening. Being forced to wait over an hour in the hot LA sun certainly didn't help the situation. Luckily, the folks behind Comikaze quickly adjusted and things have run smoothly ever since then. They've also found a perfect home in Halloween weekend with vendors handing out candy throughout the day.
Sadly, Comikaze was my last con of 2015 and I probably won't be hitting another convention until the Long Beach Comic Expo in February. Will I see you there?
You can check out even more photos from Comikaze Expo and the Le Geek So Chic fashion show on my Flickr page.