Disney returned to the Anaheim Convention Center on Aug. 23 through 25 for D23 Expo, their biannual fan convention. D23 has grown leaps and bounds since its inaugural event a decade ago thanks to Disney gobbling up nearly every IP they can get their white gloved hands all over. This was never more apparent than with the banners hung throughout the convention center. While Mickey Mouse's smiling face adorned the entrance of the venue in previous years, he was replaced by Black Panther, Woody, Elsa, and R2D2.
Five of the six highest grossing films of the year were produced by Disney and the sixth was Spider-Man: Far From Home, which Marvel Studios had creative control over. However, the one thing the House of Mouse can't seem to grab a handle on are the logistics of running a smooth convention. Line management has always eluded them since the Expo's inception and the culture of camping out at conventions hasn't helped. The Walt Disney Studios and Disney Parks panels are the most difficult to attend. This year, D23 introduced a reservation system for fans to get a spot for the most popular programs, autograph signings, and save a spot in line to purchase exclusive items. Unfortunately, the system was a complete mess.
Reservations were originally scheduled for Friday, Aug. 16, but were pushed back to noon on the following Saturday. It was pushed back again by an hour at the last minute. For my part, I logged in just before noon, waited ten minutes, and selected my reservations with no problems. No problems, until I received a blank confirmation email. That's when I logged in again to see the postponement notice for the first time. When I tried again, I waited in the queue for about forty minutes, only to find out all reservations were filled nearly half an hour ago. And I didn't do any of this in the comfort of my own home, but in the lobby of the Anaheim Hilton while I should have been enjoying the He-Man themed Power-Con. It seems the only way to properly do reservations is to go the lottery route ala SDCC.
Even after D23 was underway, attendees had issues just getting through the gates as security was shut down for almost an hour. Thank Uncle Scrooge's lucky dime that things improved once you got inside the exhibit hall.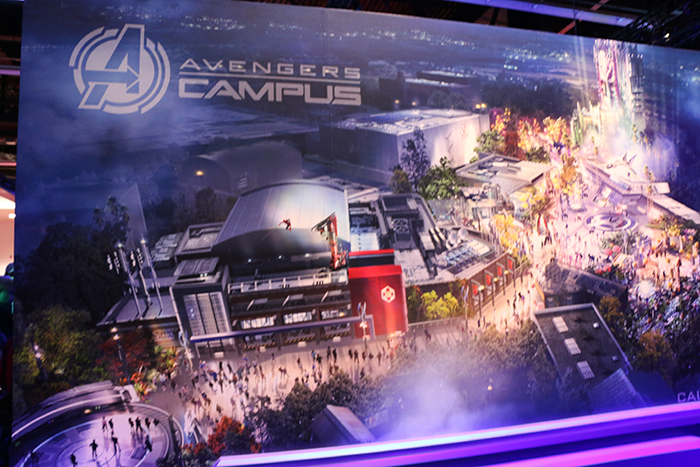 Lucasfilm brought the pavilion of Stormtrooper suits that was previously seen at Comic-Con with the addition of the First Order Jet Trooper. The Marvel Studios booth featured a beautiful mural of the cinematic characters, along with an array of screen-used costumes. On Saturday, Disney unveiled a new white variation of the Black Widow's costume that will be featured in her upcoming solo film. Even more costumes were on display at the Heroes & Villains exhibit. Heroes & Villains paid tribute to the various live-action versions of Cinderella as well as their respective costume designers. Disney recreated the workshops of famed designers such Sandy Powell and Colleen Atwood. They also had the pumpkin carriage from the Kenneth Branagh-directed movie amidst costumes from Mary Poppins (Julie Andrews and Emily Blunt), Aladdin, Beauty and the Beast, 101 Dalmatians, Enchanted, Tron Legacy, and Pirates of the Caribbean, plus many, many more. For Nicolas Cage fans, The Sorcerer's Apprentice and National Treasure were not forgotten. Head up to the second floor of the convention center to transport yourself to Pandora with the World of Avatar, an exhibit devoted to props and models used in James Cameron's blockbuster.
Commerce was was all around with Disney running four major pop-up shops in the exhibit hall; the Disney Shop, the Disney Dream Store, Mickey's of Glendale, and the Disney Studio Store. Fans waited in line for hours on Friday, but lines died way down by Sunday as inventory thinned out. Some of the exclusive merch included: Dapper Dan Funko Pops, limited edition prince & princess dolls, pins, and items celebrating the 85th anniversary of Donald Duck, the 30th anniversary of The Little Mermaid, the 50th anniversary of The Haunted Mansion, and the 25th anniversary of The Lion King. I spent my money on a Donald Duck OJ shirt, a Javva the Hutt shirt (advertising Lucasfilm's on-campus coffee shop), a Mr. Toad's Wild Ride mug that more resembled a beer stein, and a couple of refreshing Dole Whips. If there's any money left in your bank account, you could head over to the D23 Emporium to browse vendors selling both modern and vintage Disney collectibles, actual posters from Disneyland's past or sign up for a luxurious Disney-themed wedding.
The Mouse's new streaming service, Disney Plus, was getting a huge push with its own section and special appearances from guests like Jeff Goldblum and Christy Carlson Romano. Convention goers could witness demonstrations of the Netflix-esque interface and sign up for a special Founder's Circle deal, 33% off with a three year commitment. Disney isn't just banking on their archives and recent smash hits to sell their service. It'll be bolstered by original content such as The Mandalorian and a whole host of Marvel shows. For those who thought Marvel wouldn't have anything left for D23 after SDCC, Kevin Feige proudly declared that Ms. Marvel, She-Hulk and Moon Knight would join the MCU via Disney Plus. Feige returned on Saturday for the studio presentation to give an official release date for Black Panther 2 and introduce the cast of The Eternals. Unlike Comic-Con, the audience at D23 got to see concept art of the actors in their costumes. Also announced was the long-rumored Obi-Wan Kenobi series, starring Ewan McGregor, and set roughly at the same time as Solo: A Star Wars Story. Could we see a rematch between Kenobi and Darth Maul?
Speaking of Star Wars, Galaxy's Edge in Anaheim is up and running while the Orlando version was on the verge of opening. Disney Parks Chairman Bob Chapek announced that the new Star Wars hotel at Walt Disney World would resemble a Galactic Starcruiser. Guests will be checked into a fully immersive experience where they choose to join the Resistance or the First Order and participate in missions. Walt Disney World will also see a major revamp of EPCOT to include a Mary Poppins pavilion, a new Ratatouille ride, and Guardians of the Galaxy: Cosmic Rewind, which will be Disney's first-ever reverse launch coaster.
Not to be outdone, the currently-in-construction Marvel Land at California Adventure was given the official moniker of Avengers Campus. It will be one of several built at Disney parks around the world. Anaheim's version will feature an Avengers Quinjet ride, a Doctor Strange stage show, the Pym Test Kitchen, and a Spider-Man attraction that sounds like a souped-up version of Toy Story Midway Mania.
Check out my Flickr page, for more photos from D23 Expo 2019.