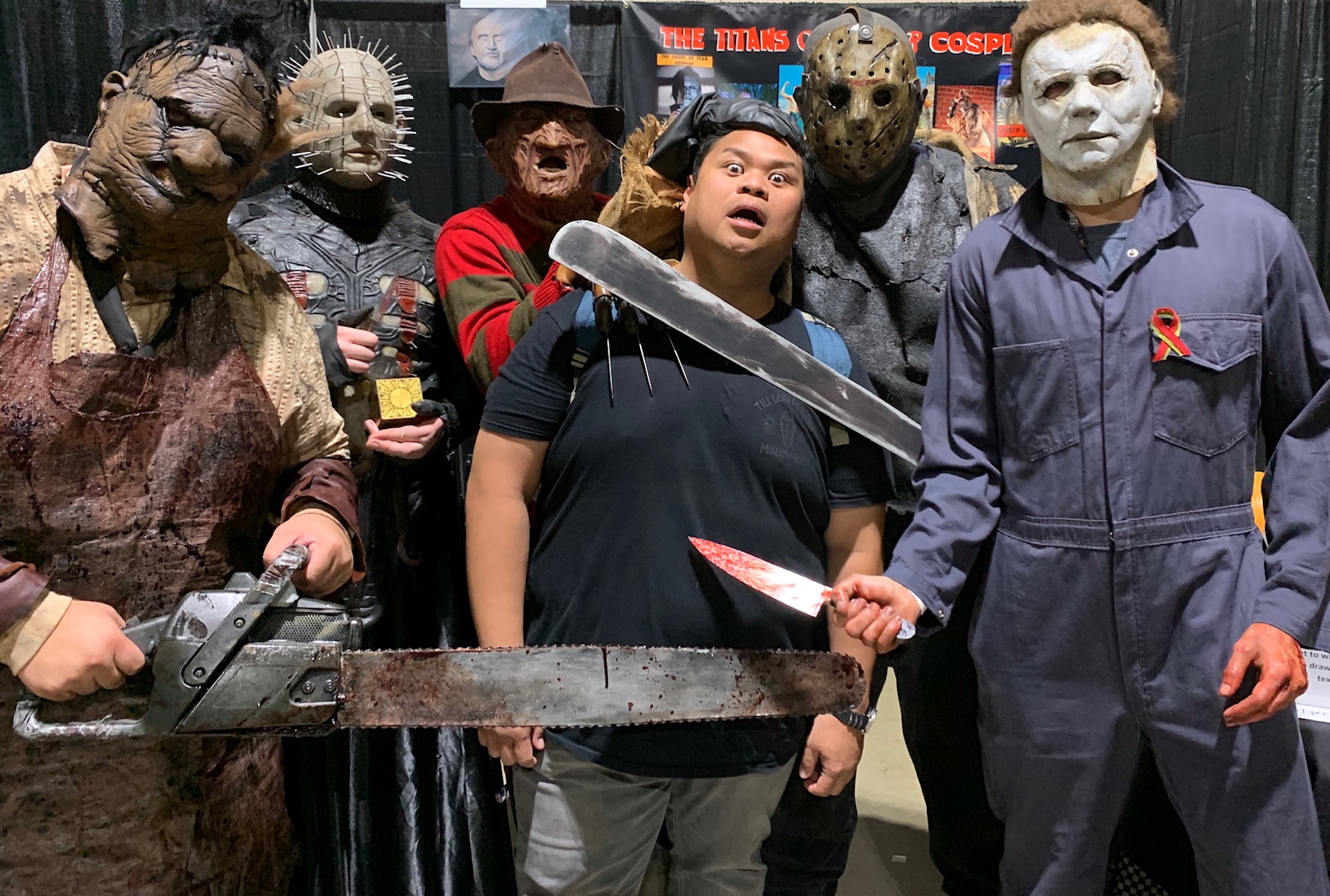 FearTASTIC Vault O'FUN #72
 Midsummer Scream (2019)
Director(s):The fine convention center in Long Beach, CA
Writer(s):Show floors, Hall of Shadows, Various Ballrooms
Starring: Your FearTASTIC Vault Keeper and comrades
I was supposed to be hiking.
One of the things your FearTASTIC vault keeper enjoys outside of the entertaining macabre, is checking out nature while getting some good conversation/cardio. My friends and I have gone through dozens of hikes over the years and seeing that we had done one less than a month ago, I was craving for something different. So there I was trying to "simulate" my brain waves with some cocktails at a bar with some friends trying to think about how to celebrate the weekend. Suddenly with an innocent chirp, my best friend looked up from his phone and said something to the effect of "What about this? Seems like your thing."
The event was the Midsummer Scream; a convention dedicated to all things Halloween and Horror which of course, was right up my alley. Full disclosure, your FearTASTIC host has never actually attended a horror event/convention/meet up/etc. Yes, let's take a moment to let that sink in and yes, I'm totally with you in your confusion. Here's the thing; as much as the world of horror spent years entertaining me and shaping my vault, the idea of going to a convention solely dedicated to what I enjoy seemed a bit…kitsch. Now, I've been to the holy grail of GEEK-dom, the San Diego Comic Con for about 20 years (yes, you read that right my friends) so I'm not above conventions; it's just the idea of a convention dedicated solely to my passions of the macabre felt a little too on the nose. Quite frankly, since I immerse myself in this sort of entertaining terror on a daily basis, I thought going to a horror convention might strike me as a bit dull. Having said that, by Jason Voorhee's machete, boy was I WRONG.
When we got to the convention center, right around the time the event started, the set up was pretty typical from the outside of the convention center; a line of food trucks parked in front of the entrance that ranged from BBQ to sushi burritos (seriously, quite tasty) and a line of folks that made me almost regret getting a ticket in the first place. To my surprise however, the sea of bodies seemed to lessen by the minute and we found ourselves at the front entrance in less than 45 minutes, which is incredible by standard geek convention standards! We received the standard information pamphlet of vendors, panels and…oh hell yes, a section of the floor called THE HALL OF SHADOWS.
I tried to contain my excitement but yes, there was a dedicated section of the convention that allowed horror attractions to give previews of their content to the public! Entering the hall was already quite the experience; the entire Hall of Shadows was dark and separated from the vendors, so it was like you were entering a whole other convention. As you walk through the standard Halloween fog, a familiar tone was immediately set from years of going to haunted attractions. As expected, the hall was filled with Halloween events that various companies were trying to plug just as the best season of the year was poking its terror-rific head right around the corner. The previews ranged from clowns to redneck ghosts (yeah, it's true) and also featured some neat Halloween gear like monster-themed Tiki apparel and even some ghastly candles that I would definitely snag for my lady (or lack thereof).After an hour of checking out what the Halloween season has in store, we decided to check out the main floor. There were plenty of local artists gracing the public with their illustrations/paintings (we bought a couple treasures ourselves) and some fun activities for fans of horror of all ages (most interesting was a make your own gravestone section). Surprisingly, there weren't many vendors that were selling or advertising future horror flicks, albeit some dedicated folks handing out flyers for their independent horror flicks (God Bless them freaks). Highlight of the day however, was running into Bill Moseley, the legend of such flicks as Texas Chainsaw Massacre 2, House of a Thousand Corpses, Devil's Rejects and the upcoming Three from Hell! Needless to say, I was a giddy fan boy for about ten (10) minutes and the glow remained throughout the day.
After a couple hours or so of taking pics and soaking in the sites, we decided to take advantage of the third part of the convention and check out some panels/ballroom events. We checked out a live auction of classic Godzillamemorabilia/figures, mostly to hear that classic lightning fast babble of the auctioneer until we eventually made our way to some panels for some horror themed web shows and podcasts. The most interesting experience however, was Zombie Joe's Underground Theater presents: URBAN DEATH. To be honest, we had thought that this was going to be a collection of independent horror shorts to be enjoyed by the public but it turns out that this was a theater troop who perform horror(ish?) segments ranging from 30 seconds to a couple minutes. The kinds of performances were also quite varied…and that's putting it quite lightly…some treasures included a masturbating clown and a fully nude ménage à trois gone terribly wrong.
One of the best part of the convention were the cosplayers that were delightfully in full form. It was incredible how there were horror cosplayers from all generations attending the convention. The number one costume of the year? This summer's disturbing hit, Midsommar, which in all fairness is a pretty simple costume; wear white and grab some flowers to wear as a hat or necklace. Essentially a lot of these folks just dusted off some of their Coachella gear and worked on their creepy stares. At the same time however, I was stoked to see some classics as well, most notably a fair number of wedding ready Lydias from Beetlejuice! There were plenty of enjoyable photo opps around the convention from the variety of cosplay, make up and special effects vendors that graced the floor. Some of the most notable experiences were taking pics with a bunch of monster clowns, little cenobites from Hellraiserand the pleasure of meeting the Titans of Terror Cosplayers who were gracious enough to let me live out my dream of having all my childhood friends in one picture.
Overall, my first experience at the Midsummer Scream was absolutely delightful. The convention itself was run quite smooth and although it's all about the horror, I'm the kind of fellow who always appreciates how efficiently an operation runs throughout the day. The waiting for any event was never longer than half an hour and the layout was done in a way that was easy to follow if you just wanted to peruse the floor at your own pace. As an enhancement however, I would suggest beefing up the content of the ballrooms/panels. Although I'm all for supporting the theater arts and local podcasts, I would suggest taking advantage of the giant ballrooms that contain screens. There definitely should be more emphasis on showcasing horror shorts or perhaps screening whole movies where the creators can take on some Q&A afterwards. Although I feel I was a bit late to the party, horror conventions are definitely my thing now and I'm ecstatic that I got to experience it for the first time with some great comrades. Cheers to you my friends and yes…let's get to a hike soon.
Life is FAR more interesting when we take interest in things that scare us.