2019 reaches peak con season in July with Anime Expo and San Diego Comic-Con held within a few weeks of each other.
Spending 4th of July weekend at Anime Expo was a great way to prepare for the massive crowds and never ending lines of SDCC. And there were plenty of lines to deal with. It always seems like the AX organizers take one step forward and two steps back the next year. Day 1 of Anime Expo was plagued by wait times of two to four hours just to get inside the convention center. Thousands of attendees, not counting those that shelled out for Premier Status, were funnelled into three different entrances and then bottlenecked at the security checkpoints. The primary complaints seemed to be not enough metal detectors or staff to deal with the huge amount of people. Thankfully, the temperature averaged in the high 70's as opposed to the unbearable 100 degree heat of last year's Expo. Mother Nature decided to shake things up further with a pair of earthquakes. I wasn't even aware of the foreshock that hit on the morning of July 4th, but I really felt the big one the next evening on the 15th floor of my hotel in Little Tokyo.
The best thing I can say about Anime Expo is how they utilize nearly every square inch of space at the Los Angeles Convention Center. The main exhibit hall is packed with vendors selling artwork, figurines, and clothing; an 18+ section for hentai enthusiasts; and a surprising lack of manga. You can find the Entertainment Hall in the west hall next to Staples Center with a focus on gaming and cosplay. There are numerous backdrops for photo opps and a display of award winning costumes from the Cosplay World Championships. Artist Alley, set up in the lower level of the convention center, may be the most jam packed section of AX. It's extremely difficult to navigate the narrow rows throughout the 4-day run.
Two weeks later the nerds flooded the streets of the Gaslamp Quarter for the 50th ever San Diego Comic-Con. There was tons to do on the show floor from visiting the Krusty Krab from Spongebob Squarepants to singing karaoke on the Steven Universe stage. Netflix took you into the world of The Dark Crystal: Age of Resistance while Lucasfilm brought nearly every Stormtrooper armor featured in the theatrical films, including the new Sithtrooper from Rise of Skywalker.

During the build-up for SDCC, much of the talk was about how a lot of major studios were not presenting anything from their upcoming slate. Universal, Lionsgate, and Sony Pictures were among those who skipped Hall H. Warner Bros. had a heavy presence on the show floor with their new combined WB/DC Comics booth, but no previews for Birds of Prey, Wonder Woman 1984 or even Doctor Sleep. They did stage a Scare Diego event to hype It: Chapter 2, along with an autograph signing with the adult cast members. Paramount did kick things off on Thursday with Terminator: Dark Fate and a surprise appearance by Tom Cruise to debut the trailer for Top Gun: Maverick. Of course, Marvel Studios was the main event on Saturday evening as they unveiled their next phase of feature films and Disney+ shows.
The Eternals may be the most obscure property being brought to cinematic life, but it packs a powerhouse cast in Angelina Jolie, Salma Hayek, Richard Madden, Brian Tyree Henry, Don Lee, Kumail Nanjiani, Lauren Ridloff, and young Lia McHugh as Sprite, the oldest character in the MCU. Kevin Feige, head of Marvel Studios, also officially announced a Shang-Chi solo film, a new Blade with Mahershala Ali sequels to Thor and Dr. Strange, along with new tidbits for Loki, WandaVision, the animated What If anthology, and The Falcon and the Winter Soldier.
The annual Kevin Smith panel followed and acted as a nice dessert for a long Saturday. Smith rolled the trailer for Jay and Silent Bob Reboot (which debuted online a few days earlier), along with two extended sequences from the film. The first featured Mallrats' Brodie Bruce (Jason Lee) explaining to the title characters about Hollywood's penchant for rebooting and remaking popular franchises from the past. The second clip plays to the meta-textual nature of Reboot with Smith as himself attending Chronic-Con and introducing a scene from Bluntman v Chronic with Val Kilmer and Melissa Benoist as grim 'n gritty superheroes.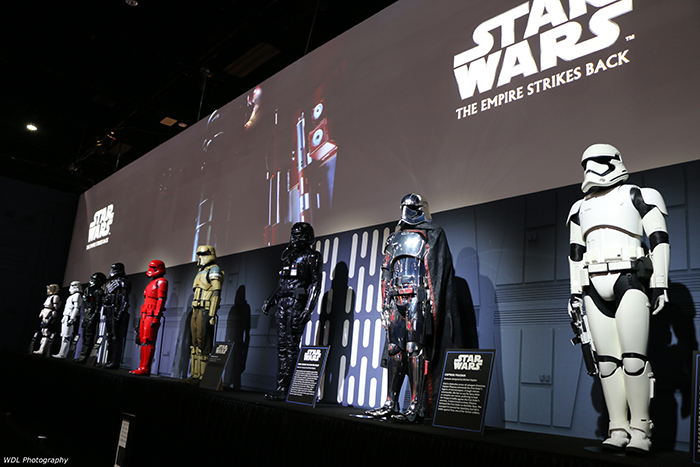 On the television side of things, Amazon Prime made a huge splash with their offsite installation. While most offsites begin construction the week of Comic-Con, Amazon started at the beginning of the month. The centerpiece was a giant tower with massive video screens at the top. Attendees took part in heavily interactive exhibits promoting The Boys, The Expanse, and Carnival Row. For the first series, fans were asked to gather clues and assist in the cover-up of a superhero battle that has wrecked a storefront. For The Expanse, you were recruited for a peacekeeping mission on the planet Ilus. In the latter, everyone was ushered onto a recreation of a Victorian-era street where fairy creatures have immigrated to England. Unfortunately, the lengthiness of each exhibit and low capacity meant long lines just to get inside. Much easier to get into was the Starfleet Museum, which was loaded with props and costumes from the long and storied life of Captain Jean-Luc Picard. They had bottles of wine from the Picard's family vineyard next to the captain's uniforms from the first season of TNG to the new CBS All Access series.
The discerning toy collector probably walked out of Comic-Con extremely excited with the wealth of news. NECA announced a new line of Toony Terrors featuring cinema's most infamous horror villains (Pennywise, Jason, Chucky, etc) in a cutesy, cartoon style. They also showed off new figures for their Target-exclusive Ninja Turtles line that pays homage to the old 1987 animated series. Fan favorites April O'Neil and Casey Jones will be hitting stores next year along with Bebop and Rocksteady as well as Slash, Metalhead, and Leatherhead. Sadly, these will probably be as difficult to find as the first wave.
It was a good con for Mattel, but a frustrating one for anybody trying to buy exclusives from their store. The line was filled to capacity as soon as the exhibit hall opened. By the time you were able to queue up, most of the exclusives (including the Slim Jim Randy Savage) were sold out for the day. Mattel also wrapped up their DC Multiverse line with a Batman-themed wave with Poison Ivy, Red Robin, KGBeast, Red Hood, and a build-a-figure Killer Croc. Surprisingly, the figure that received the most buzz was Alfred Pennyworth. Bruce Wayne's loyal butler comes with interchangeable heads modeled after Alan Napier (from the '66 TV series) and Michael Gough (from the Burton/Schumacher movies). The WWE toys were greatly expanded upon with legends such as Classy Freddie Blassie, Gorilla Monsoon, Don Muraco, and an 80's-style Vince McMahon in powder blue suit. Adjacent to the main WWE series will be a new Masters of the WWE Universe line featuring He-Man style wrestlers. Makes perfect sense since guys such as John Cena and Triple H look like they came straight out of MOTU. Current WWE Champion Kofi Kingston, who has designed ring gear based on Skeletor and Battlecat, was especially pleased to see his visage adorn a New Day version of Man-E-Faces.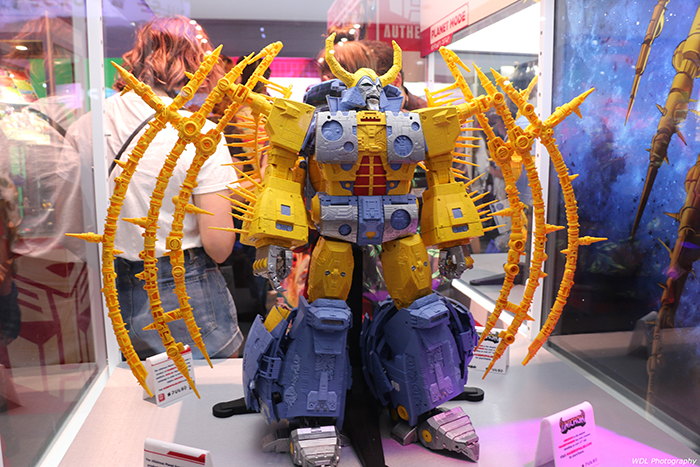 Hasbro didn't have much in the way of Star Wars, likely to avoid any spoilers from Rise of Skywalker. It's a shame they didn't announce any established characters for the Black Series, Count Dooku and Wedge Antilles, for example. Marvel Legends received a lot more love as they celebrate the 80th anniversary of Marvel Comics with iconic versions of Iron Man, Thor, and Captain America, as well as a 2-pack of Hulk and Wolverine from Incredible Hulk #181. New figures we'll be seeing down the road include X-Factor Havok and Polaris, Squirrel Girl, Shang-Chi, and Morph, Nate Grey, and Age of Apocalypse editions of Wolverine, Morph, and Nate Grey. The granddaddy of reveals had to be the massive $575 Unicron, the Transformer who turns into a planet and formerly voiced by Orson Welles. Unicron is the latest project from Haslab, Hasbro's crowdfunding platform, and the release is dependent on hitting their goal.
That's a wrap for SDCC 2019. We'll return to the San Diego Convention Center next July. Until then, I'll be attending D23 Expo, Long Beach Comic Con, and LA Comic Con.
For photos from Anime Expo, click here.
For more photos from SDCC, click here.