While some celebrated their Easter weekend with chocolate treats and pastel colored eggs, thousands converged on the Los Angeles Convention Center for WonderCon. The sister convention of the San Diego Comic-Con, WonderCon relocated from the Bay Area to Anaheim in 2012 and seemed to have found a home in the shadow of Mickey Mouse. Due to scheduling conflicts and recent renovations at the Anaheim Convention Center, WonderCon moved to Los Angeles to the consternation of many attendees. Heavy traffic and overpriced parking were primary concerns, all of which were aggravated by concurrent Lakers and Kings games at the Staples Center.
The new locale in LA wasn't the only noticeable change as WonderCon debuted a new RFID system for their badges. While I personally did not witness any problems with the tags or sensors, there were pictures posted to social media of long lines at the customer service booth for attendees having difficulties. Hopefully, the kinks will be worked out in the time for SDCC.
WonderCon kicked off on Friday with a ribbon cutting ceremony by Mayor Eric Garcetti. Attendees eagerly lined up to hit the exhibit hall to hunt down original artwork, Golden Age comics, and the ever-present Funko Pops. While Marvel chose to skip WonderCon, smaller publishers such as Top Cow, Boom Studios, and Skybound Entertainment, home of Robert Kirkman's Invincible and The Walking Dead.
DC Comics had a heavy presence at the convention with a Bat-Signal made entirely of LEGO as a centerpiece to their booth. Big name talent like Jim Lee, Geoff Johns, John Romita Jr., and Scott Snyder were signing throughout the con amidst glass cases featuring toys from Batman v Superman and Suicide Squad. On Saturday, they held a panel to announce the Rebirth event. Things kicked off with Co-Publisher Dan DiDio issuing a mea culpa and admitting that their New 52 reboot hasn't connecting with fans. DC is hoping to rectify the situation with Rebirth, which they adamantly insist is not another reset. Among the highlights include Jim Lee as the new artist for Suicide Squad; a new ongoing series dubbed Trinity starring Superman, Batman and Wonder Woman; and New Superman, about a super-powered teenager from Shanghai by Gene Luen Yang (American Born Chinese).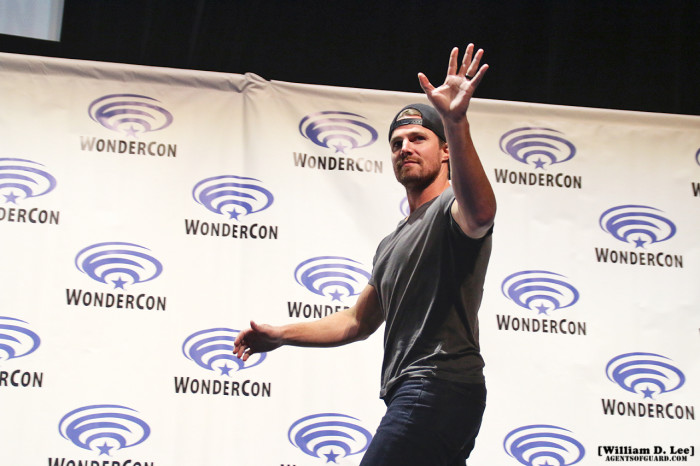 WonderCon programming doesn't attract the same volume of Hollywood blockbusters as SDCC and its proximity this year didn't seem to change that fact. Still, the studios brought a few films for panels at the Microsoft Theater. WB/New Line promoted The Conjuring 2 and Lights Out, two of their upcoming horror flicks. Paramount closed out the first night with TMNT 2: Out of the Shadows featuring a panel of Stephen Amell, Megan Fox, along with producers Andrew Form and Brad Fuller. The biggest tidbit of news was the reveal that Fred Armisen from SNL and Portlandia would provide the voice for Krang, the brain from Dimension X. Shown at the panel was a scene in which the Foot Clan chases April O'Neil through the streets after she stole a canister of Ooze. She's saved by Casey Jones who uses his skills with a hockey stick to fight off the ninjas before the Turtles finally show up.
Television was an important component of WonderCon again this year with Agents of SHIELD, iZombie, Orphan Black, and The 100 being hot tickets. Brand new shows such as Houdini and Doyle, the outbreak drama Containment, and Preacher screened pilot episodes followed by Q&As with the cast and crew.
All in all, WonderCon put on another enjoyable convention. If the change of venue wasn't to your liking, you'll be thankful organizers announced the event's return to Anaheim next year. Along with Disney's D23 Expo the following July, the city should be buzzing.
Here's a sampling of photos:
For more photos from WonderCon 2016, head over to Flickr.
I'm still uploading pics so keep checking back for the latest updates.
You can also see recent photos from Long Beach Comic Expo 2016 and a cosplay photoshoot held at Balboa Park.