I am a child of the 80's. And if you are also a child of the 80's, or at least watched tv in the late 80's, you may have been asking yourself whether or not to watch Fuller House, the Netflix Original sequel to Full House. Typically sequel seasons or even reunion shows made years later on the platform of popular shows don't really go over so well, or at least that's what I've seen (Arrested Development is a good example here), but because I spent so much time watching Full House when I was a kid, I decided that I really had to check out Fuller House at least for the nostalgia value.
A few questions I had in mind while starting Fuller House were:
– How does it measure up to the original Full House?
– Was there a big hole left by Mary Kate and Ashley Olsen not joining the show?
– Is this worth my time?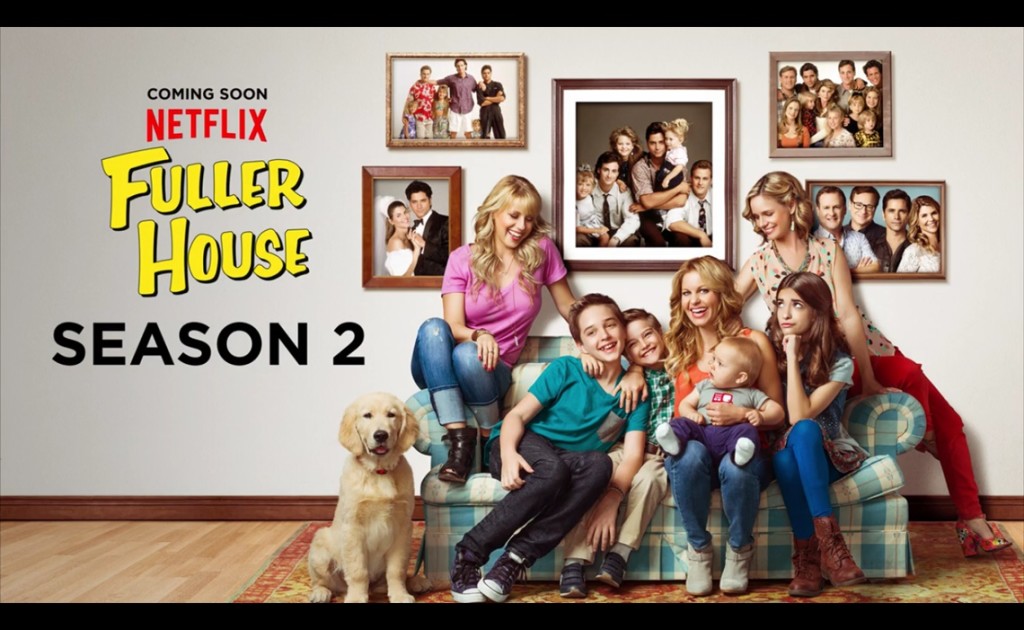 Much to my surprise, I enjoyed Fuller House! Or at least, it wasn't as bad as I'd feared and before I knew it I was three margaritas in and finished with the show. It was a lot of fun and in some ways was like a trip down memory lane or seeing an old friend that has gone on to do new and better things.
I don't know if comparing it to Full House is necessarily fair. There were some REALLY weird things about Full House. Awful catchphrases, weird and cheesy storylines, odd and borderline uncomfortable character traits, and other things that I really didn't notice as a 6-year old kid watching this show. Fuller House strives to be a better show (but does not always succeed), and sardonically throws in some reminders of its predecessor. This tongue-in-cheek approach really worked for me because Uncle Jesse is still Uncle Jesse with his dumb Elvis obsession and "Have mercy!" catchphrases, but it's almost like the show is saying "Oh hey, remember when that was a thing? Look at how you and I both think that's silly now!" Full House is like the Kimmy Gibbler of TV shows (is that what the hip kids call "meta" these days?) Fuller House is wearing a Kimmy Gibbler t-shirt because it's meta and retro.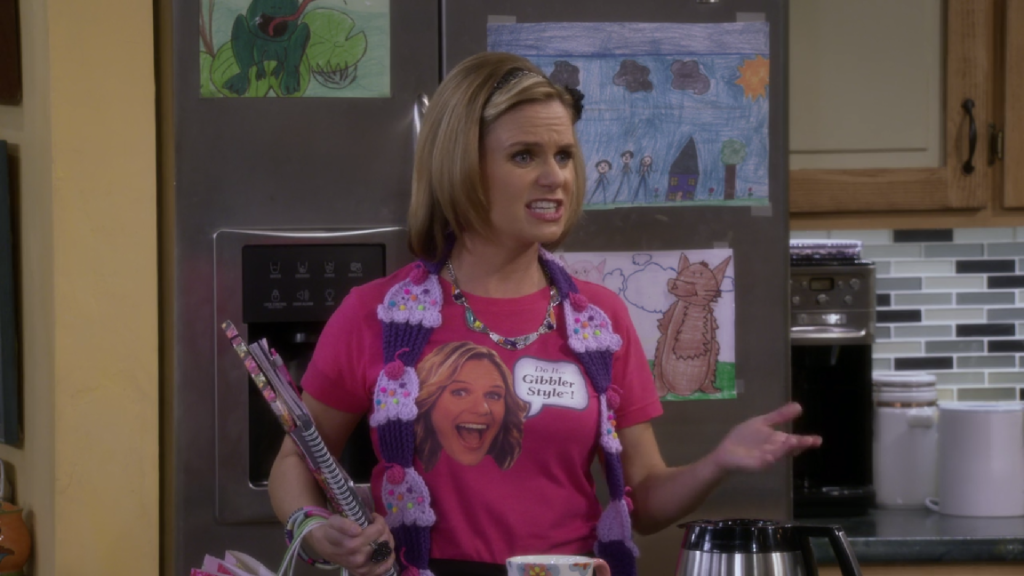 Regarding Mary Kate and Ashley…I didn't miss them at all. I thought the writing was very balanced and because not all the members of the original cast were in every episode, the only time I felt like Michelle should have been present was in the first episode. There were some hilarious digs made at Mary Kate and Ashley throughout the show too, which were just brazen break-the-fourth-wall kinds of things that were so funny.
The first episode of the season is a really different animal than the entire rest of the season. The first episode really tries to get viewers by pulling on those nostalgia heart strings while setting the table for the rest of the season and is honestly more of a "reunion" episode.
In a nutshell, here's the premise of the show: DJ Tanner is now Dr. DJ Tanner-Fuller, veterinarian and single mom to 13-year old Jackson, 7-year old Max and baby Tommy Jr. Her husband, Tommy Fuller Sr., was a firefighter and died on the job somewhat recently. So, she's back living in her father's house where she grew up, with her kids, trying to balance a busy work schedule with busy family life and is just a little too busy to make it all work as a single parent. Since her dad Danny is moving to LA to work on a new morning show, and her other uncles are also moving, she calls on her sister Stephanie and her best childhood friend Kimmy Gibbler to help her out. They all move in with her, along with Kimmy's 12-year old daughter Ramona, and create their own weird little family.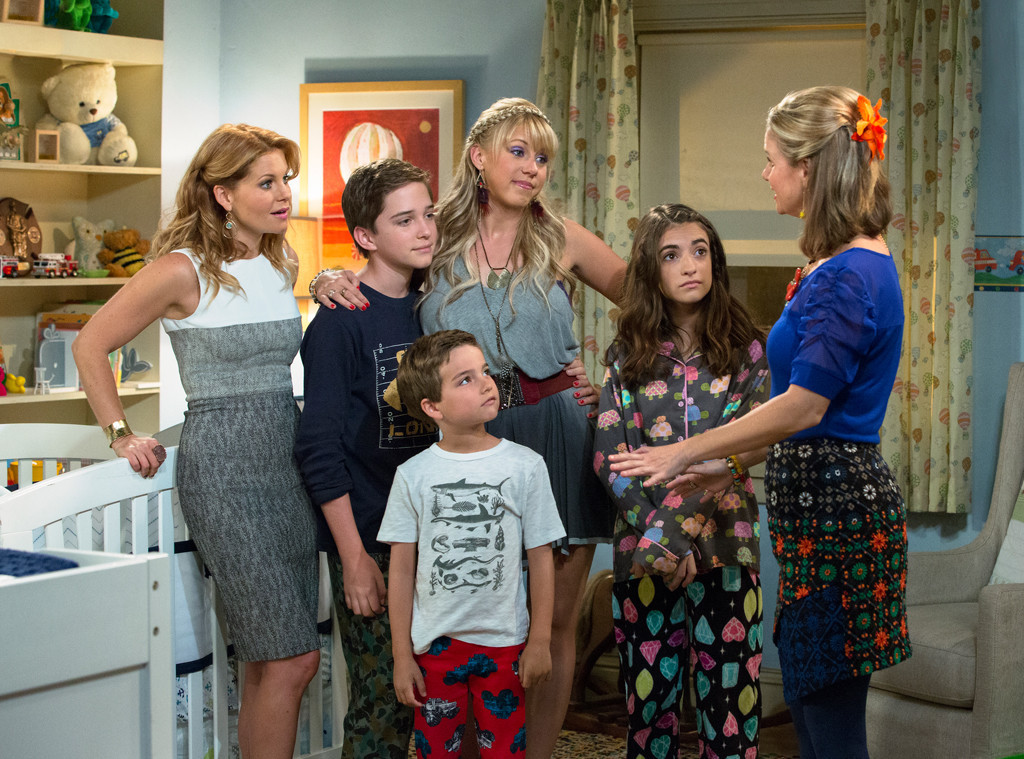 The structure of this show is kind of unique. There's a lot of time spent watching the children's antics although it certainly doesn't feel that much like a kid's show per se. Some of this is done to provide throwbacks to the original show: for example, in one episode Jackson and Max have to share a room, and there's a lot of discussion about the big fight Stephanie and DJ had when they first had to share a room together. I feel like the nostalgia angle may be worked a little too hard in this series, but there are only 1-2 moments like this per episode so the show is not built entirely upon it.
A lot of the show revolves around the three girls dating, although from different perspectives. Stephanie is portrayed as a little bit of a "wild child" and is only just starting to think that maybe she should settle down and get serious. She spends a lot of time at clubs and dating several guys, but realizes that she really enjoys spending time with her sister's kids. DJ and Kimmy are much more cautious with their relationships because of their children and their prior circumstances. DJ is uncertain that she's ready to start dating again at the beginning of the season, but then winds up going on several dates with more than one guy. Kimmy is in the process of divorcing her estranged husband Fernando, but then they start to see each other again after finding a new spark. Both Kimmy and DJ are very protective of what they do- or at least, how they are perceived- because they don't want their kids to feel troubled by their actions.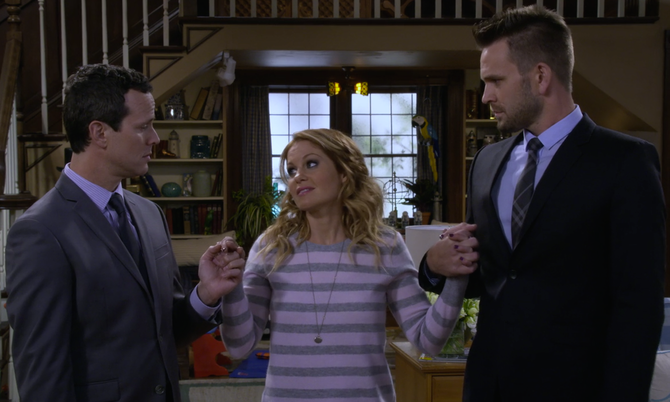 The thing I liked least about the show was the way the ending to the first season was treated. I had a big rant prepared about it, but I don't really want to tell you about the ending if you're still just considering whether or not to watch the show, even if it's all fluff. Let's just say that Agent Bobby's recent article on his blog about cliffhangers is relevant here. I felt like the last pages of the script got taken out with the trash so they decided to keep everything status quo, which bugged me.
Other notes:
– The season really whizzed by! It did take a few episodes to get everything going, but after I felt I was comfortably halfway through the season there was only one episode left.
– Comet Jr. Jr. Jr.!
– The kids were great. I think that Elias Harger, the boy who plays Max, was really fun and may be the next MK/Ashley out of the Full House family. He was very funny and cute, and delivered his lines with such gusto. I worked with child actors in an acting class before, so I understand how challenging the process can be for kids who tire easily and just want to play games, but I felt like good results were achieved here.
– There were an awful lot of ways the setup of Fuller House mimicked Full House– widowed parent of three children of the opposite gender, family/friends of parent's gender move in…but having three moms is a whole lot handier than having three dads. Ironically, the young women of Fuller House have better career prospects than the men of Full House, too. I don't think all the parallels were entirely necessary.
– Bob Saget has famously not been a big fan of the original Full House series, but he still guest- starred in a couple of episodes. John Stamos probably guest starred the most, which was pretty fun.
– I know I did say that Fuller House treats some of the lamer aspects of Full House very sardonically, but it still has some really weird plotlines. It was comforting in some odd way that I can't describe, although because I do wish for better TV I wouldn't mind getting some more realistic storylines in.
To sum it all up? I didn't hate it, although I know a lot of people did dislike it.  It is by no means a cinematic masterpiece and the writing isn't going to win any awards. There are some pitfalls and just maybe one too many flashbacks/callbacks to Full House, but considering I came into this show with literally no expectations it surprised me. If you enjoyed Full House, you very well may enjoy Fuller House.