A little while back, followers of @TeamCoco on Instagram saw Conan posting photos of a trip to South Korea and hinting about some work in a music video with his friends Steve Yeun and J.Y. Park. We all know Steve as Glenn on The Walking Dead, and J.Y. Park (often abbreviated JYP) is a musician and a huge player in the music industry in South Korea. Their music video dropped early this morning, and regardless of whether or not you're a k-pop fan it's really fun and worth watching!
I love this video! I think it's a great success as a crossover Korean-American type piece. The rock-inspired vibe is really interesting and also showcases JYP's intense energy and presence, as well as his great sense of humor. I also appreciate that Conan and Steve were actually IN the video and not just in a walk-on, walk-off kind of role. And using Conan's signature String Dance as the catchy dance move for the video is a fun idea. I didn't even care that subtitles weren't available because the video was so entertaining.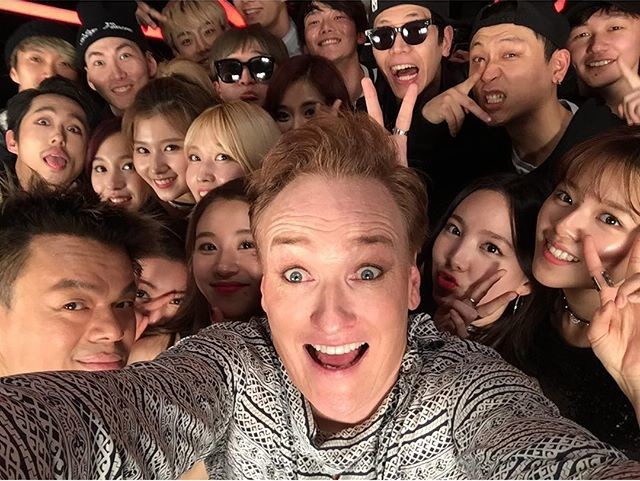 There are many artists featured in this video! Conan and Steve require no introduction, and JYP is the guy singing "Fire" with the great dance moves. Since JYP owns an entertainment company with his own record label and talent agency among other things, it's a great opportunity for him to showcase some of his groups since we've got so much going on in this video anyway! Artist Jimin Park is given a feature credit in the track title but isn't seen in the video; she is the main female singing voice.
Girl group Wonder Girls is the band on stage with JYP and are in the airplane scene (with member Yubin wearing a blonde wig, throwing off many fans.)
Another girl group from JYP, Twice, is featured as the backup dancers. In the background of the scene where Conan and Steve are choosing outfits, a couple of cardboard cutouts are featured from yet another JYP band, boy band Got7.
Now, I am mostly a k-drama fan who is getting into k-pop based on what I see on Korean tv. I thought it was only fair to check a few k-pop forums to better find out what the response to this video was and to see if I'm on track. I found the general response to be very positive. A few reactions included:
"Conan oppa is my new bias!"
"CONAN 2016 MAMA PERFORMANCE PLEASE" (MAMA- Mnet Asian Music Awards)
"JYP did not disappoint. The tacky style is what makes this amazing and Conan looks hot in eyeliner."
Twice fans were disappointed that member Dahyun was missing from the video, but she was reported to be filming something else at the time and wasn't available for the video.
Will this be the next Gangnam Style? It's impossible to predict, but regardless of the success it's a very fun collaboration and a catchy song, so check it out!