Hello again readers! It's Reserve Agent Andrew reporting in for a final time from SDCC 2014 with news from the Dynamite 10th Anniversary Panel featuring Quentin Tarantino. Yes, you read that right, the Reservoir Dogs director himself was present for a comic book panel. Why? Because he is coming out with a Django/Zorro comic!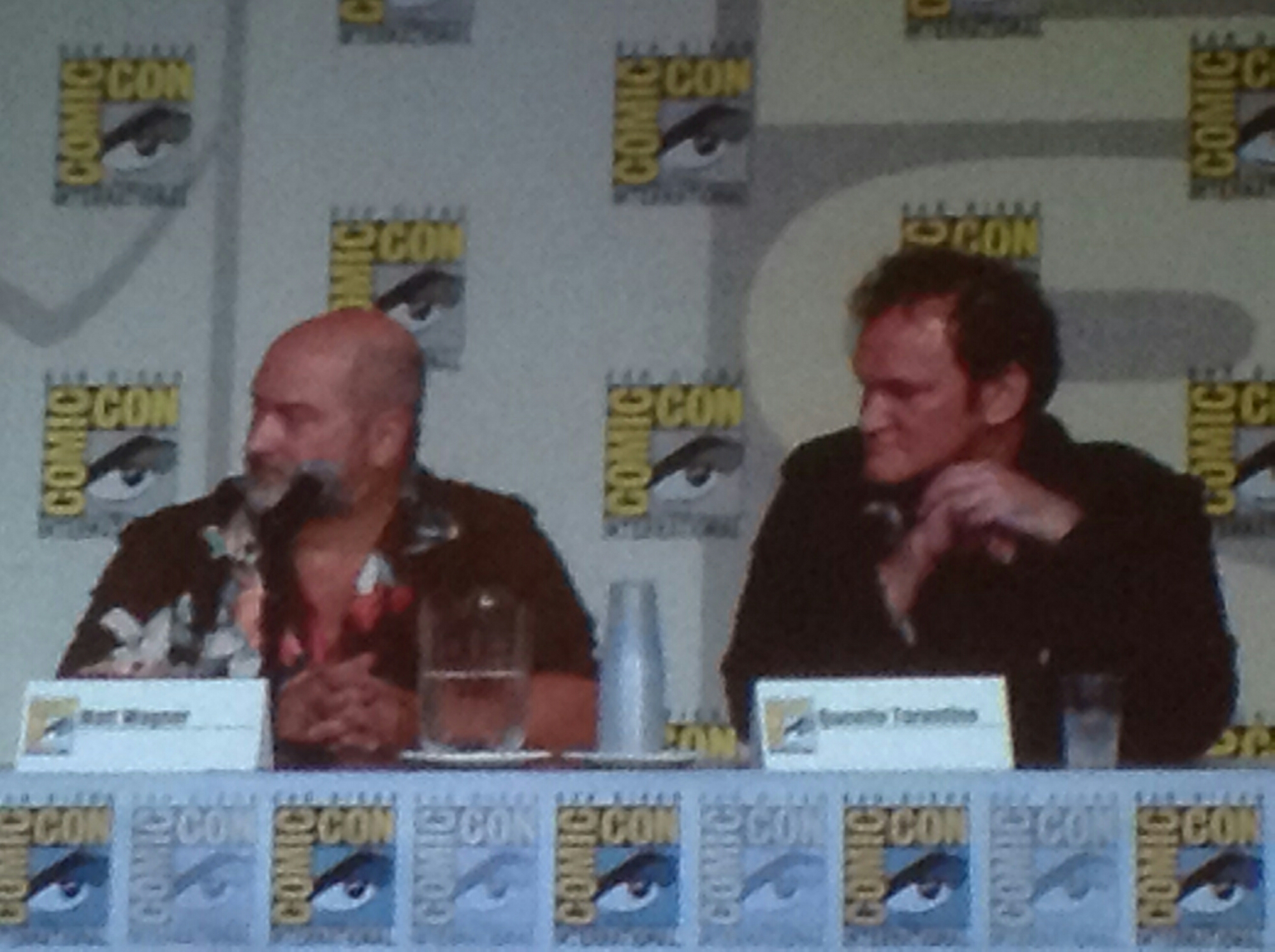 Although the panel included Dynamite publisher Nick Barrucci and senior editor Joseph Rybrandt, almost all of the questions were for Quentin Tarantino. Also on the panel was Reginald Hudlin, who produced Django Unchained and is editor of Django/Zorro, and Matt Wagner, Dynamite's Zorro series writer who collaborated with Tarantino. The idea of Django and Zorro meeting up came from Wagner who then called Hudlin to pitch the idea. Wagner admitted he was worried about the collaboration because both he and Tarantino are pure creators, but the two hit it off after their first meeting. Tarantino said, "This has got to work as a Zorro book first." During their meetings at Tarantino's house, Wagner said that many of their ideas going back and forth were met with the other saying, "Yes, I love that!"
"Quentin Tarantino is the best black writer," Hudlin joked while remembering a cut monologue that would have been delivered by Samuel L. Jackson in Inglourious Basterds. That is probably why it was a natural fit for Django to team up with Zorro. Wagner commented that both heroes "fight oppression." The Zorro of Dynamite comics might seem familiar to those who have only seen the Antonio Banderas films, but there are some differences. As a child, Don Diego de la Vega went on a spirit quest at the behest of his grandmother because of his Native American heritage. Diego believed he'd failed the quest, but found out a fox protected him and led him out of the woods. It is no coincidence that Zorro is Spanish for fox.
Rather than do a direct sequel, Tarantino initially imagined a series of adventures with Django told in paperback adventure novels. But he just couldn't allow other writers to take control of his characters. When he was approached by Hudlin with Wagner's idea, he loved it. The comic takes place just before the civil war and features an older Zorro, which Tarantino pushed for.  Several unused scenes and ideas from the Django Unchained screenplay will make it into the limited comic series. Tarantino revealed that Dr. King Schulz will appear in a flashback. The writers also revealed that Broomhilda is not with Django. She is instead working with abolitionists, safely away from the action. When asked about other team ups, Tarantino seemed to like the idea of Django meeting Tonto, also owned by Dynamite.
Of course, fans lined up to ask Tarantino about more than just the comic. One fan begged Tarantino to reveal whether or not Hateful Eight will be filmed. The director confirmed that it is his next project and they will begin filming early next year. Another fan asked if Hateful Eight would also receive a companion comic, to which Tarantino said he thought it would actually make a great play. Two different fans referenced Tarantino's animated segment in Kill Bill Vol. 1, and he revealed that Kill Bill: The Whole Bloody Affair would be released in the next year on DVD/Blu ray.
Looking into the future, on fan asked if Tarantino would considered making a fantasy or science fiction film. He said he was now open to the idea for the first time. In a seemingly related answer, Tarantino also said he'd love to remake Invasion of the Body Snatchers from the pod people's perspective.
The Django/Zorro limited six issue run will be released by Dynamite in print and digitally in November.