I'm not going to waste any time.  You should be watching Axe Cop.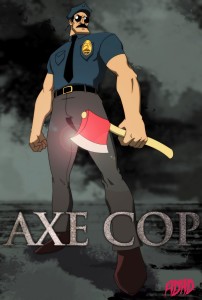 Axe Cop is a cartoon based on the comic book of the same name by Ethan and Malachai Nicolle.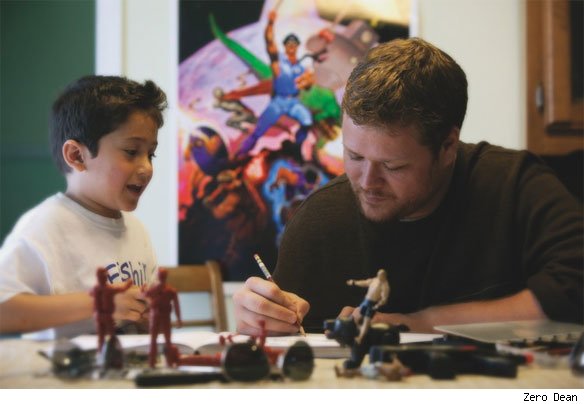 Your eyes do not deceive you.  They have quite an age gap between the two of them.  Ethan (the artist) is 30-years-old, while Malachai (the writer) is 6-years-old.  And the team-up is magical.  It just brings you right back to being a child yourself.  With the strange rules you had, and the odd pseudo-logic you had for explaining things.  And you were the hero, and you always won.  Axe Cop is awesome.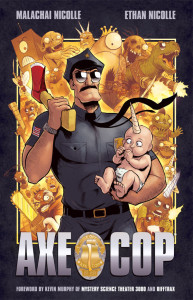 So now Axe Cop is a cartoon, and it is fantastic in a quiet, yet different way:  Collaboration.
I'm not sure if Axe Cop as it is could make main stream success.  The stories are usually very straight forward and short.  Hey, you try and wrangle a 6-year-old to sit down and write out twelve different half-hour cartoon shows and see where that gets you.  Probably with an angry kids who doesn't want to write anything.  Like me when someone asks me to think about Man of Steel again.  I DONWANNA!  YER STUPID AND I HATE YER WHOLE FACE!
*ahem*
So the show collaborates.  With just the right kind of adults who get it, and the right mix of logic.  That is:  The Logic That Is Only Heard For a Moment.  A different character (NEVER AXE COP) will point out in a fleeting bit of dialogue how crazy something is.  Thankfully, its never malicious, and is always promptly ignored.  So what kind of people are so good at handling a show like Axe Cop?  Only the very best, of course… and a few surprises that you will never see coming.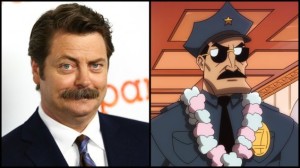 First off, the man himself, Axe Cop (or Axey Smartist if we wish to go by his given name by why would we ever do that?) is played Nick Offerman from Parks & Recs.  The way that Offerman delivers all of his lines is outstanding.  With absolute confidence and just an edge of anger management.  Axe Cop is passionate about chopping off bad guys' heads.  And as you get to know him, a little insane.  Maybe something else Nick Offerman shares with Axe Cop?  Besides the moustache?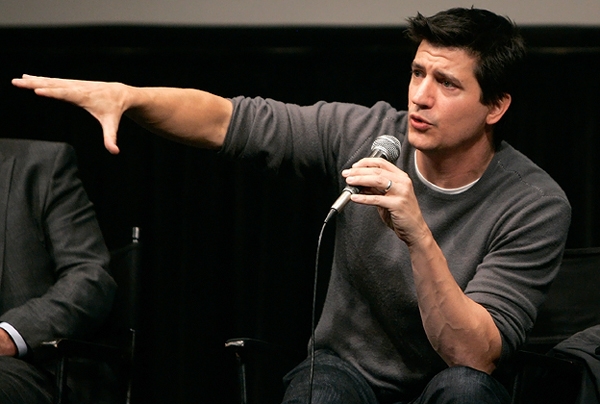 Ken Marino from The State and Party Down does an excellent job as Flute Cop, the very laid back voice of reason.  Though Marino comes off at times like he's only one foot in the Axe Cop world, he will come right back with a very understated charm that brings you right back into the show with him.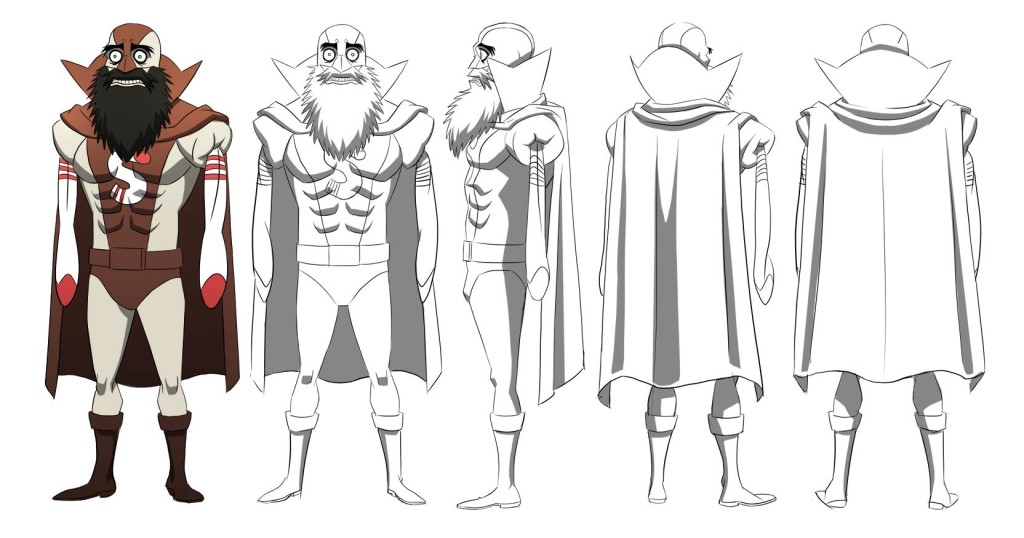 Patton Oswalt is having a blast as the absolutely off-the-wall character, Sockarang.  I LOVE PATTON OSWALT.  Just read my article about him to know I am serious.  When he shows up, things always get better.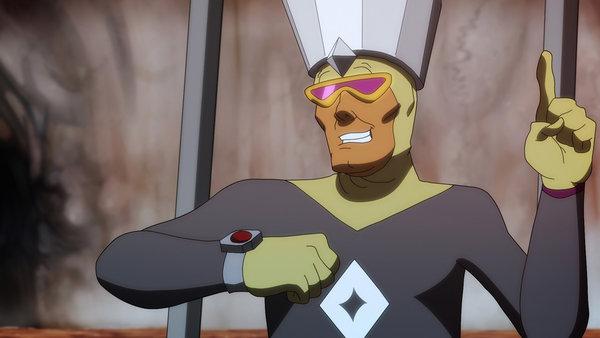 Rob Huebel (who was just in an episode of Agents of S.H.I.E.L.D.) is Gray Diamond.  This guy is just happy to have friends, and goes with whatever Axe Cop wants.  Affable to incredible levels.  And Huebel does such a great job, making Gray Diamond chatty and comfortable.
Now for the characters that surprised the hell out of me.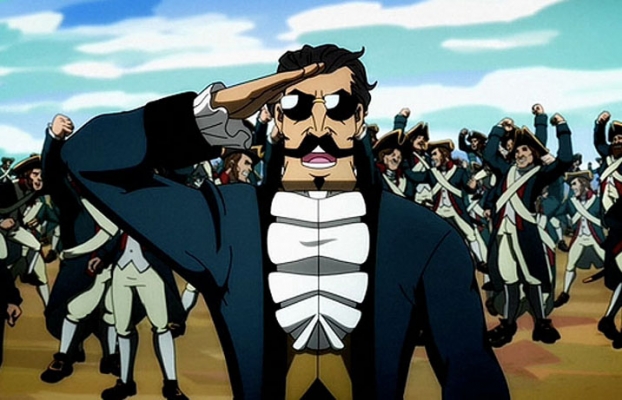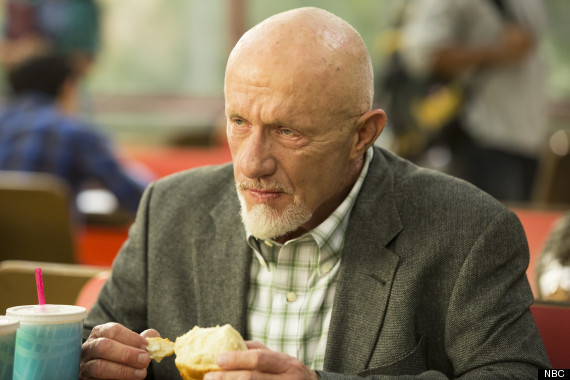 Book Cop (Axe Cop's ancestor) is played by Jonathan Banks who just joined Community AND was on Breaking Bad!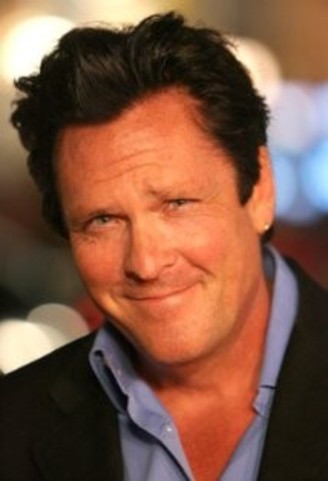 Baby Man (unofficially my favorite character after Sockarang) was voiced by Mr. Blonde himself, Michael Madsen!  What?  That's amazing.
Tyler the Creator.  He's the voice of a cyborg lion man.  TYLER THE CREATOR.  One of the crazier rappers out there.  And the dude is having a blast being Liborg.
All in all, the writing of the show is very well handled.  Its definitely Malachai's plots and dialogue, but with very respectful handling by other writers who not only deal with the source writing flawlessly, but add to it in ways I never thought were possible.  Again, you must watch this show if you EVER liked the comic book.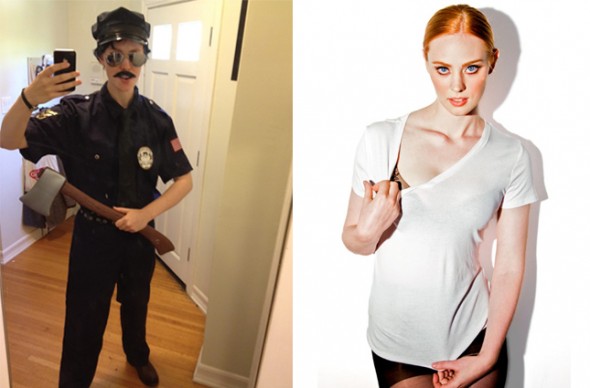 And for no reason at all, here is Deborah Ann Woll from True Blood showcasing how much of an awesome geek she is because she COSPLAYED as Axe Cop!  RESPECT.