Mere days ago (and for the first time) I experienced something in person I only thought I had experienced before through my ear holes.
Hmm…  perhaps I should explain that more clearly.
As a birthday present, my 30th to be precise, friends got me a ticket to see one of my favorite comedians of all time, Patton Oswalt, live at the Irvine Improv.  It was at this show, in fact: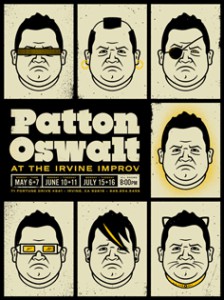 Patton Oswalt is one funny dude.  And he's a storyteller.  Put that together, and you've pretty much got my attention.  I've bought all of his comedy albums to date, and am usually frothing at the mouth for the next one.
Feelin' Kinda Patton, his first album, was on a continuous loop in my car for a solid year in my car.  If I'm correct, this is the longest of his albums, and is the reason why this guy became one of the funniest people I had ever knew to exist.  His thoughts on George W. Bush and waxing poetic about breakfast cookies are especially rib crackingly hilarious.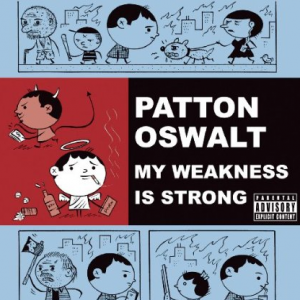 My Weakness Is Strong somehow was in my possession before Werewolves & Lollipops (his third and second comedy albums respectively).  Once you learn about Sky Cake, Huge Rats, and the madness of George Lucas making prequels, you have learned everything you need to be a better human being.
And Finest Hour is audio cocaine.  When Oswalt defends sweatpants and later explains his second favorite Christmas memory, then you may achieve perfect happiness.  (I'm not saying you will, just that you may).  If you don't own these albums, then do yourself a big favor (one of those favors you will never be able to pay back) and buy all of these albums.  Not one of them is any less funny the other.
This guy is so funny, that off the cuff, he did an 8 minute rant about Star Wars Episode VII that not only went viral on its own (also thanks, in part, to the show Parks & Recs) that someone actually made a fake poster for his silly speech.
He also writes!  As if it wasn't enough that he makes me laugh to the point that I may or may not have internal injuries.  One of the first things he wrote was a one-shot comic book called JLA: Welcome to the Working Week.  This one-shot was a fun read.  I highly recommend it.
Most recently he collected some musings and thoughts into a book called Zombie Spaceship Wasteland.
The book is awesome, by the way.  Go out and buy it and read it.  Not only is it incredibly interesting, it's also a very quick read.  (I'm a Wasteland, by the way.  You'll get that reference once you join the cool kids table and read the book).
 Oh, and he even made one of the most geekiest pilots I've ever seen!  It was called "Super Nerds" and it was a valiant effort of a pilot.  Hopefully this idea can be resurrected for a new generation.  Hell, I'd love to be the Doc Frankenstein for this show.
 How does one explain the sheer verbal and imaginative blitz of sharp, intricate storytelling that is Mr. Patton Oswalt's standup comedy?  Is it the self-deprecation and razor sharp, yet offbeat, observations?  Do I focus on the casual but almost exhausted stage presence, that I'm still completely riveted to every word that he enunciates?  Maybe its how human he is, yet so much smarter and aware of humanity's flaws, and the pain that comes with that knowledge?  Sure, it could be any one of these things, but my money's on the fact that he's a huge geek and I love him for it.
 Side Nate Tangent:  Okay, how weird is it being 30?  Seriously, that's such a grown-up sounding number.  Like, we have all these ages where you're finally allowed to do something.  18, you can vote and smoke.  21, you can drink.  25, you can rent a car.  And so on.  But is 30 and upward the ages you start to not be allowed to do things?  Age 30, you are no longer allowed to wear skinny jeans?  Age 33, you are no longer allowed to greet people with the phrase "What's the hizzey, my dizzey?"  Age 39, you are no longer allowed to be enthusiastic about fictional characters?  I of course will defy all these rules (except for skinny jeans, cuz I never liked wearing skinny jeans, and never wore them by GUM!)   Mostly this tangent is about not understanding growing up.  Hopefully that ignorance will keep me young.