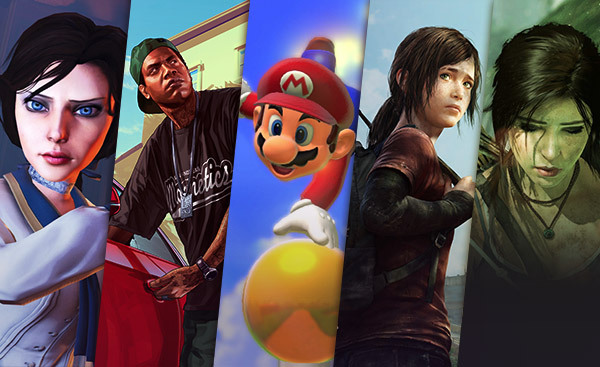 Award shows are kind of like Rule 34 of the internet, but for artistic endeavors… not that Rule 34 stuff can't be artistic. Think of any kind of creative endeavor, and I'm sure there's an associated awards show. They, of course vary greatly in scale. Some are televised, some take place in the basement of a church community center in Jackson Hole, WY. Oscars, Emmy's, Saturn Awards, Webby Awards, Hugo Awards – the list is prolific. Does the video game industry have one? Of course they do, silly. Spike TV has been running their video game award show, the VGAs, since 2003.
This year, with the award show celebrating it's 10th iteration, Spike is going in a bit of a different direction. First, there's the obvious change: the name. Formerly known as the VGA's, Spike has re-branded show as the VGX, to usher in "The next generation of the VGAs." I'm not exactly sure what that means, but it sounds future-y. Secondly, they're diverging of their usual format of musical performances and screening short trailers in favor of longer gameplay videos, in-depth demos, and a more intimate studio setting.
Finally, and perhaps most importantly, the VGAs (er… VGXs) aren't going to be televised on Spike this year. Rather, they're opting for a live stream through several different platforms, including XBox 360, PS3, Android, and on GameTrailers.com.
While, yes, the recent trend has been heading toward non-traditional, non-broadcast sources of distribution, there is definitely still a bit of a stigma against content that is online only. Shows like House of Cards and Orange is the New Black have done much to battle that. Still, I can't shake the feeling that all this downsizing points toward decreasing interest in the VGX awards.
We'll see what happens this coming Saturday, December 7th, 6pm ET.
Admittedly, I do have a horse in this race. It's not that I'm going to benefit from it directly, but come on, it would increase my cool factor by at least 2. What's 2 x 0?
Spike VGX 2013 Award Nominees
Game of the Year
BioShock Infinite
Grand Theft Auto 5
Super Mario 3D World
The Last of Us
Tomb Raider
Studio of the Year
Irrational Games
Naughty Dog
Rockstar North
The Fullbright Company
Best Shooter
Battlefield 4
BioShock Infinite
Call of Duty: Ghosts
Metro: Last Light
Best Action Adventure Game
Assassin's Creed 4: Black Flag
Grand Theft Auto 5
The Last of Us
Tomb Raider
Best Sports Game
FIFA 14
MLB 13: The Show
NBA 2K14
NHL 14
Best Independent Game
Gone Home
Kentucky Route Zero
Papers, Please
The Stanley Parable
Best RPG
Final Fantasy 14: A Realm Reborn
Fire Emblem: Awakening
Ni no Kuni: Wrath of the White Witch
Pokemon X/Y
Best Fighting Game
Divekick
Injustice: Gods Among Us
Killer Instinct
Tekken Revolution
Best Driving Game
F1 2013
Grid 2
Forza Motorsport 5
Need for Speed Rivals
Best DLC
Borderlands 2: Tiny Tina's Assault on Dragon Keep
Dishonored: The Knife of Dunwall
Far Cry 3: Blood Dragon
Mass Effect 3: Citadel
Best Xbox Game
BioShock Infinite
Brothers: A Tale of Two Sons
Grand Theft Auto 5
Tomb Raider
Best PlayStation Game
Grand Theft Auto 5
Rayman Legends
The Last of Us
Tomb Raider
Best Nintendo Game
Pikmin 3
Rayman Legends
Super Mario 3D World
The Wonderful 101
Best PC Game
Battlefield 4
Gone Home
Papers, Please
The Stanley Parable
Best Handheld Game
Animal Crossing: New Leaf
Pokemon X/Y
Tearaway
The Legend of Zelda: A Link Between Worlds
Best Casual Game
Animal Crossing: New Leaf
Disney Infinity
Plants vs. Zombies 2: It's About Time
Skylanders Swap Force
Best Voice Actor
Troy Baker as Joel in The Last of Us
Troy Baker as Booker DeWitt in BioShock Infinite
Steven Ogg as Trevor Philips in Grand Theft Auto 5
Willem Dafoe as Nathan Dawkins in Beyond: Two Souls
Best Voice Actress
Ashely Johnson as Ellie in The Last of Us
Courtnee Draper as Elizabeth in BioShock Infinite
Camilla Luddington as Lara Croft in Tomb Raider
Ellen Page as Jodie Holmes in Beyond: Two Souls
Best Soundtrack
BioShock Infinite
Grand Theft Auto 5
Ni no Kuni: Wrath of the White Witch
The Last of Us
Best Song in a Game
"ADHD" by Kendrick Lamar (Grand Theft Auto 5)
"Sleepwalking" by The Chain Gang of 1974 (Grand Theft Auto 5)
"Survival" by Eminem (Call of Duty: Ghosts)
"Will the Circle be Unbroken" by Courtnee Draper & Troy Baker (BioShock Infinite)
Most Anticipated Game
South Park: The Stick of Truth
Destiny
Watch Dogs
Titanfall
The Witcher 3: Wild Hunt