So, I just caught up on the newest entry in the NuTrek saga, and boy was I surprised.
I REALLY took the piss out of this movie when that first, widely-maligned trailer debuted. It seemed like it had been concocted primarily to anger Star Trek fans: rock music, sweet dirt bike jumps, the Enterprise being destroyed IN THE TRAILER, and "from the Director of Fast and Furious." For me, the only thing that's fast and furious in Star Trek should be Worf at the helm of the Defiant.
See, it's a fast ship and he's angry, so that's a joke. The joke I just said.
I (and the internet) heaped so much abuse upon the trailer's back that the writer of the film (and co-star) Simon Pegg had to come out on social media and both A) apologize for the trailer and B) insist that it didn't truly capture the Trekkian nature of the final film.
So, was Pegg right? Could the director of Fast and Furious make a good Star Trek film?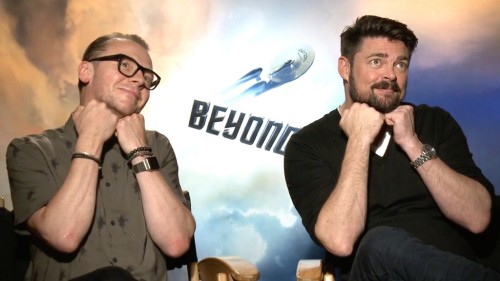 Kinda
Okay, so I had a hard time writing this review/essay, primarily because it took so long to process my feelings about the flick. I'm still not 100% convinced of how I feel, but I figured this review might help me find my own thoughts. And maybe, just maybe, it'll help you find yours.
The question is: was it good? Yes? I think yes.
Let me explain my reticence – Star Trek Beyond is EXACTLY what I thought it could never be: an old Star Trek movie. What's an old Trek movie? As a lover of Star Trek, I gotta say this: those movies aren't GREAT if you don't like Star Trek already. In fact, I'd argue that as stand-alone movies they don't really work. Not to say that they're bad (most of them aren't), but they are very much tied to the assumption that you know these characters, you care about the world, and you'd rather see them in action that worry too much about filmmaking. They are big-budget episodes of the show WHICH IS FINE because they're for people who watch the show. Like me.
As contrast, let's look at the last two movies. Star Trek (2009) and Star Trek: Into Darkness are BOTH movies that I really enjoy, both as a Star Trek fan and a general movie fan. However, I would say that they weren't made for Star Trek fans. They were meant to be blockbusters, standing on their own without any knowledge of the Star Trek universe. My wife, who didn't give two rat turds about Star Trek LOVED those two movies. She loved them so much it kindled a curiosity about Star Trek, one I was happy to sate with choice TNG episodes and old Star Trek flicks.
Now, why? Well, because J.J. Abrams wasn't a big fan of Star Trek, and wanted to make movies that appealed to EVERYONE. Which, I can't say I blame him – there are a lot of upsides to his approach. The characterization is really tight because they don't assume you know the characters. The stories are self-contained and fast-paced. There's a lot of action and spectacle, and it's done in an entertaining way.
So, why is Star Trek Beyond different?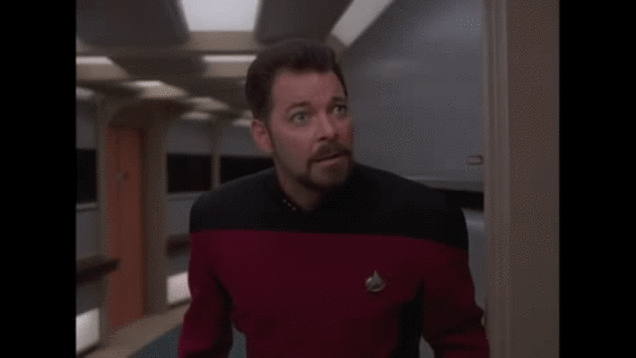 It's For Fans
Yeah, really. Justin Lin (who it turns out is a big Star Trek fan) directed a movie that feels like a Star Trek: The Original Series episode on tetrameth. Unlike the cranked-down polish of the Abrams movies, Lin instead went with the humor, character moments, techno problem-solving, and philosophical bombast of a true Star Trek episode.
It's a relatively small story, and could easily be paired down into a 45 minute episode. Visit weird planet, get in adventure, fix a tech thing, credits.
Now, I'm not saying one approach is better than the other – I think Beyond might be a worse movie than the Abrams movies. However, it is paradoxically a better STAR TREK movie than the other two, which is a weird contradiction that hopefully you understand after that setup from earlier.
The movie is filled with character interaction – you could say the whole plot is just an excuse to pair off the cast and have them bounce off each other. The whole middle of the movie is just Spock/Bones, Kirk/Checkov, Uhura/Sulu, and Scotty/Jayla exchanging dialogue and overcoming natural obstacles, and it's GREAT. Really.
Also, and this is the part that shocked me the most – remember that scene in the trailers where Kirk decides it's time to abandon intergalacatic diplomacy and officer-decorum and start doing sweet jumps on his dirtbike? It's actually pretty organic in the movie, and makes perfect sense in context. I know, it shocked me too. Why in God's name would Kirk have a dirt bike? Explained. Why is he using it for transportation? Explained. Why did he just do a jump off a ramp? Honestly? Explained. By the time the sequence ended it didn't bother me at all.
Destroying the Enterprise – which is not a spoiler because it's in the fucking commercial – wrenched my guts. I'm not sure if I hated the scene because I love the Enterprise or I hated the scene because it was unnecessarily pornographic in its glee for destruction, but it made me sick to my stomach. In Star Trek: Search for Spock the Enterprise explodes, and it explodes/crash lands in Generations. But the way it's done this third time is actively gross, and it really bothered me to see it go down that way. There is an incredible upside to the scene, though – it's probably the hardest the Enterprise crew has ever worked to keep the ship alive.
No self-destruct, no immediate "abandon ship" when things start looking grim. The crew fight tooth and nail for every square foot of deck plating, and they don't so much give up on the ship as the ship just doesn't exist anymore by the time it's over.
The Villain
The real downside to the story is the plot, which is basically an after-thought. The villain (who faciliates the plot) is equally under-developed. Like Star Trek villains of old (looking at you, Christopher Lloyd), his job is to walk on stage, kick the crew in the balls, and then be safely dispatched before the credits role. His backstory makes no sense, his motivations are both unclear and kind of unbelievable, and the source of his incredible power (and the effect it should have had on the sector) is swept under the rug. Don't worry about why he wants a McGuffin when his current tools are WAY more powerful than the McGuffin he's trying to obtain.
The Dumb Climax (No Spoilers)
I'm going to avoid spoilers here, but I am going to say there's a sequence near the climax which is somehow both the DUMBEST thing I've ever seen in a Star Trek movie and also one of the most AWESOME. I think I loved it, but man was it dumb. Still had a grin on my face the whole sequence, though.
So Which Is It
My wife, lover of nuTrek, thought "Star Trek Beyond" was worse than the previous two movies but still entertaining, which I agree with. Hardcore fans of Star Trek seem to think it's WAY better than the other two movies, which I agree with.
So, I guess I'd say "go watch it." You'll find something to like (or love), and it's definitely not the reeking dumpster fire we all thought it would be. It's a fun-ass movie with great moments, and I highly recommend it.