So I may have had a devastating week and anything I probably say in this may be a tad shrewd.  On the other hand, realize that I said, "I need a terrible book I can tear apart," and immediately I reached for "Action Comics".  Historically this is the book that helped bring us the Doomsday saga in "The Death of Superman" and the most interesting storyline was in "Action Comics #900" which had no Superman.  So let's see how this issue holds up with the Man of Steel.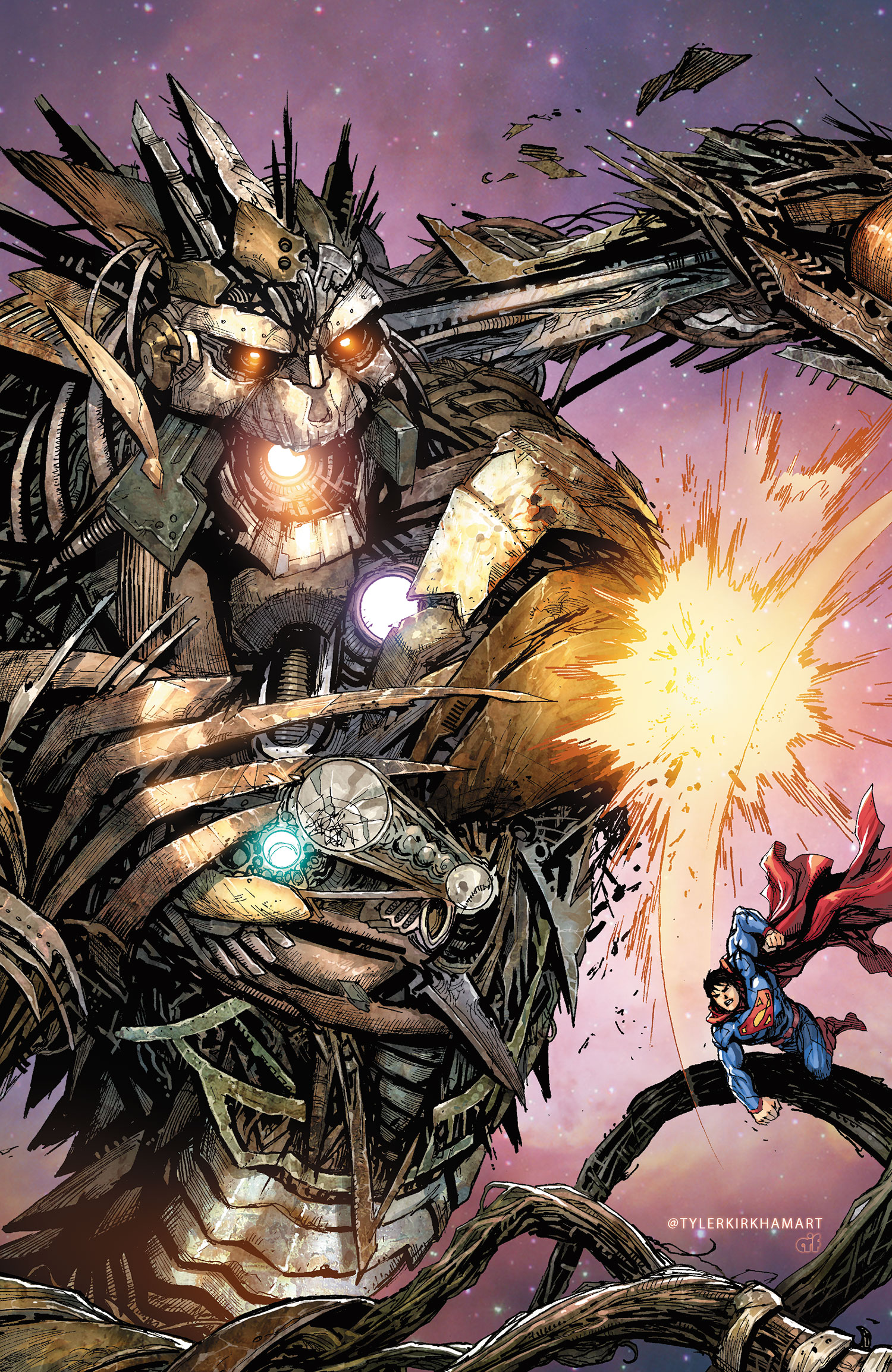 …And it doesn't.  Sorry, *spoiler alert* but this issue doesn't even get off the blocks without tripping over its dialogue—not that it's bad dialogue.  All the speech is snarky and haughty, perfect for the action hero who has a chip on his shoulder and grudge against his own mortality.  Oh wait, but this is Superman; Pillar of Justice, Bastion of Hope, The American Way, Boy Scout—you get the idea.  When an action hero with three days of stubble and a bad habit for danger says these things it's easy to let it go.  If instead Superman is saying these things he just seems like a jerk.  One of the more endearing aspects of Superman is that he is so honor bound—no that's not right.  Boring?  Yes and no.  I can see why DC executives would want to step away from the image of Superman with a huge stick up his butt.  Personally I don't like the image either, but this new direction makes Superman a very un-relatable character.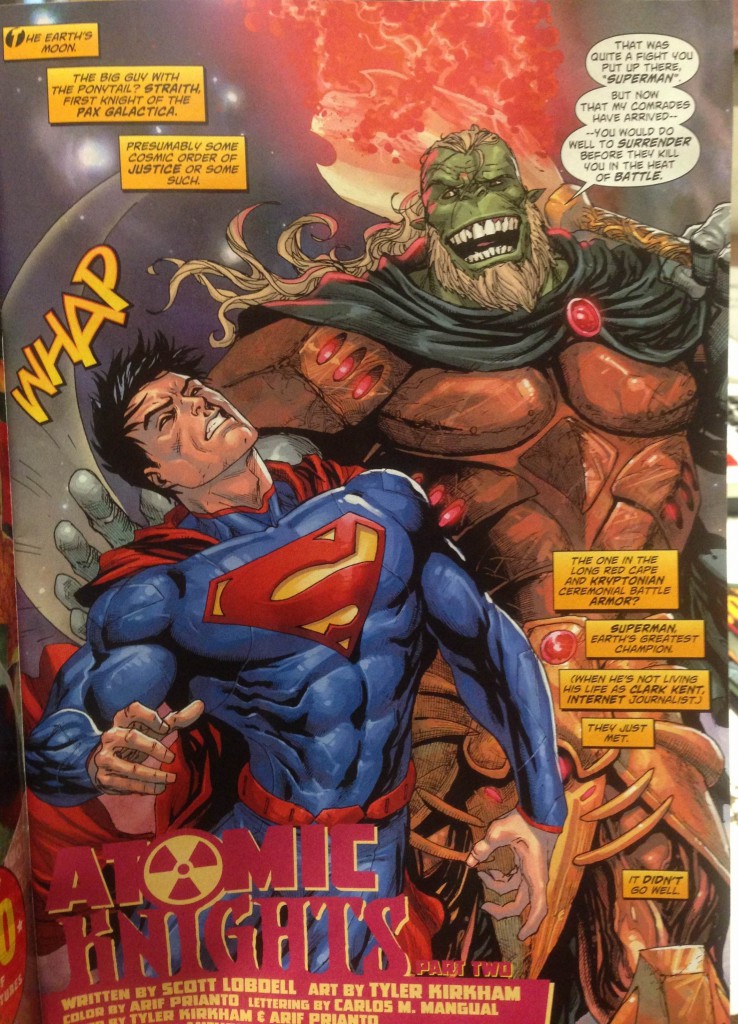 Scott Lobdell has an immense level of talent and was a great person to kick off "Red Hood and the Outlaws" but that book centers on a group of kids with personality flaws the size of Astrovans.  When he writes this Superman, he comes off as a petulant kid, and not the kind that we want to see grow and learn.  This is the kind of kid that was handed down everything from his parents, the kind of kid that feels better than everyone else because no one else has shown him wrong.  If this were a kid in high school, he'd have no friends but everyone would show up to the numerous parties he throws at his parents' house because he has the biggest and nicest stuff.  See?  Now try and root for this kid to win an intergalactic battle against space Vikings.  Okay, now you have to root for him as he fights a giant space monster because he's the only one who's strong enough to beat this enormo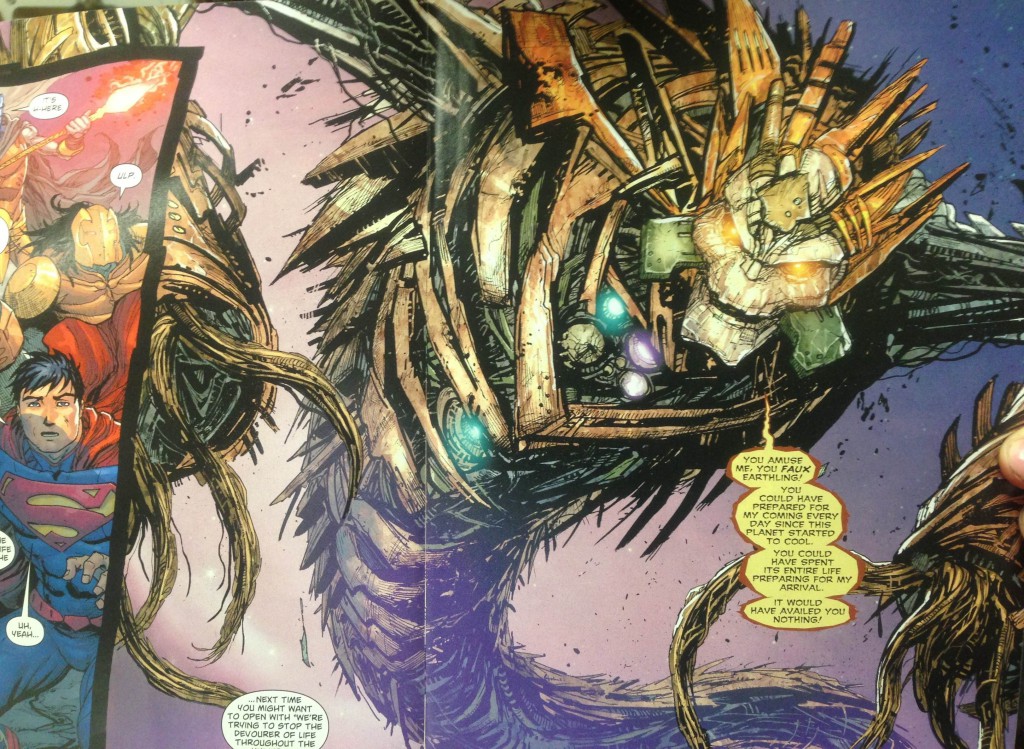 I think the take away from this is to ask: What makes this a bad book?  Immediately we come to the dialogue, but is the dialogue bad?  No, it's actually entertaining.  If Superman were removed it could make for a fantastic space adventure.  So that's the key.  Superman has to go.  No, no, no, nothing so severe, besides, I imagine an assassination of DC's tent pole character wouldn't go over well with the fans who have seen this kind of thing before.  But what if this wasn't Superman but Superboy?  What if instead of the paragon we were dealing with the actual child with the chip on his shoulder and something to prove.  What if he failed to prove anything but instead lost something, something like human lives.  Something like that would be much more compelling to read because everyone would see the breadcrumbs, the hints to his downfall.  Superman could never be the one to follow a path that would lead to the destruction of human life, but all true blue DC fans know Superboy has the spark for that.
            "Invincible" actually had a problem with this sort of thing.  When Mark's younger brother arrived on the planet, he was almost as strong as Mark but twice as arrogant.  It was getting to the point where he was a downright unlikeable character.  But then the Scourge Virus.  Suddenly the two brothers were on opposing sides, the Earth against the universe.  Oliver had no problem with the potential extinction of humans until he made the mistake of exposing Mark to the virus.  How fantastic would it be to see a cocky Superboy fly down a path of no redemption, to set a dark precedent in the Superman universe.  But until that happens?
This issue is 55% Invincible.