We here at GUARD are fully aware of the organization of S.H.I.E.L.D.
We do our best to not cross paths, and to stay out of each others affairs.
But today, S.H.I.E.L.D. unleashed a new video that seems to be a promo to a TV show about their exploits.
http://www.youtube.com/watch?v=ySsw-6aetys
Set after the events of The Avengers, this show brings back long thought dead Agent Coulson (once again played by actor Clark Gregg) , who looks like he will be leading a small band of  S.H.I.E.L.D. agents into further adventures set in the superhero world.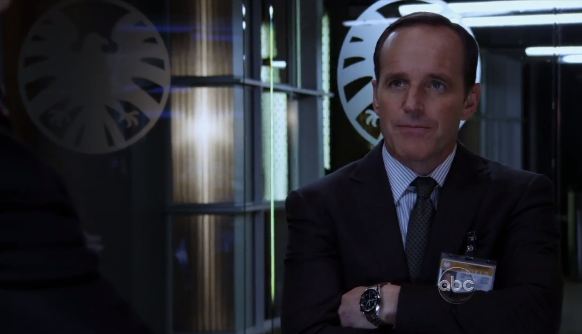 It should be noted that, while this certainly looks  like Coulson, he does seem a bit more cold and angrier in this footage. Is this a side effect of  Coulson due to the way he was brought back to life? Did he come back a changed man? Is this even Coulson, or is this the long rumored Life-Model Decoy (i.e. Android version) of him? Or is he just a bit annoyed that he had to fake his death for so long?
The show also seems to give us a bit more of a glimpse of the high tech gadgetry of the S.H.I.E.L.D. organization.
Something has to be said that the footage in this looks very impressive and continues the current transition of TV shows looking more and more like big budgeted films.
This show will be produced by Joss Whedon (with him directing the pilot episode as well). Since it is a Whedon affair, I suspected a few actors from Whedons previous shows will pop up.
Actually, upon looking at the footage it appears to be that actor J. August Richardson (Gunn from Angel) is in this show…or at least in the pilot.

No word yet on the official air date of the show, but I do expect a huge presence at this years San Diego Comic Con.
Here is ABC's official synopsis of the TV show…
Clark Gregg reprises his role of Agent Phil Coulson from Marvel's feature films as he assembles a small, highly select group of Agents from the worldwide law-enforcement organization known as S.H.I.E.L.D. Together they investigate the new, the strange, and the unknown across the globe, protecting the ordinary from the extraordinary. Coulson's team consists of Agent Grant Ward (Brett Dalton), highly trained in combat and espionage, Agent Melinda May (Ming-Na Wen) expert pilot and martial artist, Agent Leo Fitz (Iain De Caestecker); brilliant engineer and Agent Jemma Simmons (Elizabeth Henstridge) genius bio-chemist. Joining them on their journey into mystery is new recruit and computer hacker Skye (Chloe Bennet). From Executive Producers Joss Whedon ("Marvel's The Avengers," "Buffy the Vampire Slayer"); Jed Whedon & Maurissa Tancharoen, "Marvel's Agents of S.H.I.E.L.D." pilot co-writers ("Dollhouse," "Dr.Horrible's Sing-Along Blog"); Jeffrey Bell ("Angel," "Alias"); and Jeph Loeb ("Smallville") comes Marvel's first TV series. "Marvel's Agents of S.H.I.E.L.D." is produced by ABC Studios and Marvel Television.
With Whedon and his gang behind this series, and Whedon being a master of serialized genre television, this show has a huge potential to be something special, and not some cheap attempt to ride off the success of  The Avengers film.
We here at GUARD are extremely excited for this show, and will do our best to keep an eye out for S.H.I.E.L.D.'s current progress.