Because I like your faces: Day 1 | Day 2  – BTW… the entry form is at the bottom. W00!
June 13th, 2013
7:00am – OK!  Today is the day!  I am up early!  I will get to E3 early so I can do ALL TEH THINGS!!
9:00am – I fell asleep.  Not getting to E3 as early as I thought.
10:00am – What the holy heck, where'd that hour go?
10:30am – Find parking, same place, but in a lot this time!
10:50am – Meet up with Josie of Projekt NewSpeak fame, aka J2L.
11:15am – Show J2L around South Hall.  It's her first time at E3, and it looks like her eyes are going to start bleeding.
11:30am – Decide to head over to West Hall to the first party booths. Promo people for Dead Rising 3 catch us on the way out and ask if we want to watch the presentation.  They promise hat swag.
11:50am – Currently owner of new hat swag.  I feel like I may have auditioned for Dead Rising 3 a couple of years ago.  Don't know for sure because they all use code names during the audition process.
12:05pm – West Hall.  More potential eye bleeding.
12:10pm – Nintendo booth.  Pictures are to be had, didn't realize how people were taking pictures at one of four stations.  Felt like this one suited me best:
12:15pm – In line for a proper demo playthrough of Wind Waker HD.  J2L says she has to go to do work at Xbox or something.   Talking and video gaming at same time hard. Says something about her being back in like 10 minutes.
12:20pm – The promo person guiding me through the demo is a very pretty girl in a Link hat.  Sorry, I am unable to correctly parse speech and video games at the same time.  I'm sorry gamer girl in a Link hat that was trying to tell me how she was an actual gamer not like these other promo people.  There's always Missed Connections on Craigslist.
12:40pm – In line for Wonderful 101. Run into former fellow tester Alexis, of Treyarch fame.  Forget about Wonderful 101 when she mentions PlayStation swag and the Beyond: Two Souls demo.
1:02pm – Grabbed PlayStation swag.  Now in line for Beyond: Two Souls demo.  Run into Treyarch Andrew. Treyarch QA mini-reunion in full effect.
1:30pm – Beyond: Two Souls, omagahhhh I want.  I think I love you, Quantic Dream.  I will steal a PS3 just to play this.
1:45pm – Yaiba: Ninja Gaiden Z demo.  So. Much. Blood.  Haha.  Also, 3 words: Zombie Arm Nunchucks. Win.
2:00pm – Nyko booth.  Weird tattoo sleeve swag, useful bottle opener swag! Run into Jakob of UCI fame, and his co-worker Joshua.
2:15pm – Most of the rest of the day disappears in a haze of swag-acquiring and demo-playing.  Except for this McLaren.  McLarens only disappear into the horizon as you suck exhaust when they blow past you on the highway.
2:30pm – Back at Nintendo, playing Donkey Kong Country: Tropical Freeze.
2:45pm – World of Tanks 360.  I would like my next car to operate on treads.
2:50pm – Randall swag.
3:30pm  – Ubisoft booth.  Just Dance 2014 demo.  I don't not take part, for fear of my pants falling and all of E3 suffering temporary blindness.
3:50pm – Plants vs. Zombies: Garden Warefare demo.  Not excited at first, very excited after leaving demo.  Demo effectiveness: Success.
4:20pm – Need for Speed: Rivals demo.  Interesting.  Open-world racing.  Not sure what to think yet.  Have to make call when more info released.
4:30pm – No Need for Speed Swag… cry.
4:45pm – Attempting to get into the last Destiny demo.
4:46pm – Fail.
4:49pm – Call of Duty: Ghosts trailer to cap-off E3 2013. Happy happy joy joy.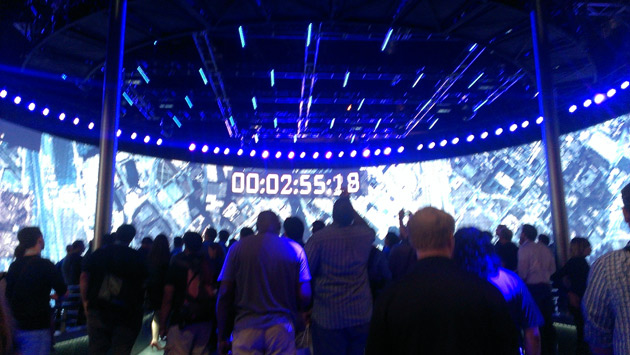 E3 was all kinds of awesome.  If there's one thing I want to remember for next year, it's planning.  Planning would probably have gone a long way in terms of efficiency and productivity.  But hey, this was the first time at E3 I wasn't working for someone, soooo I'm allowed a freebie, right?
Freebie you say?
Let me introduce the…
1st ever Agents of GUARD E3 Swag Giveaway.
We'd like to share some of the E3 goodness with you!  One person will get a swag pack that includes this:
1. An ARMA III t-shirt (XL)
2. A Dead Rising 3 baseball cap (One Size)
3. A PlayStation Lanyard
4. A PlayStation Plus Promo card, with codes for a 30-day trial of PlayStation Plus, a 30-day trial of Music Unlimited, a free digital download of the 1st Resident Evil movie, and 2 free PlayStation Mobile games!
Enter below! Only open to residents of the continental US.  We're a new blog, and can't foot the overseas postage bill quite yet!
Entries accepted until midnight June 21st/22nd.
a Rafflecopter giveaway