Suits returns this Thursday and I don't know if I'm going to make it because the overwhelming anticipation might just send me into mental breakdown.
If you've never watched an episode, which let's be real here is highly likely, then let me break down the gist of it.  Fast-talking lawyers in beautiful, expensive threads tackle morally questionable cases and juggle personal relationships wrought with secrets.  Basically pretty people in even prettier clothes mack on other pretty people while using big words and sassy retorts.  This is practically Denise porn.
Mike Ross, played by the incredibly smooth Patrick J. Adams, is a street-smart kid who has made countless bad decisions and by a chance encounter he gets hired at a top law firm to work under Harvey Specter, one of the best legal closers in NYC. The catch?  He never went to law school.  The plot isn't realistic and the dialogue is too smooth but who cares?  It's on USA Network not Nat Geo.  While the show started out fairly procedural they have graduated to longer plot arcs that carry over into later seasons; something I'm so thankful for because the characters are actually rich and fleshed-out.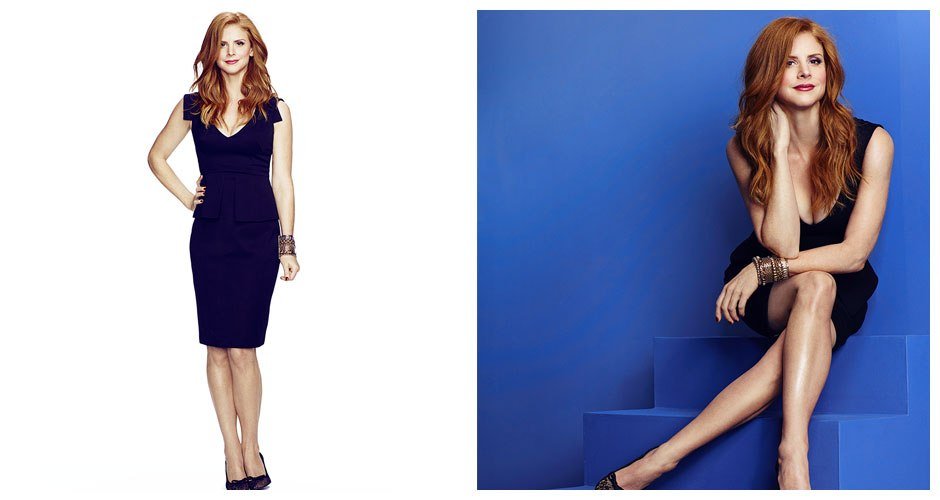 Let's talk about two of the most interesting characters, shall we?  First up we have my role model: Donna Paulsen.  She's the queen of sass and keeper of all knowledge.  Sarah Rafferty's portrayal of Donna is a scene stealer 100% of the time.  Though only an executive assistant she has proven that she is not to be treated as a lesser commodity than any of the high-paid attorneys.  She's notorious for knowing absolutely everything that happens in the office and she is not one to be messed with.  If she got paid for each biting remark she would be tripling the salaries of even the senior partners.  But don't worry; she's not a gossipy bitch.  Donna is fiercely loyal and whip-smart.  The reason she knows every secret is because she's trustworthy and reliable; she's the only person you need to befriend because she will always be in your corner.
Then we have Louis Litt.  During the first season he's obnoxious and practically vile but that's only because he is usually treated like a villain so why not act like one?  Once he develops some strong friendships he's tough exterior cracks and he reveals a loveable nerd who just needs to balance his pop culture references with a better grasp of human emotion.  Usually he contributes both tension and comedic relief due to his paranoia and determination to prove himself worthy.  He's definitely the love-to-hate/hate-to-love character that everyone ends up quoting.
But most importantly, way more important than the two main protagonists, is Jessica Pearson who is played by the flawless Gina Torres.  Torres consistently gets cast as a "strong female" (and I'm guilty of it too) but that's because there is no other way to see her, she oozes charisma and leadership.  Suits is the exact same way.  She plays THE boss, as in her last name is on the company masthead.  She's literally HBIC.  And you never, ever want to upset her.  While her character has had the least amount of change in the last two and a half seasons you can argue it's because she needed to change the least.  At first she's mostly just a side character helping along storylines for the protagonists but much like Donna and Louis she becomes integral to major plots and a favorite on screen.  She doesn't ignore her mixed race and she doesn't pretend that as a woman her rise to the top was hard but the beauty of her character is that she isn't just her struggle.
In fact, Suits does a fantastic job of both not underwriting their female cast into cringe-worthy stereotypes but also utilizes Gina Torres' and Meghan Markle's particular mixed race backgrounds without making a spectacle of them.  Here are two beautiful women who are inspirational characters with actual depth!  Jessica isn't too ball-busting and heartless; she just values her position and looks after her company not like a family but like a small country.  And then there's Markle's Rachel Zane who, even as only a paralegal, knows law better than most of the lawyers she works with which begs the question that is thrown out in the season three mid-season finale: how much better would she be if she actually went to law school?  Rachel is wildly intelligent and though the will-they/won't-they sexual tension between her and Mike Ross is pretty predictable, everything else about her seems genuine.
I love when characters are naturally flawed.  Watching perfectly coifed women who kick ass and are far more intelligent and poised than the men is nice at first but then it gets boring.  Where's the conflict?  Where's the suspense?  It's like having an overpowered superhero, if they can do everything then what is going to keep me interested?  And I think Suits does a terrific job at capturing these women as brilliant goddesses who actually have emotions and aren't afraid to be effected by them.  That's more appealing to me, someone who isn't just a robot but shows a human side.
I've just realized I'm seven paragraphs into this article and have yet to go into more detail about the two main characters, that's fine by me.  Not that Mike Ross and Gabriel Macht's delicious Harvey Specter are my least favorite characters, it's just the whole show pretty much revolves around them so I'm sure if you do start watching you'll pick up on their charm and beautiful banter right away.  They're awesomely flawed as well and watching them stagger and fail at relationships is both satisfying and heart-breaking.
So why am I talking about this show?  Because while it is definitely a drama, it's got good bones.  The cast is absolutely amazing including the reoccurring antagonists (played by David Costabile, Gary Cole, and Conleth Hill).  The writing can sometimes come across fairly formulaic in the first season (Mike's eidetic memory saves the day again…shocker) but the characters easily save the show.  That and the quick dialogue full of movie quotes, hilarious jabs, and Game of Thrones references.  Oh!  And if none of that convinced you to watch then know in the third season not only is Lord Varys a big player but his close confidant is played by none other than Lady Stoneheart herself, Michelle Fairley.
Suits returns this Thursday, March 6, on USA at 9pm.