Today I've decided to address a more fun topic than usual! Living in Southern California affords me (as well as the other agents) plenty of opportunities to visit the Happiest Place on Earth: Disneyland! However, since it's about an hour drive for me and it can be quite expensive in the park, my husband and I make the trip once every few years and try to really pull out all the stops for an amazing trip.
Something that people don't often think about before planning their trip (or conversely like me, think incessantly about) is food at Disneyland. To be honest, I plan out food well in advance for two different reasons! The first is that it's nice to have some snacks to take around if I don't feel like eating junk food. I also usually have a hotel room as a home base, and it's great to have simple staples like diet coke or granola bars or whatever. That's the boring reason. The more interesting reason to plan out your food in advance is because there are some pretty great dining options if you take the time to look and make reservations!
The first must-eat on my list is the monte cristo sandwich at the Blue Bayou. I didn't really know that the Blue Bayou restaurant existed for the longest time! It's in New Orleans Square near Pirates of the Caribbean and in fact you can see the Blue Bayou dining room from your boat while on the ride at the very beginning of the track! Eating in the Blue Bayou dining room is actually very peaceful, as the lighting is low and it's slightly more formal than the other restaurants in the park. And the monte cristos are fun to eat and are pretty tasty!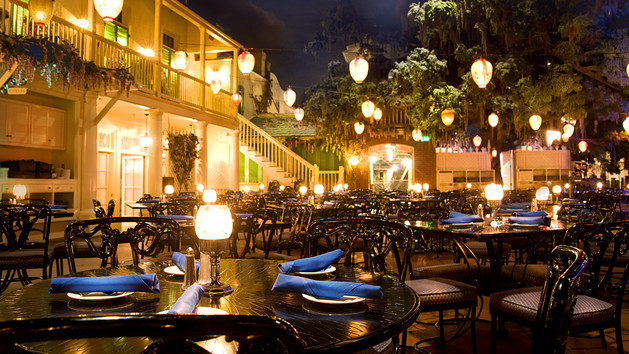 The second item is actually a must-drink, and that is the wines in Napa Valley at the California Adventure park! Fear not, they have items to nibble on too! I personally love the reprieve from walking around to enjoy a glass of wine or two before my next trip to space mountain. I don't know that any of the wines are completely remarkable, but they're great on a hot day (or to help deal with the crowds…)
A third item on my must-eat list is the four course dinner at the Napa Rose dining room at the Grand Californian hotel. This is one that you'll want to reserve well in advance and be aware that a nice dinner for two is going to cost you a pretty penny, not to mention the wine flights that you can add on. However, the food is completely exquisite and in my opinion, worth the money. The menu changes regularly with the seasons, although I believe they prepare goose every year around the holiday season which was a real treat for me the last time I went! And on my first trip to the restaurant, an excited sommelier-in-training offered up his own customized flight of wines for my husband while I enjoyed the ones on the menu, which was a very fun experience (and made the later rides on "It's a Small World" assuredly more interesting after so many glasses of wine!) Again, it's a huge splurge but completely worth it in my book.
So those of you who know me well will know that I really like pizza. It's a regular fixture in my diet, which brings me to my fourth must-eat item! When people think  of Disneyland food, a lot of them seem to think of Pizza Port. While I have eaten at Pizza Port a number of times, I don't recall their pizza being anything special (I seem to remember eating a pretty nice salad there at some point, though!) Instead, I would opt for pizza at Naples in Downtown Disney. Now, is it the best pizza you'll ever have? No, doubt it. But it has thin and crispy crust and tastes very fresh and the salads are pretty good too. It definitely satisfies my pizza craving (seriously, I will go on vacations and order pizza to my hotel room!) Another reason I like Naples is because thanks to the recommendation of a waiter many years ago, my husband and I discovered a great Italian wine there: Gavi, a crisp white Italian wine. It's still today one of our favorites and we never would have found it if it hadn't been recommended to us here!
There are several foods at Disneyland that I have not yet tried but need to. In particular, I know that next time I'll be eating at Carthay Circle because it gets amazing reviews and the menu is always interesting. I somehow unfortunately have failed to try the famous Dole Whip (how did I miss this for so long?) so that's on my Disney Food bucket list too. A third item, thanks to Agent Justin's Facebook food porn are these churro ice cream sandwiches in Downtown Disney.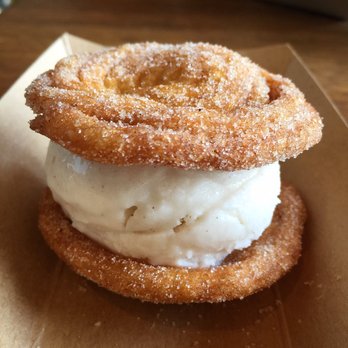 In short, there are some interesting food offerings at Disneyland, especially if you take a little time and effort to plan your eats!