According to some bullshit poll on ew.com that asked readers which X-Men character they would like to see starring in a solo movie the results came in predictable and frustrating.
Let's break down the final numbers: Deadpool 27%, Gambit 21%, X-Force 19%, Storm 17%, Msytique 11%, and Magneto 8%.
Why this bugs me to no end is because while I imagine most of these voters are not current comic readers they are the general public.  You can't get any more "general public" than Entertainment Weekly.
OF COURSE the people want a Deadpool movie the most!  Hey, don't get me wrong, I like Wade too and I writhe around in excitement every time Ryan Reynolds makes a vague statement about moving forward on the movie but it's never going to happen.  Or at least it's never going to be done right.   Deadpool, when written well, is a chaotic character who is inappropriate and violent but not one-dimensional.  Take a look at Rick Remender's spin on the Merc with a Mouth back on the original run of Uncanny X-Force.  He was annoying and gruesome but still capable of having rational thought.  Also, just read that book because it was painfully good.  I think High Moon Studios did a tremendous job of writing a game that actually captures how insane and fun Deadpool can be but it didn't really have a story.  While I'm sure there are plenty of people who would still pay to see that game come to life on the big screen it's certainly not a blockbuster by any means.
And closing in on him is that strong 21% who want a Gambit movie.  Anyone who grew up buying comics in the 90's or even watched half an episode of X-Men: The Animated Series claim that Gambit is their favorite character.  I won't take that away from you.  I like him just fine but there is not a chance in hell that he can carry his own movie.  At least not yet and especially not if FOX is making it.  Do you even understand how hard it is to tell a really compelling story about Remy LeBeau?  In 2012 when Marvel announced the Ragin' Cajun was getting his own series they had to explicitly promise it wouldn't involve Belladonna.  Do you get how absurd that is?!  He is such a simple character that every story about him involved the same ten keywords "thief, Rogue, Cajun, Belladonna, …Chere?" Good god, I couldn't even think of five more.  I know it sounds like I'm the biggest anti-Gamby but I'm not, I swear! I'm just very realistic about how a Gambit movie will either be the same story we've seen ten thousand times since 1990 or it will be completely out of character and cringe-worthy.
I'll admit I was a little intrigued by the idea of an X-Force movie because that has the potential to be really cool. Until I remember it won't be made by Marvel Studios and FOX plans on "focusing on the younger-grittier-angrier corner of the mutant universe." Lord, give me the strength to survive this.  A Zack Snyder-style attempt at an X-Men movie makes me want to get the Walt Disney cryogenic treatment until this soul-crushing licensing agreement expires.  I would probably weep tears of lustful joy to see Domino in a movie, written and cast well, but I just have zero faith that she won't be turned into a mess.  It's bad enough Cable already reeks of messiah complex (the lower case trope not the capitalized compelling cross-over of 2007) but I can already picture him overpowered and making the rest of his team look like drooling chumps.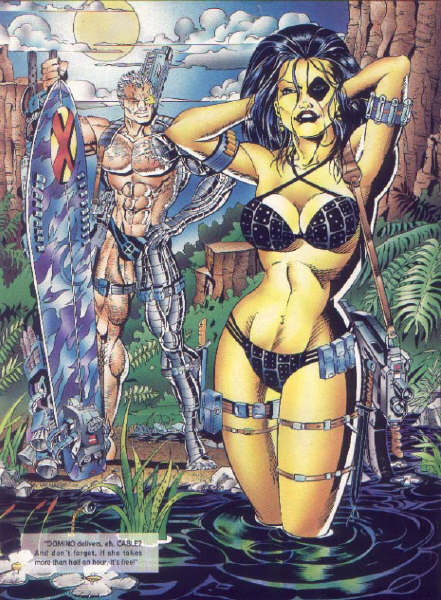 The Storm option is tempting.  How fantastic would it be to shit in Warner Bros' coffee by not only making a female-lead movie but one starring an African superhero?  That would just blow their whack-ass minds.  Especially if FOX takes advantage of Lupita Nyong'o's well-deserved hype right now.  Finally, we have a young actress who screams regal and is actually from Africa.  What a time to be alive!  Also while Storm is one of the more easily recognizable X-Men there are a lot of stories you can tell by updating her origin.
Unbeknownst to me, there are people who actually want a Jennifer Lawrence Mystique movie.  Hmmm, I mean, okay?  I might be very biased on this one because Mystique has wronged me one too many times (you just had to go and fuck Iceman of all the single X-bros out there, Raven?!) It is sort of understandable that J-Law's following combined with the Darkholme stans out there will attribute to 11% of votes but I just don't think this is a great idea.  For one, it might be a step backwards for Lawrence.  She's a real Oscar contender now and a FOX-made Mystique movie seems a little beneath her.  Also some of Mystique's best stories are of her deception and never-ending allegiance to herself.  But would that translate well on the silver screen?  As fans we have read for years that Mystique is never loyal but we keep falling for her pleas of innocence.  Will movie-goers enjoy that or will the studios spin Raven Darkholme into another Batman travesty?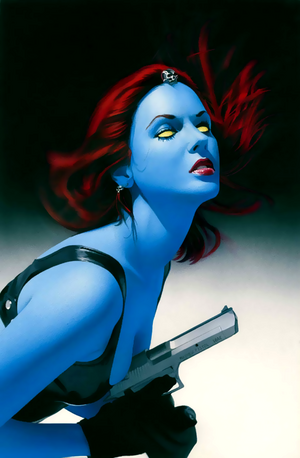 What audiences need is ironically the option that was least voted for: Magneto.  A Mags movie would do wonders for the FOX X-Men franchise.  Technically, that's what X-Men: First Class was supposed to be originally.  A look into the grim past of a Holocaust victim who is on the brink of yet another minority, only this time he can fight back.  That's a goddamn riveting story and while you can argue that's what First Class was then why can't we go deeper?  Find out what happened after that fight on the island?  Where does he go and how does he form the Brotherhood?  He might not be the mutant the people want, but he's the mutant they need.
Obviously this poll is completely meaningless.  It has absolutely no weight on what FOX will do and only reflects the opinions of people who probably don't wait for after-credits scenes anyway.  FOX's cold, ruthless conveyor belt will keep pumping out X-Men movies until they've rebooted the franchise five times or until Hugh Jackman finally declines.  It's a little disheartening but the solace I find in their continuous nonsense is that they keep paying Marvel for this license.  FOX might be ruining some of my all-time characters and stories but they are essentially funding the expansion for MCU.  Sure Days of Future Past Pietro looks like someone cosplaying as Swedish 90's raver but we're getting closer to a Ms. Marvel movie, so who's really coming out on top?